Every Friday afternoon, DC's oldest working piano player takes the bus from Silver Spring down 16th Street to his regular gig a few blocks from the White House. The commute would be unremarkable but for the fact that Art Carchedi is 93, still plying his trade, and happy to bend the ear of anyone curious about the past 80 or so years of Washington's musical history.
Recently, I rode with him into town, and along the way he gave me an insider's account that spanned from the era of FDR to the age of Trump. A genial guide with a quick laugh, Carchedi is short, wiry, and as sharp as a lynx. He's not the sort to toot his own horn, but he has stories to tell and he gives them to you straight, no chaser.
As our bus rolled out from Silver Spring, Carchedi started his own tales, which began when he was in junior high playing at Eddie's Friendly Tavern, near his parents' house in Petworth, and giving $17 of his $25-a-week salary to his mother. ("It wasn't friendly," he says of the bar. "It was pretty rough.") But things got more swank after World War II, which ended when he was 20 years old. Piano players were in high demand in postwar DC. He worked society dances and glitzy clubs and hotel ballrooms and uptown dives. He played in 17-piece big bands and small combos with accordions, you name it. If it was a paying gig in the area, he was there.
As our bus, now safely inside the District line, crossed over Rock Creek, Carchedi started pointing out landmarks from his past. He gestured toward the sprawling Woodner apartment building on 16th, where in the late '50s and early '60s, back when it was a gem of midcentury modernism, he appeared as a sideman with a dance band in the Beverly Cocktail Lounge. One of the celebrities who stayed there was tabloid sensation Jayne Mansfield, and Carchedi performed with her once at a private party. It was quite a trio: Art on electric piano, his bandmate Sy Zucker on sax, and Mansfield on tambourine. "It was just a one-nighter," he said, "but she was a lot of fun."
The famous faces came and went, but the music was a constant for Carchedi. There were live TV broadcasts—the Mark Evans Show at 9 am and the Jim Gibbons Show at 7 pm—then night gigs with the Clint Hobbs Orchestra at the Casino Royal, DC's premier downtown hot spot, at 14th and H. After last call at midnight, more work till 3:30 am at the illegal after-hours clubs where patrons brought their own bottles.
By now, the bus was alongside Meridian Hill Park. Carchedi pointed to the nearby Envoy apartment building, which he knew as Hotel 2400, featuring an Art Deco nightclub where he often played.
Some of his favorite places were the more out-of-the-way jazz clubs, where the pay wasn't great but the music was. One was the Crossroads on the infamous Bladensburg Strip, where Carchedi played with Ralph Hawkins and His Orchestra. A legendary DC music character, Hawkins had made his name as a big-band drummer and once roomed with Frank Sinatra. Hawkins liked to bet on the horses at Laurel. "We'd get paid if he didn't go to the racetrack, but he went to the racetrack a lot," Carchedi said. "As a matter of fact, he still owes me money."
Another was called Waldrop's, up Rhode Island Avenue in Brentwood. A memorable night there in the late '40s had him snickering like a schoolkid as he described it: A joint made the rounds, and Carchedi, who'd never touched the stuff, took a few puffs and performed sky-high. "Everybody said, 'Man, you were terrific!' but I couldn't remember what I'd played," he recalled. "I thought about it for a while, and then I said to myself, 'I don't want any part of that.' "
Waldrop's, where Jungola the Exotic Tiger Girl once stalked the stage, is now a storefront church. Carchedi is one of the few left who saw these joints in their prime. "It's kind of sad because I knew how lively these little clubs were and now they're gone," he said as the bus stopped in front of the National Geographic Museum.
We'd reached downtown, and the nostalgia trip was over. Carchedi had to go to work. After getting off at 16th and L, he walked across the street to a brick mansion that for nearly a century has housed the University Club, an oasis of pampered peace and quiet for Washington's powerbrokers. Heading inside, he doffed his beret and rolled it neatly into his coat pocket. Then he put on his black bow tie and headed for the William Howard Taft Room. It was almost showtime.
---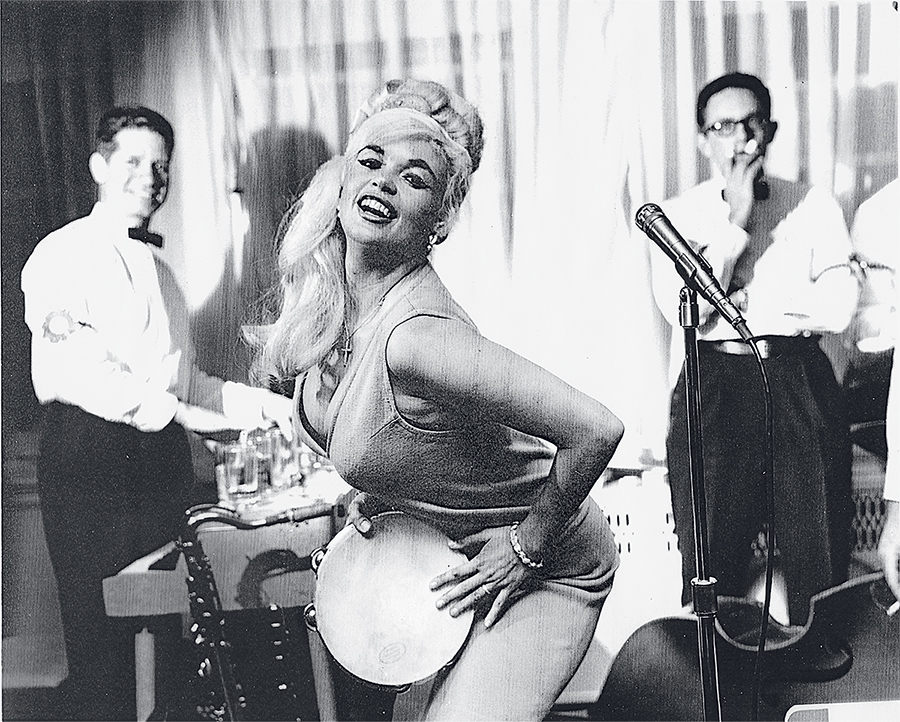 The gig started at 6:30. Carchedi's repertoire is vast, and his playing is impeccable but never showy, as elegant as the decor with its chandeliers and candelabra. He plays mostly standards from the American Songbook, evergreens by Rodgers and Hart, Cole Porter, and the Gershwins. He performs without sheet music or a set list, letting one song segue into the next. He takes a couple of short breaks. You'd never guess that the tuxedoed virtuoso, who is as much in control of the mood in this room as any trance DJ leading a rave, was born when Calvin Coolidge was President. This has been his regular gig since 1976. It's a rare Friday night when he's ab-sent—maybe twice in the last five years, he says.
The son of an Italian immigrant shoemaker, Carchedi started piano lessons at age eight and attended his first concert—Sergei Rachmaninoff at Constitution Hall—with his music teacher. He majored in music at Catholic University, where he met his future wife, Erma, in harmony class.
When they wed in 1950, Carchedi was riding high. He was in the house band at the Hotel Statler on 16th Street, and he played after-hours clubs like Vince Grillo's, where he got to sit in with jazz legends including Jack Teagarden and Slam Stewart. Then, not too long into their marriage, his band got the pink slip from the Statler and Grillo's was shut down following a police raid. He soon found employment as a public-school music teacher—a job he kept until retiring in the 1980s. All the while, he gigged at night, often besting his day-job salary, enough for him and Erma to raise five kids at the house in Silver Spring where the couple has resided for 63 years.
Carchedi may be the only musician around to have on his résumé 17 years in the house band at Congressional Country Club and also a brief stint at Guy's, a notorious 1950s beer joint in an area near the Navy Yard that's described in the 1951 book Washington Confidential as a "stretch of howling hell."
"I was on this upright piano facing the wall," he said, "and a bullet goes by me into the piano and hits the wire. Ping! And I was still playing. I quit the job that night."
He backed pop singer Patti Page at the Crossroads and played with Edith Piaf at a chic downtown hotel. Piaf was so frail and ailing, he recalled, that she had to be helped onstage by handlers. "All sad songs," he said. "She would say [imitating her Gallic-accented English], 'Now I'm going to tell you the story of a soldier who went to war and he never came back.' The whole night was sort of depressing, but she sang so beautifully."
---
The University Club is Carchedi's last remaining gig. He told me he has no plans to give it up. "People say, 'Art, why don't you retire?' I tell 'em, 'Retire to what? Where else am I gonna get praise and applause and get paid for it?' "
At around 8:30—more than four hours after we first hopped onto the bus in Silver Spring—he sat down for his third set of the night. He likes to mix it up late in the evening and throw in some tunes by Antonio Carlos Jobim and Billy Joel along with the usual chestnuts. At a nearby table, David Osnos and his wife, Glenna, had made their monthly trek from Bethesda to have dinner and hear him play. A real-estate lawyer, Osnos is a Songbook fanatic and swears by Carchedi's artful renditions.
"Art is wonderful," said Osnos, who can recognize nine of every ten tunes Carchedi plays, a number that can top 100 by evening's end. "He knows every good song ever written, and he plays them all. He gives them a little extra flavor, and that's not so easy to do. There's not many guys like Art in this town—or in any town, as far as I'm concerned."
Osnos noticed that Carchedi had segued into the 1931 standard penned by Herman Hupfeld, and he began to sing along: "The fundamental things apply, as time goes by. . . ."
Not long after, the couple got up to leave and waved goodbye to their beloved piano man, thanking him for another special Friday night. Carchedi nodded a smile of gratitude and, without missing a beat, segued into another tune.
This article appears in the April 2018 issue of Washingtonian.