A new crop of wine bars has sprung up in DC. (We're still waiting for the trend to hit the burbs.) Where should you sip and swirl?
Neighborhood: Shaw.
Go here if: Your commitment issues also apply to wine—about 50 selections are available by the half glass.
On the wine list: A mix of classics, natural wines, and esoteric picks. Offbeat monthly themes include wines made by women and "smelly" wines.
Vibe: A chic, boisterous crowd of gossiping girlfriends and industry insiders.
Food: Guest chefs such as Inferno Pizzeria Napoletana's Tony Conte and Coconut Club's Adam Greenberg create rotating menus of snacks and small plates.
What to get if you want to move beyond Chardonnay: Gros Manseng from southwestern France. "It has ridiculously high acidity . . . but it's fuller-bodied and smells like pear juice," says owner Brent Kroll.
. . . or Malbec: A West Coast Syrah. "They're big, they're rich, they're soft," Kroll says. "You still get a lot of fruit and oak that you get off of a Malbec."
Pro tip: The menu doesn't list flights, but the somms can customize one.
Address: 1336 Ninth St., NW.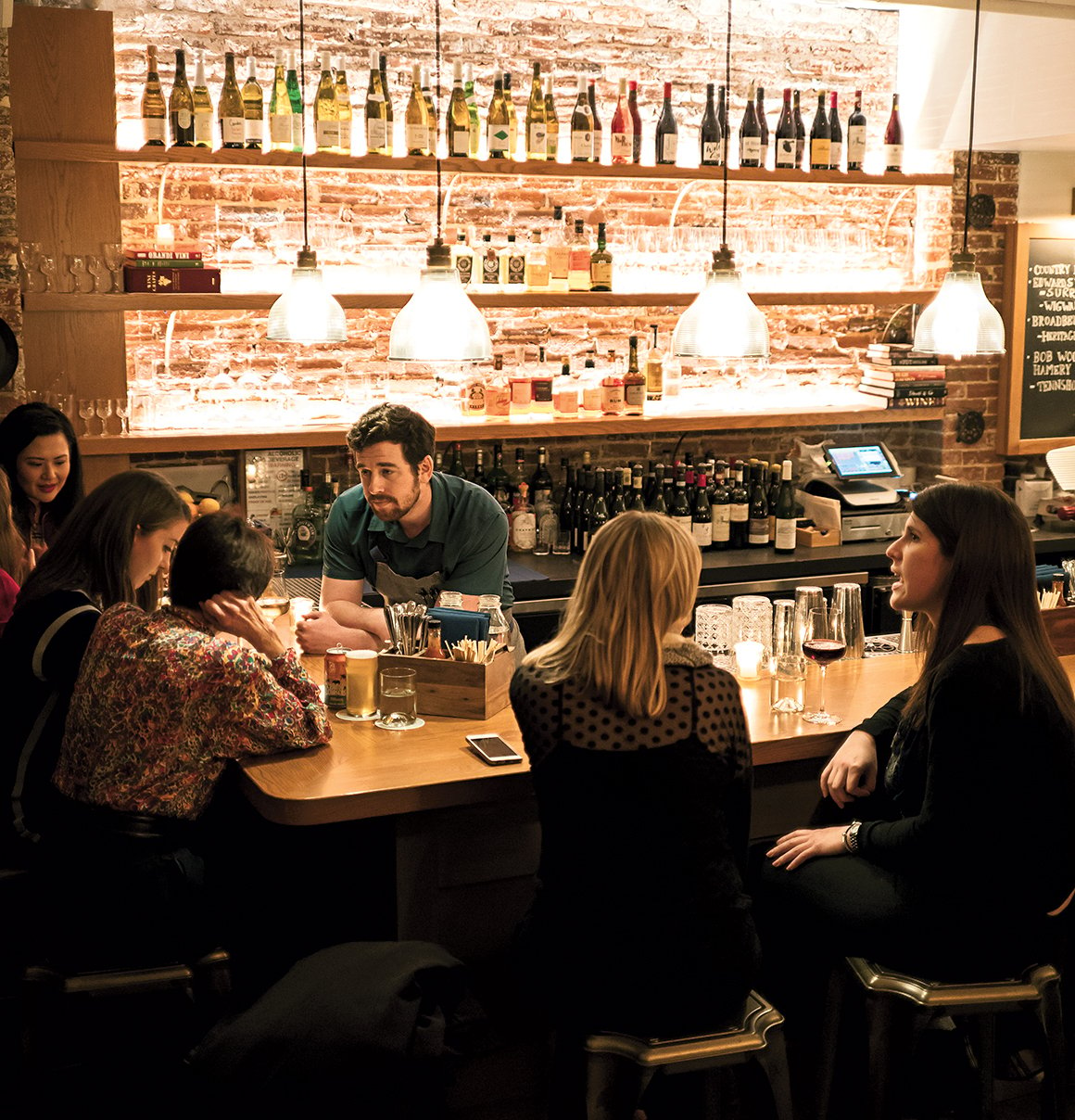 Neighborhood: Shaw.
Go here if: You're looking for a cozy date spot—or are waiting for a table at sister restaurant the Dabney.
On the wine list: A European-leaning selection with an emphasis on small producers.
Vibe: Rustic farmhouse meets romantic candlelit lair.
Food: Local hams, cheeses, and oysters accompanied by small plates such as lobster toast and buttermilk-bacon biscuits.
What to get if you want to move beyond Chardonnay: Domaine Guiberteau Saumur Chenin Blanc from the Loire Valley. "It has amazing fleshy fruit, really great palate weight. Oak is not obvious, but it does add a little bit of roundness to it," says co-owner Alex Zink.
. . . or Malbec: Grattamacco Bolgheri Ros­so from Tuscany. This Cabernet Sauvignon–forward blend has "a glossy, darker fruit nature," Zink says.
Pro tip: The 30-seat subterranean bar fills up fast and doesn't take reservations, so your best bet is to show up when it opens at 6.
Address: 1222 Ninth St., NW.
Neighborhood: Eastern Market.
Go here if: You can't get into sister restaurant Rose's Luxury and don't want to shell out for ultra-upscale sibling Pineapple and Pearls.
On the wine list: A fun and funky mix—from new natural wines to classic white Burgundies.
Vibe: Sleek, with a sense of humor. (Yep, that's banana wallpaper in the restroom.)
Food: Whimsical bites include okono­miyaki spring rolls and "angel(ed)" eggs that substitute meringue for the whites.
What to get if you want to move beyond Chardonnay: Sommeliers Andrew Limberg and Kerstin Mikalbrown say splurge on the complex and rich Domaine Larue Puligny-Montrachet Premier Cru from Burgundy.
. . . or Malbec: Ampelos "Syrache" from California, which has dark fruit flavors.
Pro tip: Indulge in the "grantimal-style" burger (named for cook Grant Gaydos and In-N-Out's "animal-style" burger), made from brisket and dry-aged strip.
Address: 921 Pennsylvania Ave., SE.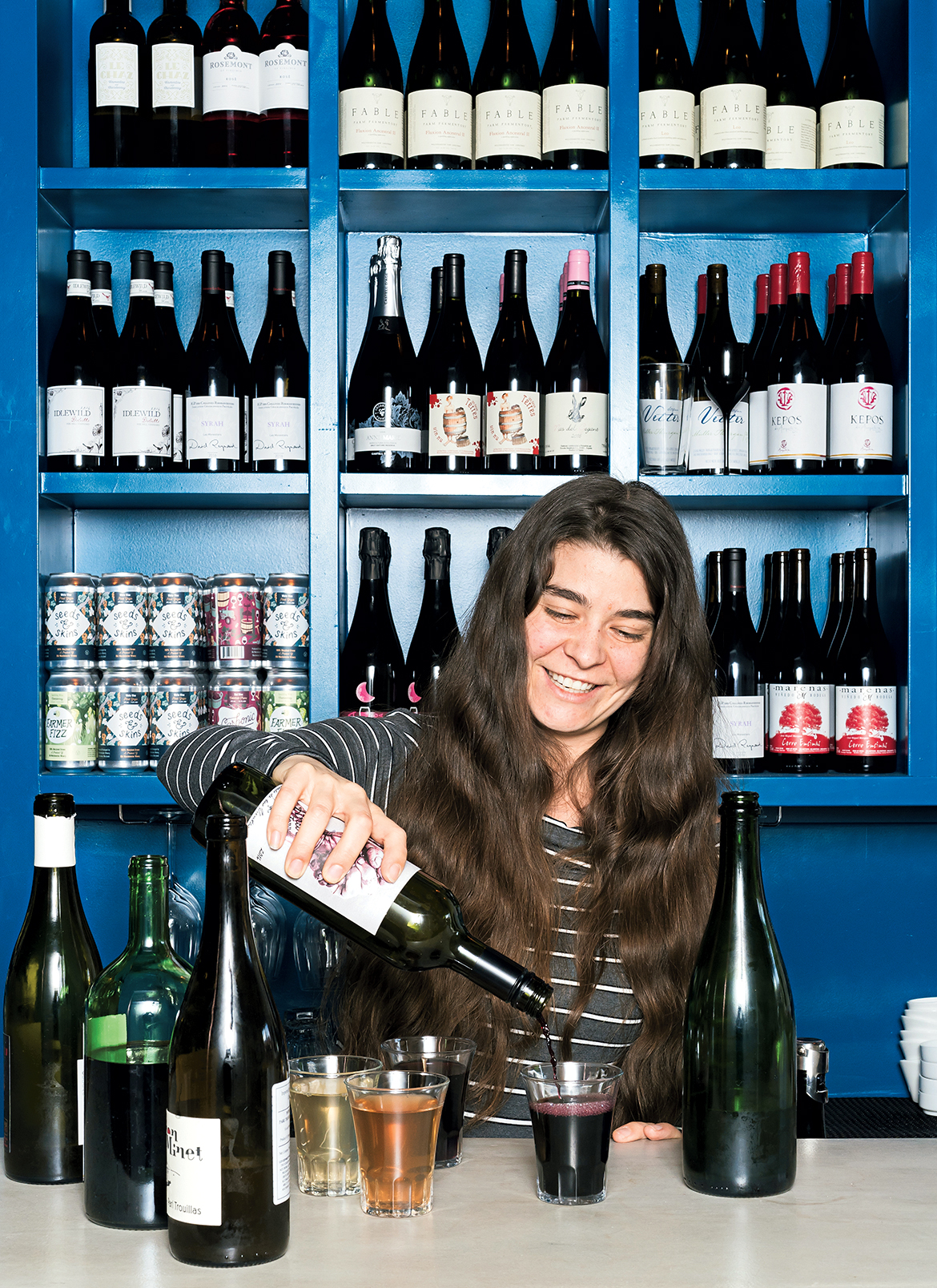 Neighborhood: H Street, Northeast.
Go here if: You're looking for a relaxed ladies' night out.
On the wine list: Natural wines, with an emphasis on female-owned winemakers.
Vibe: Bright and playful—think a "pink + orange" section of wines and helpful servers to tell you what that entails.
Food: Fun cheeses such as a house-made Boursin-style, smoked meats, luxe toasts, and a fancy grilled cheese.
What to get if you want to move beyond Chardonnay: Owner Stacey Khoury-Diaz (pictured) likes to defy expectations: "We have California Chardonnay that tastes nothing like California Chardonnay." There's also organic Sota Els Angels "Flow" from Spain: "It's light in color and tastes like a lightly oaked Chardonnay."
. . . or Malbec: Dio isn't too stuffy for Malbec—or canned Maryland wine—as long as it fits in the sustainably farmed model. Her pick: Alpamanta, an organic Malbec from Argentina.
Pro tip: Happy hour is Sundays from 3 to 5 in addition to weeknights, and you'll find deals on organic wines.
Address: 904 H St., NE.
Neighborhood: Brookland.
Go here if: You believe French wine is best enjoyed with steak frites.
On the wine list: Natural wines from France and Virginia.
Vibe: Old Paris—check out those ostrich-feather chandeliers—coupled with the warmth of a neighborhood joint.
Food: French bistro fare, including a killer vegetarian onion soup and coq au vin for two.
What to get if you want to move beyond Chardonnay: Clos des Mourres "Pompette" from Provence. The Grenache Blanc blend is "weighty and nutty—a lot like Chardonnay," says co-owner Sebastian Zutant.
. . . or Malbec: Domaine Benjamin Taillandier "Viti Vini Bibi" from Languedoc. "It has that weighty, round element to it that I think people really like in Malbec," Zutant says. "It's juicy and fruit-forward."
Pro tip: Zutant has his own excellent Virginia wine label, Lightwell Survey; bottles sell for $50 to $60.
Address: 3000 12th St., NE.
This article appeared in the April 2018 issue of Washingtonian.