It's been tough going for control-freak diners, now that tasting menus and phrases like "We kindly decline substitutions" are the norm. One respite: Rockville's bustling new Urban Hot Pot, where more than once you'll likely be told: "There are no rules—you are the chef."
The bright white space, lined with succulents, hung with exposed ducts, and crammed with diners (expect an hour wait even at a weekday lunch), specializes in the DIY style of eating known as hot pot. For the uninitiated, that means you cook various meats, veggies, shellfish, and other delicacies in a roiling broth at the table. There's a fixin's bar of sorts where you slosh together a dipping sauce for all those ingredients out of myriad herbs, condiments, and pastes.
Urban Hot Pot sets itself apart from the competition in a few ways: It's all-you-can eat (many others are à la carte)—$18.99 for weekday lunch, $25.99 for dinner and weekend lunch. Instead of a communal pot, everyone gets his or her own broth and can pick from various flavors. (My favorite: the "less spicy" rendition of the spicy pork-and-chicken-based soup, followed by the tomato version.)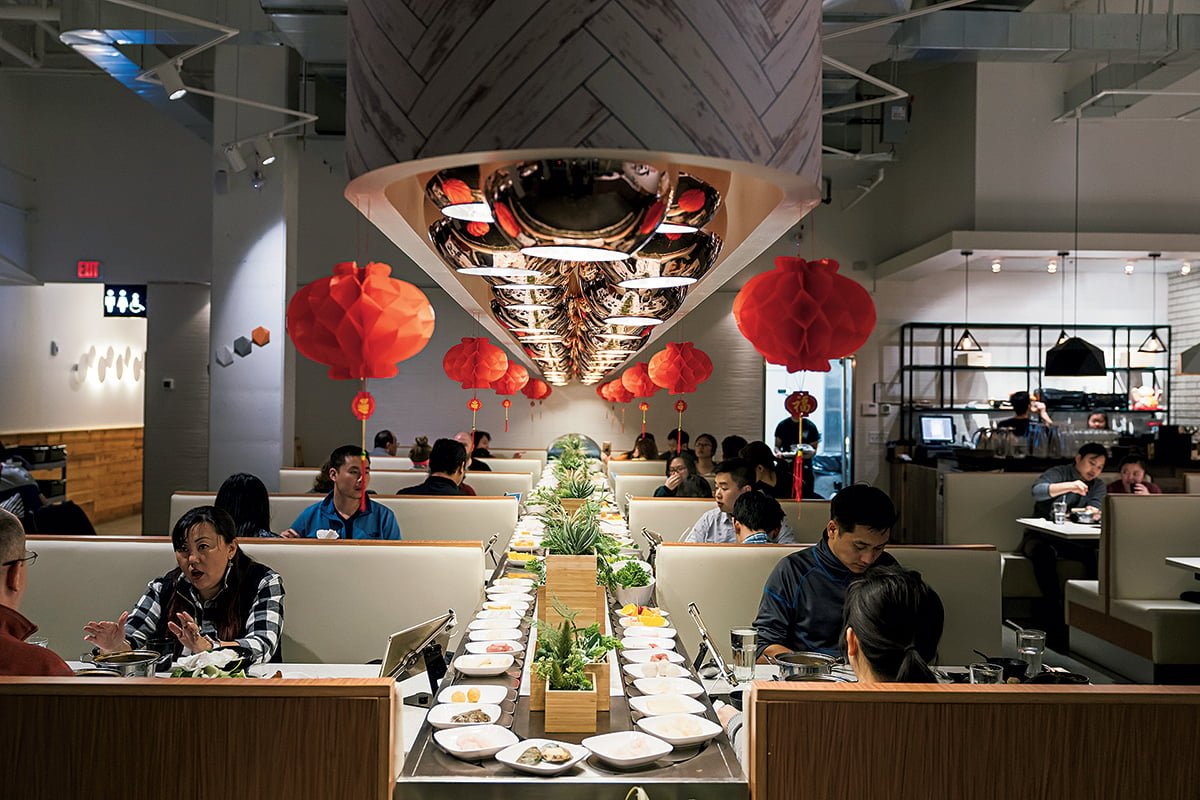 There's a two-hour eating limit, and some ingredients—such as the $10 snow-crab legs you should absolutely spring for—cost extra. Servers exist, but you'll do most of your ordering and interacting with an iPad. The most coveted booths border a conveyor belt, off of which you can grab plates of greens, delicate fish balls, and other accoutrements.
Mostly, you're left to your own devices. There are no suggested combinations or tips on how much to order or how long to cook things. My best meals were heavy on protein, greens, and veggies—fresh bok choy, leaves of napa cabbage, and every mushroom on offer, including tiny enokis and the meaty oyster variety. Thinly shaved roll-ups of beef and lamb and pork belly cooked in seconds and were terrific in a sesame or peanut dipping sauce, spiked with vinegar, soy, and chili plus a few spoonfuls of cilantro. Clams in their shell were fresh-tasting, mussels and shrimp less so. Tofu—especially the cold version, which becomes riddled with air pockets when it hits the hot liquid—is a good bet, too. Save the starches, such as dumplings and udon noodles, for the end, lest you fill up too quickly.
Much of the fun is in experimenting—if that first dipping-sauce concoction is blah, you can make as many more as you want. And unlike most tasting menus, this is a giant feast that's more virtuous than it tastes, and won't leave you groaningly full.
This article appeared in the April 2018 issue of Washingtonian.