The British Embassy will open its gates this Saturday as part of the EU Embassies' Open House Day, which means Anglophiles can tour the historic Embassy Residence, sample British whiskey, and send congratulatory cards to Meghan Markle and Prince Harry.
For Deputy Ambassador Michael Tatham, the open house, which is the one day a year the embassy is open to the public, represents "a chance for us to engage with the public in a much more open way" than security usually permits. That means opening the doors to the stately mansion, which has chandeliers aplenty, carefully tended gardens, and a ballroom that's hosted state dinners for Queen Elizabeth II. (In true British fashion, the Embassy Residence is overseen by a uniformed butler and a team of underbutlers.)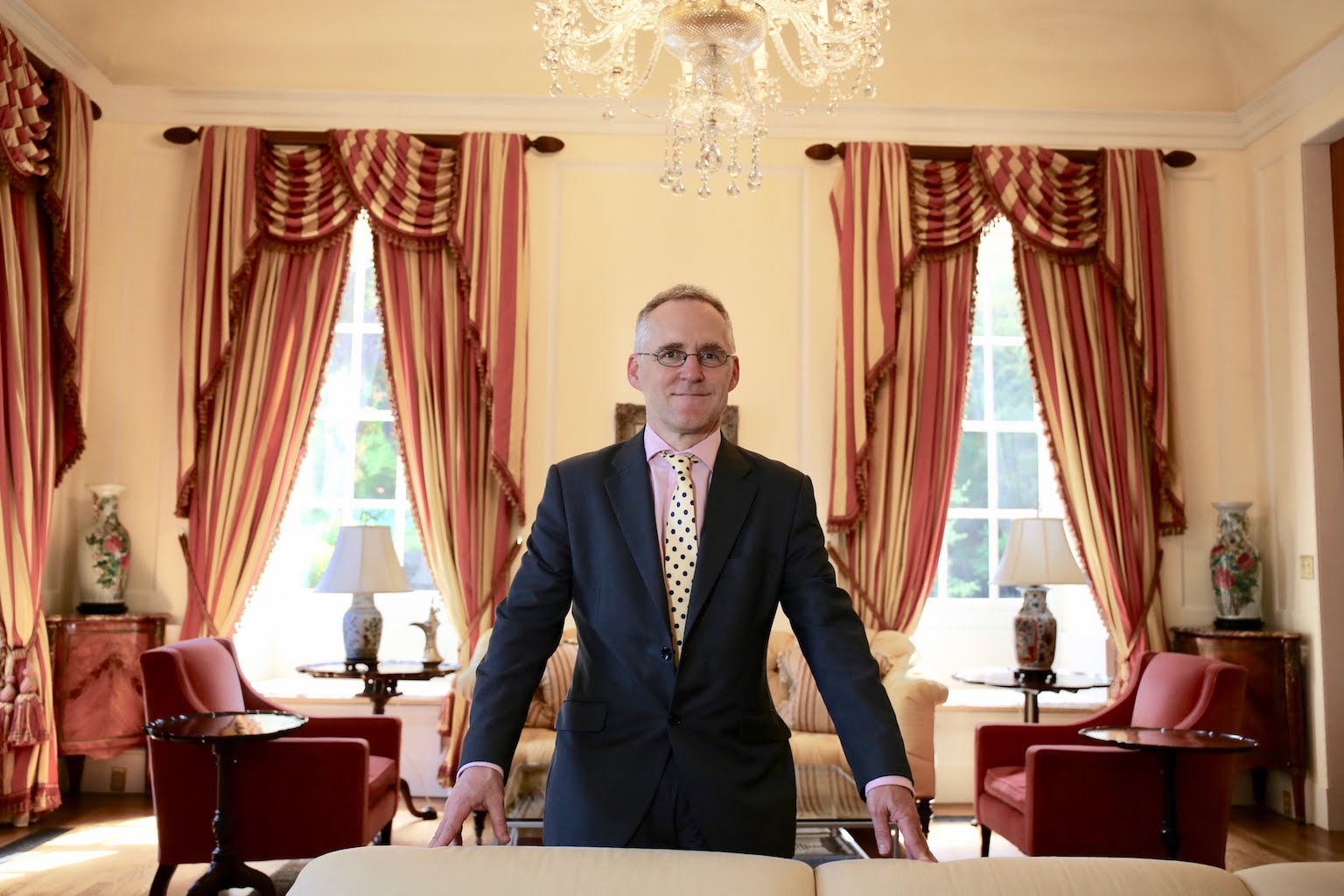 So, what should embassygoers expect when they visit the Massachusetts Avenue compound, which neighbors Vice President Mike Pence's official residence? Duke's Grocery will be selling British bites like "banger dogs" and veggie paneer wraps, and visitors can also sample whiskey, British wine, and Scottish ginger beer. In addition to food and drink, you can admire British luxury cars, try to match the speed of tennis star Andy Murray's serve, and watch the DC-based Shakespeare Theatre Company perform.
A few aspects of the open house won't be 100 percent British. The Philadelphia Eagles cheerleaders, drum line, and mascot will all be in attendance, ostensibly to promote an upcoming game they'll play in Wembley Stadium. (British football—soccer—teams have mascots, but not cheerleaders, explained Tatham.) And if you're inclined to celebrate the upcoming royal wedding, the embassy will have a card-writing station set up near the exit gate (on your way out, check out the statues atop the gate: they're unicorns, which appear on the royal coat of arms).
Embassy tourists will get to explore the residence itself. Usually, social secretary Amanda Downes gives visitors the official tour of the historic building, which has housed top British diplomats since 1930, but for the open house, she'll be greeting guests near the entrance gate. After nearly 30 years orchestrating the endless stream of embassy events (last May through November, she oversaw around 600 events), Downes will be returning home to the Cotswolds this summer.
But will this be the last time the British Embassy participates in the EU open houses? The Brexit vote means that by the end of March 2019, the United Kingdom will no longer be part of the European Union. Deputy Ambassador Tatham wasn't sure whether his embassy will still be allowed to participate the same weekend as other European countries, but he was certain of one thing: "In whatever capacity, I confidently predict we'll be doing an open house in 2019."
Although Downes won't be available to you give you the official tour during the open house, for which the embassy is expecting 7,000 to 10,000 visitors, Washingtonian was invited in for a sneak peek.