A guide to the newest places to eat and drink.
If you want Filipino food in the DC area, you can wait in line outside trendy Bad Saint, try to get a reservation at Kaliwa or Purple Patch, or track down a smaller, family-style joint. When Kuya Ja's Lechon Belly opens this Friday, it aims to be something different: a fast-casual spot serving up authentic Filipino pork belly.
The Rockville restaurant comes from Javier Fernandez and his wife and business partner, Jennifer. Javier is a L'Academie de Cuisine grad and former employee of the late Michel Richard's eponymous Ritz-Carlton spot at Tysons Corner. The couple has been running a series of pop-ups in Rockville with Javier's sister Stella Fernandez, who's behind the wholesale bakery Gwenie's Pastries (named after their mom, who started selling the Filipino baked goods over 10 years ago).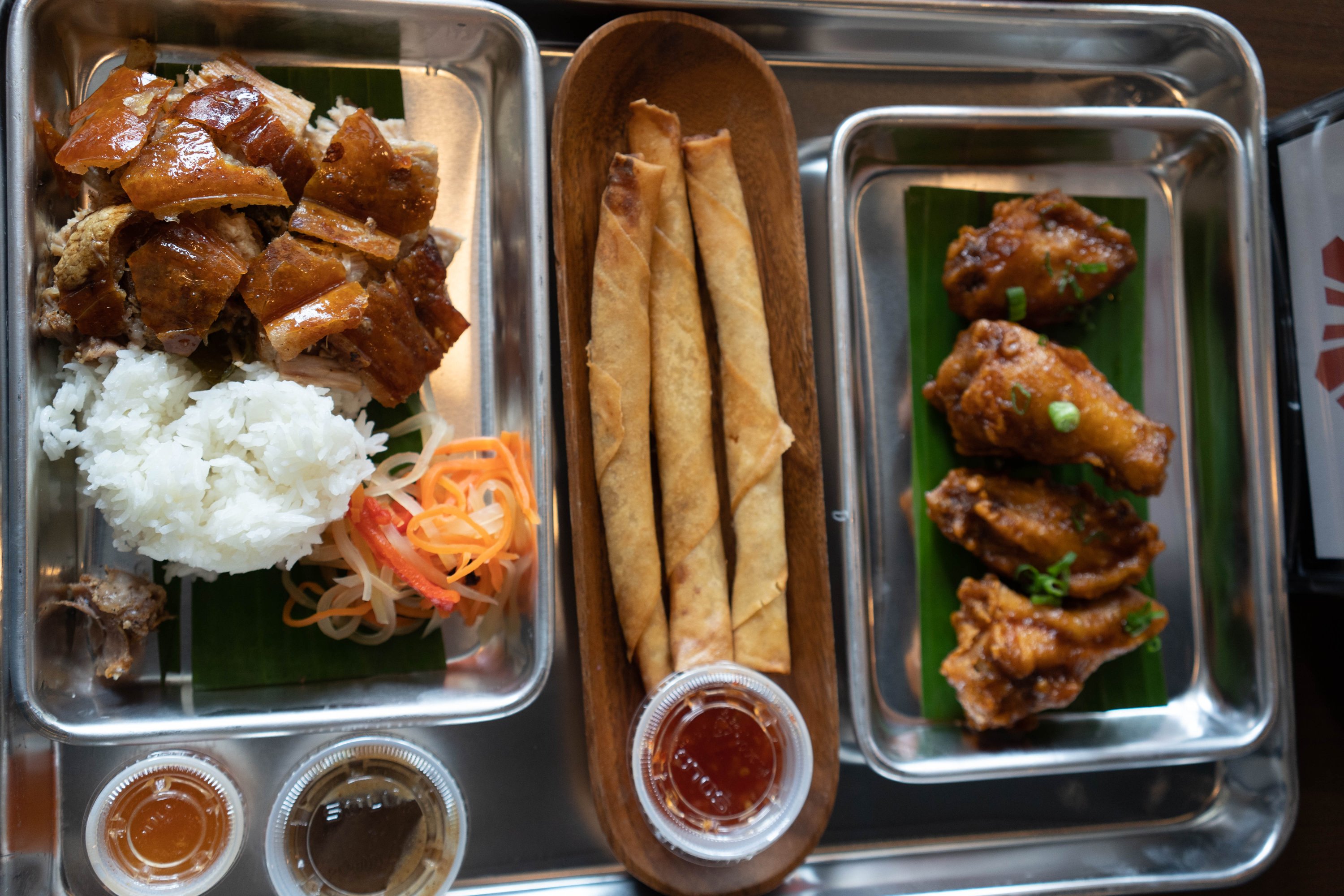 The team knew they were onto something when they developed a following for Javier's specialty, lechon—crispy, bronzed pork belly. (People love it so much, they've been ordering his pork bellies for Thanksgiving instead of turkeys, Javier says.)
It's a hard dish to get right, he says, and it took him over a year to master the perfect technique. "The skin is a big thing. If you cook lechon, and the skin's not crispy, [Filipinos] won't even buy it from you," he says. "When you have the whole hog and go to a Filipino party, the skin is the first thing gone in five minutes."
While pork belly will be the focus at his new spot, that's just the start. What were once specials at the pop-up are now menu fixtures, including rice bowls, an adobo sandwich, and spiced wings. To top it off, Javier's sister Stella will carry Gwenie's Pastries at the restaurant—from traditional cassava cake to flan to pork buns.
While Javier wants the food to stay true to his Filipino roots, he hesitates to call it traditional. He's originally from the island of Cebu, and his dishes will nod to that particular strain of Filipino cooking, which is sweeter, he says.
"Filipinos are probably going to be the biggest critics when it comes to the cuisine," he says. "There's over 7,000 islands in the Philippines, and everyone thinks theirs is the best."
Regional differences aside, Javier and Jennifer are just excited to get the place running. The name Kuya Ja comes from the Filipino word for "big brother" (kuya) paired with Javier's nickname (Ja), and he wants to be just that—a big brother for the local community, bringing everyone together to eat.
That message is reinforced with a mural representing the DMV with the words "kaon na ta," meaning "let's eat," stretched across. "Usually when you go to a Filipino household, full or not, they're going to make you eat," Javier says with a laugh.
Kuya Ja's Lechon Belly. 5268-H Nicholson Ln., Rockville; 240-669-4383.