Mu Ramen, a Queens noodle shop that's garnered raves from the New York Times and Bourdainophiles alike, is expanding to the DC area. Chef/owner Joshua Smookler and his wife and co-chef, Heidy, will revamp her family's Vietnamese pho shop in Burke, Virginia—the site of several weekend pop-ups over the years—into a ramen shop. The duo's 30-seat spinoff, called MuVA, will launch around June 7 for at least a year—and maybe more, pending the terms of the restaurant's lease.

Mu Ramen isn't your average ramen joint, and Smookler isn't your everyday chef. Born in Korea and an adopted by a Jewish family in New York, he earned his kitchen chops under Thomas Keller at Manhattan's glitzy fine-dining destination Per Se.
Smookler's original Mu ramen bowl, which he'll serve in Burke, is telling of his background and approach. The oxtail and bone marrow-based broth is inspired by Korean ox bone soup and crowned with a deli-style mix of house-cured brisket, "half-sour" pickles, bamboo shoots, shaved cabbage, and scallions. The springy noodles, like at many top shops, are Sun brand. 
"A lot of people want to do authentic Japanese ramen these days," Smookler says. "We want to be unique to our location in terms of style. We call ours a New York style of ramen. When we come down to Northern Virginia, we want to eventually have NoVa-style ramen." 
To start, Smookler says the appetizers and ramen bowls for MuVa will pull from the early menus at his Long Island City flagship (plus beer, wine, and sake). Snacks may include steamed buns, okonomiyaki pancakes, and "U&I"—uni and ikura (or salmon roe) with spicy tuna on a bed of warm rice. For ramen, look for the aforementioned brisket bowl, spicy miso, and a cheffy version of tonkotsu fashioned from heritage Berkshire pork bones.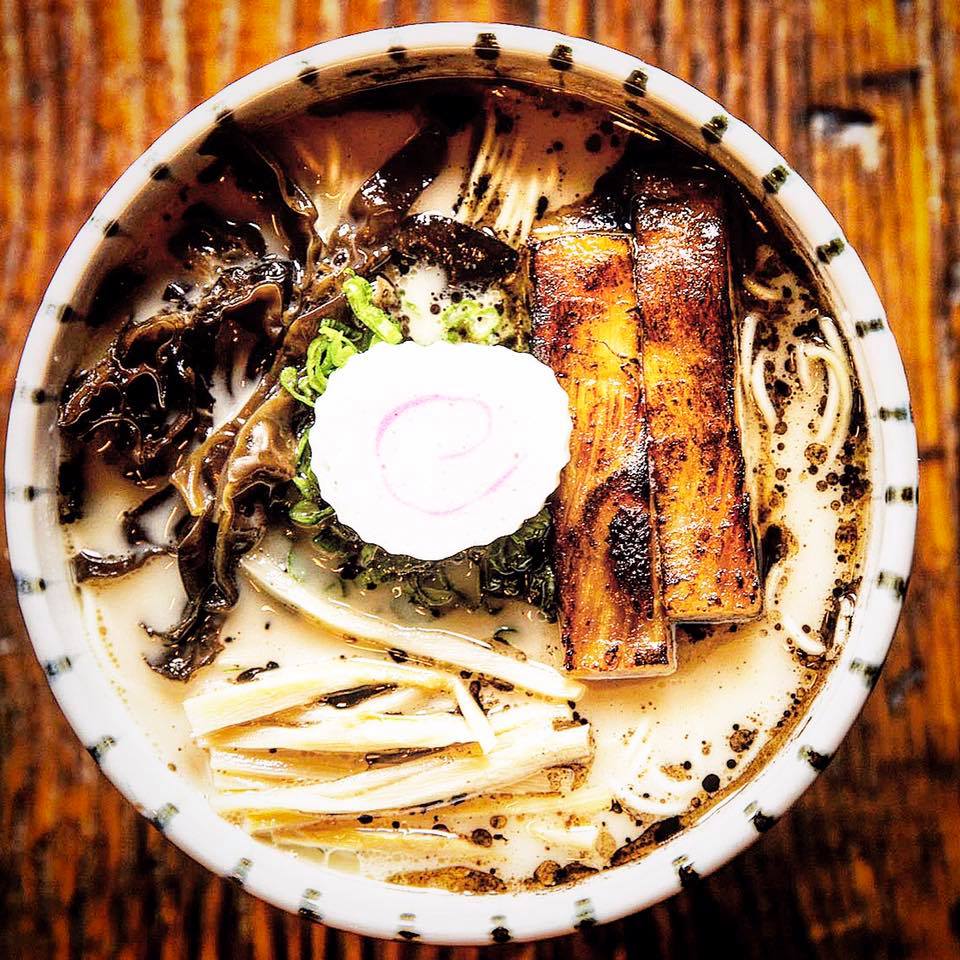 Smookler's newest ramen takes tonkotsu to the next level. For years he's been trying to import bones from prized Spanish Iberian pigs, the same hogs used for jamon Ibérico and other porky luxuries. After running up against USDA, he flew to Texas to connect with Sergio Marsal and Manuel Murga of Acornseekers, a farm company near Austin that's producing the first American-raised Ibérico pigs originally imported from Spain. Apparently the Texan climate and fattening acorns are parallel to those of the hogs' homeland.
"It dramatically changes the flavor [of the ramen] in a very, very good way," says Smookler, who tops the bowls with cured jamon Ibérico, green onion, and peppery arugula. Iberico de Bellota (the caviar of Spanish hams) can be hand-carved at the table for an additional fee.
Smookler says he plans to bring "The Flying Pig" ramen—named for the pioneering 200 hogs that flew from Spain to the US—to Washington. He already has a message for DC's hometown celebrity chef: "José [Andrés], you need to come out and try this!"
MuVa. 9546 Old Keene Mill Rd., Burke, VA.
This post has been updated from an earlier version.