Sally Quinn has not yet heard the news.
When she answers the phone and I ask her about her 36-year-old son's plan to run for the Maryland State Legislature, she sounds almost amused.
I mention Quinn Bradlee's hours-old Facebook post announcing the possibility he's moving from DC to the St. Mary's County farmhouse his father, legendary Washington Post editor Ben Bradlee, bought over 20 years ago. But Sally Quinn isn't on Facebook and has no clue what I'm talking about. So I read it to her.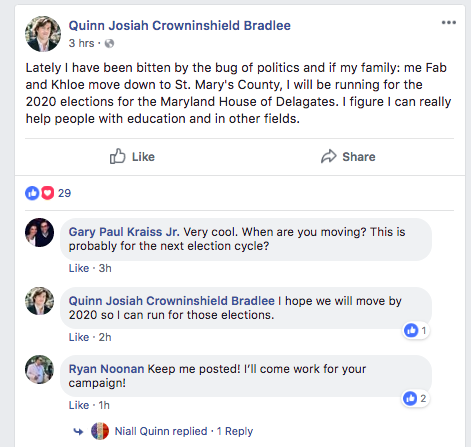 "What do you think?" I ask.
"I think that's a little premature," she says without pausing, this time less amused. "I need to talk to him."
Seven minutes later, my phone rings. It's Quinn Bradlee, who has just gotten off the line with his mother, who telephoned him "frantic." The conversation that ensues reveals a man who would very much like to run, maybe someday, no definitely someday. His account of his own political future alternates between being simply a matter of when and an idea "floating in the clouds".
"I'm planning to run," he assures me. But there are some complications, of which Sally Quinn has apparently just reminded him. He and his fiancée, Fabiola Roman, have registered her five-year-old daughter in a new Washington school for September.
"So it's more of an idea," Bradlee admits, backing away from his Facebook pronouncement before grasping back onto it. "If we did move down there before 2020, I would possibly run. I do want to run eventually."
Okay, I say, so what does your mom think?
"She feels now is not the time to run," he says. But he has talked about it with Roman, who isn't opposed to the idea. They've discussed moving to the farmhouse, which his father called "mind-emptying"—the closest he ever got to feeling religion, as his son puts it. It's the same feeling Quinn Bradlee gets about the place; he's been dreaming of retiring there since he was 16 years old. "What 16-year-old dreams of retirement?" he asks before moving on to matters more practical.
That he can't run for office from DC is "obvious" he explains. But then, perhaps remembering the frantic call from Sally Quinn, loosens his grip. "If we do move down to the farm…" He trails off. "It's an idea that's floating in the clouds right now. That's all it is."
On Thursday, Quinn Bradlee and his mother both attended a screening of the new HBO documentary John McCain: For Whom the Bell Tolls at the Capitol. He mentions Mitch McConnell and Lindsey Graham were there, too. The screening caused Bradlee to reflect on his dyslexia. "It inspired me to get involved in politics and education," says Bradlee.
And just when I'm about to write off Quinn Bradlee's statehouse bid as the whim of a man in the understandable throes of seeing a well-scored film about a war hero respected on both sides of the aisle, a candidate starts to emerge. "With a family, you have to think of your family first," he explains to me, referring to his fiancé's daughter, whom he already calls his step daughter. "If Khloe really likes the school, I may not run in 2020. But I plan to run in the future."
"When I do run sometime, hopefully, in the future, I will give you a call."