After months of hype, controversy, and delays, Sushi Nakazawa finally opened in the Trump International Hotel on Friday.
Behind the Japanese omakase restaurant, which also has a location in New York, is a sushi star and a brash restaurateur. Chef Daisuke Nakazawa was featured as apprentice to one of the world's top sushi masters in the documentary Jiro Dreams of Sushi and earned a rare four-stars from the New York Times in 2013. Meanwhile, restaurateur Alessandro Borgognone has a reputation as a "hitmaker" in New York but pinched a nerve in Washington for early comments implying the city's food scene was terrible. ("With D.C., I had reached a point where I saw so much bad that I was actually looking for the good. I couldn't find it," Borgognone told New York magazine. After backlash, he apologized and said he's come to love the city and its dining.)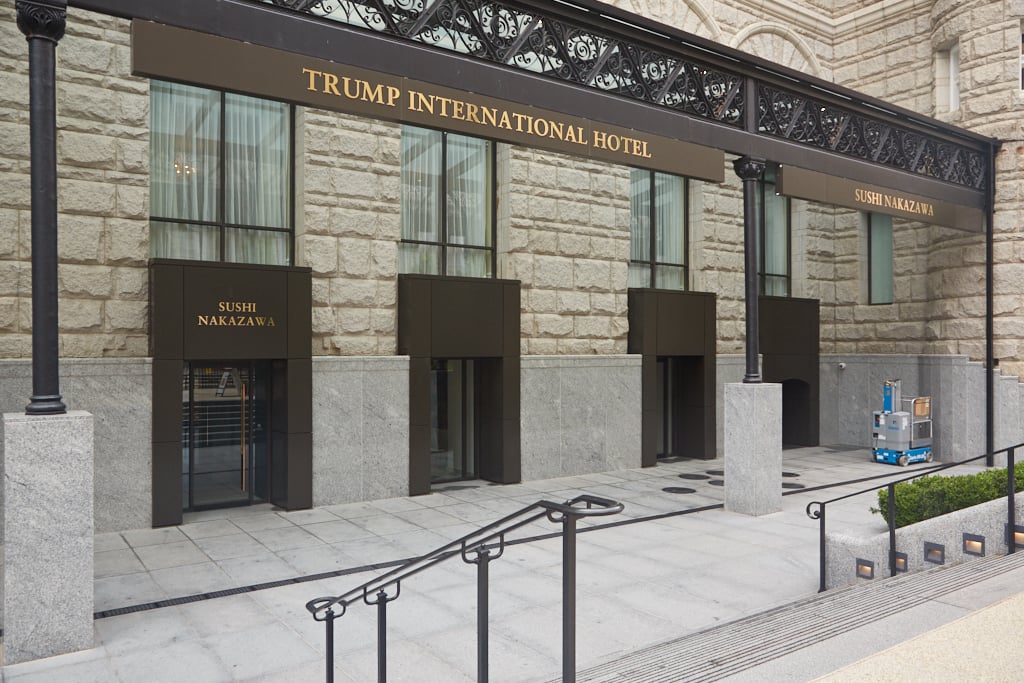 Then, of course, there's the fact that the restaurant is located in the Trump hotel. Many local restaurateurs viewed the property as toxic after celebrity chefs José Andrés and Geoffrey Zakarian cut ties with the hotel in response to Donald Trump's controversial comments about immigrants. But to Borgognone, the decision to sign a lease was never about politics. He was awed by the architecture of historic Old Post Office Building on Pennsylvania Ave, and it seemed like a good business opportunity.
"This is a beautiful building, you can't deny it. It's one of the most beautiful buildings in DC. If the name was probably a little different and it wasn't as controversial, you would say it's a no-brainer," Borgognone told Washingtonian last year. "I thought it was right regardless of what the political scene is at the moment. I don't care."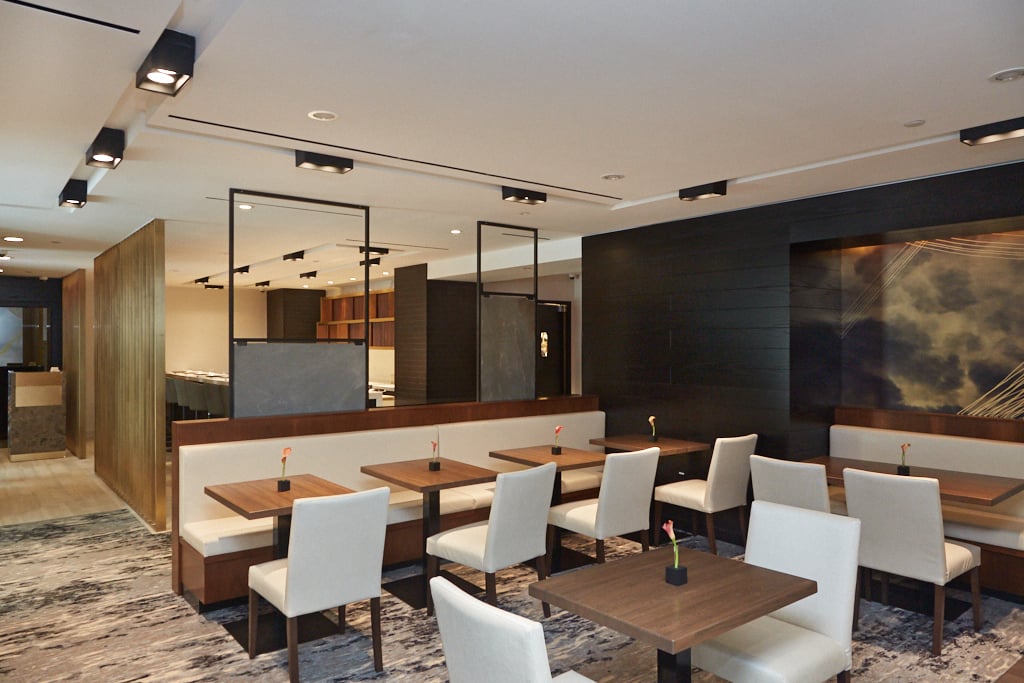 Sushi Nakazawa will not be located in the spaces abandoned by Andrés or Zakarian. Rather, it's in the back of the hotel with its own private entrance. "People know it's part of the hotel, but we wanted it to feel it wasn't a hotel restaurant," Borgognone says. "It's its own identity."  
Inside is a chic, gold-accented dining room with a 10-seat sushi counter made of Calacatta marble. Borgognone picked out everything from the glassware to the bathroom tiles. He even drew the design for the restaurant's custom rug.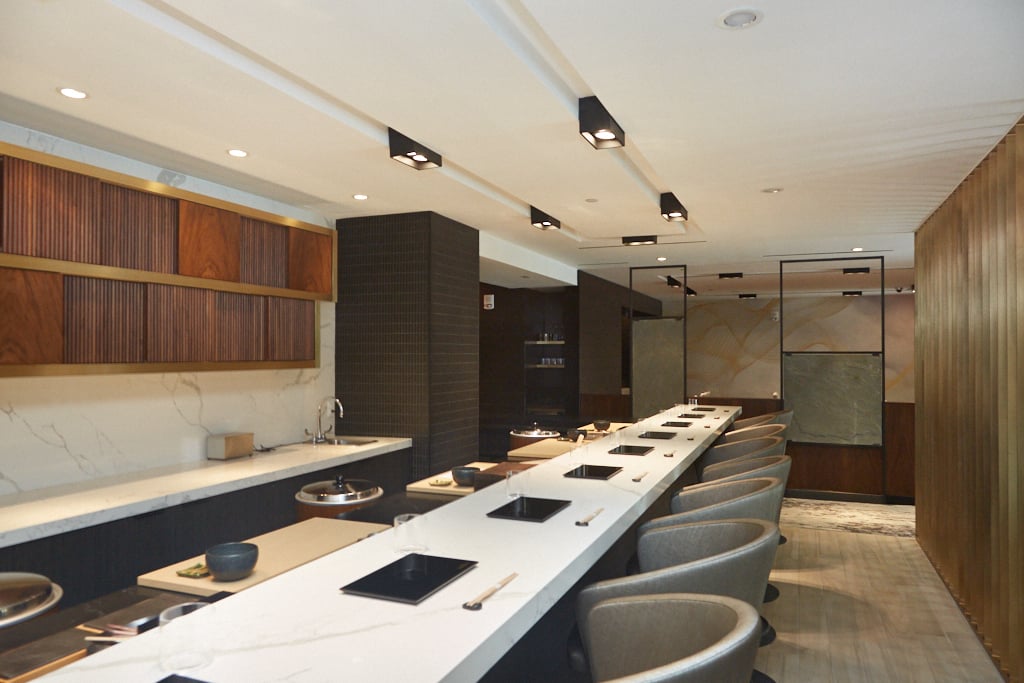 The restaurant exclusively serves a tasting menu—$150 at the sushi bar or $120 in the dining room. It is open for dinner only to start, but will eventually expand to lunch.
While Nakazawa himself will make appearances in DC, his right-hand man Masaaki Uchino runs the kitchen day-to-day. Sushi Nakazawa also employs a "maritime liaison," who works directly with fishermen to secure the best seafood. The selection of wildly sourced fish and shellfish will rotate daily, but a sample menu advertises hay-smoked sockeye salmon, golden eye snapper, fatty tuna, and California and Japanese sea urchin, among other delicacies.
Some top sushi restaurants brag about getting their fish straight from Japan's famous Tsukiji market, but Borgognone says "that's not really being Japanese either. Being Japanese and believing in an omakase—and I learned this from Nakazawa himself—is using the waters that you have around you," he says. "We like to get the best product that we can find. If the product at Tsukiji market is going to be better than the one we get here in the United States, then it's coming from the Tsukiji market."
The sushi can be paired with sake and wine from an extensive collection. The New York location boasts 550 wine bottles, and Borgognone hopes to grow that in DC. Sushi Nakazawa also differs from more traditional Japanese restaurants by serving its sake in European glassware.
"I didn't want it to be classic Japanese," Borgognone explains. "I wanted you to feel that you were at one of the best restaurants in the world. I wanted you to have a glass of sake out of the most beautiful crystal you could find."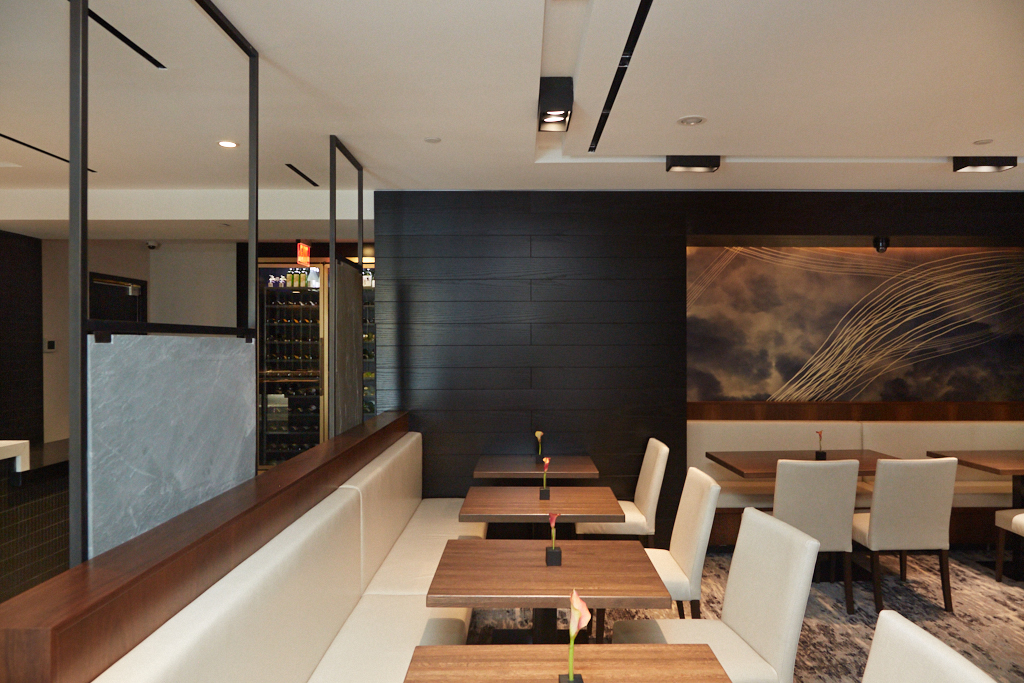 It's details like these that Borgognone hopes will ultimately sell Washingtonians on the restaurant. He says he's not bothered by the naysayers or the fact that Esquire questioned if he's the "most hated restaurateur in America."
"I enjoyed, because at the end of the day—and I'm not going to lie to you—I really don't give a shit. My political views or someone else's political views have nothing to do with what we do," he says. 
"I don't think you have to like me as a person. But if the product is what it is, you can't lie about it."
CORRECTION: This story initially misstated that GQ questioned whether Borgognone was the "most hated restaurateur in America." In fact, it was Esquire magazine.
Sushi Nakazawa. 1100 Pennsylvania Ave., NW. 202-289-3515.