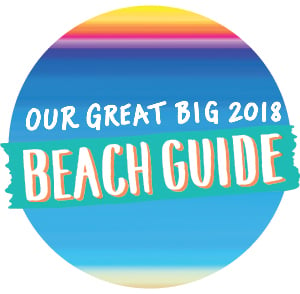 This week, we're rolling out our great big guide to the best beaches on the Mid-Atlantic coast. From the surf scene in Virginia Beach to Ocean City's expansive boardwalk, we found the best bites and activities (yes, even in Jersey) that'll make this summer by the shore your best one yet. Water you waiting for? Dive in. 

The case for: Rehoboth is the region's most classic beach town, with lovely shingled cottages amid shady pines plus a mile-long boardwalk lined with treats and amusements. Adjacent Lewes is a quieter enclave of historic clapboard houses and upscale dining.
The case against: Popularity begets lots of traffic on Route 1, a.k.a. Coastal Highway—the road into Lewes and Rehoboth—especially on Saturdays, when rentals turn over.
Also known for: Rehoboth is LGBTQ-friendly. Especially popular spots include Poodle Beach, at the boardwalk's southern end and, at Cape Henlopen State Park, North Shores Beach and Gordons Pond.
Highlights: Two popular walking and biking trails that link Rehoboth and Lewes are Junction & Breakwater and Gordons Pond, which borders a salt lagoon with ospreys, herons, and other shore birds. Cape Henlopen State Park in Lewes offers natural beaches. The Lewes Historical Society hosts a variety of walking tours in town. In Rehoboth, kids love Funland, a 56-year-old amusement park and arcade on the boardwalk. Rainy-day amusements include outlet shopping in Rehoboth, while Lewes offers Lefty's Alley & Eats, an indoor arcade with laser tag, and Shell We Bounce trampoline park.
Eat: In high season, expect to wait about an hour for great Mexican fare at Agave in Lewes. Michy's Relaxed Dining (don't be put off by its location in a Route 1 strip mall) and the Back Porch Cafe, both in Rehoboth, and Heirloom in Lewes are innovative dining options. Casual Bethany Blues in Lewes has great burgers, barbecue, and an abundant brunch buffet. For dessert, the Ice Cream Store, just steps off the Rehoboth boardwalk, scoops 100 luscious flavors.
Rent: In high season, a three-bedroom townhouse on the bay beach in Port Lewes rents for $2,000 a week. Rehoboth is pricier: A four-bedroom two blocks from the beach runs $3,550.
Check in: Bewitched and Bedazzled in Rehoboth offers a playful B&B experience. For oceanfront charm, check into Rehoboth's Boardwalk Plaza hotel. The Inn at Canal Square is a quieter choice on Lewes's harbor.
Beach Non-Bums
A few boldface names who have houses in Rehoboth.
Joe and Jill Biden
The former VP and his wife have a six-bedroom house with plenty of porches and a large outdoor kitchen and fireplace. It looks over the Atlantic Ocean and Cape Henlopen State Park.
Tony Kornheiser
The ESPN host and former Washington Post sportswriter has a five-bedroom that's outfitted for entertaining, with two wrap-around porches, a sunroom, an outdoor shower, and a grilling area.
John Delaney
The congressman represents Maryland's 6th but likely spends a good deal of time at his Delaware vacation home. It has seven bedrooms, a heated pool, private beach access, and ocean views.
Carol Schwartz
The former DC Council member and mayoral candidate got flak during her 2014 run for spending too much time at her Rehoboth home—a gray-and-white bungalow she's had more than 20 years.
Kevin Plank
The Under Armour founder's six-bedroom, seven-and-a-half-bath, Victorian-style getaway has multiple decks, a pool, and a hot tub on the fourth floor that overlooks the ocean and nearby state park.
This article appeared in the July 2018 issue of Washingtonian.
Questions or comments? You can reach us
on Twitter
,
via e-mail
, or by contacting the author directly: