"Do you want to get stoned and watch that new America documentary?" I was in London last week, finishing dinner with an English journalist friend, and assumed she meant Sacha Baron Cohen's show. If you can still remember as far back as last week, then surely you'll remember people were talking about it.
"No," my friend clarified. "The embassy one."
I could not know in that moment, scraping the plates, that I would not leave the sofa until the small hours of the morning. I could not not know that I'd be powerless to stop watching US Ambassador to the UK Robert Wood "Woody" Johnson IV articulating his thoughts on Brexit ("Why are we so nervous?"), America ("We've got the best story"), and child-rearing ("I have two little boys, and we're raising them just like Donald Trump, without the hair").
I could not stop listening as Johnson described to the UK foreign minister why peregrines were his favorite bird: "They've got a serrated beak and they go under the pigeon and slice the neck and they grab it." ("This is a political technique I need to master," the minister replies, ambiguously.)
Inside the American Embassy is a fly-on-the-wall series about America's home on UK soil that begins with Johnson's swearing-in and ends with Trump's state visit earlier this month. If you live in America, you've probably never heard of it. If you're a British person, you know everything about Woody Johnson.
The show has been airing in the UK since late June, marking an audacious new frontier for how members of this administration use their political positions to raise their profiles. While it's become almost customary to juice a previous role inside Trump World for a memoir (Sean Spicer, James Comey, the forthcoming Omarosa tell-all) or a Fox News gig (like David Bossie), becoming a reality TV star while still on the job feels, well, almost like a parody of the kind of thing that would happen inside Trump World.
Diplomatic work is reactive and reactions often look like a team of career diplomats co-drafting a #AskWoody tweet, so the show itself can be plodding. But it's also riveting in the way it would be riveting to watch hidden camera footage of a celebrity, like seeing Madonna floss. It's not technically interesting, but also WHAAT IS THIS HOW AM I WATCHING THIS.
And Inside the American Embassy doesn't shy from Trump's British scandals—like his criticism of the "lousy" new billion-dollar US Embassy in London, the very embassy Woody Johnson, 71, is gearing up to open in a scene from the season premiere.
"We're actually taking it up a notch," Johnson, the billionaire heir to Johnson & Johnson, assures his staffers. "It's a story we're going to write together. What is it and why is it exciting? Why is it the best thing ever? Right?" He looks expectantly at his people. "Sales! We've got to sell it."
An aide warns that there may be blowback. The old embassy was in Grosvenor Square, America's home on UK soil for a hundred years. D-Day was planned in Grosvenor Square.
"If you don't get any blowback," says Johnson, a Sun Tzu of making America great again. "You're not being aggressive enough."
---
Inside the American Embassy is the brainchild of executive producer Sally Angel from the British production company Field Day. She started laying the groundwork for the show two years ago, before the 2016 election and long before Johnson was in place. The embassy, she says, was "surprisingly positive" from the get-go.
Still, cameras couldn't roll without the new ambassador's approval. A week after he arrived in London, Angel and series producer Simon Gilchrist sat down with Johnson in his Mayfair office, "underneath the gaze of Winston Churchill," says Angel of the portrait Johnson has hung.
"He was very enthusiastic about it," says Gilchrist. "He'd had a similar experience with a series which was done about the New York Jets." Because besides being the billionaire heir to Johnson & Johnson and the US ambassador to the UK, Johnson co-owns the football team whose 2010 season was chronicled in the HBO series Hard Knocks.
Behind the scenes with a national football team, a peek behind the curtain of the special relationship. Inside the American Embassy can be understood as a sequel almost, a box-set tour of the great American institutions. Gilchrist says filming started just six hours later.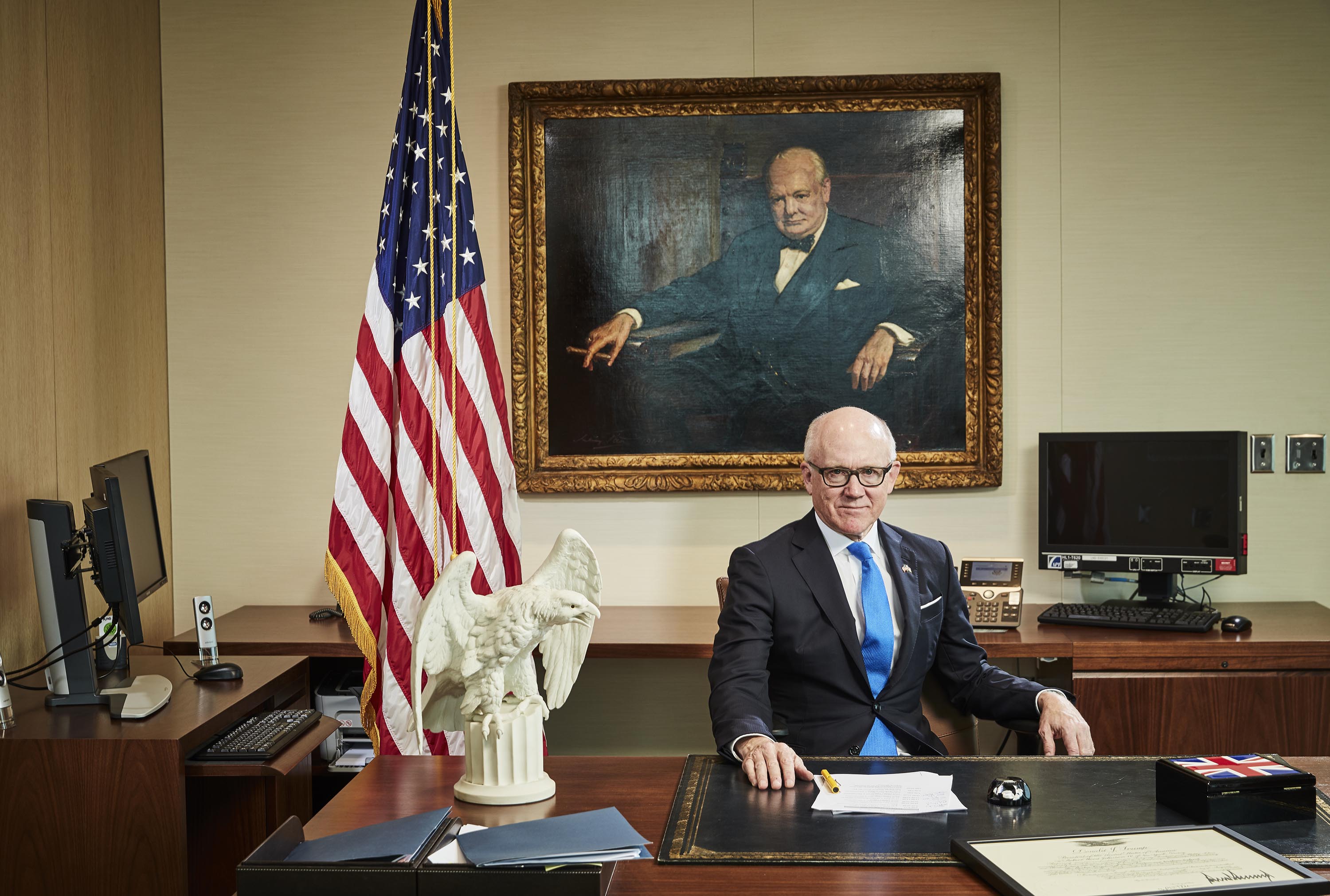 Given how difficult it can be to get information from the White House—the US headquarters on US soil—some of the moments Inside's camera crew captured are shocking in their transparency, like consular interviews conducted in the wake of the travel ban. We watch an Iranian grandmother get denied a visa to visit her son in New York, a trip she takes every year. "How would you feel if there was such a judgment about all of you collectively? Are you all thieves, are you all terrorists? How would you feel?" her daughter asks the camera as they leave the embassy. "That's how we feel."
There are approvals, too—a family headed to Disneyland, a young bus-driving groom who will be reunited with his American fiancée–but the overall impression is a scandalized sense of why any viewer was permitted this trespass. Angel says there was no attempt by the embassy to limit the film crew's access. That was the deal. "Once they agreed to our filming, they had agreed to our filming."
---
Woody Johnson is so happy to be back in the United States, in the first episode, that he can't stop pointing out the window as his car glides toward the White House. He points to the Washington Monument. He points to the Treasury building, where his boss and close friend the President can easily nip over to "count the money." Johnson is positively giddy with dad jokes.
It's January and the ambassador's been called to attend Trump's first State of the Union address. His camera crew captures a confessional-style interview in his Trump Hotel suite. When Johnson runs into Corey Lewandowski on his way out of the Oval before the speech, he assures him "the boss" is "in great spirits."
The show doesn't skewer Johnson. He comes off as an affable guy who cares a lot about business. He thinks Coca-Cola's a good business. He likes how many business guys there are in the administration. He tells a group of UK entrepreneurs that the sentence "America is open for business" is an understatement. Woody thinks business is the best.
But the show's also not subtle. Every episode features panning shots of American flags and statues of bald eagles. "This is diplomacy in the age of Trump," the narrator bellows. In the fourth episode, "When Trump Comes to Town," the press team reviews news coverage from his state visit. "Still not the world's most positive headlines," one aide says. "No, that's true," says another.
According to Gilchrist, the US Embassy in the UK was shown the program prior to its airing and provided an opportunity to correct factual mistakes, like name misspellings and wrong job titles. But it's impossible to say who made the final decision to allow production of the show in the first place, mostly because everyone's refusing to talk about it.
The US State Department declined to allow the embassy's press officer to be interviewed for this piece: "I'm not at liberty to discuss any details of the project or the approval process at this time."
The White House, too, has not responded to multiple requests for comment.
The production company, who hopes to air the program in the US, refused to speculate whose rubber stamp let this show get made.
And so it's just like Johnson says in the final moments of the final episode, as he speculates what will happen next, and when his boss and close friend the President will visit the UK again: "Who knows?"