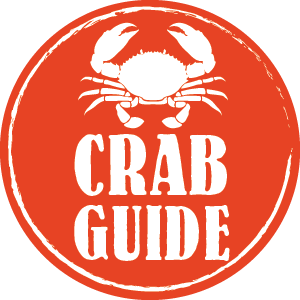 This week, we're rolling out our 2018 Crab Guide, including our favorite spots near and far for fresh crabs, the tastiest crab dishes (that aren't crabcakes), and our pro-tips for how to get the best out of crab season. Let's get crackin'.

Crab prices are driven by supply and demand.
To feast for less, try markets and restaurants midweek. Even better, buy crabs when the shore crowds have gone home, between Labor Day and late October.
Look at the underbellies.
Pale white signals that the crab has recently molted and will be less heavy. Rusty stains are what you want—they indicate the crab has been filling out as it rests on the bay's muddy bottom.
Chesapeake crabs are like bears: They hibernate in winter.
The best time to eat them is early spring, when they're emerging—fattened from rest—or late fall, when they've bulked up for the cold.
Unless you're an excellent and patient picker, skip all-you-can-eat "deals."
The crabs are smaller, and it's like a Bloody Mary bar—the restaurant makes money because most diners can handle only a few.
This article appeared in the July 2018 issue of Washingtonian.