Let's cut to the chase: Denver Riggleman, the Republican nominee for Congress in Virginia's 5th district is allegedly "a devotee of Bigfoot erotica." This brings up many questions, but the most pressing are these: 1) Is Bigfoot actually hanging around VA-5?; and 2) If he is, is he sexy?
The Bigfoot controversy kicked off Sunday afternoon, when a Tweet from Riggleman's opponent, Democrat Leslie Cockburn, "exposed" his love for sexy Bigfoot. Cockburn, who, just to make this a little weirder, is Olivia Wilde's mother, wrote "This is not what we need on Capitol Hill" under a screenshot of a post from Riggleman's (now private) Instagram account.
The post's caption references The Mating Habits of Bigfoot and Why Women Want Him, a book Riggleman apparently wrote and self-published. Why do women want him? Well, according to the screenshot, Bigfoot is incredibly well-endowed.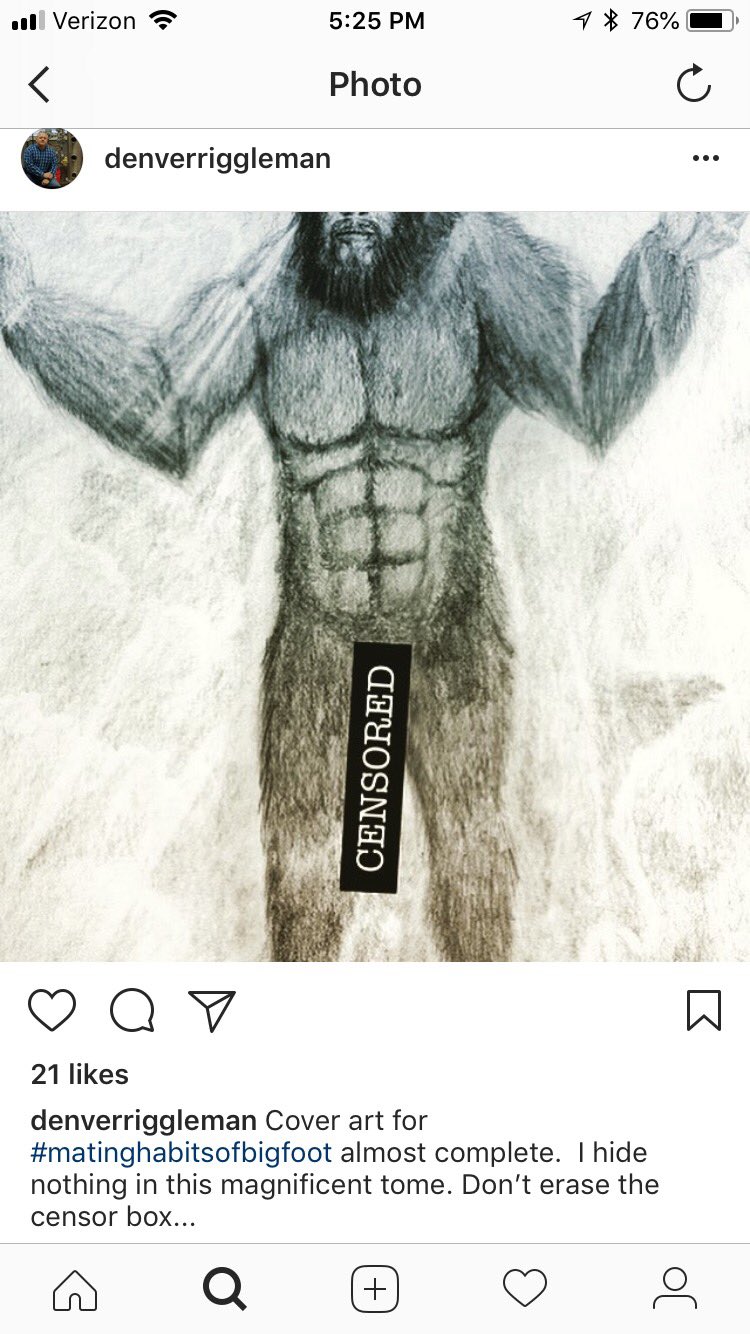 Wow. Riggleman has dismissed all of the erotic allegations as nonsense, saying he "does not believe in Bigfoot" and that any of his Bigfoot material is a long-running inside joke with military buddies. But is Bigfoot mating in the Virginia woods? And is he as shredded as the above image shows?
Bigfoot—also called Sasquatch—is commonly described as a tall, hairy, bipedal ape-like humanoid with huge muscles. Sightings are commonly associated with the Pacific Northwest, but Virginia (and much of the southeast) is no stranger to Bigfoot legends. In the last decade, there have been sightings on the Intracoastal Waterway, in Spotsylvania County and in Bedford County. (None of these are in VA-5, but Bigfoot has long legs.)
Bigfoot, like any good cryptid, doesn't like to be seen. Cliff Barackman, a "dedicated Sasquatch field researcher" and a star on Animal Planet's Finding Bigfoot, called Virginia "excellent bigfoot habitat." That's because according to the Virginia Department of Forestry, about 62 percent of the state is covered in woods. And the Bigfoot Field Researchers Organization logs sightings across the state on its website; many are along the western side, where the Appalachians rise, covered by millions of acres of national forest.
For what it's worth, Riggleman happens to own a distillery in Afton, Virginia, right on the border of the George Washington and Jefferson National Forests. There is no evidence to suggest Riggleman has seen Bigfoot himself, but he is sitting on prime Bigfoot land.
Bigfoot experts agree that the creature is tall and ripped—reportedly, it has a significant meat intake and can kill prey like deer or elk with its bare hands. There is less consensus on its hunkiness. Bigfoot is widely reported to smell bad: like wet dog, sulfur, or rotten eggs. Some cryptozoologists claim that it can turn on the smell at will to deter others, like a skunk. As for looks, the Finding Bigfoot team stress that bigfoots can look different from one another, and that one witness reported it looked like Jerry Garcia. Beauty is in the eye of the beholder, though: "bigfoot erotica" as a genre is doing pretty well on Amazon. Seduced by Bigfoot and Ravaged by the Yeti is available for just $2.99.
If you're interested (in any sense of the word), the 2018 Virginia Bigfoot Conference is planned for late September in Bristol.