When Lindsay Goldin started selling jars of raw, ready-to-eat cookie dough two-and-a-half years ago, she thought her company, the Dough Jar (formerly the Cookie Jar DC), would be unique—not trendy. Turns out the nostalgic indulgence has become a thing. Over the weekend, Goldin opened her first shop in Georgetown, joining a handful of no-cook cookie dough businesses in the area and a ton more around the country.
Wha-huh-why? We answer all your half-baked (not baked?) questions about the Dough Jar and the cookie dough trend in general.
Why is raw cookie dough having a moment right now?
Our collective anxiety about political chaos, rising global tensions, and Donald Trump's tweets makes us crave nostalgic comforts that we can Instagram to show our friends how really, totally fine and carefree we are. Plus, Washington is full of goody two-shoes who wish they could break the rules but don't actually want to break any rules. Nothing says low-stakes rebel like "I eat raw cookie dough."
Huh. Wow.  
Also, it's a delicious combination of fat and sugar!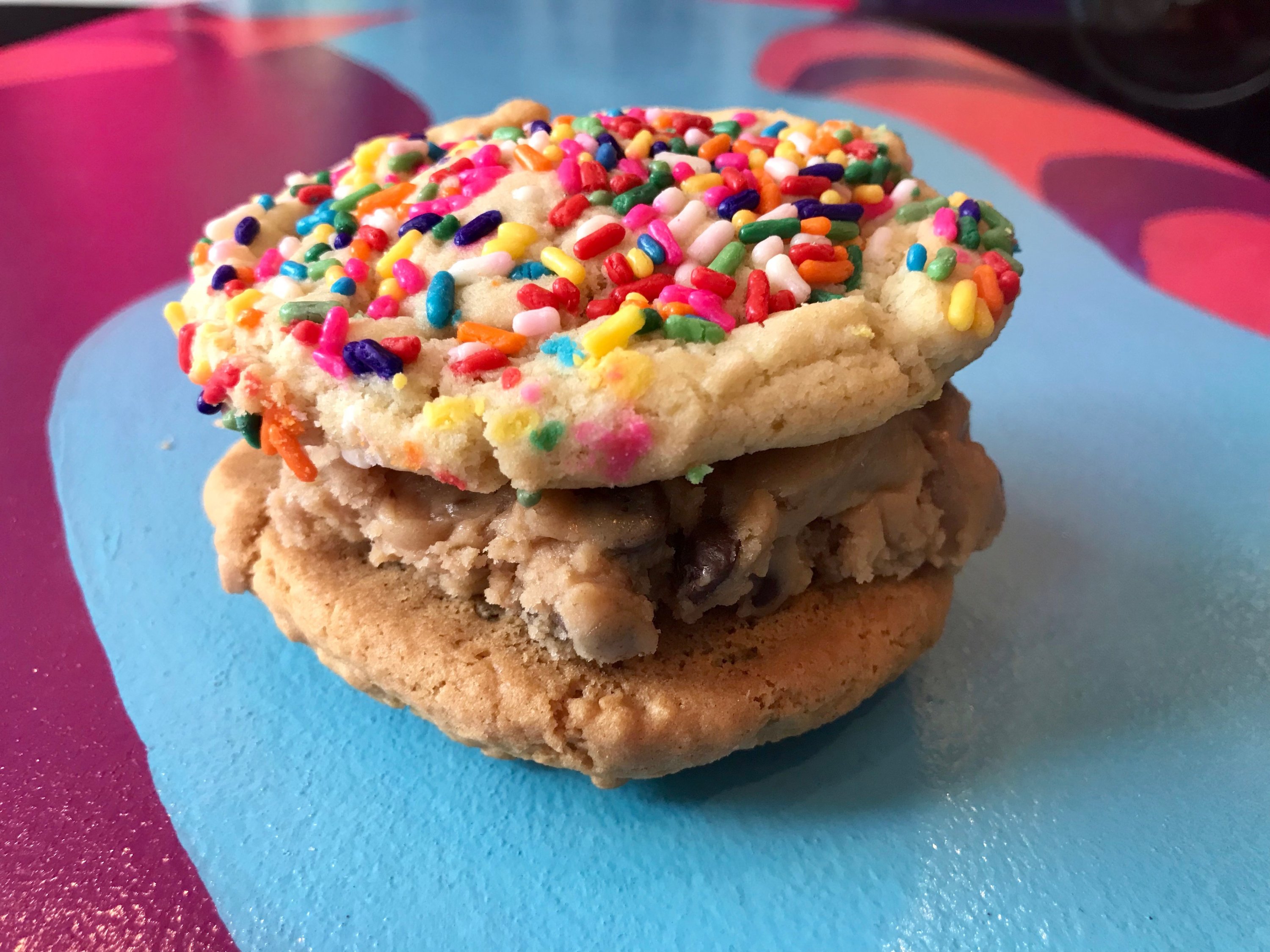 I don't know if raw cookie dough is enough to cure my feelings of uncertainty and malaise. 
Did we mention that the Dough Jar sells raw cookie dough stuffed inside two baked cookies? They're called "Cookie Dough'wiches." You can also get sprinkle-topped cookie dough cones, cookie dough sundaes, and cookie dough shakes.
OK, my malaise has been upgraded to a subtle tinge of dread. Am I going to get salmonella and die?
You're really no fun, are you? It's highly unlikely you'll get sick. The Dough Jar forgoes raw eggs (other purveyors of raw cookie dough opt for pasteurized eggs) and heat-treats the flour, so the stuff is safe.
In New York, though, a woman sued a shop called Cookie Dō for giving her food poisoning. The business, which uses pasteurized eggs and heat-treated flour, says it stands by the health safety of its products, and to be fair, food-borne illnesses are often hard to pin down because symptoms can present themselves days later.
Can I make actual cookies out of the dough?
I mean, no one can stop you from sticking the stuff in your oven, but this dough isn't meant to be baked. It's missing key ingredients like eggs and baking soda, so your cookies will probably turn out weird.
What flavors are there?
The Dough Jar sells nine flavors right now, including peanut butter chocolate chip, snickerdoodle, and oatmeal raisin. (There are also vegan and gluten-free options.) Chocolate chip is still the most popular though.
There's a millennial behind this, isn't there? 
Yep, 31-year-old Goldin worked in marketing and fundraising for a non-profit and startup before launching her cookie dough biz in February 2016.  "I had been looking for something just more creative and fulfilling outside of my day job," she says. Two weeks after founding the company, Goldin started selling to Glen's Garden Market.  Three months in, she quit her day job to pursue cookie dough full-time.
I only eat cookie dough in my PJs with a full season of Orange Is the New Black queued up on Netflix. Can I get cookie dough delivered?
Same, same. The Dough Jar is available on Uber Eats, Caviar, Postmates, and other delivery services.
How much does cookie dough cost? 
Get one scoop for $4 or two for $7.
That seems like a lot. 
It's generally cheaper than avocado toast.
Where else can I get cookie dough?
Head to the mall! Bethesda's Westfield Montgomery Mall is home to Cookie Dough & Co, while the Fashion Centre at Pentagon City has Sophie's Dough. If being within a 100-foot radius of American Eagle isn't your thing, Captain Cookie and the Milkman has a cookie dough counter in Brookland's Tastemakers food hall, and Cookie Dō has a pop-up at the Watergate Hotel through September.
Is cookie dough the new cupcake?
Don't know, but just to be safe, the Dough jar has a cookie dough cupcake.