There is nothing rational about the Dough Jar's cookie dough sandwich. Then again, these are not rational times.
The world of desserts is full of absurd gimmicks: milkshakes smothered in candy; doughnut ice cream cones; "piecaken" (just look). In comparison, raw cookie dough smooshed in between two baked cookies almost seems… humble.
It's not.
I tried two "Cookie Dough'wiches" from Georgetown's new temple of edible batter: one with fudge brownie dough stuffed between chocolate chip cookies, and another with snickerdoodle dough inside rainbow sprinkle-topped sugar cookies. You can choose from any of the Dough Jar's nine dough flavors and mix-and-match your cookies for the $6.50 treat. (Alternately, you can get an ice cream sandwiched between two discs of dough.)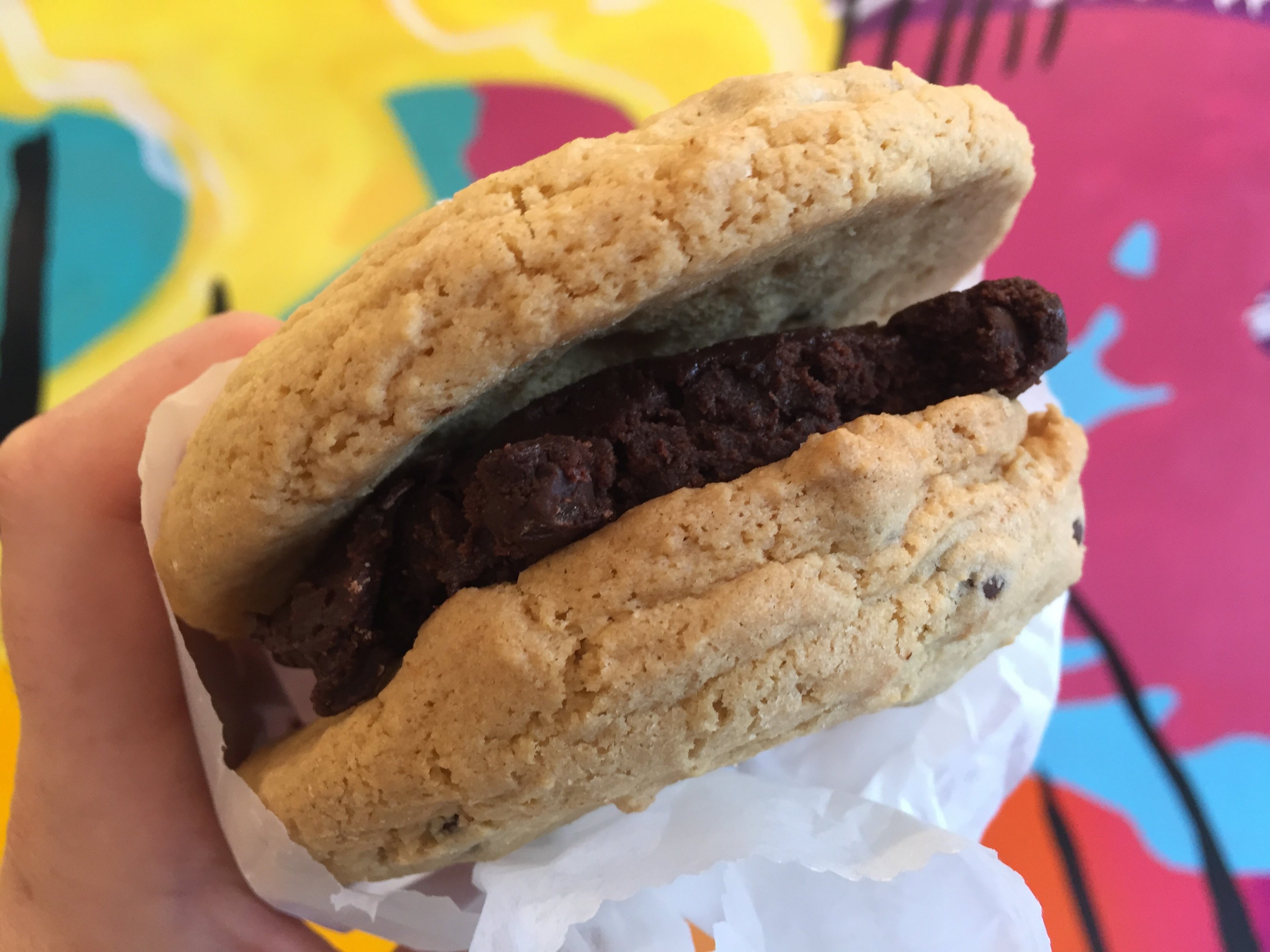 Don't let the compact size fool you. What seems like one bite is essentially three. It's like taking a swig of beer, then realizing it's actually Everclear. (Yes, I am now convinced you can get drunk on chocolate chips.)
I can't exactly wax poetic on the nuance of flavor and texture. It's dense and sweet and, frankly, exactly what you expect from a mishmash of raw and cooked dough. If you're a Cookie Monster, you can probably get halfway through before you surrender to its mightiness. Personally, after two bites, I felt like Bruce Bogtrotter in Matilda with his chocolate cake. If the trend of raw dough served by the scoop is a nostalgic comfort for trying times, then the cookie dough sandwich is a sedative for the pending apocalypse.
Ideally, you can share your Cookie Dough'wich with a fellow spatula-licking friend (or three). Or you can do what you're meant to with stunt sweets like these: snap a photo and post it on Instagram.