Our Washingtonian Recommends lists bring you the best places to eat, drink, and be entertained—all selected by Washingtonian editors.
Is there anything better than a plate of breakfast tacos with a michelada on a weekend morning? Here are our favorite spots for Mexican breakfasts and brunches from the 2018 Cheap Eats guide.
Chaia
3207 Grace St., NW; 202-333-5222
A tortilla can make or break a taco. At this vegetarian "farm to taco" shop in Georgetown, sunny rounds are house-made with organic, gluten-free masa and griddled to order, then stuffed with seasonal combinations such as roasted zucchini, goat cheese, and chipotle yogurt. On weekends, don't forget to add a local fried or scrambled egg to your taco. It's easy to channel Tulum in the airy space, so order a rosé or a fresh-pressed juice and relax.
El Sol and Mezcalero
1227 11th St., NW; 3714 14th St., NW
Chef Alfredo Solis and sister Jessica channel the flavors of their native Mexico City at their pair of taquerias in Logan Circle and Columbia Heights. Don't miss "basket tacos" soaked in guajillo salsa and stuffed with black beans, chorizo, and chicharrones. There's no official brunch menu, but you'll still find morning (and hangover-curing) specialties like chilaquiles with salsa verde and eggs—splurge on the optional steak if you've really had a night.
La Mexicana Bakery & Taqueria
2907 Arlington Dr., Alexandria
You'll have to get your tequila fix elsewhere; This brightly lit bakery is all about the food. Warm bread makes a delicious vehicle for torta sandwiches. More home-style dishes include tacos, tamales, and superior sopes (thick masa cakes), plus cauldron-like bowls of soothing chicken pozole. Glass cases are filled with cookies, cakes, and tres leches pudding—needless to say, save room.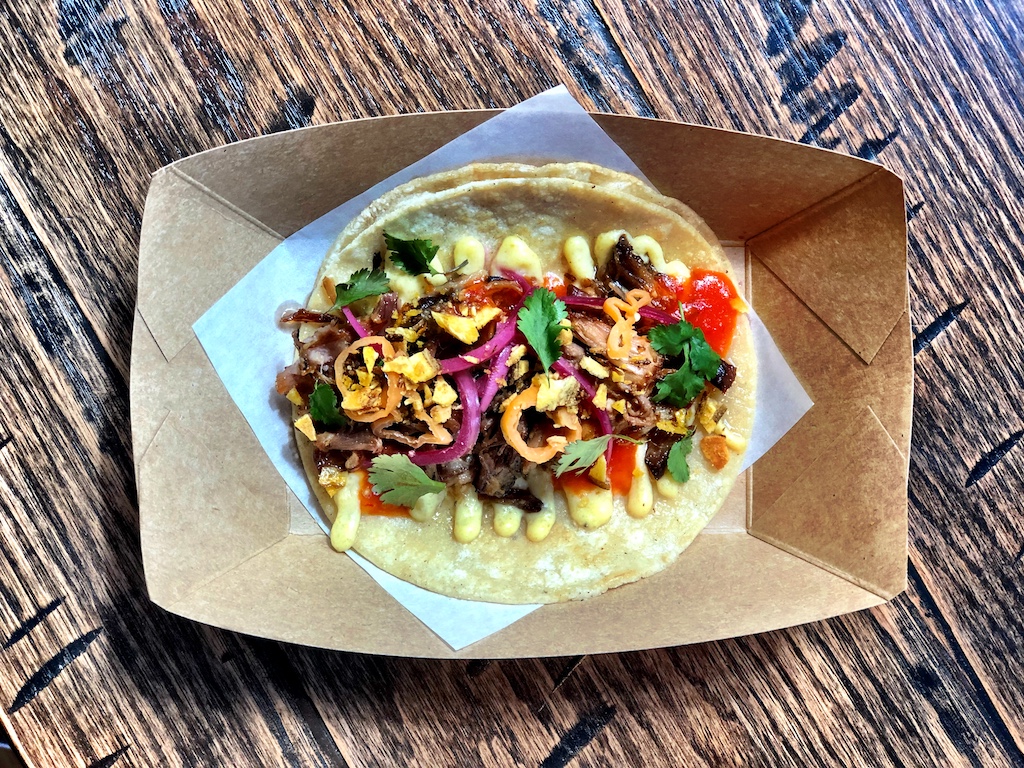 Taco Bamba
Falls Church, 703-639-0505; Vienna, 703-436-6339; Springfield, 703-436-1262; DC, 202-289-7377; DC
Few local chefs get as creative with a tortilla as Victor Albisu, who stuffs them with the likes of Kung Pao shrimp or grilled chicken and yogurt. At breakfast, you'll find the tortillas stuffed with eggs and cheese, as well as other morning specialties like huevos rancheros or egg enchiladas.  Each location has its pluses (Falls Church is good for quick-grab, DC for happy hour) and its own menu items, but across the board you can expect Albisu to take high-flying chances and usually stick the landing.
Taqueria La Placita
5020 Edmonston Rd., Hyattsville
We love the pork-heavy tacos at this no-frills taqueria, but morning calls for something milder. Try the tamales stuffed with chicken and salsa verde, accompanied by a glass of atole (sweet corn juice). If you're going whole hog, try the  mixed pork—a fatty, chewy medley of parts—double-wrapped in corn tortillas. A separate counter near the entrance serves fresh juices and a can't-miss elote (Mexican street corn on the cob).