Make a list of the country's art-museum destinations and DC would be near the top. Potomac would not be. But for more than a decade, the leafy suburb has quietly been home to a world-class modern-art collection, accessible to anyone willing to make a reservation and the trip.
Now Glenstone is going bigtime. This month, the private museum—founded by billionaire couple Mitchell and Emily Rales—unveils a huge new exhibition space on the Raleses' 230-acre estate. The 204,000-square-foot building was designed by architect Thomas Phifer, with grounds by PWP Landscape Architecture. Admission is free, but you still have to make an appointment.
Recently, I drove out to take a look. After being waved through the imposing electric gate by a security guard, I ditched my car and headed down a winding gravel path to the small arrival building. Suddenly, I found myself in another world—a stunningly landscaped oasis with swelling hills, graceful foliage, and incongruous outdoor art, such as "Split-Rocker," the 37-foot-high Jeff Koons sculpture that looms over the grounds. Yes, the place may be hard for some to get to, but you simply won't have an experience like this within the city limits.
After following a wooden bridge over a stream and through a meadow, I unexpectedly came upon the Pavilions, as the new building is called. A concrete-and-glass complex almost the size of four football fields, it appears much smaller from the outside, seeming to emerge from the ground.
Inside are works by names such as Jackson Pollock along with more locally renowned artists including Martin Puryear. Glass walls provide views of a water garden that forms the center of the building. The effect is both peaceful and a bit imposing. The interior is very spare—an entire room might have one or two pieces in it—and that emptiness feels like its own presence.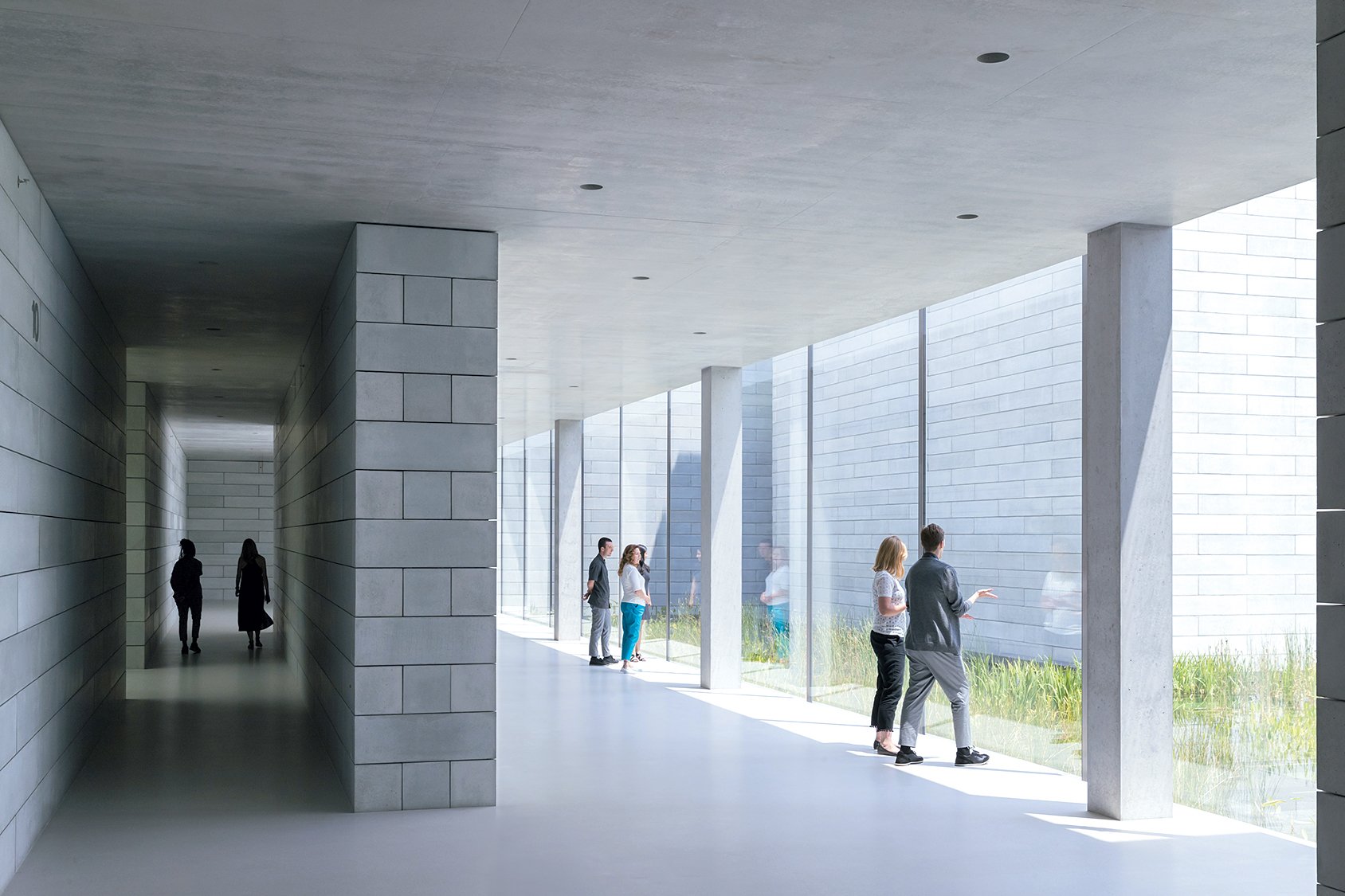 As a result, the architectural spaces are as significant as the artwork. You notice things you ordinarily might not: patterns in the concrete, a lone bench against the wall, the echo of footsteps. Even though much of the exhibit space is underground, natural light from high windows and skylights provides nearly all of the illumination; Phifer actually spent a year studying the movement of the sun across the property.
That kind of care and effort pays off in myriad details all around Glenstone, such as a wood-paneled room with nothing but a bench, bookshelves, and a wall of glass overlooking a meadow. Visitors are meant to sit and rest, but I found myself obsessing over how the wood appeared to be just the right color to take in the sun and how the walls and floor met perfectly, without a gap or any trim. It's a real pleasure just to wander around the Pavilions and its surroundings, absorbing it all.
Glenstone stands at odds with some other private museums that have looked for ways to make their collections more accessible. In Los Angeles, the Getty expanded from an oceanside villa to a location close to a major freeway and bus line. The Barnes Foundation in Philadelphia relocated from the suburbs to a spot on Benjamin Franklin Parkway, next to the city's main art museum.
The Raleses say Glenstone's isolated locale is part of the appeal. It's not just a museum—it's a broader curated experience that combines art, architecture, and nature into something bigger than a regular gallery. They've also made an admirable effort to bring in the community, covering the cost of Montgomery County public-school students' transportation to the museum, for example.
Still, it wasn't until I spent an afternoon wandering around that I truly understood what they mean. Glenstone's location and reservation policy will be off-putting to some, but I've come to see that its quirks aren't designed to keep people out; they're a way to invite them in—to a different kind of museum. Soothing and contemplative, Glenstone has little in common with the crowded downtown art meccas. That's a journey worth making.
This article appears in the October 2018 issue of Washingtonian.