Earlier this year, Brandon McEachern, Marcus Allen, and Darryl Perkins—founders of Broccoli City, the hip-hop, rap, and R&B music festival that's featured headliners like Solange, Cardi B, and Future—headed down to South by Southwest in Austin. There, they ran into &pizza CEO Michael Lastoria, who they'd known for a few years. The encounter could have been innocuous, had Lastoria not mentioned that there might be a storefront available—the former home of Uprising Muffin Company in Shaw. Would they be interested in partnering? "I was just thinking it was late-night whiskey talk," Allen says.
On October 26*, just seven months after that boozy chat, the guys will open a cocktail-and-pizza bar called Broccoli Bar. Inspired by art pop-ups like the Future of Sports, Allen, McEachern, and Perkins hope to expand the community outreach and health programming that they celebrate each spring during their music festival.
One thing the Broccoli team wants to do to differentiate its bar from others in the buzzy neighborhood is hold an extended happy hour they're calling "The Vibe," which will run from 6 to 10 PM with discounted drinks and DJs. "It's a new take on the late night," McEachern says. "You wanna go out, you wanna have a good time, but you wanna catch your Netflix show and you gotta get eight hours of sleep." (For those who actually make it to late night, the bar will be open till 2 AM Thursday through Saturday.)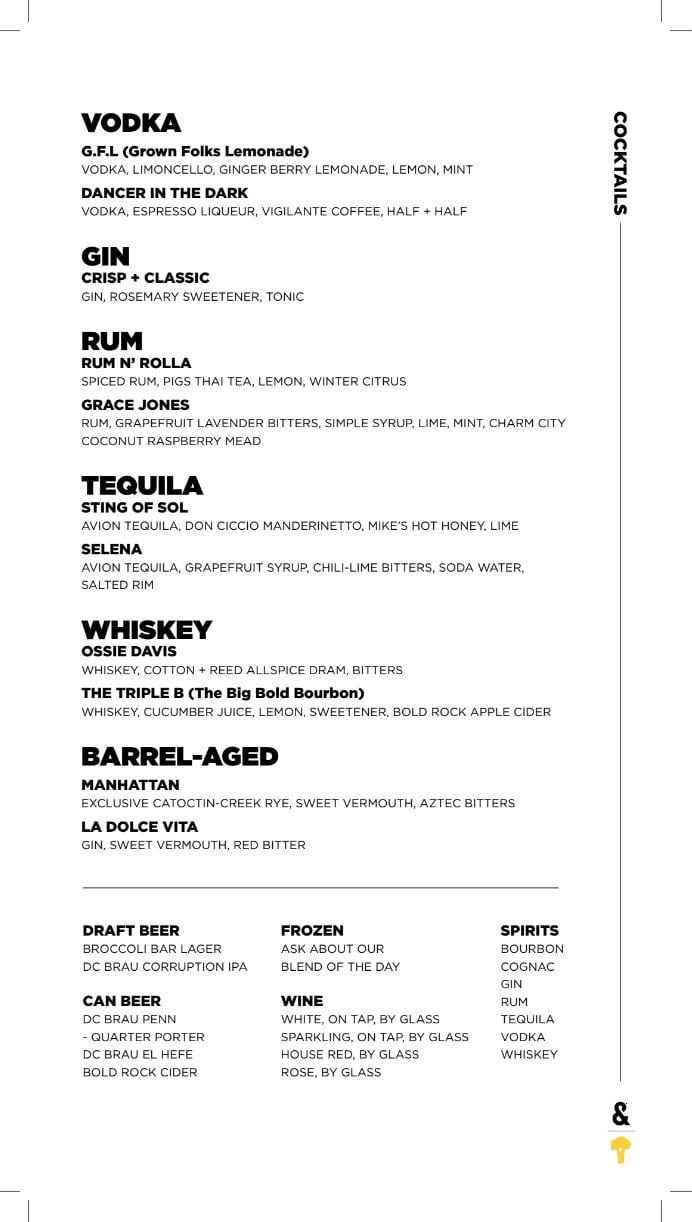 The bar will serve up &pizza staples, plus an exclusive pie topped with broccoli and cheddar beer cheese. The cocktail list offers lemonade spiked with vodka and mixed with ginger berry and mint, and an ode to Grace Jones featuring rum, lavender bitters, and coconut/raspberry mead. Beers include local staples DC Brau and Bold Rock Cider, as well as the place's own house lager.
Look for a series of Broccoli Talks, where local business owners and entrepreneurs come in to chat—"kind of like our play on TED talks," McEachern says. The inaugural talk, planned for 6 PM on opening day, features Ajit Verghese and Harry Alford, founders of the venture capital firm Humble Ventures.
"Persons who are black and brown always have a challenge raising capital," says Allen. "We want to have someone talk through those challenges so they can develop strategies to get past that. Another event, planned for November 14, will feature Christopher Bradshaw, the founder and director of Dreaming Out Loud, a local nonprofit working in urban agriculture and entrepreneurship.
The Broccoli guys often organize volunteer events throughout the District, and they are hoping the bar serves as a community center of sorts. On the first Saturday of every month, the team will hold events like community clean-ups and meal preparation for the homeless. On November 3, volunteers can help mulch and garden at the Howard University, where Perkins is an alum.
Another thing kicking off on November 3: a weekend brunch with three breakfast pizzas. The Avocado Toast is laden with spicy chickpeas, goat cheese, and cilantro. Cinnamon Toast is a sweet ricotta pie with cinnamon sugar, banana, agave, and cereal crunch. Carafes of mimosas or bellinis are $20.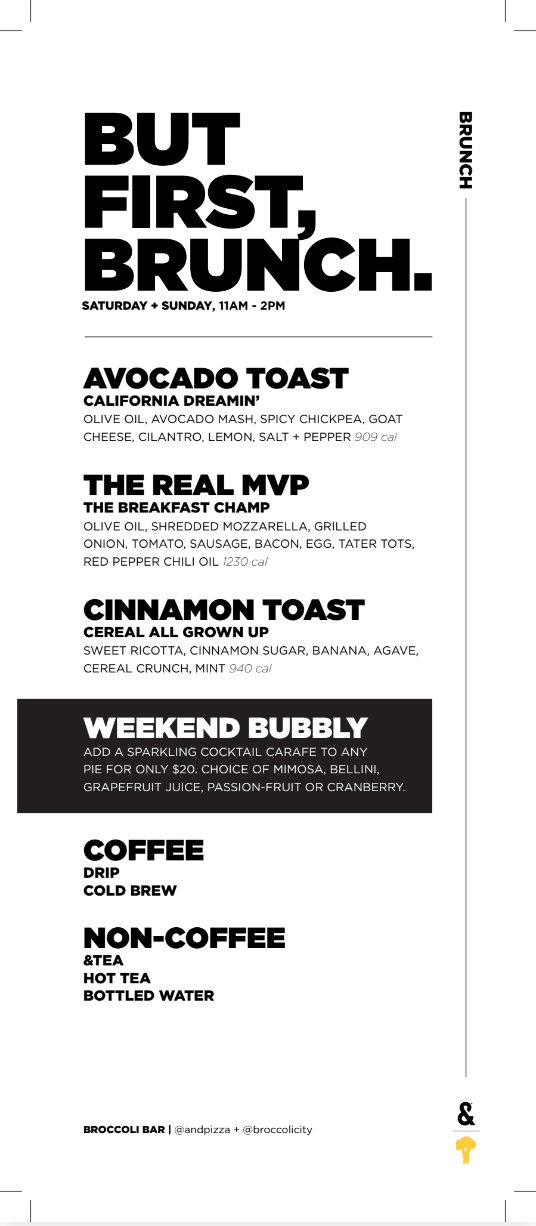 Broccoli Bar will open at 1817 7th St., NW on October 26. 
*This post has been updated to reflect the new opening date. The Humble Ventures event will still be held at the bar on October 24.