Antoni Porowski was out on the roof of the Eaton Hotel on Sunday morning. His leather jacket read "Thyme Is on My Side" and he was smoking a Juul. We were there, with about 40 others, to have brunch with the Queer Eye star. His costar Jonathan Van Ness didn't make it, but Michelle Buteau, fresh off a headlining gig at the Bentzen Ball, emceed and later joined him in conversation.
These weren't easy tickets to get. The intimate event, put on by Lyft and Brightest Young Things to benefit Whitman-Walker Health, was a late addition to the Bentzen Ball lineup this year—and you could only get tickets if you won a contest and made a donation. Out of 3,000 entrants, just 40 snagged an invite, raising $10,800 for the center.
With his shirtless photos on Instagram, his love of corgis, and his tireless avocado advocacy, Porowski is a millennial fever dream. The Eaton's surroundings matched. We were greeted by a Sydney Hale "woods" candle just before entering the sunny bar, which was surrounded by windows adorned with moss plants; each table had its own terrarium centerpieces. As the majority-female audience trickled in and picked up their Bloody Marys, Porowski's very own Spotify playlist bumped in the background with hits like Depeche Mode's "Enjoy the Silence" and George Michael's "Freedom."
Porowski entertained the room with a demo on how to make a carrot-and-date salad inspired by his father and a Bloody Caesar. He and Buteau then sat down for a wide-ranging public Q&A where they chatted activism, hot dogs, and self-care.
On self-care…
Buteau: I simply don't say yes to everything. I don't say yes to a lot of things now. I used to just sort of go anywhere and do standup and I can't. I feel like I have real PTSD when I see a red hat, and I have been heckled and yelled at and had things thrown at me on stage for disagreeing and so I really had to learn how to do standup again. If I don't see queer people or black people or any other ethnicity, I'm not going in. I'm not gonna be here for everybody.
Porowski: It's funny. As somebody who practices and preaches that, it's actually very challenging to do for myself. When you're on a set, you're surrounded by a lot of people, it's a lot like camp. When you show up at home after a summer at camp, suddenly you're in this big old empty house and that's how I feel everyday when I come back from set. I am not good at being on my own, I'm learning. But I love a bath. I'm a Pisces, so it's like apparently a thing, but a bath, it's a little moment for myself.
Buteau: Do you keep it real hot and add the cold at the end, or you just do warm water all the way?
Porowski: If I do it too hot, the problem is, I get really steamy, and often I have a clay mask, and then it starts melting and it falls in my eyes and it starts burning…
Buteau: I'm learning SO much about you.
Porowski: But I'm also the guy who did not wash his face with soap up until 8 months ago. [Collective gasp.]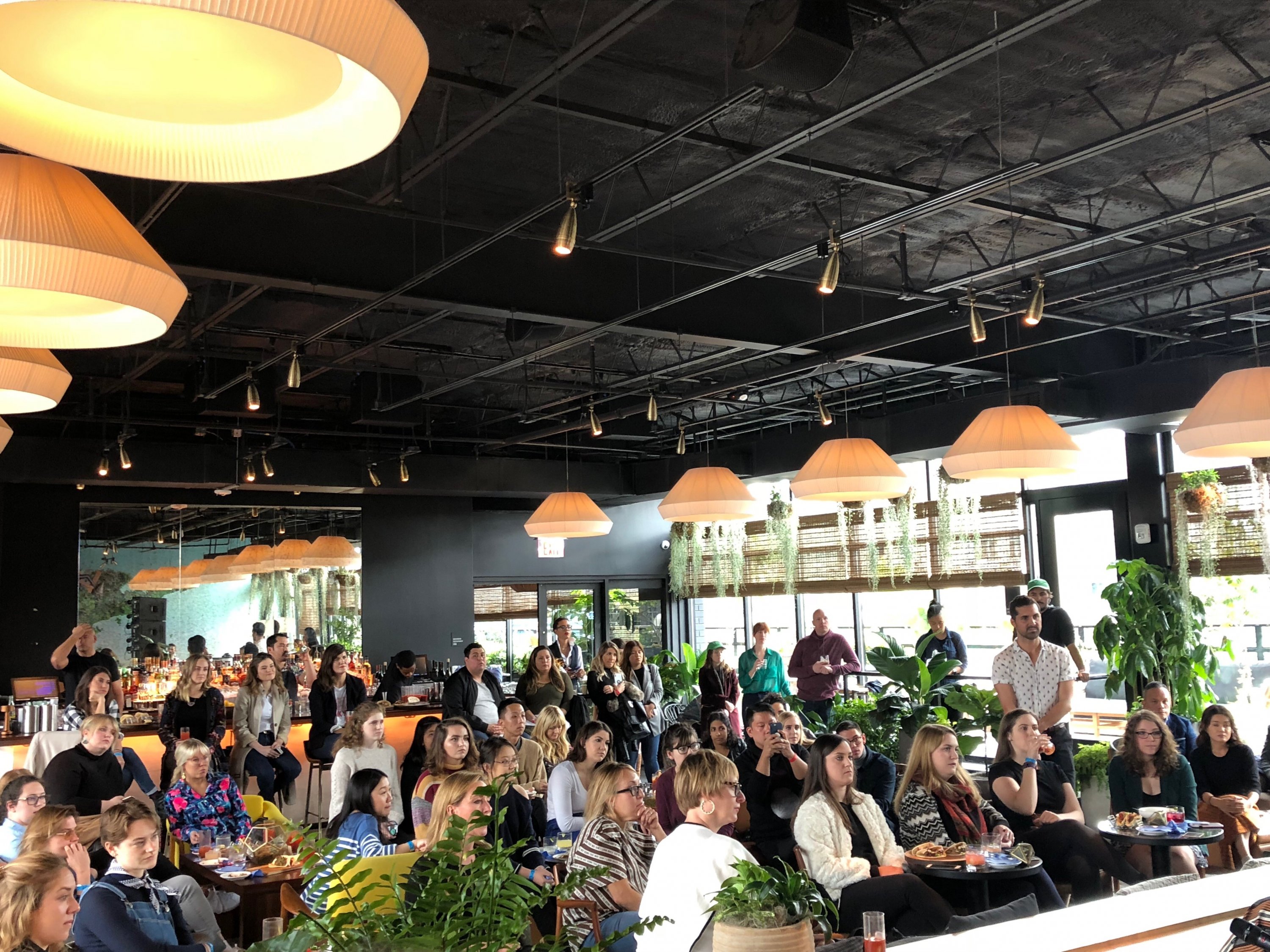 Buteau: What did you use?! Just water?
Porowski: Water.
Buteau: And you didn't get zits?
Porowski: Sometimes. Jonathan's taught me all of that, I did not know any of this. Like when you're at home standing in front of a mirror, it's like forcing myself to look at myself and just to do something that's very—the way that I do it with food, it's just something that, it's kind of like it's an extension of that. It's hard for me to do because I'm very uncomfortable when I'm on my own. But the right music, Miles Davis—
Buteau: Yesss, Nina Simone, get it. Let's get a tub for two!
Porowski: A massive clawfoot tub! And a bunch of candles everywhere.
Buteau: Oh my gaw. And citrus.
Porowski: And no Twitter. I do full Pretty Woman, like I dump in a whole bottle. If I'm in a hotel, all the bottles go in, it's a shit ton of foam, so great. And I sing Oasis. It gets really sad really fast. I start out with "Don't Look Back in Anger"–it's actually really sad, it's not a joyous song, but I like it.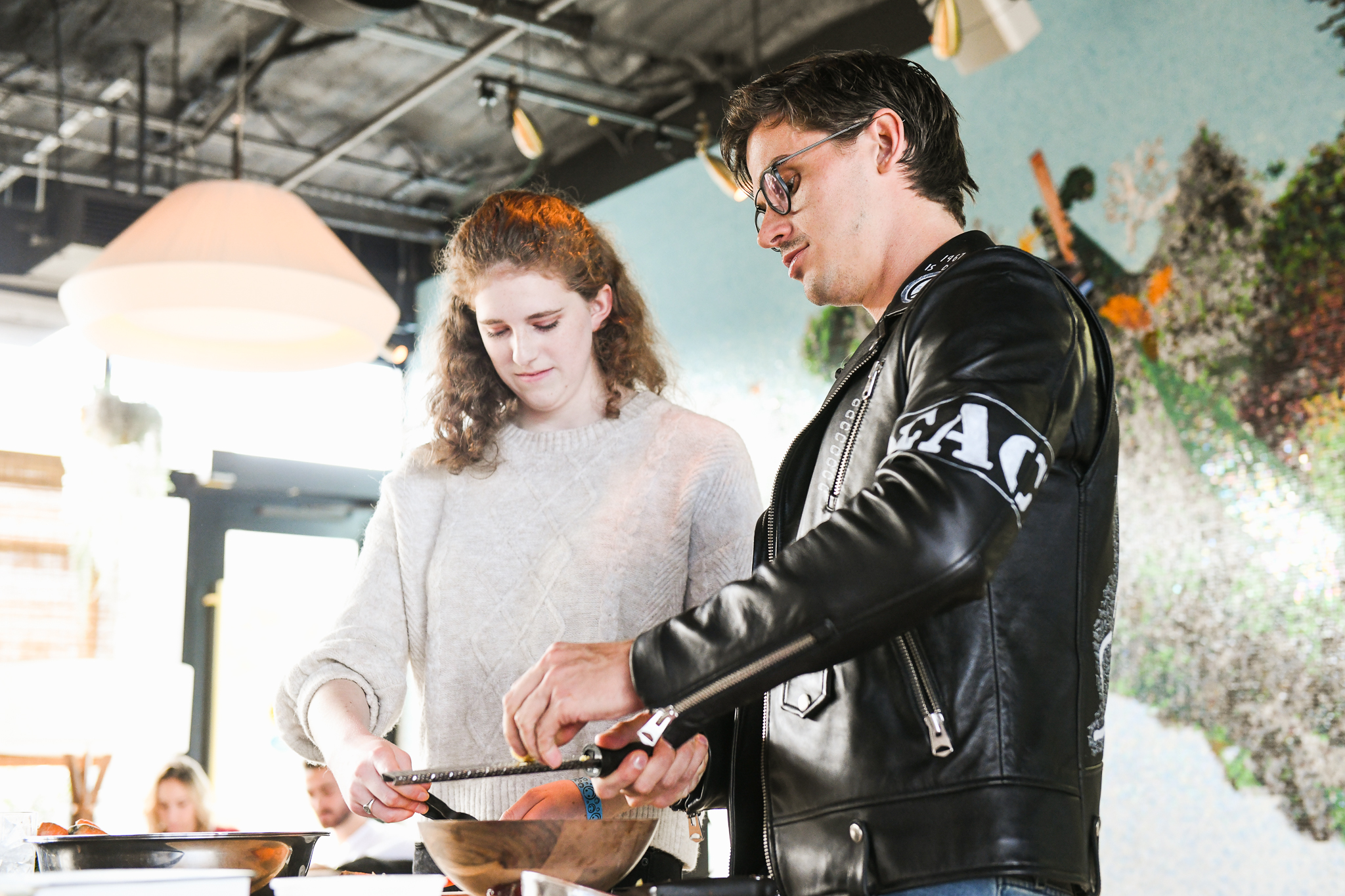 On dogs…
I love all dogs, I really do. But. I was raised with—I call them "dash hounds" but they're dachshund. I thought that Canadians called them dash hounds, but it's just me. So they're elongated, they have short little legs, they're just really comical, you can't not smile when you look at one. When they run, they kinda like tilt to the side cause they can't run straight like normal dogs. They're just so cute! And a corgi is like a larger version of that, and they have the most beautiful faces, they just exude kindness. And then their butts! It's like have you ever seen a brioche loaf? Brioche is a French bread that's kind of like a challah but it's a little sweeter, has a little yellow gold coating on the outside, and that's what a corgi is, they have these little butts that shake. They're fluffy and they're gorgeous. If anybody wants to follow a really beautiful corgi, follow Winston the white corgi, who's like a unicorn corgi who lives on the Upper West Side as it turns out. I've been DMing him for YEARS—biggest perk out of getting Queer Eye is that he finally wrote back.
On Trump, AKA "he-who-shall-not-be-named":
Porowski: What I still try to do is instead of focusing on all the negative happening and he-who-shall-not-be-named, I try to focus on all the positive things that are happening. We still need to remember that, because it's very easy to just fall in a hole of like, "Well, what the fuck did he do today?" But there are a lot of people who are doing amazing things, it's important to remember that, we need to shed light on that.
Buteau: [I'm] educating myself in a way that I never thought I needed to before, like, yes Bush was crazy and all that stuff. When Obama came along, I was just like Dad's taking care of it and I was napping but now I'm fucking woke. I feel like educating myself also helps. It is infuriating to know—because I love being American and this is just a new feeling for me where I'm just like, what is America?
Porowski: Just piggybacking on the last part, I always kind of prided myself in thinking well I don't have to be political because I'm not an American citizen. There's a little part of that that's fear-based because I don't want to get kicked out of this country, I'm a guest—with a green card!—but like you can't, it's just impossible to be ignorant when it's like the whole idea of like privilege and like just because it doesn't necessarily affect you, it's affecting other people, you have a responsibility to do something about it.
On guilty pleasures…
Porowski: When we were kids, on friday nights after swim practice, for dinner we would have this cheese and charcuterie board. [My parents] would get all these beautiful unpasteurized cheeses that are illegal in the US [with] fruit and almonds and nuts and wine. Then little Antoni would come down. We weren't allowed to have American food or like any type of junky food, that was the one day of the week where I was allowed. So I would have an Oscar Meyer hot dog, sliced, thrown onto a pan with like half a block of a good sharp cheddar until the cheese would get crispy, and then I would dip it in French's mustard. So that was my favorite favorite treat. Or, if I'm alone and I want a little treat, on a nonstick pan, just throw on any cheese until it gets crispy and have a little frito.
On having a platform…
Buteau: You know as a woman of color doing standup, I'm realizing now more than ever what a social media platform is for, and what kinds of good it can do. Whether it's reminding people to vote or helping people, at the end of the day what I love is when people slide in my DMs and they're like, 'I was having such a shit day, thank you so much for just putting a smile on my face.' I have performed in 49 states—the only one is in Alaska, and, no shade, they just don't book people for Black History Month, they don't care [laughs]. When you perform it's amazing, but it's just the people in that room. Social media is like wow, it feels like I'm texting the universe. When it starts in the arts and pop culture, then it can also bleed into people's homes because it becomes a dinner table conversation. Before it was just, "Oh, I don't know them" and now we can just like do the electric slide together.
Porowski: I tended to be a little more quiet and private about a lot of things but with the current climate, it makes it more and more challenging not to say anything. I had this incredible honor of walking Montreal Pride this past summer and I was invited to come by our prime minister, PM Trudeau. Pride was something that, when I was in my first relationship with a guy, was something that I always stayed away from because I associated it with parties and excessive drug use. It wasn't at all the way that I look at it now. It was actually the first time that I walked through Pride. Somebody from Poland messaged me—there's a lot of shit going on in Poland right now with extremists, and the LGBTQ community definitely does not feel safe—somebody [messaged] me saying first of all, thank you for like keeping your name and not changing it to make it sound American, and secondly, it's just so nice to see somebody out there who's able to celebrate freely. And I felt so shitty because I was being such a brat about not wanting to walk through Pride, but with visibility comes a certain responsibility and to just be able to do that freely without any consequence of being judged—I have a responsibility to do that for people who don't have a voice. It makes it so much less about me.
On his favorite QE episode to film…
Porowski: I was like literally filmed trying to run out of a scene where I physically couldn't, where I was in a church hall with momma Tammye. Meeting somebody like that, who is so embedded in her church and didn't understand how to accept her gay son and realized that she had to shift her perspective. It wasn't anything wrong with him, it was what she needed to change in herself. To see that in a community that is so conservative and so hardcore Baptist, brings me so much hope. She's doing public speaking engagements right now, she's going around Baptist churches like practicing inclusion and acceptance. I have a very non-existent, dysfunctional relationship with my biological mother. Then to have somebody like momma Tammye—we meet and I'm like, Oh hello Ms. Tammye, and she's like, "Everyone calls me momma, but you, you really have to call me momma"—I'm like WAAAH. If you look at that episode, I'm glossy the whole time. And you know, I've never had pasta salad before with mayo and mustard and relish and it's a thing, and it's kinda delicious! I'm not gonna make it everyday, but it was good. She was the one who was very impactful, and I probably speak for my brethren, my brothers, in that she really changed it for us.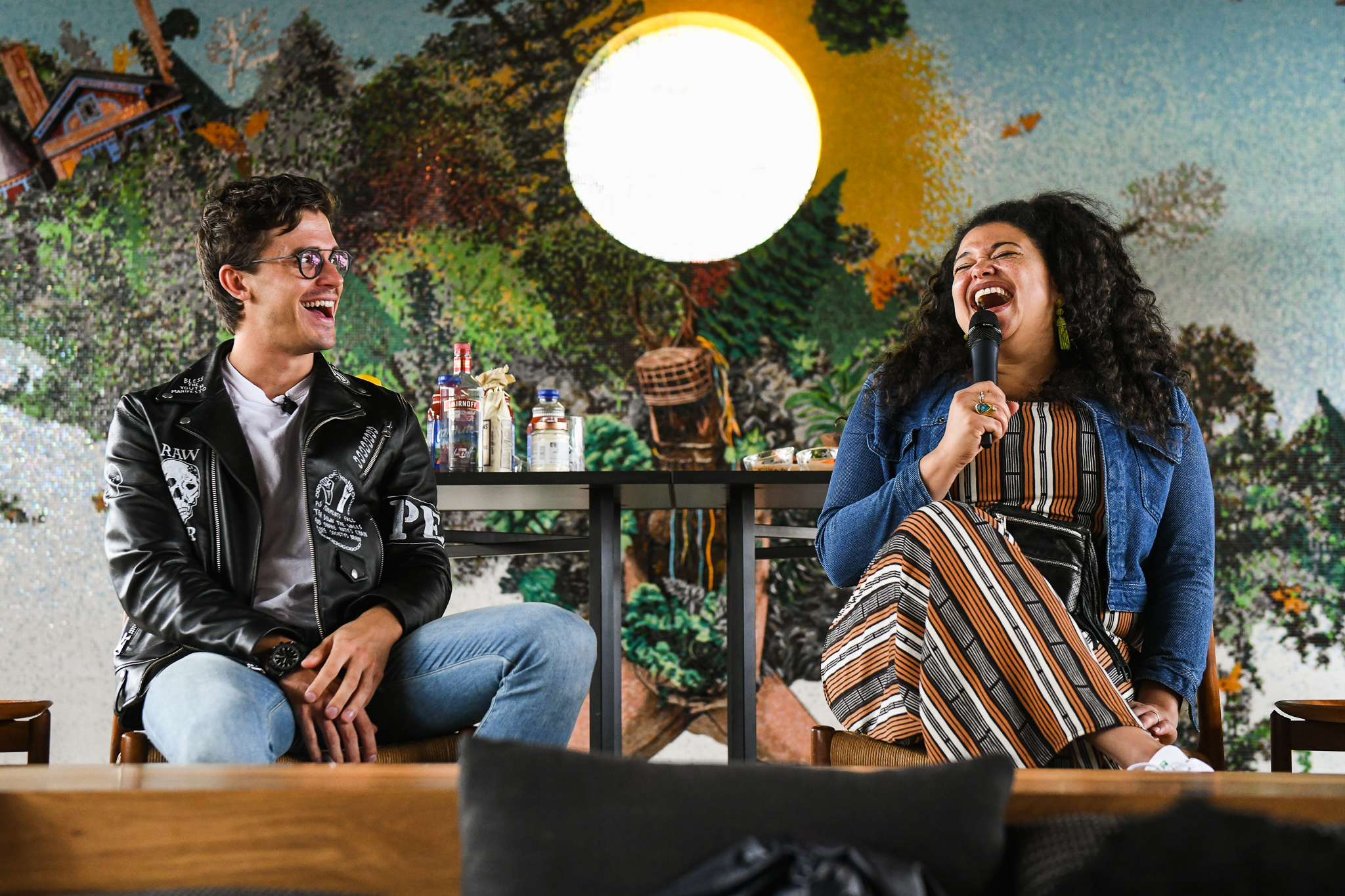 On dates…
Porowski LOOOVES dates. He gave us three bonus snack suggestions on how to best use his favorite fruit:
Savory: "Blue cheese and dates are really good if you wrap it in prosciutto. Roast it at about 400 degrees. I love having it with Fullman's mustard. You could make a little canapé with [a] rice cake, peanut butter, dates and salt—love it."
Sweet: "Another snack I really love to have with dates is if you have a crunchy peanut butter. A plug for Trader Joe's, they have a really nice accessible one, and if you just shove it right in there and then you put good finishing salt that's really nice and crunchy, and you put a tiny little sprinkling of the peanut butter in the date, it's like the perfect balance."
Smoothie: "Take a bit of greek yogurt and frozen bananas. Make sure you peel them before you put them in the freezer. There's nothing that pisses me off more than seeing whole, frozen bananas. How are you going to remove the peel? It doesn't make any sense. Take frozen bananas, lime zest, lime juice, and then dates."
On being salty…
Porowski: Salt, is so so so important. If that's the one thing everyone remembers, every step of the way whenever I cook I try to incorporate salt. Whenever you're boiling pasta, salt the shit out of your water. It needs to taste like the ocean.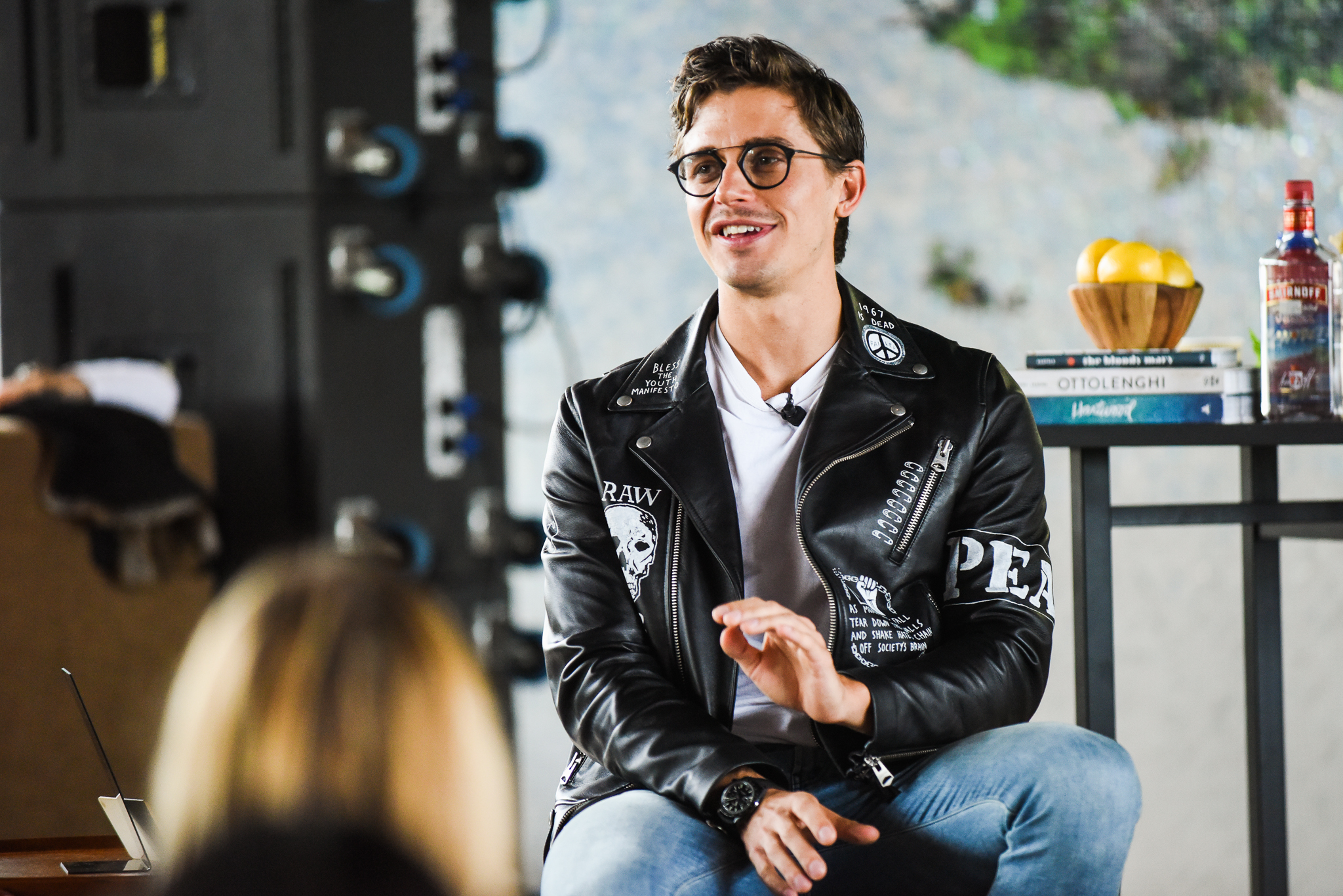 Correction: An earlier version of this article stated Porowski was smoking cigarettes. This is incorrect, he was smoking a Juul.