Twinkling lights, magical events, and wintery wonderlands – Annapolis is a great place to enjoy time with family while soaking in the holiday spirit. Consistently ranked one of the best cities in America to visit during the holiday season, there are a handful of events for everyone to enjoy. Check out this top 10 must-see list of holiday events in Annapolis & Anne Arundel County.
Lights on the Bay
Now through January 1
Don't miss this spectacular drive-through holiday lights show beside the Chesapeake Bay. The event features more than 70 animated and stationary displays, including traditional Maryland-themed favorites, holiday and children's displays. Proceeds benefit SPCA of Anne Arundel County. 5:00 p.m. to 10:00 p.m. nightly, weather permitting.
Holiday Candlelight Stroll
December 1, 7, 14-15, 21-22
Stroll through Annapolis alongside a festively attired colonial guide and learn about holiday traditions. Includes tour inside the historic Hammond-Harwood House for additional seasonal spirit. 7:00 p.m. to 8:30 p.m.
Jolly Express Cruises
Fridays-Sundays, December 1 – 31 (except Saturday, December 8)
Take a holiday-inspired "sleigh ride" cruise aboard Watermark's Miss Anne, adorned with reindeer spirit. 6:00 p.m., 7:00 p.m. and 8:00 p.m.
Midnight Madness Holiday Shopping
December 6, 13 & 20
Lights, garland, action! Historic Annapolis shops throw open their doors in a glorified block party that's open to all. Enjoy outside musical performances as well as food and refreshments at many stores as you stroll along Main Street, Maryland Avenue, West Street, State Circle and City Dock in search of that perfect gift. Sponsored by the Downtown Annapolis Partnership. December 6 and 13, 6:00 p.m. to midnight; December 20, 6:00 p.m. to 11:00 p.m.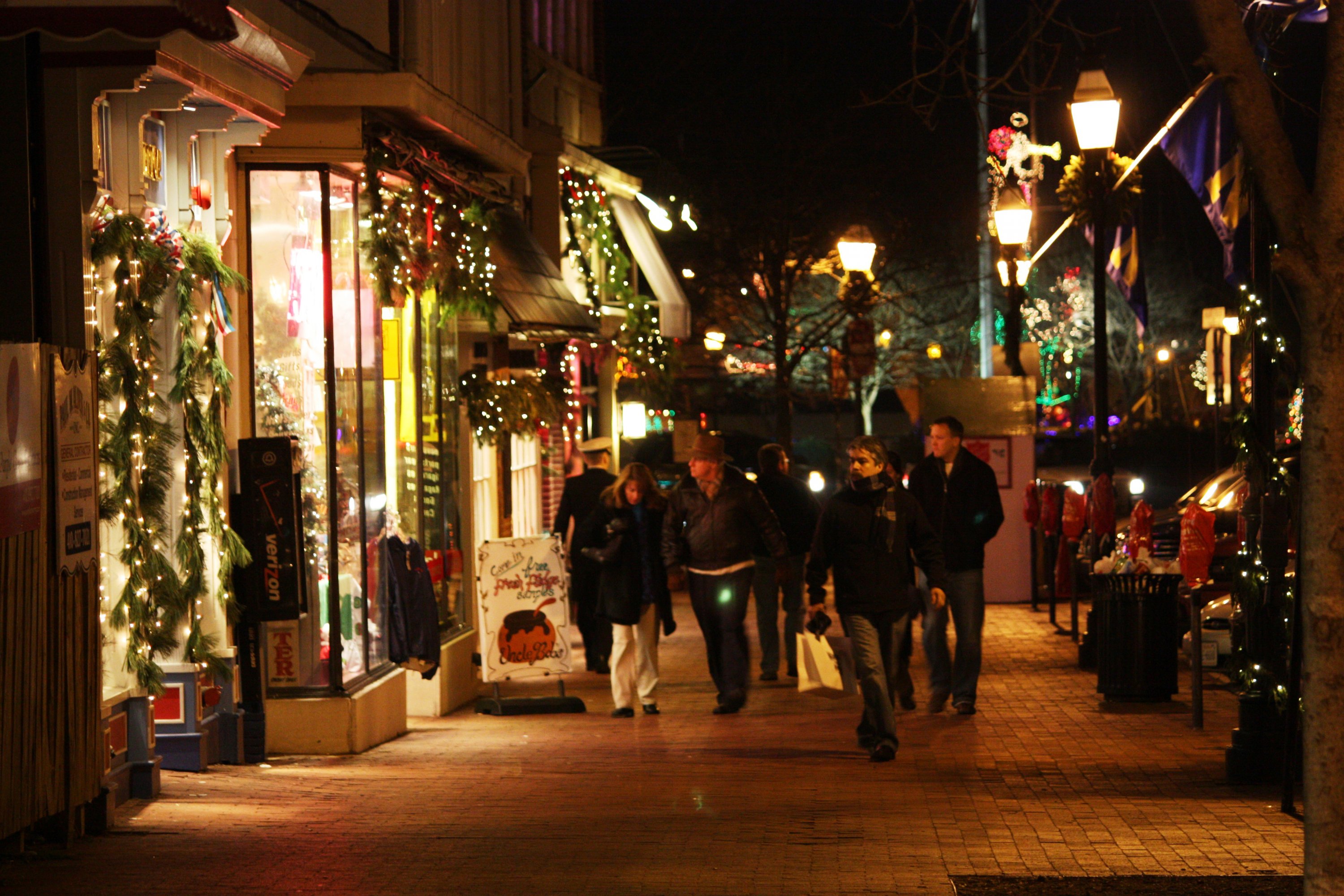 Illuminated London Town
Fridays & Saturdays, December 7 – 22
Experience the magic of a winter evening at Illuminated London Town! Sip hot cider and roast s'mores roaring fires in the Historic Area. Explore the gardens illuminated with festive holiday lights. Discover colonial nighttime festivities and holidays at a candlelit William Brown House, decorated for the season. Enjoy special performances in the gardens each week. 6:00 p.m. to 9:00 p.m.
36th Annual Eastport Yacht Club Lights Parade
December 8
More than 30 brightly lit boats bedecked for the holiday season parade around the Annapolis waterfront and Spa Creek. Themes including Santa Claus, Polar Bear Christmas, a Christmas Angel and the Abominable Snowman have delighted young and old in this traditional Annapolis holiday event. Thousands of lights and a host of jolly revelers make this a fun Christmas event for the entire family. Prime viewing areas include: Eastport, Spa Creek, City Dock and Naval Academy seawall. Sponsored by the Eastport Yacht Club. 6:00 p.m. to 8:00 p.m.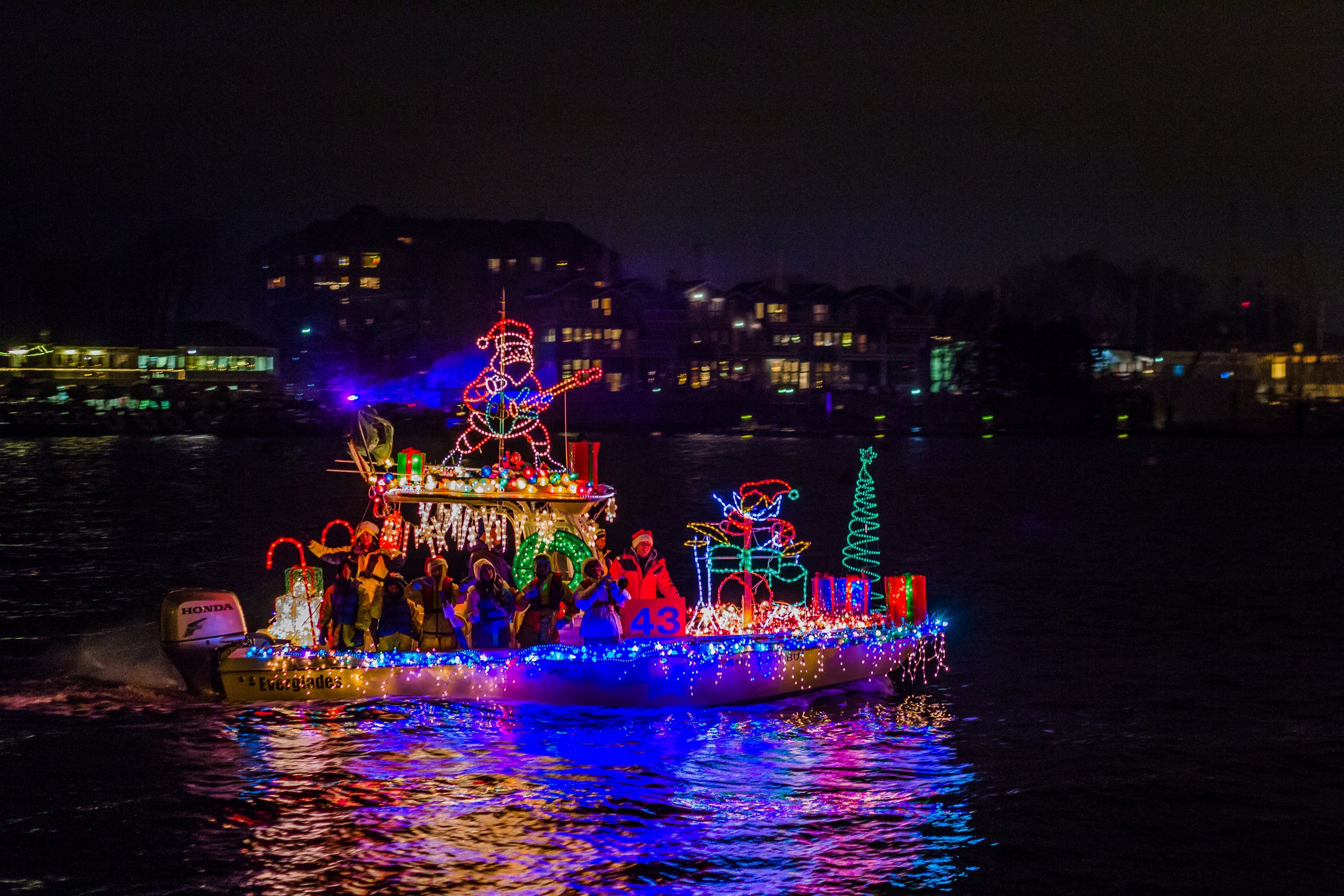 European Christmas Market
December 14, 15, and 16
Experience Annapolis' first-ever European Christmas Market in the parking lot of Flamant Restaurant and Catering. With over 30 food and gift vendors, it is the perfect way to celebrate the holidays.
Holiday Open House
December 15
Celebrate a merry holiday with Declaration of Independence signer William and his wife Mary. Take a break from the busy holiday season and enjoy an afternoon of history and family-friendly activities. Visit with the Pacas and their friends in a home filled with laughter, games, music and sweet treats to share. Stroll down to Hogshead to continue the celebration with the middling sort, where more music, dancing and merriment is destined to put a holiday spring in your step. 3:00 p.m. to 6:00 p.m.
11th Annual Military Bowl
December 31
The Military Bowl presented by Northrop Grumman, benefitting the USO of Metropolitan Washington-Baltimore (USO-Metro) will match a team from the Atlantic Coast Conference (ACC) against an opponent from the American Athletic Conference (AAC) in its 11th Anniversary game.
City of Annapolis New Year's Eve Celebration
December 31
Family activities fill the day, while music and dancing fill the night at this annual celebration welcoming the New Year. For the third year, kids' activities will take place on Weems Whelan fields behind Maryland Hall and Bates Middle School. Activities will include kids' crafts, obstacle courses, moon bounces and music performed by kids' rock bands. The afternoon festivities wrap up with on-site fireworks at approximately 5:15 p.m. Then it's off to area restaurants for dinner with the kids. The second round of festivities includes live music and dancing at Susan Campbell Park at City Dock beginning at 8:00 p.m. and ending with midnight fireworks. Sponsored by City of Annapolis. 3:00 p.m. to 5:15 p.m.