Susan Able and her husband Jeff Gwilliam purchased their Annapolis home in 2013 and live there full-time. The couple commutes back-and-forth to DC, where they keep a one-bedroom in the Wharf for overnight trips.
Gwilliam, a retired US Army Colonel who is now a program manager at the Department of Homeland Security, and Able, the publisher of Edible DC, live in the Eastport neighborhood of Annapolis with their Old English Sheepdog, Suzy Bishop.
The two love the neighborhood for its history, its community focus, and close walk to downtown Annapolis (plus, much of it is right on the water). "Eastport has got to be one of the greatest places to live close to DC and Baltimore," says Able. "There is so much happening here with community parties and events, whether it's the annual Annapolis Oyster Roast & Sock Burning held on the spring equinox, oyster festivals, music, art—you name it."
Their house was originally built in 1910, and the duo has added their own renovations over the years, building a new kitchen and boat dock and turning the former garage into a guest cottage, featured here. Previously used for storage, the garage's "bones were good and it had a fireplace," says Able. "We could see the potential for guest space."
The finished product is a bright, cozy space which Able says is inspired by Scandinavian summer houses. And perhaps best of all? Even you can stay there—it's available to rent on Airbnb.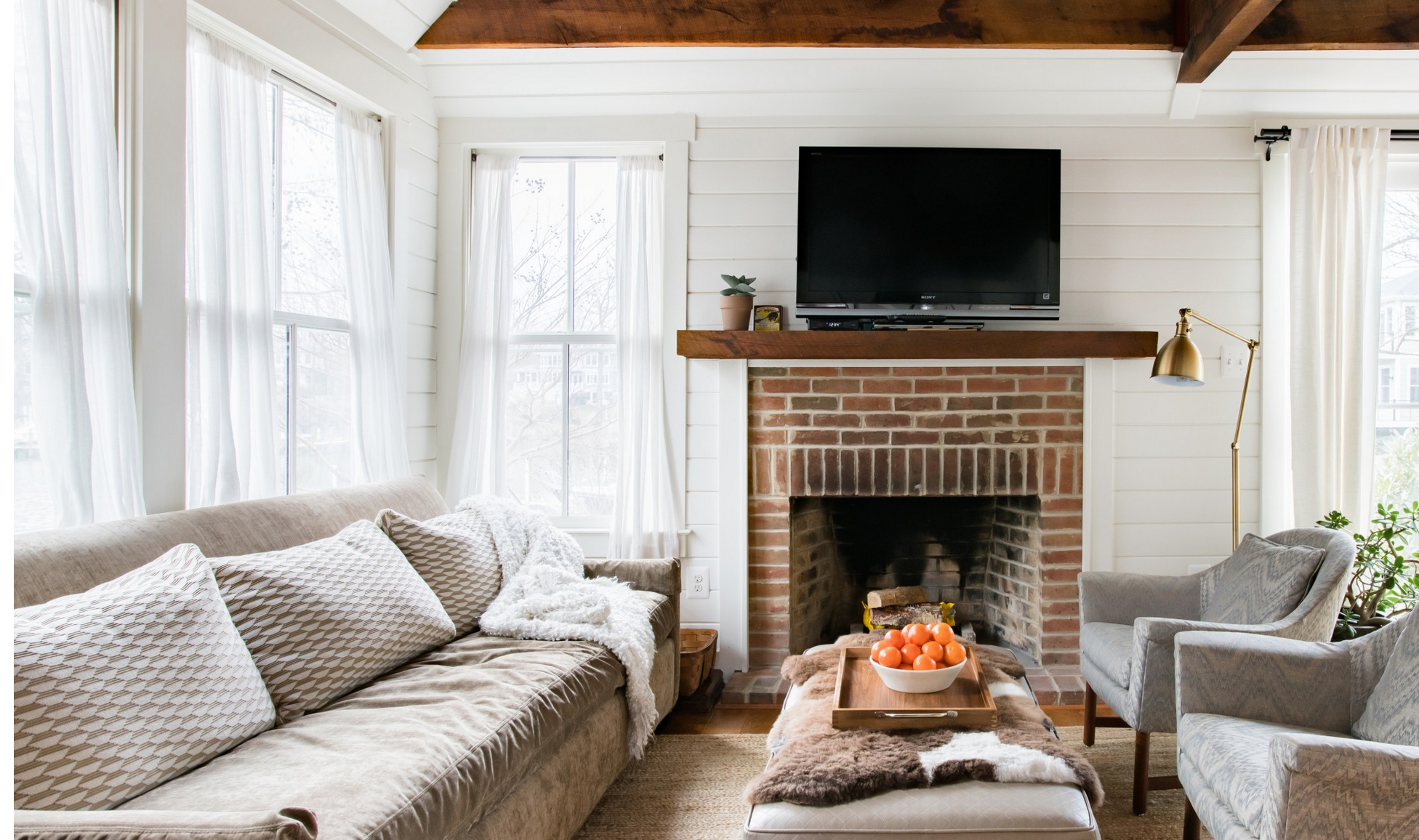 Who lives there: Susan Able, Jeff Gwilliam, and their Old English Sheepdog, Suzy Bishop
Number of bedrooms: One
Number of bathrooms: One
Favorite piece of furniture: It's a tie between the antique map of Narragansett Bay in a beat-up frame and the mid-century club chairs from Home Anthology, which Able had recovered in a flame stitch fabric with metallic thread.
Favorite home interior store: For antiques, Able loves Natalie Silitch in Annapolis, Home Anthology in Catonsville, and GoodWood in DC. She also frequents CB2, Mitchell Gold + Bob Williams, and Room & Board.
Favorite DIY: "My amazing husband and his brother took an antique Victory Garden sign from WWII that I had picked up at an auction and turned it into this amazing bulletin board using cork," says Able. "I love it."
Splurge: The Pierre Frey fabric Able used to make the sofa pillows (the couch folds out into a bed). "It was expensive," says Able of the fabric from the French interior design store, "but I love them, so it was worth it!"
Steal: The mid-century chairs that sit at the wooden table against the wall. Able found them in the trash while walking her dog in the Beacon Hill neighborhood of Boston. "I grabbed them and somehow made it home carrying two chairs and a dog on a leash."
Design advice: "I really believe in mixing things up between new and old and modern and antique," says Able. "And it is harder than it looks to strike that balance. But when you do, I think it creates such an interesting space with soul and style—an interior space that really comes alive."
Have a house you'd like to be featured in a Look Inside My Home post? Post a picture of your space on Instagram and tag it with #WashMagHome or email mmontgomery@washingtonian.com.