What does it mean to dare to be powerful? For more than 160 years, YWCA's mission to eliminate racism and empower women has invigorated generations of women to dare to be powerful. Even in the face of adversity and attacks on their values and communities, YWCA has never wavered in its commitment to racial justice and gender equity.
YWCA's 2019 Dare to Be Powerful National Conference, hosted in DC earlier this month, honored YWCA's mission and the women who have devoted their lives and careers in service of others, both inside and outside the organization.
Hosted in the shadows of the Washington Monument, the conference's kickoff evening felt more like a celebration or a reunion than a requisite professional gathering. YWCA's signature persimmon hue enlivened the event space, from persimmon roses and tulips in the centerpieces to women proudly wearing their persimmon dresses, earrings, and scarves as an illustration of a united voice of "one YWCA." It was the type of color-coordinated ardor this town is only used to seeing when it Rocks the Red on a Capitals' game night.
Even to an outside observer, it was clear this persimmon-colored energy was in the spirit of sisterhood, and a badge of solidarity. After all, for many of these women, YWCA was a lifeline long before it was a career path — and it continues to be an inspiration for many.

LaVanda Brown grew up going to a YWCA in Savannah, Ga., and today, she's the executive director of YWCA of Greater Charleston. "As a teen at YWCA, I thought they were here for me," said Brown. "Now, as I'm looking at the young women on stage, I know that these are the women who are going to take our work where it needs to go."
This sentiment is shared across the organization. As outgoing YWCA USA board chair Sylvia Fields remarked earlier that day, "This is an organization full of disrupters."
The women attending YWCA's national conference all achieved success by being disrupters, by daring to be powerful, and by sharing a common purpose with YWCA — an organization that serves over two million women, girls, and families each year, an organization that is daring to embrace change to solve the needs of communities in the 21st century.
YWCA CEO, Alejandra Y. Castillo is working to elevate YWCA's social impact across the country. According to Castillo, "YWCA's national footprint of over 200+ association meets the needs of communities by serving as social innovation labs capable of designing and implementing solutions that create lasting social impact and change. This is how YWCA has always remained on the right side of history; we have been at the forefront of the racial justice and women's movements, leading the way to solutions that reimagines the future through our mission."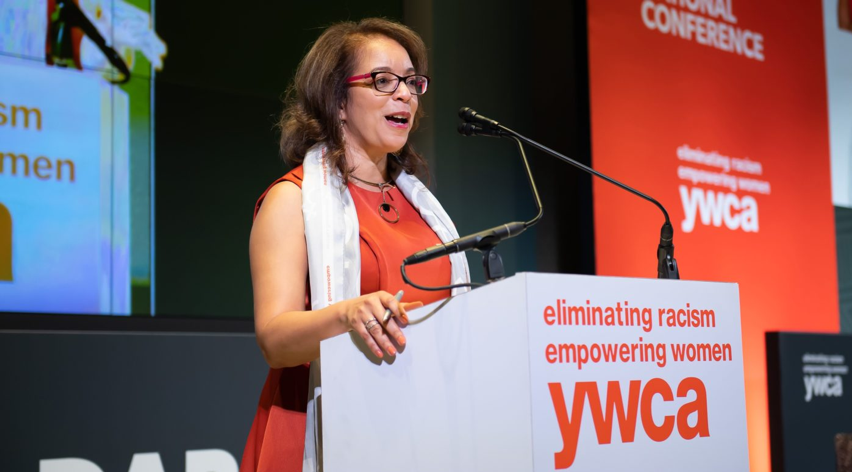 During their conference, YWCA presented awards to six women, honoring their achievements and extraordinary leadership: Sen. Joni Ernst (R-IA), Rep. Bonnie Watson Coleman (D-NJ-12), Rep. Debbie Dingell (D-MI-12), Fatima Goss Graves, Brittany Packnett, and Mónica Ramírez.
A Woman Who Dares to Demand Racial Justice
Named in honor of a civil rights leader who played a seminal role in defining and guiding YWCA's racial justice efforts, the Dorothy I. Height Racial Justice Award is the highest honor bestowed by YWCA. Congresswoman Bonnie Watson Coleman was honored with this award for a lifetime of service fighting for policy solutions to ensure that women and families can live without fear, harm, or discrimination.
The Congresswoman's work honors Dr. Height's legacy and commitment to racial justice, integrity, and courage. In 2016, Watson Coleman co-founded the Congressional Caucus on Black Women and Girls to advance issues and legislation important to the welfare of Black women and girls, and she is a key partner in YWCA's annual Stand Against Racism campaign.
While accepting her award, the Congresswoman reminded the crowd, "It is our job to fight injustice and discrimination. We the people show up, and we take back our government. We are in charge. This government is of, by, and for us."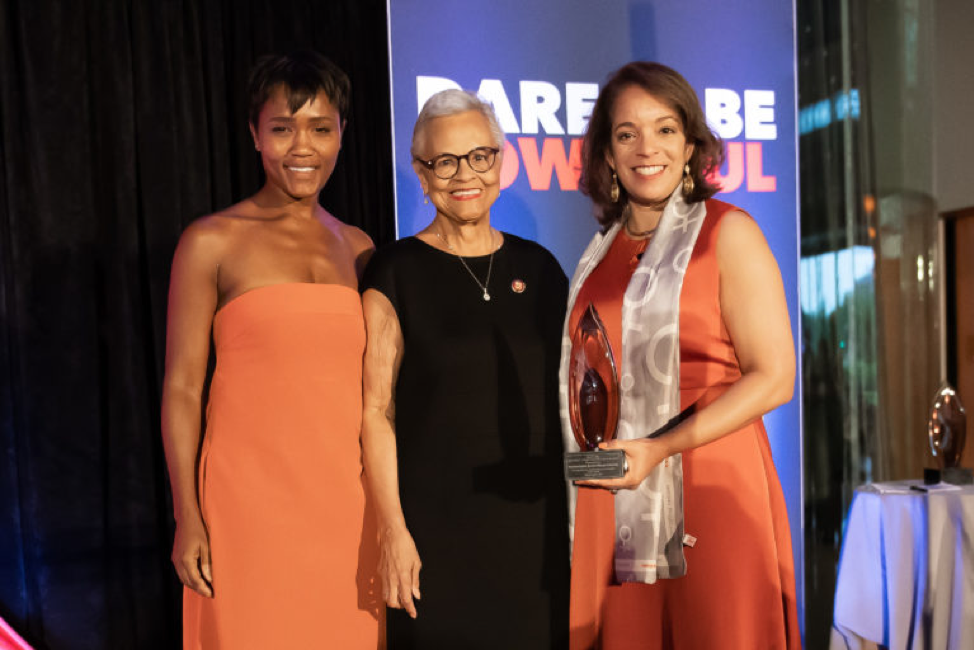 Women Who Dare to Work Across the Aisle
Sen. Joni Ernst has been an outspoken advocate in addressing sexual assault in the military. Her efforts are crucial to ensuring the safety of women in the military, in youth athletics, and on campuses across the country. YWCA presented the Senator with the YWCA Women's Empowerment Award for her tireless work and advocacy, and in recognition of her leadership during negotiations to pass bipartisan legislation reauthorizing the Violence Against Women Act (VAWA).
Congresswoman Debbie Dingell was honored with a YWCA Women's Empowerment Award in acknowledgment of her unrelenting efforts to establish protections and safeguards for survivors of domestic and sexual violence. As a strong advocate for women and survivors, she led the effort to close the "boyfriend loophole" to reduce firearms-related homicides and introduced the Violence Against Women Health Act, which helps survivors also affected by opioid crisis. Both these reforms were included in the recently House-passed VAWA bill.
As YWCA has long known, bipartisan support is critical to providing survivors of domestic and sexual violence with necessary resources and support. Violence against women does not discriminate. "Women are vulnerable across all races and economic statuses," said Danika Ali, assistant executive director at YWCA Union County in New Jersey. Across the board, she noted, there is "a lot of victim blaming, shame and guilt, and lack of resources."
Making the most of the resources they do have, YWCAs across the country find ways to fill voids in their communities and to serve survivors and their families. The organization is the largest network of domestic violence and sexual assault service providers in the country.
A Woman Who Dares to Empower A Sisterhood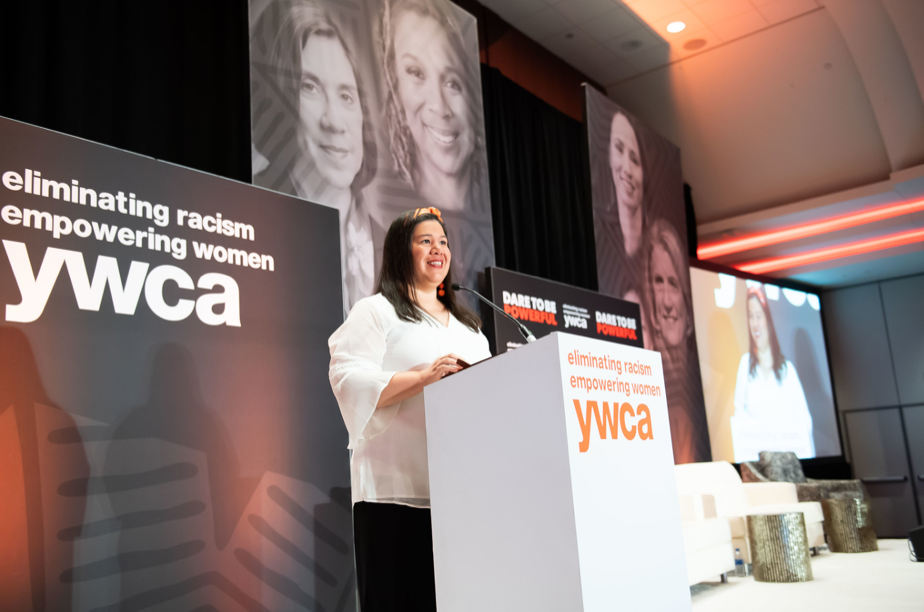 Mónica Ramírez, the third recipient of the YWCA Women's Empowerment Award, is a lifelong advocate for farmworkers, a community whose voices are all too often missing from important social and political conversations.
When Ramírez saw farmworkers' voices left out of the #MeToo movement, she wrote an open letter on behalf of Alianza Nacional de Campesinas and the "700,000 women who work in the agricultural fields and packing sheds." From this monumental "Dear Sisters" letter emerged Time's Up, an organization dedicated to supporting and defending women who have experienced sexual harassment in their workplace. Through a legal defense fund, advocacy, and awareness efforts, Time's Up empowers any worker in any profession to speak up about sexual harassment at work.
By giving a voice to women who have often been left out of the conversation, Ramírez has empowered an entire movement that speaks not just for women in one industry, but for every woman in the workforce.
A Woman Who Dares to Advocate for Change
Fatima Goss Graves has been at the helm of two organizations that put her squarely at the intersection of gender and race: the National Women's Law Center (NWLC) and Time's Up. As President and CEO of NWLC, she fights to advance opportunities for women and girls, fighting for economic security, access to health care and education, and workplace fairness. YWCA presented Goss Graves with the YWCA Advocacy and Civic Engagement Award, honoring her for her leadership, vision, and work to empower women, support survivors, and advocate at the intersection of race and gender.
"This work can be tough and long and hard," said Goss Graves while accepting her award. "This is why you don't just need your partners, you need your allies, you need your sisters."
As she said her final thank yous, her sisters from YWCA stood up to applaud this fierce leader who has continued to stand shoulder-to-shoulder with them, from the halls of Capitol Hill to the steps in front of the Supreme Court.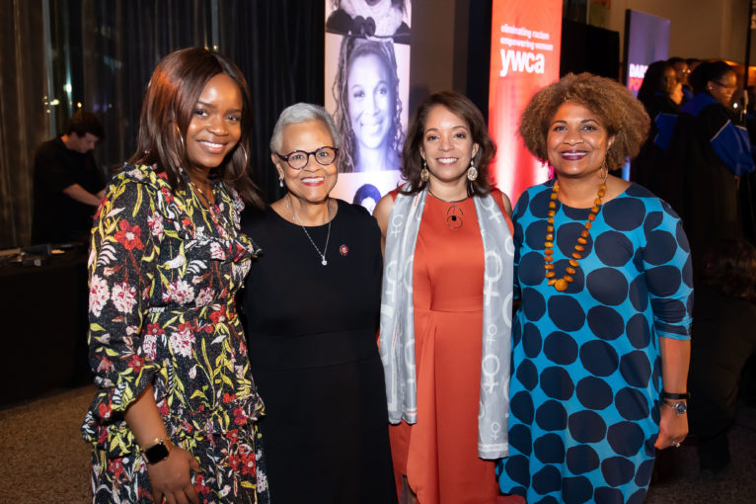 A Woman Who Dares to Be a Renaissance Woman
President Barack Obama called Brittany Packnett, the recipient of YWCA's 21st Century Renaissance Woman Award, a leader whose "voice is going to be making a difference for years to come." Packnett, an activist, educator, and writer, was honored with this inaugural YWCA award for her activism, influence across media platforms, commitment to women and girls, and for continually being an inspiration every time she steps up to the mic.
"I know that being a renaissance woman is simply to be a woman; that we do everything all the time, all day and all night," Packnett said to raucous cheers. "Especially if you are a queer woman or a trans woman. Especially if you are disabled. Especially if you are an immigrant. Especially if you are working class. Especially if you are fighting for a living wage. Especially if you want to control your own body. Especially if you want to take care of the children you do have."
Honored for embodying the true spirit of a Renaissance woman by bringing her talents, energy, and passion as a leader at the intersection of justice and culture, Packnett lives a life committed to authenticity and justice.
As she accepted her award, Packnett posed one final thought to YWCA leaders: "The question for all of us is, what kind of renaissance do we want to lead?…Do we want to be responsible for a renaissance that is only self-serving, or one that actually helps somebody else?
"It is up to all of us to make the choice to stand for something beyond ourselves. The work continues. Let's get to it."