If you haven't heard, The National Law Enforcement Museum has been dealing with a notorious criminal and needs help tracking down not just her, but her gang of crooks, too. From now until October 6th, visitors will put their detective skills to the test by completing a series of puzzles in order to identify the infamous (and don't worry, fictional) Queen of Diamonds. However, while these criminals are merely fictional, the cash reward isn't! Want to know what all the heist, ahem, hype, is about? We took a stab at cracking the Crimes (Un)Cased contest and here's why you should check it out, too.
It has an original storyline.
The contest, developed by the Museum's marketing agency, U.Group, is designed to read as a narrative. Right as you enter the museum, visitors are given a case file, labeled Catch The Queen, that not only includes instructions about the contest, but also features an elaborate backstory about a team of robbers. Participants will then have to solve a variety of different clues in order to uncover the names of each criminal, and ultimately, solve the case.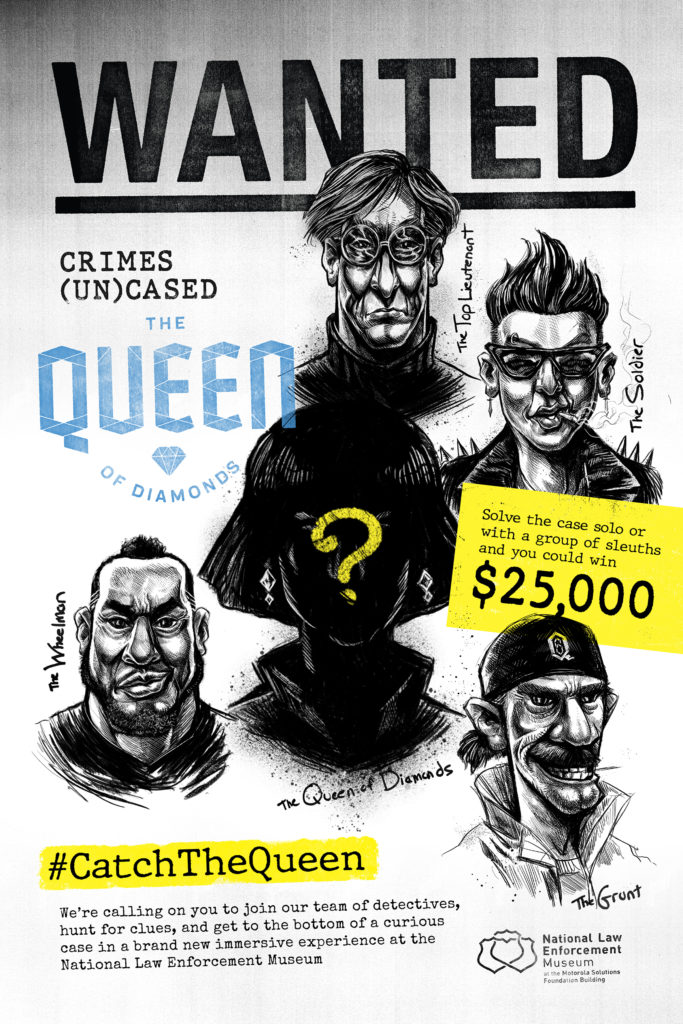 It's an interactive and immersive experience.
Each puzzle takes place in a different area of the museum with the last task taking place in multiple exhibits. So, visitors will be able to explore the entire 57,000-square-foot museum in a fun and engaging way. From spotting key evidence needed to complete a riddle to solving clues about law enforcement history, contestants will be able to check out the museum's impressive collection of artifacts and information as they get to the bottom of the case.
It's fun for all ages.
While some of the clues are more challenging than others, the puzzles are meant for a wide variety of ages. The comic-inspired characters give the contest a kid and teen-friendly vibe where the questions and clues require critical thinking and some detective work, of course. It's also perfect if you're looking for team bonding activities, such as family or employee outings. Whether you decide to take the case on by yourself, or opt to split up into teams, everyone will enjoy trying to uncover The Queen of Diamonds and her crew of bandits.
Think you have what it takes to crack the case? Visit the museum's website to purchase tickets, find directions, or learn more information about this immersive experience. The contest is free with the visitor's museum admission, and once the competition ends, one winner will be selected at random for the grand prize.
National Law Enforcement Museum: 444 E Street, NW