Decked with more Christmas decorations per square foot than any other attraction in the DMV area, Gaylord National Resort's Christmas on the Potomac is offering Washingtonians a holiday experience unlike any other. Open to both hotel guests and the public, from now until December 30th, the nearly 2,000-room resort has been transformed into a winter wonderland featuring festive activities for all ages, such as the must-see indoor ice sculpture-filled attraction, ICE!. "We use almost 2 million lights to decorate the entire resort [and] our suspended Christmas tree is the focal point of our atrium, standing tall at 55 feet," says the resort's Area General Manager, Doug Ridge. "We also hang 19 LED stars in our atrium that make for a beautiful addition to our nightly Laser Light Show." So, if you're wondering where you can enjoy all the magic of the holidays this season, check out the guide below, which highlights everything this event has in store.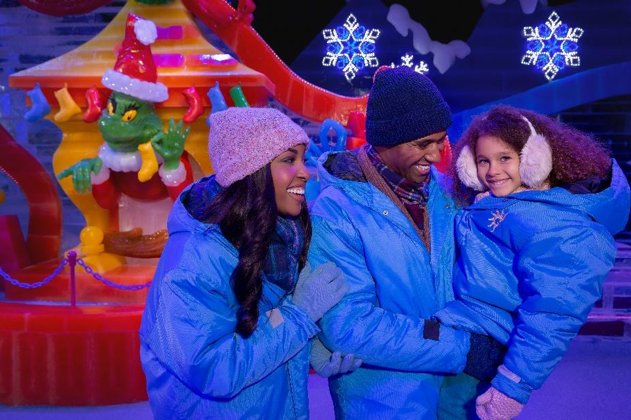 The Holiday-Inspired Activities
ICE!: Presented by DEI featuring Dr. Seuss' "How The Grinch Stole Christmas!", ICE! is providing visitors with a totally unique holiday experience. The colorful attraction created by highly-skilled artisans from Harbin, China, includes "larger than life" ice sculptures and displays carved from 2 million pounds of ice. "We've been working with [these] artisans for many years," says Ridge. Adding that it takes up to 30 days for them to hand cave the exhibit. Upon entering, guests will marvel at the 13 vibrant colors used throughout the attraction and can't help but feel as though they have stepped into the pages of the quintessential Christmas classic as they journey through 12 scenes from the tale. The beloved slide room has four slides, each two stories tall and is accompanied by The Grinch slinking down the chimney to steal gifts right before he has a "change of heart". For a special touch, blue parkas are given to guests as they enter so they can stay extra warm in the nine-degree enclosed tent. ICE! is an exclusive Gaylord experience and an annual visit has become a "holiday tradition for many families," says Ridge.
The Grinch's Wonderful Awful Scavenger Hunt: Kids will love this interactive, indoor scavenger hunt! Guests are encouraged to "help The Grinch find a holiday change of heart" by solving clues and puzzles throughout the resort. The winner also gets to take home a grand prize along with helping The Grinch have a change of heart.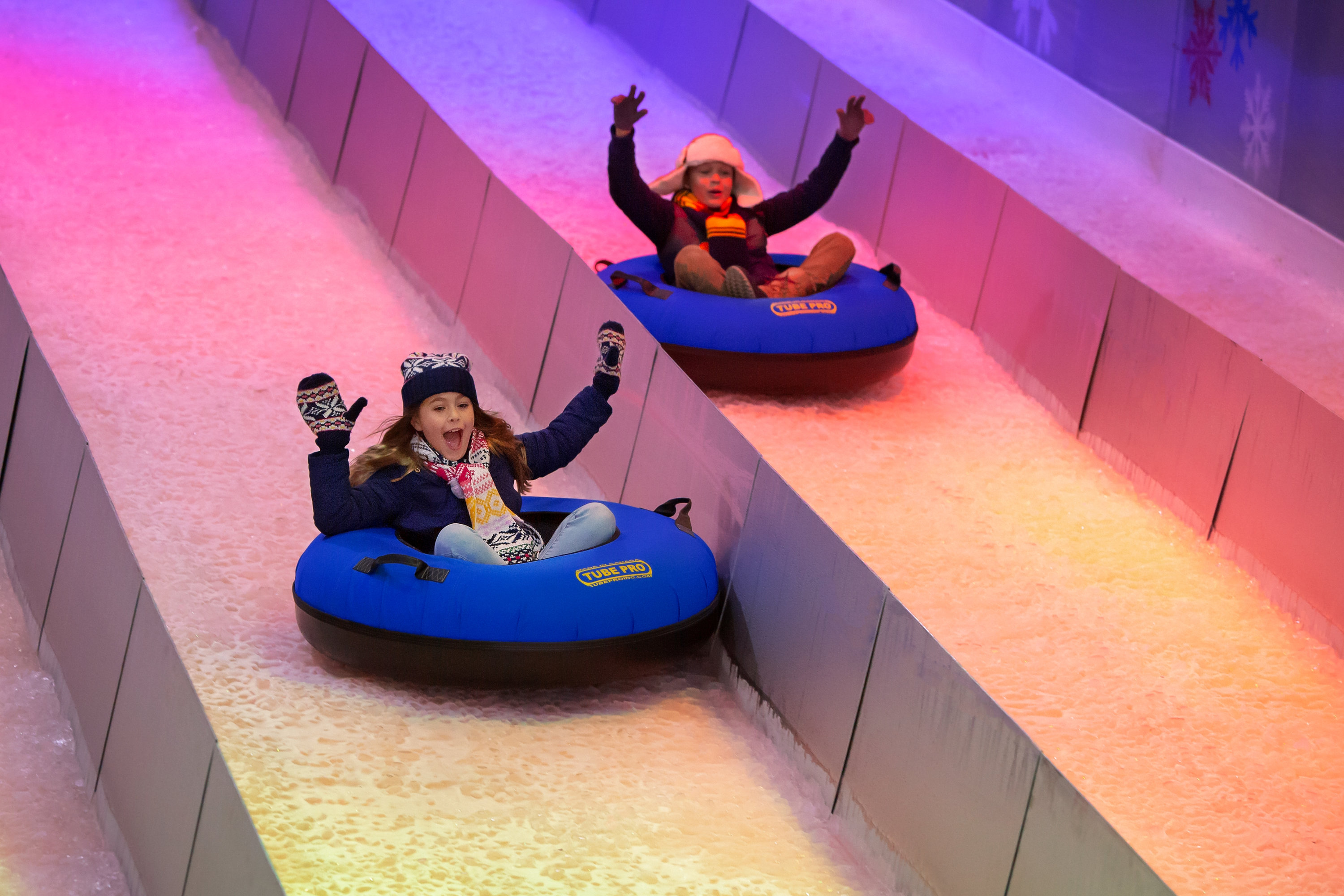 Christmas Village: With endless Christmas activities, guests can visit the new and exciting attraction, Reindeer Rush Ice Tubing. Guests can tube down four two story tall lanes covered in ice. Also, new in the village is the adorable Gingersnap's Christmas Kitchen. Surrounded by candy, guests can test their culinary skills by making their very own gingerbread houses and other tasty treats. "It's a kid's dream because of the massive amount of candy that surrounds them," says Ridge. Guests can also take a picture with the man of the hour, Santa, enjoy Mrs. Claus' Christmas Traditions as she read Christmas classics in her living room while listeners enjoy milk and cookies, along with visiting the Build-A-Bear Workshop station.
Christmas Corner: Featuring a giant red mailbox, cheerful pens, paper, and pencils, this little outpost in the hotel lobby has everything needed to write a letter to Santa.
Winter Square: "This year, we have even more Christmas per square foot with new attractions like Winter Square, our festive outdoor space," says Ridge. It overlooks the Potomac River and is adorned with twinkling lights, garlands, and other holiday décor.  Besides breathtaking river views, Winter Square is home to a covered ice-skating rink so guests can skate rain or shine along with Tinsel Tavern, an ugly sweater-themed bar where guests can warm up with a cup of hot cocoa and seasonal cocktails.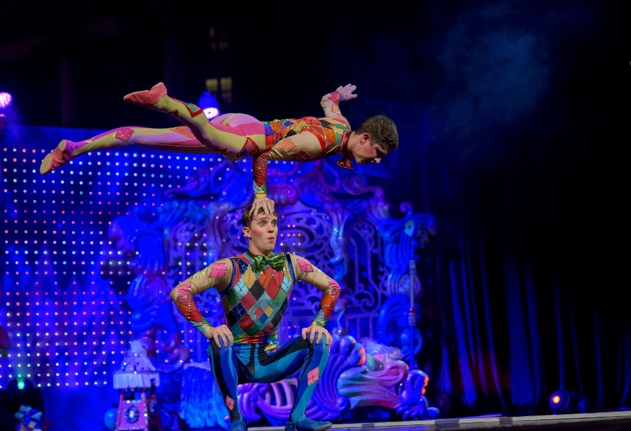 Cirque Dreams Unwrapped Atrium Show: This 25-minute performance combines mesmerizing artistry, music, and showmanship from around the world. From the costumes, to the aerial skills, you won't be able to take your eyes off of the Cirque Dreams Unwrapped Atrium Show.
Christmas Miracles: Christmas Miracles is a stunning nightly laser light show which takes place in the resort's atrium. During the show, there is a live musical performance accompanied by a tree lighting, lasers, dancing fountains, and beautiful indoor snowfall.
Winter at Relâche: For those hoping to relax and recharge during the busy holiday season, check out the resort's wine-inspired seasonal spa for all kinds of treatments and special packages.
Sounds of the Season: Special musical performances by regional ensembles will also serve as entertainment on Monday nights. Guests can purchase packages online which include the concert, entry into ICE! and free parking.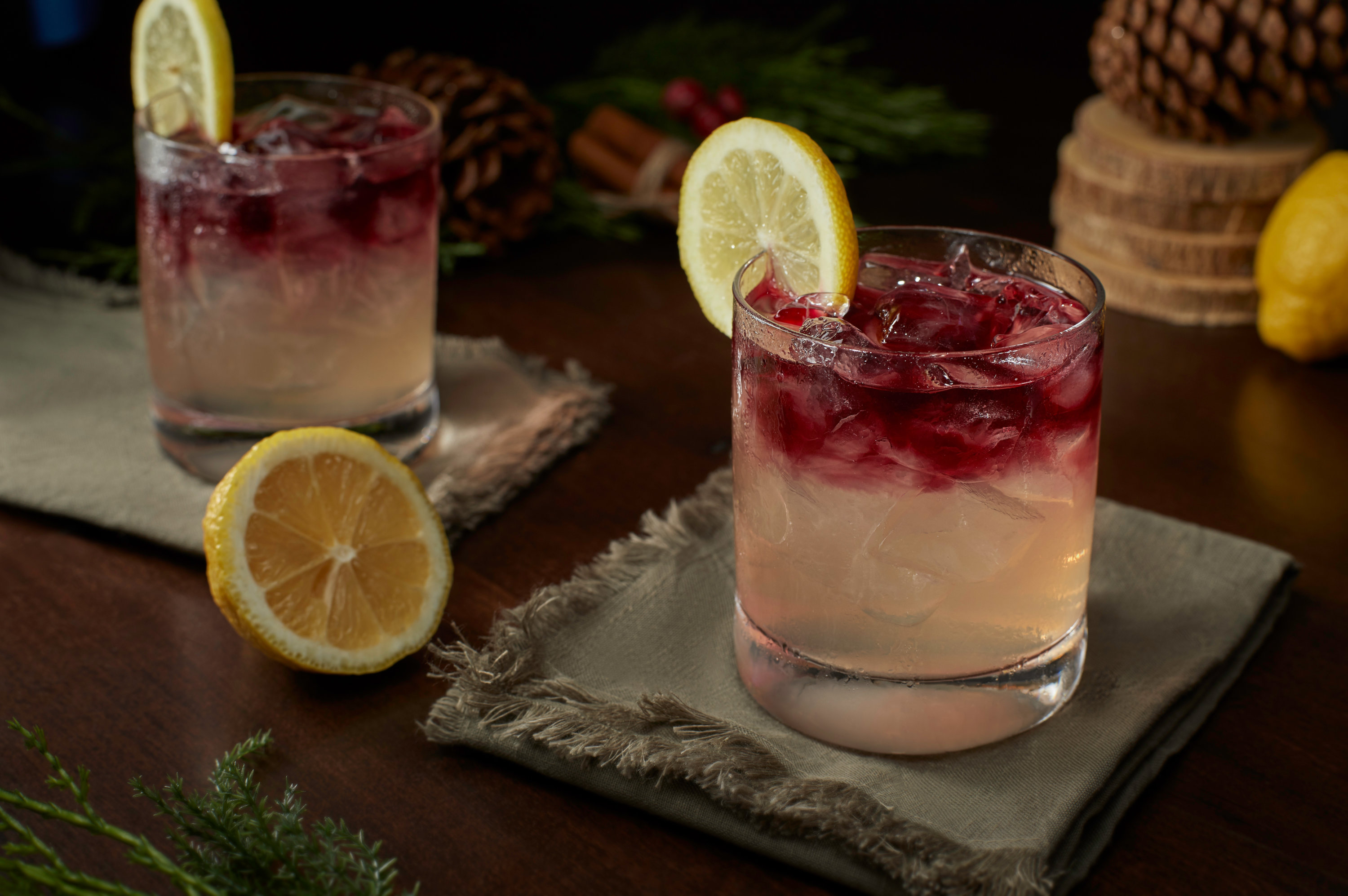 The Festive Dining Experiences
Tinsel Tavern: A tacky Christmas sweater bar in Winter Square serving up the best holiday cocktails—and hot chocolate, of course. Choose from four seasonal libations including the White Wintery Mix, Long Winter's Nap, Season's Greetings and Xmas Thyme.
Feast with The Grinch: Also new in 2019, Dr. Seuss fans will be able to enjoy an interactive breakfast buffet featuring Whoville inspired items and table-side visits with The Grinch and other characters.
Hands-On Cooking Class at Old Hickory Steakhouse: Discover "tricks of the trade" every Saturday, from 1pm to 3pm, at Old Hickory Steakhouse. The hands-on cooking demonstration from Gaylord National Resort's Culinary Team showcases several ways to spice up popular seasonal dishes, such as a roasted turkey roulade and a sweet potato and marshmallow brûlée—Yum!
Christmas Day Buffet at Pienza Marketplace: From 11am to 4pm on Christmas Day, guests will be able to enjoy a delicious holiday spread, such as glazed ham and cornbread stuffing, at the resort's Christmas Day Buffet. The experience includes a selection of beverages and dessert options, too.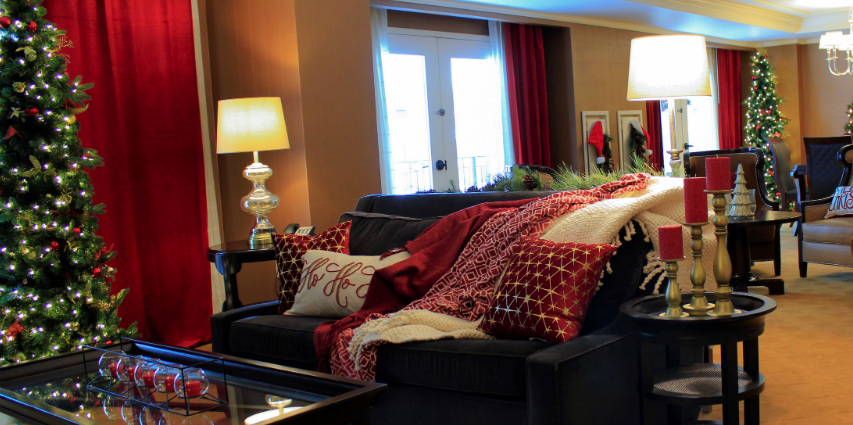 The Christmas-Themed Accommodations
Christmas Dreams Suite: For those hoping to stay overnight in a room dressed in holiday stockings, festive ornaments, and twinkling lights, book the resort's "Christmas Dreams Suite." This suite is filled with lavish decor to create the ultimate holiday experience. Guests of the suite will be greeted with a Christmas welcome gift, seasonally-scented bath products, a holiday snack basket, and Resort Pastry Chef Mohan's selection of fresh-made Christmas confectionaries. Exclusive activities, like a Silent Disco on Ice, and a VIP Carver Showcase, are available to guests staying at the hotel, too. The best part? The suite even includes an hour-long professional photoshoot for family portraits, or a surprise holiday proposal, too! The "Christmas Dreams Suite" can be added to any overnight stay, based on availability.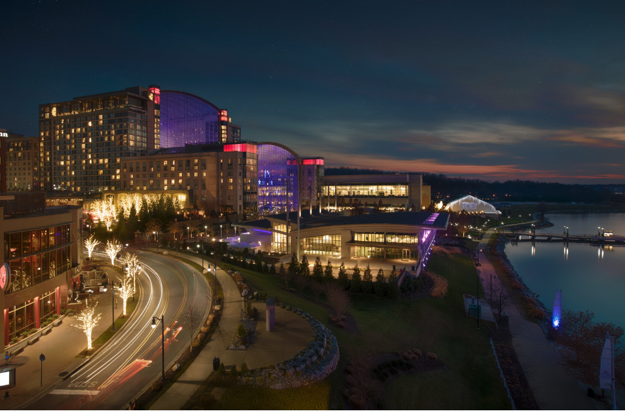 Exclusive Activities for Overnight Guests
For guests that book an overnight stay, there are exclusive experiences they can enjoy like Pajama Story Time with Snowflake the Elf in Mrs. Claus' living room, Silent Disco on Ice which takes place on the ice rink in Winter Square. Guests can dance, twist, shout and skate to an array of holiday tunes delivered to personal, wireless headphones and a VIP Carver Showcase where guests can experience a private, live ice carving demonstration by artisans from Harbin, China. Hotel guests may ask questions about the tools, training and skill required to complete these artful masterpieces.
Overnight Packages
An overnight stay is the best way to experience all that Christmas on the Potomac has to offer. The ICE! is Nice Package starts at $249.00 and includes unlimited and priority access into ICE! along with exclusive "guest only activities". The Christmas on the Potomac Package starts at $339.00 and includes unlimited and priority access into ICE!, one souvenir ICE! photo, a $100 resort credit for onsite dining outlets and exclusive "guest only" activities".
To put it short, Gaylord National Resort's Christmas on the Potomac is packed with festive activities, cuisines, and accommodations—making it the best place to spend your holiday this season. For more information about this jolly event, visit their website or call 301- 965-4000.