Break your Instagram feed, not the bank, this holiday season. Georgetown GLOW, the region's only free, curated experience of outdoor light art installations returns for its sixth year December 6 – January 5, with 11 exhibitions from local, regional and international artists lit from 5 – 10 p.m. nightly throughout Georgetown's commercial district. Set against the historic backdrop of DC's oldest neighborhood, it's a whole new way to shine. Georgetown GLOW is presented by the Georgetown Business Improvement District (BID) and is supported by the DC Commission on the Arts & Humanities, as well as the generous support of event sponsors.
For details on the artists, the exhibition map, GLOW events and walking tours, please visit www.GeorgetownGLOWDC.com. Use #GeorgetownGLOW on Instagram and follow @OfficialGeorgetownDC to stay up-to-date on all things GLOW.
Watch this year's Georgetown GLOW preview video by clicking on the image below!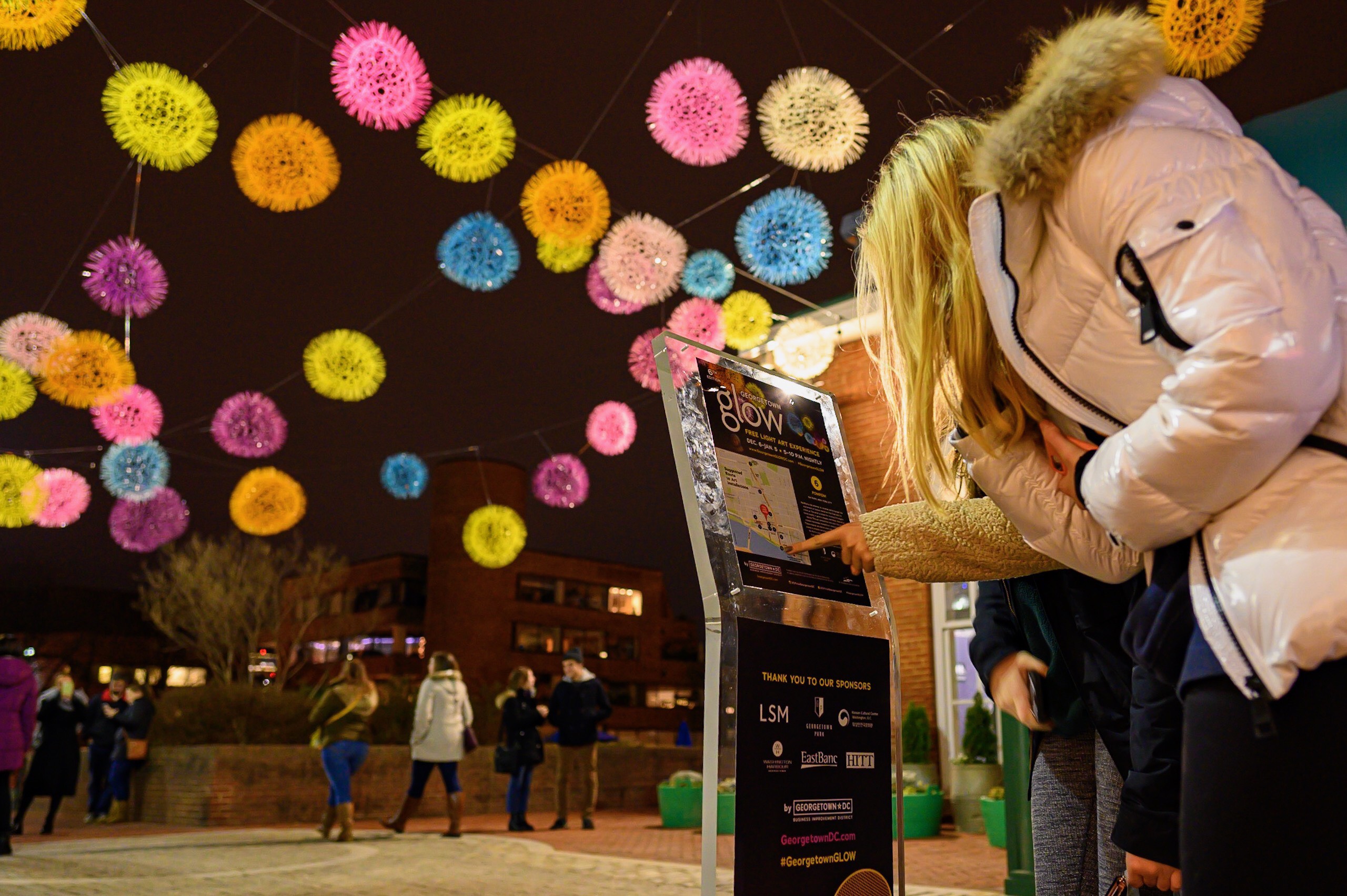 View the exhibition map here.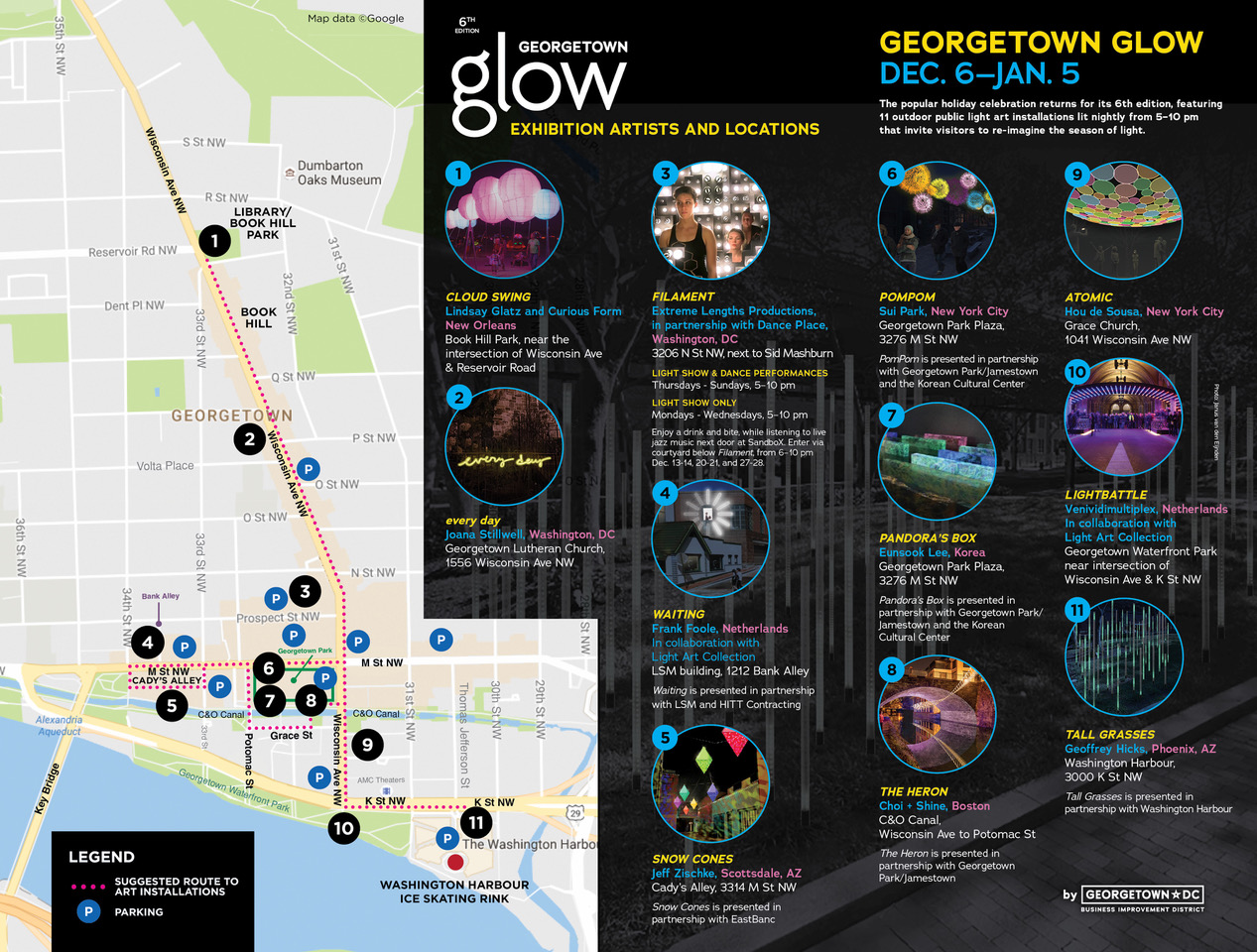 JOIN US FOR UPCOMING GLOW EVENTS:
GLOW WALKING TOURS
THROUGH JANUARY 5
Several local tour companies are offering more than 30 GLOW-inspired walking tours, tying the exhibition to history, food, photography, and art themes. Click here for more information, and get a real sense of how Georgetown GLOW fits into the overall context of DC's oldest neighborhood.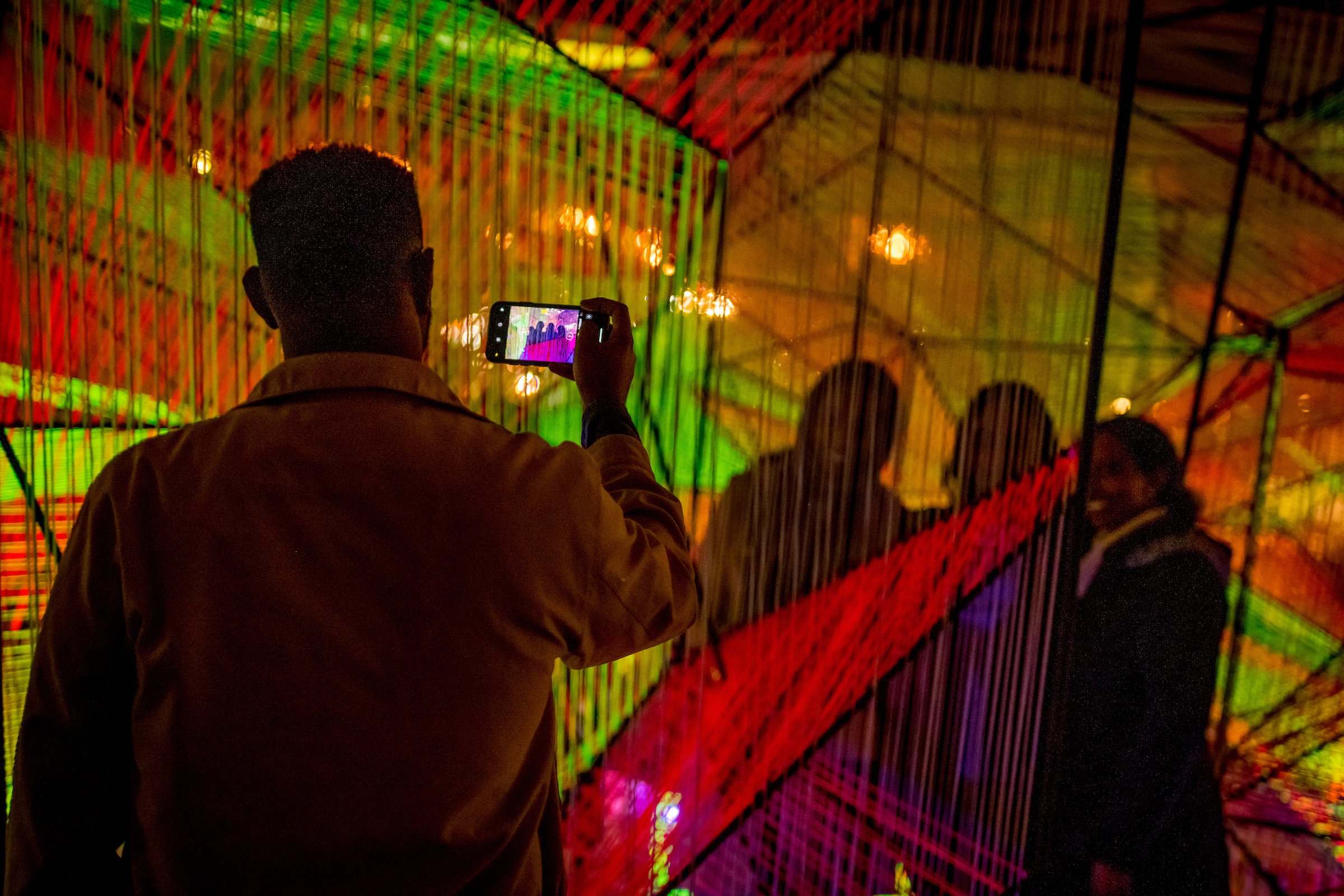 GLOW HOLIDAY DEALS & EVENTS
THROUGH JANUARY 5
In conjunction with the month-long exhibition, more than 40 of Georgetown's national retailers, small businesses, restaurants, and hotels will be offering in-store promotions and special events throughout GLOW. The 25 days of holiday cocktails, including a Ho Ho Ho-t Toddy, should be reason alone to hop in that Uber and head to Georgetown.
Visit our round-up page for details on each promotion. 
STAY LOCAL HOTEL SPECIALS
THROUGH JANUARY 5
Instead of rushing home after GLOW, make a night (or weekend) of it in Georgetown with one of our hotel's Stay Local holiday packages. Winter experiences span every area of The Four Seasons Hotel, from heated, Champagne-themed dining in ice bubbles on the Bourbon Steak patio to glow-in-the-dark domes for kids to sleep in. Georgetown Suites is tying guest rates to the temperature outside with their Cool Deal, while The Ritz-Carlton Georgetown is offering guests a GLOW welcome bag and breakfast for two, plus complimentary valet parking throughout GLOW. Or check out The Graham's DC Lights package, which includes winter sips and bites, and ice skating vouchers.
Click here for full details. 
A BOOK HILL HOLIDAY
SATURDAY, DECEMBER 14 | 4 – 8 p.m. 
The charming Georgetown section of upper Wisconsin Avenue (O St to Reservoir Rd NW) is hosting A Book Hill Holiday in partnership with Georgetown Main Street and the Georgetown BID, featuring a holiday snack and stroll with festive sips and bites at participating stores, photos with Santa (for kids and pets with paws!) at TD Bank's Winter Wonderland, live entertainment, a gift-wrapping station, in-store holiday events, special promotions, and a festive trolley.
Visit our Book Hill Holiday page for details on each promotion and event.