If winter didn't come to you, you can find winter at Wintergreen! We've got the snow, we've got the slopes, and we've got the FUN! Wintergreen is an easy three hour drive from Washington, but it's a world away. Plus, winter isn't over, we plan to ski, ride and tube into March.
Itinerary for the Perfect Winter Escape
Consider the possibilities: fabulous skiing, riding and tubing, cozying up to a crackling fire, satisfying dining options, soothing spa services, and much more. Here are some tips to make your stay more enjoyable.
We recommend:
Before You Head To Wintergreen
Book The Right Package
Consider our Winter Escape Package that bundles lift tickets and accommodations, and it's the best way to get the most out of your getaway. But you should also check out all of our packages, Bed & Breakfast, 3 for 2 or Stay More, Save More and see what fits best.
Pre-Register For Rentals
If you intend to rent ski or snowboard equipment, preregister for rentals. This will save you time when you come to pick up your rentals, and get you on the snow faster.
Be sure to check This Week at Wintergreen for hours of operation and events.
Day 1 – Arrival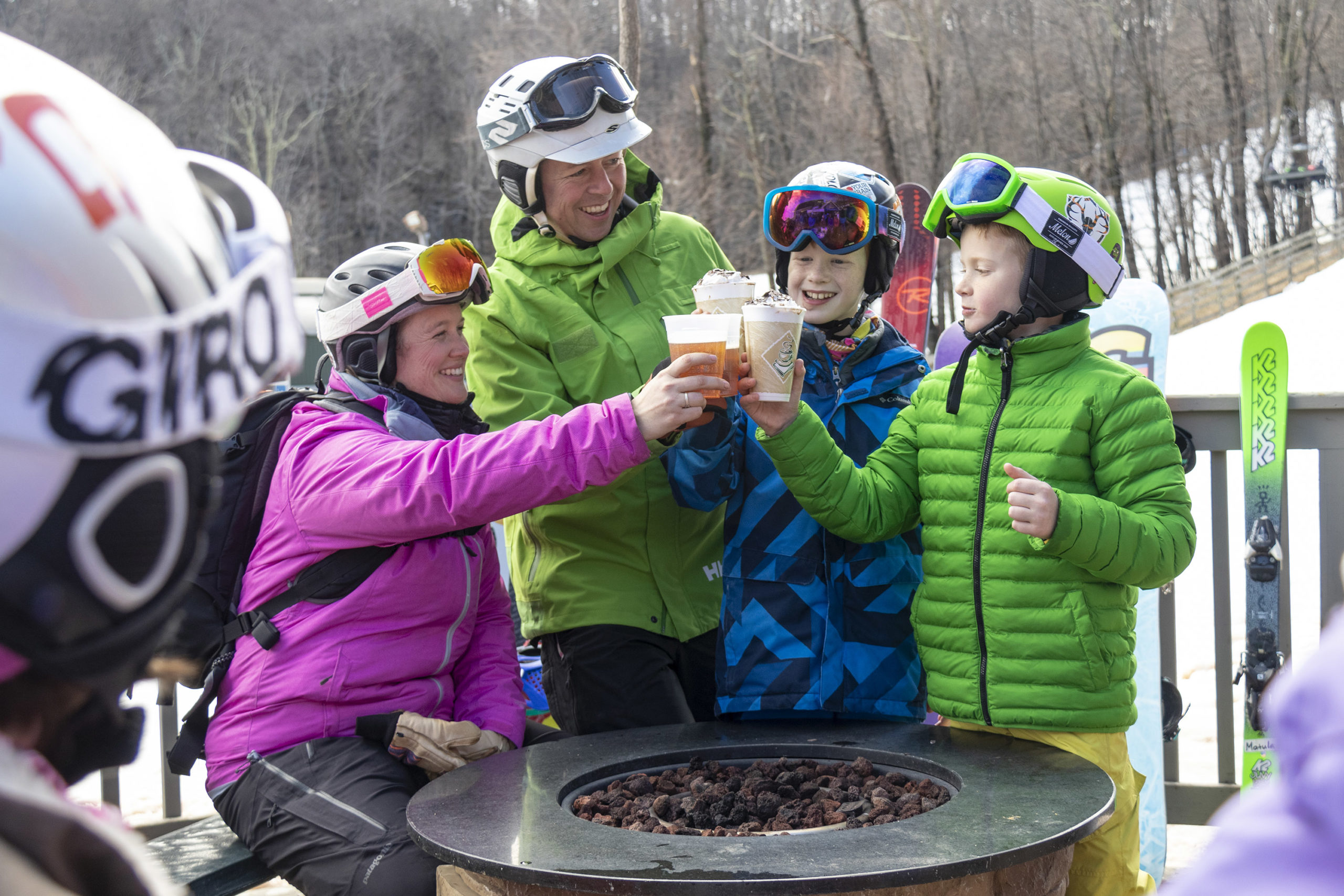 When checking in, stop by the Terrace Café and pick up a special Starbucks drink, baked sweets, or a warm specialty cocktail to help you unwind and relax.
Forgot your hat or gloves, or looking for advice on great winter sports equipment? Do some shopping in the Mountain Inn. Outdoor Elements will help you stay warm and dry and still look like a fashionista.
Pick up your rental equipment. If you are skiing or riding the day of arrival you'll be sure to do this, but you can also pick up your rentals the night before!
Take The Plunge! The Plunge is Virginia's largest tubing park with speeds reaching 30 mph. Think about getting tickets ahead of time – tubing often sells out.
Dinner Options Include:
The Edge – Look out over the slopes as you enjoy great bar selections and live music on the weekend. Don't forget the best burgers around made with GMO-Free, 100% Virginia beef.
Day 2 – Hit The Slopes!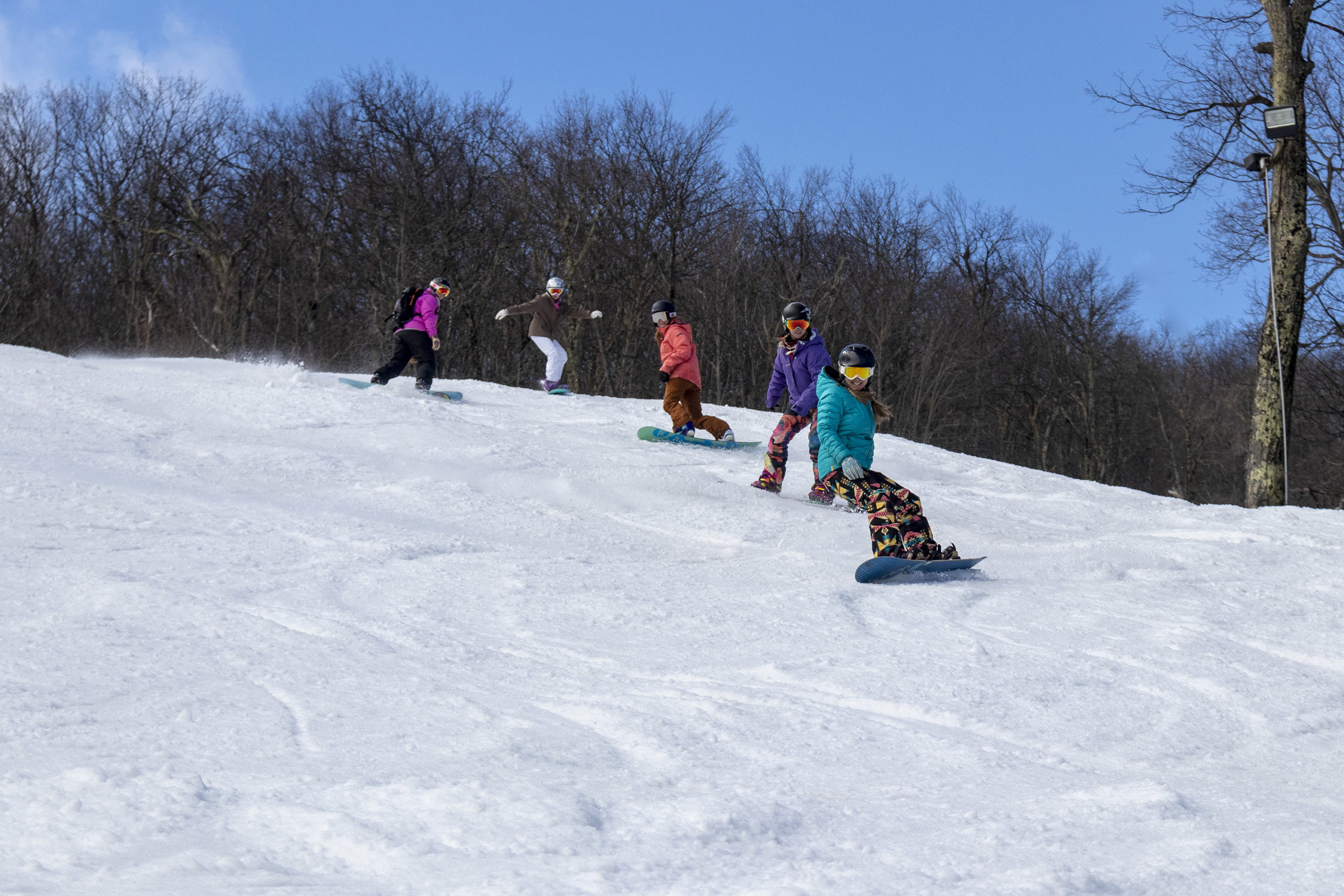 Breakfast at The Copper Mine Bistro – fill up to fuel your day!
Check The Slope Report and The Blog for the latest weather conditions and information about our slopes and lift operations.
If you are new to skiing and riding or just want to learn a few new tricks, get a lesson at our Snowsports School. Our talented instructors have a passion for teaching that can't be beat.
For kids we have programs at The Treehouse. Children are placed in groups based on age and ability level. Their time at The Treehouse is spent in lessons to help them gain confidence and skill on the snow, with breaks for lunch, snacks, and hot chocolate. And did we mention fun?!
When it's time to take a break, stop at Checkerberry Cabin at the base of The Blue Ridge Express for a loaded hot cocoa with a side of warm Monkey Bread.
For lunch we recommend you dine early or late and miss the crowds. There are lots of options: Pryor's serves BBQ (pork, chicken and brisket), and your favorites from the fryer- fish, shrimp, chicken.
Aquatics & Fitness Center – when you're done for the day, take a dip in our indoor pool or relax in the hot tubs. Or even schedule a massage for your tired muscles at The Spa!
Dinner Options Include:
The Copper Mine Bistro – From creative salads and apps to luscious entrees. Our favorites are Papa Weaver's Pork Chop, the Seafood Trio, Quinoa Risotto and Braised Short Ribs.
Devils Grill – serving elegant contemporary American fare in a relaxed club setting. Using the freshest and highest quality food, dining at the Grill is an experience you won't want to miss. If you're on the mountain on a Sunday, enjoy a sumptuous Sunday Brunch with all your favorites taken to a new level of deliciousness.  Remember, Devils Grill is exclusive to guests lodging in Wintergreen accommodations and Members.
Day 3 – Departure
Hit the slopes again!
Before you hit the road, grab a sandwich made with Boar's Head meats and cheeses at The Market.
On your way home stop by the Nelson County wineries, breweries or cideries, and take some of Nelson County home with you.
Day 4 – Back at Home
Call 888-577-6557 to book your next Wintergreen getaway!