There are plenty of Valentine's Day cynics who think the holiday is cheesier than a pot of fondue. But then some of us are romantics (and think fondue is pretty great). This is for you: a maximalist guide to Valentine's Day dining around DC, with all the Champagne, oysters, caviar, and chocolate included. Note that a lot of restaurants are starting their romantic offerings the weekend before since Valentine's Day falls on a Tuesday.
Alhambra 
When: February 10 through 14
Where: 923 Black Lives Matter Plaza, NW
The elaborate Mediterranean-fusion restaurant in Downtown DC's St. Regis Hotel offers a four-course meal with extra splurges like a sommelier's rosé selection or caviar offering. Not quite romantic enough? There's also a "Sweetheart Booth" package that includes private seating, an arrangement of roses, rose petals, candles, balloons, and two glasses of Moët & Chandon (or, if you're really going for it, a round of "Forever Starts Tonight" Valentine's Day cocktails). Dinner is $135 per person, and the package is $395. Reservations are available online.
Apéro
When: February  14
Where: 2622 P St., NW
Georgetown's glittery nook of a Champagne and caviar bar always says date night—especially come Valentine's Day with prix-fixe menus offered for lunch ($55 per person) and dinner ($75 per person). Dishes fit the bill: steak tartare, citrus-topped oysters  (go ahead and add caviar), and winter-spiced venison with truffle butter. We love owner Elli Benchimol's wide-ranging list of bubbles and caviar, which ranges from minor-splurge to expensive-but-amazing.
Birch & Barley 
When: February 14 
Where: 1337 14th St., NW 
The rustic tavern with its wood accents and wood-fired oven makes for a cozy dinner date. A four-course menu has a lot to choose from like lobster risotto, crab cakes, and roast duck. Diners can add a wine pairing for $40 or a beer pairing for $30. Reservations are $80 per person and can be made online.
Bresca
When: February 10 through 14
Where: 1906 14th St., NW
Spoil your sweetheart with a luxurious six-course meal with wine pairing from chef Ryan Ratino's Michelin-starred bistro. The dining room also offers a selection of caviar and Champagne pairings. Reservations are $195, Friday through Monday, and $245 on Valentine's Day itself. Bookings can be made online.
Bourbon Steak
When: February 10 through 14
Where: 2800 Pennsylvania Ave., NW
Snag a comfy booth at the Georgetown steakhouse, which offers a lineup of favorite dishes and Champagne for two ($300 per couple) on Valentine's Day.  On Valentine's day itself, chef Robert Curtis creates a special menu ($130 per person) with decadent dishes like pasta with uni butter and snow crab, Black Angus filet mignon, and Maine lobster pot pie. If that isn't enough, you can also add on caviar, a seafood tower, or  Japanese wagyu. Reservations can be made online.
Caruso's Grocery 
When: February 14 
Where: 1401 Pennsylvania Ave., SE; 11820 Trade St., North Bethesda
Indulge in a romantic, red sauce-style Italian dinner with chef Matt Adler's three-course prix fixe menu.  On tap: dishes like crispy calamari, pasta with spicy Neapolitan ragu, and trout piccata. For dessert, choose from a blood orange creme brulee, strawberry shortcake sundae, or classic tiramisu. Reservations are $95 per person for the Capitol Hill flagship and $70 per person for the new Pike & Rose location. 
China Chilcano
When: February 11 through 14 
Where: 418 7th St., NW 
José Andres' colorful Peruvian restaurant feels like a winter escape (minus the plane ticket). A five-course Valentine's Day tasting menu stars Peruvian classics like warming ají amarillo chicken stew and suspiro limeña, a condensed milk custard topped with crunchy meringue and passion fruit. Reservations are $65 per person and can be made online.
The Greenhouse at The Jefferson Hotel 
When: February 11 and February 14 
Where: 1200 16th St., NW 
Chef Fabio Salvatore prepares a special tasting menu at the romantic Jefferson Hotel restaurant with courses like burrata with caviar, beef filet in mushroom sauce, and red velvet tayberry cake to finish ($173 per couple). The most romantic seat in the house: a private booth for lovebirds dubbed "The Nest" (a place by the fire is also lovely). Reservations can be made online.
The Imperial
When: February 10, 11, and 14
Where: 2001 18th St., NW
Chef Chris Reynolds' five-course tasting menu at the sleek Adams Morgan restaurant kicks off with a dish from the raw bar—either a chilled lobster roll or oysterș— and then features dishes like porcini mushroom risotto, crave-able beef Wellington, and dark chocolate strawberry mouse. To drink: special V-Day cocktails like a cocoa-infused old fashioned and pink-hued gin martini. On Valentine's Day only, the bar is serving half-priced seafood towers (petite to double-decker, anging from $15-$101) and bottomless bubbles for $45. Reservations for the tasting menu are $70 and can be made online.
L'Ardente
When: February 10 through 14
Where: 200 Massachusetts Ave., NW
The team behind this glam-Italian near Penn Quarter is smart—a special Valentine's menu will run Friday, February 10 through the 14th, and couples can either choose from the regular menu or opt for an indulgent, five-course tasting menu priced at $250 for two. On tap for specials: caviar martinis, dressed oysters, the famous 40-layer truffle lasagna, stuffed lobster, and more. Reservations are $250 for two and can be made online.
L'Avant-Garde
Where: 2915 M St., NW
Celebrity French chef Gilles Epié is behind this swoon-worthy new dining room in Georgetown, outfitted with a wood-burning fireplace. There's no elaborate prix-fixe here—just a ton of beautiful French wines and enticing dishes like foie gras beignets, chateaubriand steak, and soft-scrambled eggs topped with Petrossian caviar.
Ilili 
When: February 14
Where: 100 District Sq., SW
Chef Philippe Massoud's Lebanese spot at the Wharf is like dining in a beautiful indoor garden thanks to citrus trees, a fountain, and hanging bird cages. Upscale modern mezze fill the menu, and there's a special Valentine's prix-fixe ($175 per person) with treats like foie gras macarons and butter-poached halibut.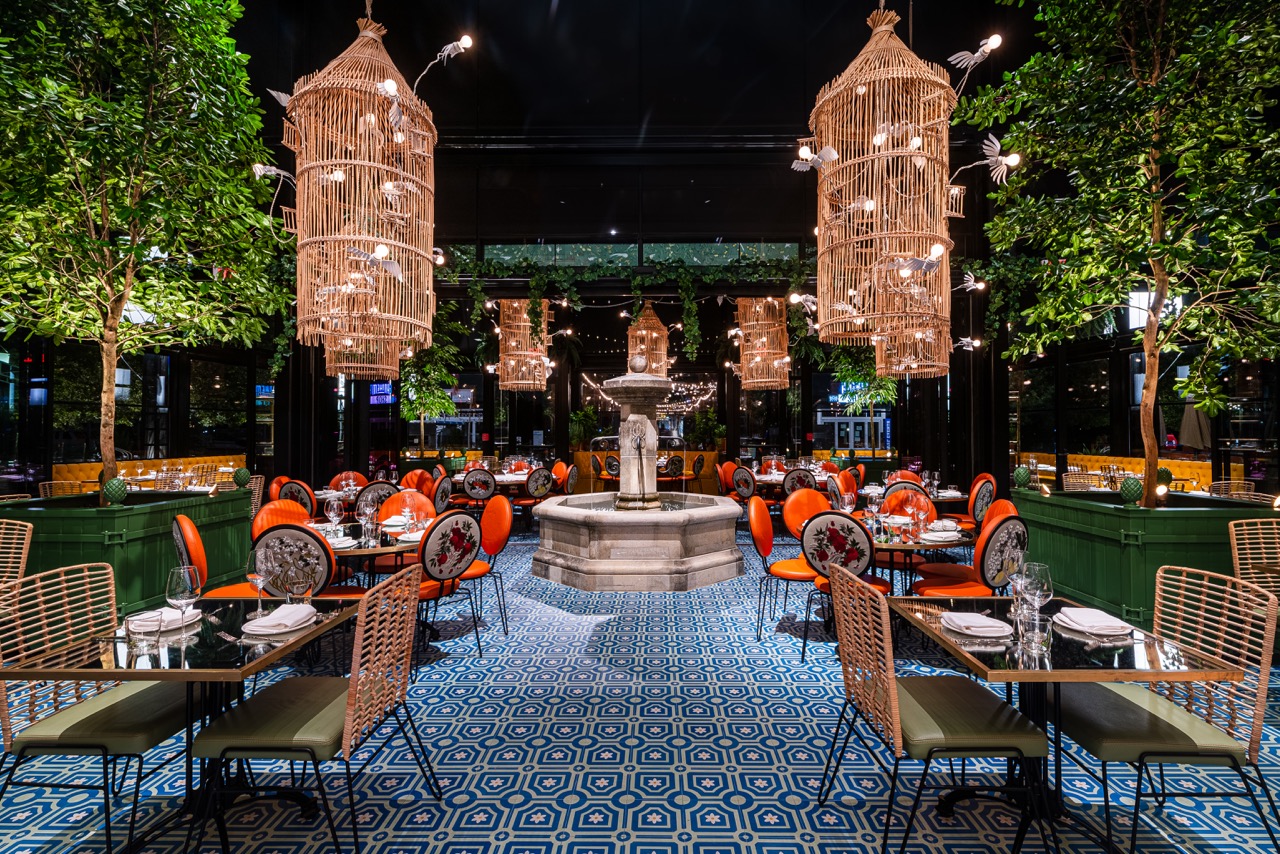 Lulu's Winegarden 
When: February 14
Where: 1940 11th St., NW
Bring your wine-loving partner or friend to this Southwestern-inspired wine bar  for a "Love is Blind" wine tasting event. Couples will arrive at 5 PM for a welcome drink, and then begin the class at 5:30 PM. Sommelier Daniel Runnerstrom (formerly Maxwell Park) will lead couples through three blind wine tastings, encouraging participants to use their senses to identify the wine. The restaurant will provide an assortment of dips and spreads to pair with the wines. Reservations are $120 for two people and can be made online.
Nina May
When: February 10 through 14
Where: 1337 11th St., NW
The cozy locavore Shaw restaurant whips up a romantic prix-fixe with classic splurges like shrimp cocktail and baked Alaska matched with modern treats like braised lamb shoulder with yogurt labneh. Reservations are $75 and can be made online.
Nobu 
When: February 14
Where: 2525 M St., NW 
The fancy Japanese chain creates over-the-top specials like toro tartare with caviar, a specialty sashimi or sushi tasting, roasted lobster, and grilled Japanese wagyu. Couples who prefer to splurge at home can order to-go boxes with some of their signature sushi and sashimi. In-person reservations are $200 per person and can be made online.
Planta
When: February 14
Where: 4910  Elm St., Bethesda
The pretty, pink-hued dining room is a perfect date spot for your favorite vegan. A three-course meal include "caviar" service, a vegetable sushi sampler, and red velvet cake. Reservations are $79 and can be made online.
Rasika
When: February 14
Where: 633 D St., NW; 1190 New Hampshire Ave., NW
Dine like regular Angelina Jolie at Ashok Bajaj's modern Indian restaurants, which serve a spice-scented four-course meal on Valentine's Day. On offer: dishes like Maine lobster with mangosteen and rice vermicelli, Chilean seabass moilee with coconut milk, and lamb chops with black garlic, yogurt, and green chilies. Spiced molten chocolate cake or saffron strawberry macaroons make for a sweet finish. Reservations are $90, or $140 with wine pairings, and can be made online.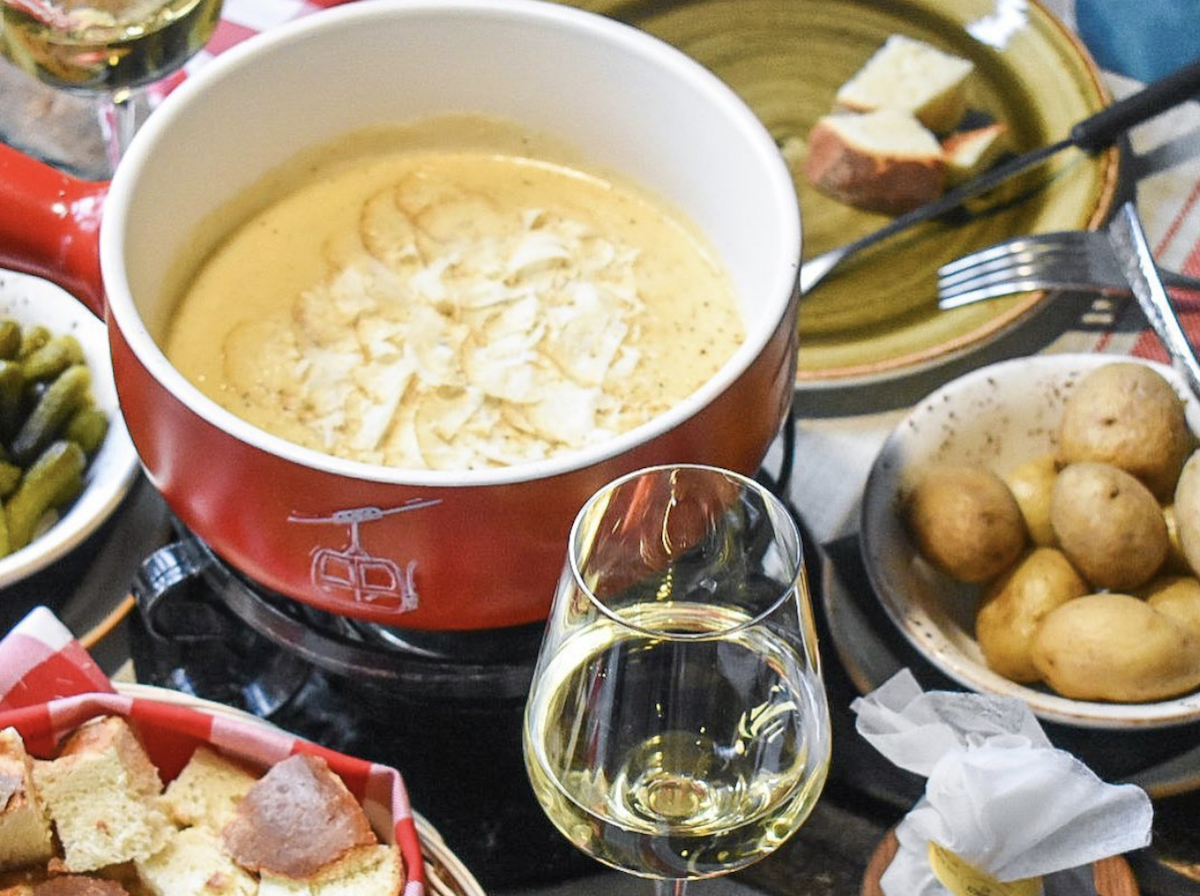 Stable
Where: 1324 H St., NE
If your ideal date night is more cozy than fancy, this Swiss spot along the H Street corridor is a great destination. Private indoor wooden chalets make for fun mountain vibes, and you can dip into fondue there or in the main dining room. Also on tap: Swiss raclette, a similarly cheese-centric feast with potatoes, pickles, and more.
Vermillion
When: February 14
Where: 1120 King St., Alexandria
The Old Town date night staple is offering a four-course menu ($80 per person) with options like cheesy gougeres, oysters, braised short ribs, and curried winter squash, risotto. Guests can add a wine pairing for $40. Reservations can be made online.
1310 Kitchen & Bar
When: February 14
Where: 1310 Wisconsin Ave., NW
For one night only, Chef Jenn Crovato is bringing back her popular heart-shaped pasta in the Georgetown dining room. The amorous raviolis, topped with truffle ricotta and champagne beurre blanc, are just one option in a three-course menus for love birds to choose from. Reservations are $85 and available online.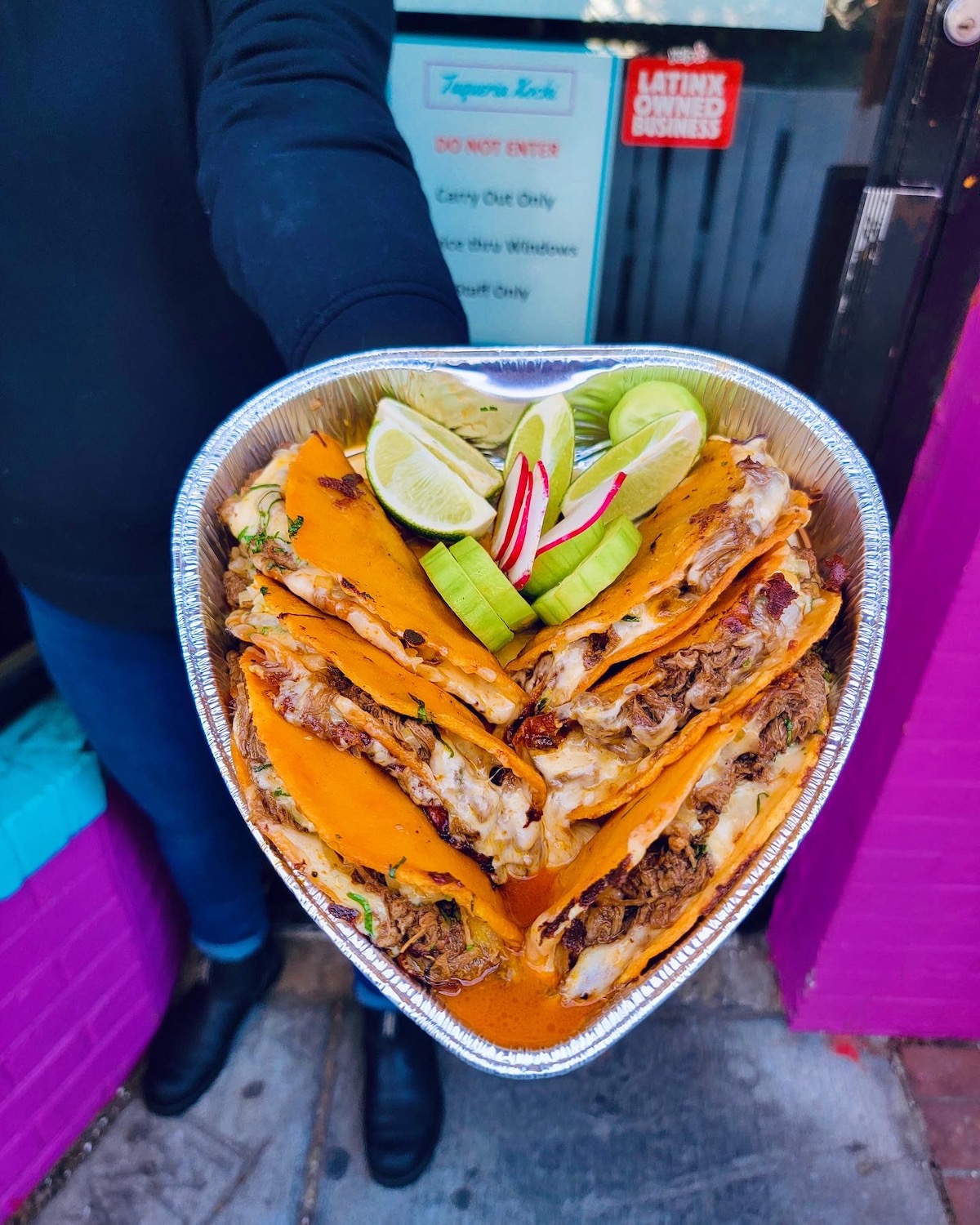 Taqueria Xochi
When: February 14
Where: 924 U St., NW
If your love language is birria, consommé your relationship at this U Street taco spot that's offering a heart-shaped taco box for takeout and delivery. The platter is available with your choice of six street-style tacos or quesabirria tacos (starting at $30). Pre-order online for pickup.