Since 2002, Los Angeles marketing company Distinctive Assets has been assembling extravagant gift bags that are given to Oscar nominees each year. This time around, the bag includes a bunch of stuff that the company says is worth $126,000, including vacation vouchers, silk pillowcases, and literal plots of land. Among the offerings, it turns out, will be the unusual undershirts sold by local business BoredRebel, which is based in Haymarket, Virginia. So how did this two-year-old business score such a prime slot for its wares?
BoredRebel is run by a woman named Stacy Flax, and she's been following the Distinctive Assets Oscar bags for years. "I thought that BoredRebel was a great fit for the swag bag, so I cold emailed," she says. "I really didn't expect to hear back. And I certainly didn't expect to get selected."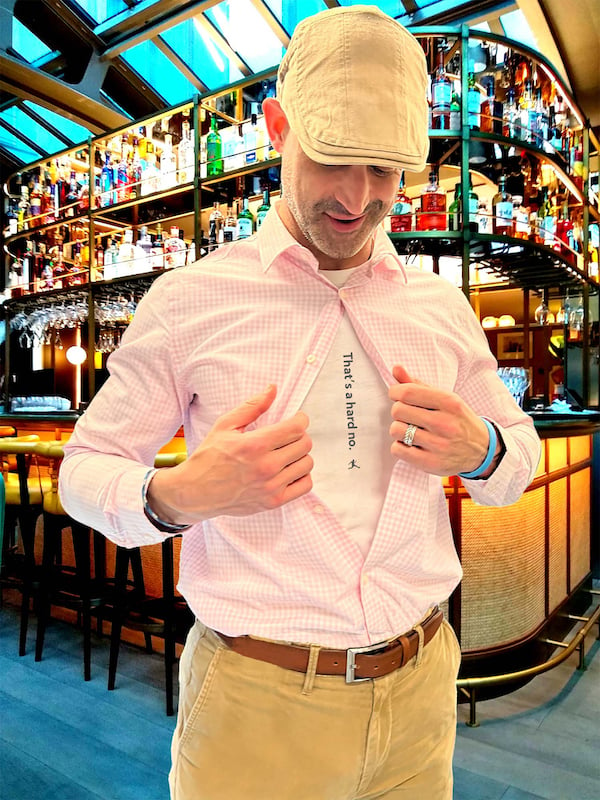 Before founding her business, Flax quit a long career in the corporate world that had left her burned out. She came up with the idea for an undershirt company after seeing her husband's dirty undergarments strewn on the floor. Boxer shorts have fun patterns, she thought. Why are undershirts so boring?
Thus, BoredRebel was born. The shirts have pithy quotes written vertically down the front of its undershirts, right behind the row of buttons on a dress shirt. Quotes like "My Boss Sucks" and "Smartest Person in the Zoom" are hiding right behind that flap of fabric.
For Flax, the best part of the experience has been getting to pick out which shirts to give the nominees, who will each receive an undershirt, a BoredRebel gift card, and a handwritten note in their bag. She said she contemplated the task quite a bit. For Austin Butler, who's nominated for his portrayal of Elvis, Flax chose "Get in good trouble," a reference to Elvis's 1958 tune. For Jamie Lee Curtis, whose Instagram is spattered with motivational quotes, Flax made a custom shirt that says "Remember who you are."
While she loves to think about stars wearing her creations while they walk the red carpet, she's most excited about what this could mean for her business. "Getting the word out is super hard," she says. "So this is it's a tremendous opportunity."