Happy Monday, everyone!
Try your luck this week at the Wharf's Irish Festival, or binge-watch enlightening films about nature at this year's hybrid Environmental Film Festival.
Best Things to Do This Week
---
---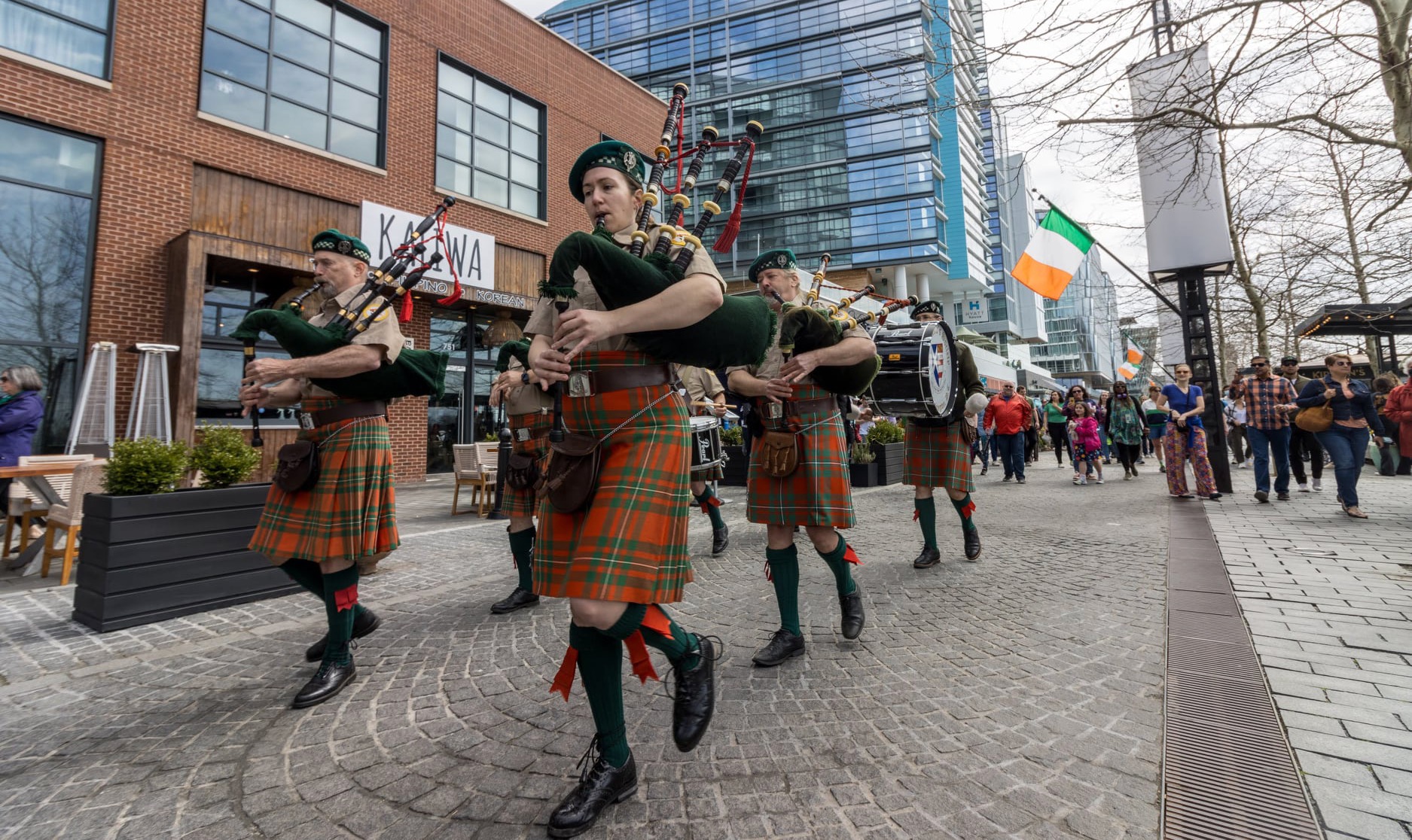 Want More Things to Do?
Budget-friendly. Shop pastries, cookies, pottery and more from Iranian, Black, and Brown vendors at the Norooz Market at Hook Hall (Sat, free, Petworth). Learn about the Freedom of Information Act from National Archives experts (Mon, free, virtual).
Arts and culture. Watch the new documentary Ithaka about Julian Assange's father, John Shipton, on a campaign to free his son; there's a post-screening Q&A with Shipton (Wed, $15, Northeast DC). Folklorists Sara Cleto and Brittany Warman talk about feminist fairy tales (Mon, $25, virtual). The Kreeger Museum collaborates with several artists from Stable studios to present the exhibition "Interlude" (through March 25, free, but donations suggested, Northwest DC). Artist Jimmy James Greene narrates the lives of Black people in his collection of paintings "The Human Vibe: Patterned Portraits and Color" (through April 3, free, Alexandria). Tap into your creative side and learn how to watercolor with local artist and author Marcella Kriebel (Mon, $80, Northwest DC). Author Jasmine Brown discusses her new book about the history of Black women physicians Twice as Hard at Politics and Prose (Mon, free, book is $24.95, virtual, Northwest DC). Authors Amanda Freeman and Lisa Dodsen's are teaming up with Busboys and Poets to talk about their new book highlighting low-wage women workers Getting Me Cheap (Mon, free, Book is $40, virtual). View artist Kara Walker's signature silhouettes and drawings at Glenstone (every Thurs-Sun, free, but timed passes required, Potomac). Discover Javanese Culture through music, dance, food, and film at the Indonesian Embassy (Tues, $79, Northwest DC).
History and heritage. Discover the iconography of classical prayer rugs from the Islamic world at the Textile Museum at the George Washington University's "Prayer and Transcendence" exhibit (through July 1, free, Northwest DC). Sit in on a conversation with scholars about Ireland's history (Wed, $14, Penn Quarter). Learn about the 1970 DC Sanitation Strike (Mon, free, virtual).
Theater and shows. Story District presents their annual Women's History Month showcase She Comes First at Miracle Theatre (Tues, $25, Capitol Hill). Don't miss your chance to laugh with comedian Chris Gethard at Union Stage (Sat, $20, Wharf). Signature Theatre's Selling Kabul tells the suspenseful story of an Afghan translator forced to shelter in place (through April 2, $40+, Arlington). The LGBTQ+ community and allies are welcome to learn the spontaneous techniques of acting at a workshop hosted by Washington Improv Theater (Mon, free, Northwest DC). Get tickets to the opening of Broadway's new musical Jagged Little Pill (Tues through March 26, $45+, National Theatre).
Music and concerts. The Smithsonian Chamber Players celebrate French musician Marin Marais (Sat, $35, Smithsonian National Museum of American History). Singer-songwriter and pianist Regina Spektor performs live in concert (Wed, $89+, Warner Theatre). Listen to Ukrainian music performed by the Capitol Hill Chorale (Sat-Sun, pay-what-you-can, virtual, Capitol Hill). Experience the sound of the classical choral work Mass in B Minor played by the *National Philharmonic Orchestra and Chorale (Sat, $19+, free for children, Bethesda). This big band performance by the Washington Women in Jazz is all about swing, avant-garde, and ballads (Fri, $32, H Street Corridor). Vocalist and composer Akua Allrich pays tribute to legendary artists Nina Simone and Miriam Makeba (Sat, $25+, H Street Corridor). Put on your best dancing shoes and head to Diablo's Cantina for Latin Night. The evening offers free dance lessons, a live DJ, and dining specials (every Thurs, free, MGM National Harbor). Celebrate Pi Day at Pie Shop with a live band and pie specials (Tues, free, H Street Corridor). Grammy award-winning folk artist Aoife O'Donovan performs at the Birchmere (Wed, $39, Alexandria).
Exercise and wellness. Practice your arm balance at District Flow Yoga's bird-focused yoga class (Sat, $35, Capitol Hill).
Game night. Compete in District Trivia and play corn hole (every Thurs, free, Petworth). There's trivia and drink specials at Clubhouse (every Tues, free, Georgetown). Put your trivia knowledge to the test at Tap 99 (every Mon, free, Navy Yard). Geeks Who Drink hosts trivia at The Pub and the People (every Mon, free, Bloomingdale). Compete in trivia, shuffleboard or pool at Breadsoda (every Mon, free trivia, $6+ for shuffleboard and pool, Glover Park). There's a weekly trivia fight at Wonderland Ballroom (Mon, free, Columbia Heights).
Things to do with kids. Have a family fun day at Hook Hall; there will be music and crafts for kids to enjoy (Sun, $5, Petworth). Play mini-golf at the library (Sat, $5+, Bowie).
Get involved. The third installment of the Craft Brew Dinner at The Commentary Social House teams up with Aslin Brewing to host a five-course dinner with specialty sips and expert pairing tips; proceeds will support Save the Children (Thurs, $75, Arlington).
If you enjoyed these events, please don't forget to share this post with a friend on social media, and sign-up for our newsletter for more things to do.
An earlier version of this post called this group the National Philharmonic Chorale, but the performance also includes the orchestra. We regret the error.