Get your brackets ready. The 2023 NCAA men's and women's basketball tournaments kick off on Tuesday, March 14 and Wednesday, March 15 (respectively). Make the most of March Madness at these TV-filled bars around DC, offering food and drink deals, happy hour specials, bracket pools, and more.
The Admiral
1 Dupont Circle, NW
With a huge, heated patio and a dozen indoor and outdoor TV screens, the Admiral makes for easy watching. March Madness specials include buckets of five Bud Lights for $27, $9 margaritas, $9 chicken bites, and hand cut fries for $7. 
Caddies on Cordell
4922 Cordell Ave., Bethesda
The Bethesda sports pub is showing all NCAA basketball games on 40-plus TVs, and offer game watch party reservations. Patrons will also find a variety of food and drink specials in addition to the regular lengthy happy hour deals.
Cleveland Park Bar & Grill
3421 Connecticut Ave., NW
For all of March Madness, Cleveland Park Bar & Grill is offering discounted drinks and beer buckets to sweeten the experience of watching games on one of their 40-plus TVs. It's also encouraging customers to participate in a raffle for a $50 gift card, or if you're a gambler, there are GamebetDC kiosks for on-site betting. 
Dacha
1600 7th St., NW; 79 Potomac Ave., SE 
Test your basketball instincts in the beer garden's bracket pool. Enter in person at either location between March 12 and March 16 for a chance to win a free pint of beer (per win), shirts, and Dacha beer collectives. Winners in the top three brackets can walk away with gift cards, swag bags, or an exclusive dinner for two at the Navy Yard location's Jackie American Bistro.
Franklin Hall and Quincy Hall
1348 Florida Ave., NW; 4001 Fairfax Dr., Arlington
The sister Tin Shop bars are going all-in on March Madness. Franklin Hall near the 14th and U Street Corridors added new TVs, over 25 draft beers, more seating, and specials like $4 Miller Pints, $17 pitchers, and $5 Goose Island IPAs. Over in Ballston, Quincy Hall bar and beer garden is hosting a bracket pool for a $1,000 cash grand prize.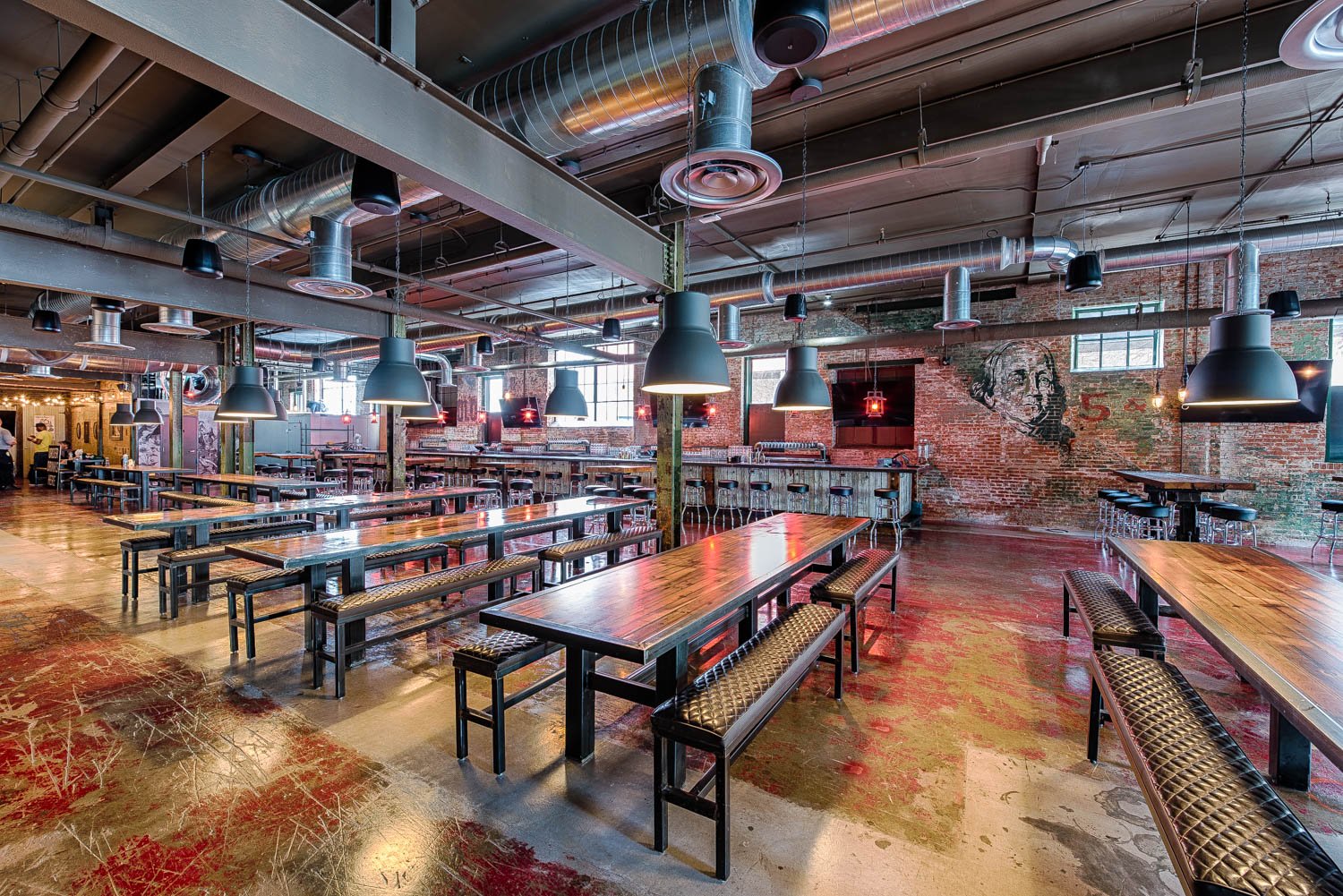 Highline RXR
2010 Crystal Dr., Arlington
The Crystal City bar is running two March Madness bracket pools this year: A beer bracket challenge to determine the best local beer, and a classic NCAA bracket competition with a $500 cash grand prize. Whether or not you participate, catch the tournament on multiple screens with a choice of over 40 draft beers, meatball sliders, and parmesan truffle fries.
Hook Hall 
3400 Georgia Ave., NW
Watching with a group? The huge Park View tavern and beer garden is airing all the games, and groups of 6 to 8 people can book indoor tables ($20 per table) that come with a bucket of beers. On a break between games, patrons can shoot hoops set up throughout the space and play tabletop games. Reservations are available here.
Ivy & Coney
1537 Seventh St., NW
Shaw's low-key hangout for Chicago and Detroit expats—and anyone who likes cheap drinks, hot dogs, and thick pizza—is letting fans fill out their men's and women's March Madness brackets for a chance to win prizes. An added bonus: an outdoor bar with a projector.
Lou's City Bar
1400 Irving St., NW
The popular sports hub in Columbia Heights boasts 23 HDTVs, 30 taps, and a heated outdoor patio with even more televisions for catching the action. Enjoy watch parties for every game, all season long.
The Midlands 
3333 Georgia Ave., NW
The Park View indoor/outdoor beer garden is a great place to catch games, thanks to new 86" patio TVs.  Relax with $5 pints of Miller light, $17 pitchers, and $20 bud light buckets. Patrons can also win a $100 Midlands gift card by entering their bracket challenge ahead of the first round on March 16th.
Mission Navy Yard
1221 Van St., SE
You won't miss a game-time moment at the massive Mexican bar/restaurant, thanks to 22 screens throughout.  The two-level bar is offering food and drink specials such as $4 sliders, $10 nachos, $9 Tito's lemonade, and Michelob Ultra pitchers for $18.
Penn Social and Little Penn Coffeehouse
801 E St., NW
The Penn Quarter cafe and massive sports and game bar below are both showing games and offering specials. The coffee house/bar will host watch parties for the tournament's first four games (hello, espresso martinis), after which both locations will welcome customers with deals. Specials include $4 Miller Lites, $6 Hazy Little Things IPAs, $10 lemon drop cocktails, and half-off cheesy bread. 
Sports & Social Bethesda 
11800 Grand Park Ave., North Bethesda
The sports bar, gaming lounge, and tavern at Pike & Rose is offering the biggest prize we've seen: $1 million for a perfect bracket (good luck!) with smaller prizes for runner ups. Premium seating packages are available for $25 per person throughout the tournament (and includes a drink). There're also a ton of games, pub grub, and a dog-friendly patio for outdoor viewing.
Whitlow's DC
2014 9th St., NW
For Whitlow's first March Madness in its new Shaw location, the bar is celebrating with build-your-own beer buckets. For $20, mix and match Budweiser, Stella Artois, and watermelon seltzers. Whitlow's will be opening at noon for games on  Thursday, March 16 and Friday, March 17 and will be offering the drinks deal for the entirety of the men's tournament.