We'll always have peanuts and Cracker Jack, but at Nationals Park, fans can proudly sing "buy me some pupusas and chili half-smokes," too. The Nationals have partnered with a deep bench of 20-plus local food and drink vendors to bring exciting, global flavors to the stadium in Navy Yard. Whether you're in the mood for a classic ballpark dog, or a locally made banh mi–inspired sausage, there's plenty to pick from.
When it comes to new things to look for at Nationals Park, one of the biggest recent innovations is mobile ordering. Users of the  MLB Ballpark App can order food and drinks online (there are QR codes on the back of the seats) and even get in-seat delivery. During the pandemic, the stadium also adopted a cashless policy. 
A few now-familiar faces aren't returning to the park this year—and no, we don't mean players. That lineup includes Grazie Grazie, Medium Rare, Duke's Grocery (now nearby in Navy Yard), and Harris Creek Oyster Co..
New in 2023
Grab-and-Go Marketplaces (Sections 110, 136, 141, and 314) Speed is the name of the game—and that now extends to beer. The Nationals have added several Grab-and-Go Marketplaces  where fans can walk up to coolers and select snacks and drinks (anything from Bud Light to local Port City, seltzers, and canned cocktails). A self-checkout system, with ID verification, makes things even faster. 
Capo Italian Deli (Section 107) The popular Italian deli will offer its huge subs (Italian cold cut, roast turkey, tomato/mozzarella) and pasta salads. 
Jammin' Island BBQ (Sections 218 and 243) The local island-style barbecue outfit is back (its last season was 2018), and is firing up charcoal grills for plates with Caribbean and Filipino flavors. Look for jerk chicken, ribs, burgers, and more. 
Swizzler (Sections 106, 130, and 320) What started as a food truck is now a multi-platform business that's rethinking fast food with grass-fed (and very tasty) burgers on locally made potato buns and homemade fries. Its first brick-and-mortar is just blocks from the stadium, but now you can get the smash-burgers and crispy chicken sandwiches inside, too. 
New in-house concessions include Chesapeake Crab Cake Co. (Section 109), which serves local crab cakes, crab-dogs, and pretzels, and Bullpen Tacos (Section 133). Char Bar (Right Field Plaza) is the park's certified-kosher stand with barbecued-brisket sliders, falafel, kosher dogs, knishes, and more.
Specialty Drinks and Stadium Bars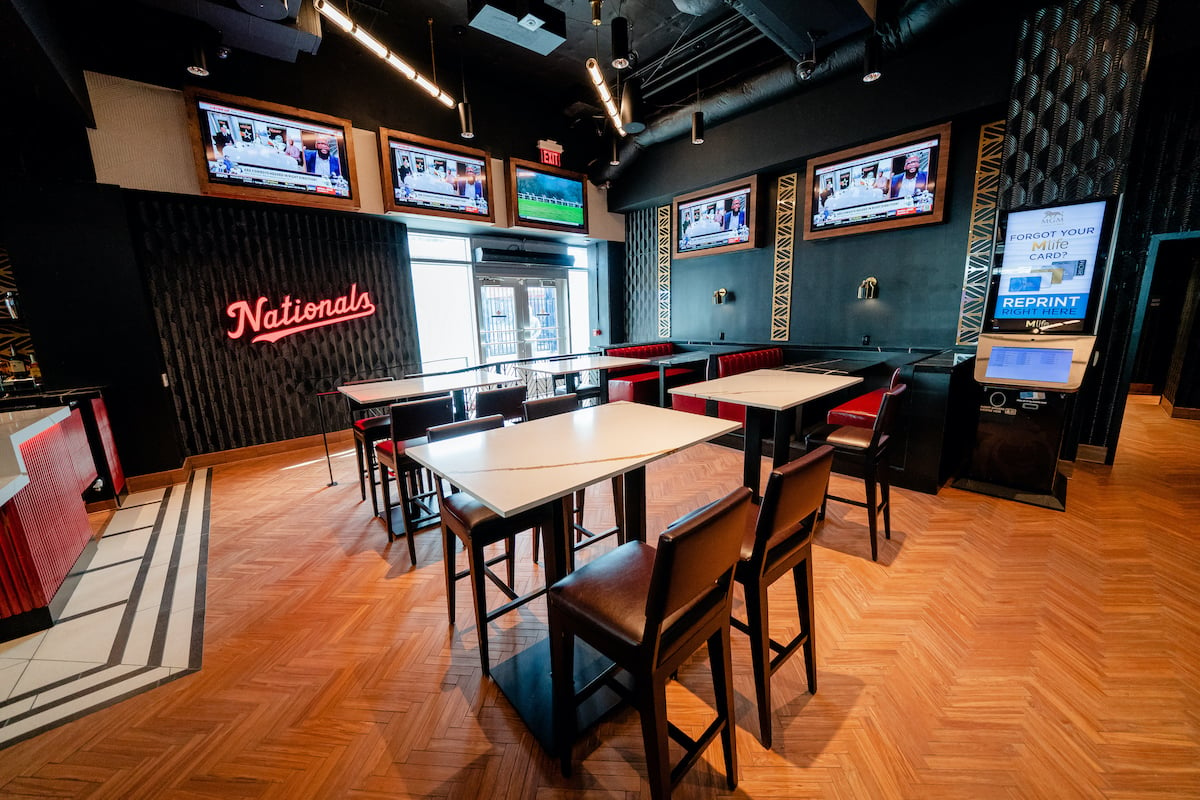 BetMGM Sportsbook (near the Main Entrance) Sports betting is on the rise around DC, and last year, the Nationals partnered with BetMGM to open the first sportsbook at an MLB stadium. The swanky 4,000 square-foot space boasts 40 TVs, a bar with pub food, and multiple betting windows and kiosks. While fans can't go between the stadium and the sportsbook during games, a new app allows users to place mobile wagers within a two-block radius of the park.
District Drafts (Multiple locations) Local beer supplier District Drafts continues its expansion within Nationals Park—now with 13 locations. It showcases such breweries as DC Brau, Denizens, Hellbender, Port City, and more. 
Cocktail Counter and District of Cocktails (Multiple locations) Cocktail fans will find creations from Tory Pratt, the founder of DC's Pratt Standard Cocktail Co. Three specialty batched cocktails—a mango-basil margarita, cherry blossom mule, and bourbon smash—are available wherever liquor is sold.  
Budweiser Brew House (Center Field Plaza) The bar near the main entrance stays true to its name—go here for plenty of beers, good views, and pub fare (new Nationals Park chef  James Pryor has revamped the menu). Fans can also book tables outside during special events and theme nights, or as part of seasonal ticket packages.
Budweiser Terrace Bar and Ultra Loft (Section 242 and 243) The bar and picnic area is a popular place to gather during games, and neighbors popular stands like Shake Shack and Rocklands.
Devils Backbone Left Field Lodge (Section 301) The Virginia brewery has added a bar and picnic area to the stadium. In addition to its staple beers, the brewers sometimes team up with the Nats for exclusive specials.
Foodie Fan Favorites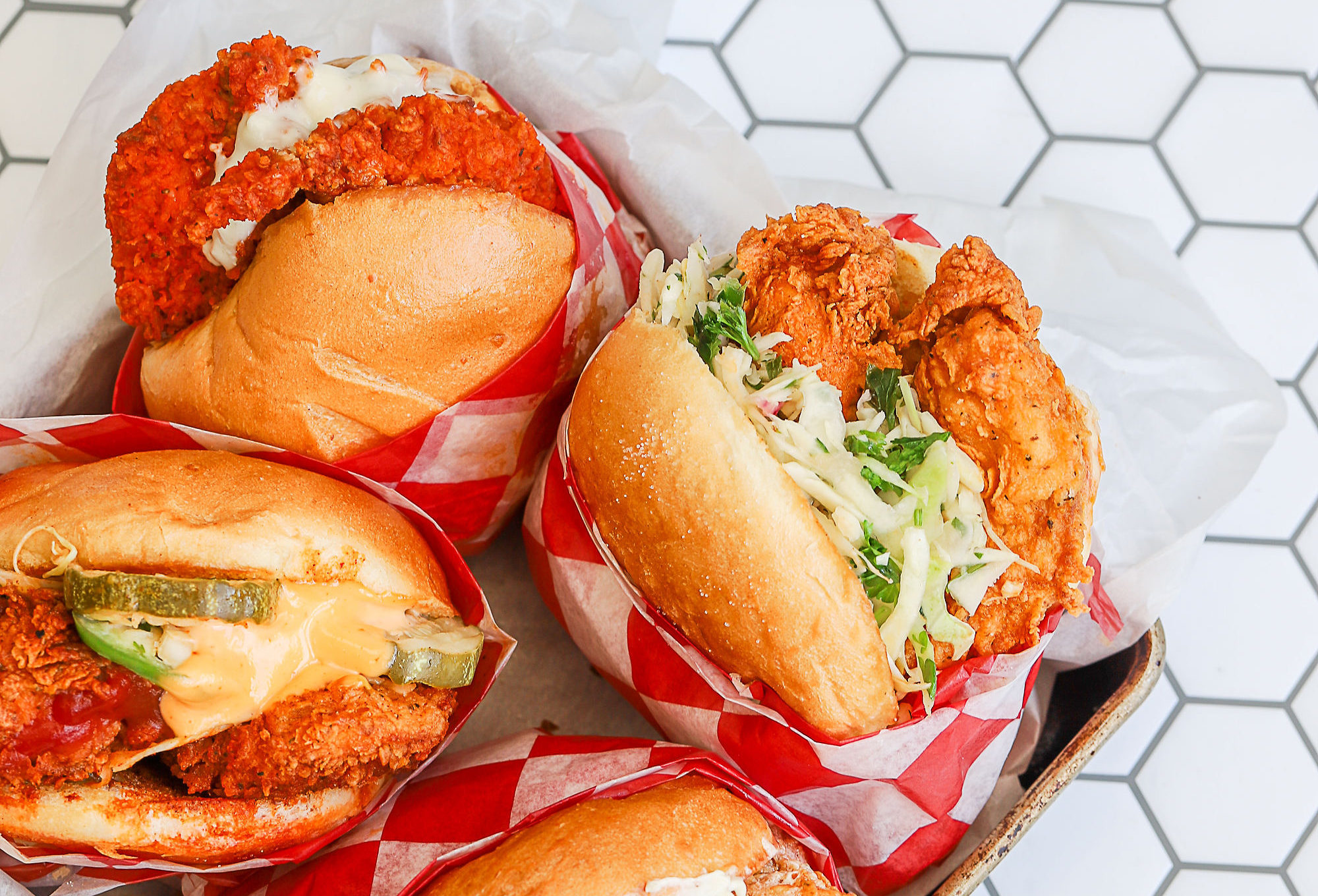 Haute Dogs and Fries (Sections 105 and 223) A longtime Washingtonian favorite, this specialty hot dog purveyor dishes up snappy franks with creative toppings; past winners include Chicago dogs and Vietnamese-style banh mi.
South Mountain Creamery (Sections 115, 135) The family-owned farm and ice cream purveyor out of Frederick has introduced a new cherry blossom-themed flavor this season.
Rocklands BBQ (Section 117) The wood-fired barbecue specialist dishes up pulled pork and chicken sandwiches, tasty sides like slaw and mac n' cheese, and gluten-free barbecue bowls.
Hard Times Café (Section 132) The Washington classic, which opened in Alexandria in 1980, made a stadium comeback after a pandemic hiatus. On the menu: all things chili (vegetarian and meaty)—on dogs, fries, nachos, and more.  
Ben's Chili Bowl (Section 140) This spinoff of the U Street institution dishes up DC's signature chili-cheese half-smokes. Its chili-cheese fries are great for soaking up beer beyond the seventh inning.
Roaming Rooster (Section 238) DC's smash hit fried-chicken-sandwich maker serves its hearty creations at the park. Heat seekers should try the hot chicken or Nashville hot-hot variety—or skip the burn and order the honey-butter chicken.
Arepa Zone (Center Field Plaza, Section 304) The popular Venezuelan vendor serves stuffed arepas, cachapas (fried corn cakes), and cheesy tequeños.
La Casita Pupuseria (Section 116) Salvadorian pupusas are the draw here, stuffed with fillings like pork or beans and cheese, and served with kicky curtido (slaw).
Melissa's Field of Greens (Section 136) There are a number of meatless dishes around the Park, but dedicated herbivores can go all-in at this kiosk without worry.
Shake Shack (Section 240) It's now easier to get a double Shackburger fix, thanks to mobile pre-ordering.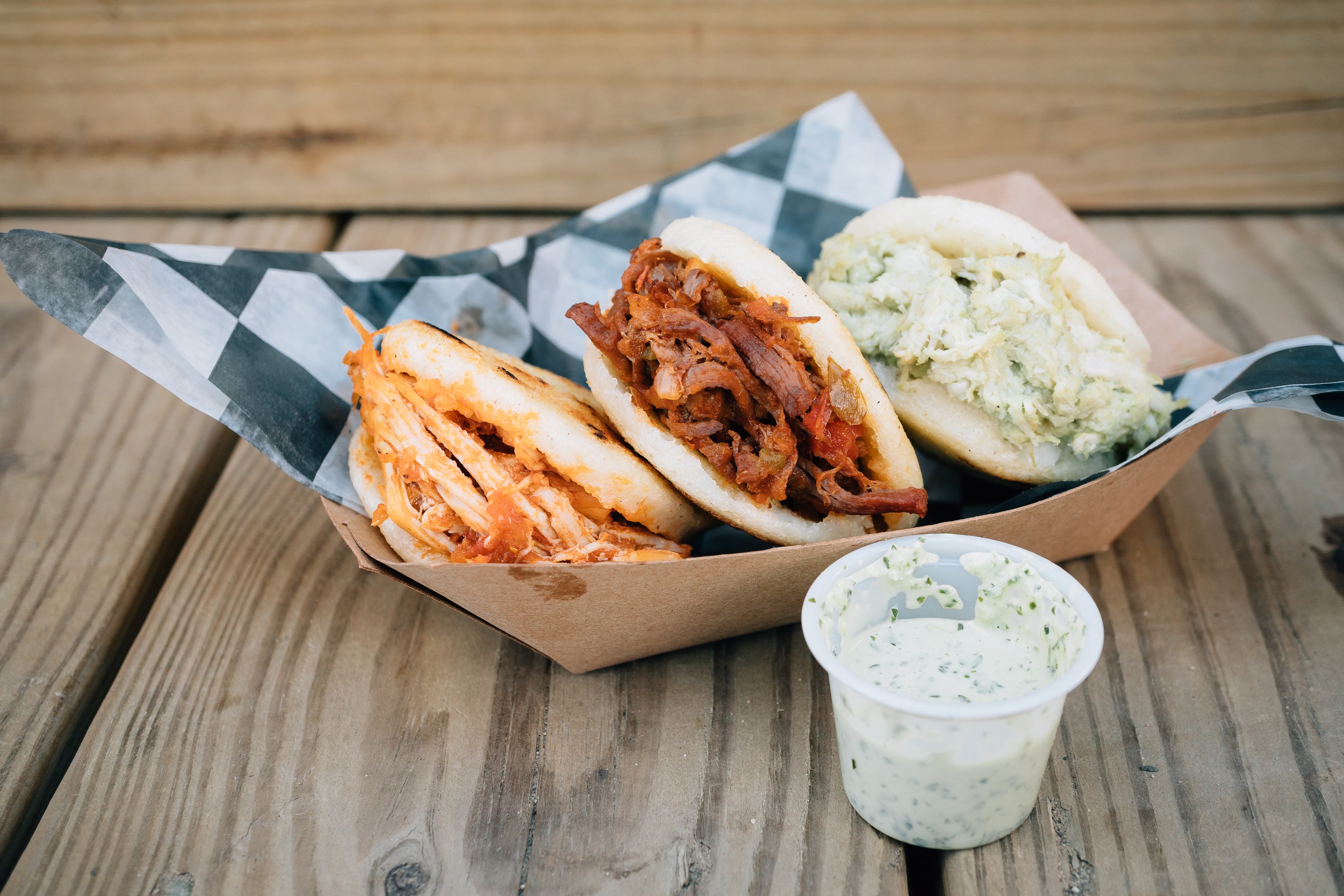 Ballpark Classics
Senators Sausages (Sections 108, 134, 315) Get your fill of grilled ballpark sausages topped with peppers and onions.
Steak of the Union (Sections 114, 119, 307, 308) Phillies fans may turn up their noses, but these punny cheesesteak stops have a local following.
Grand Slam Grill (Multiple location) A no-frills concession for ballpark dogs and chicken tenders.