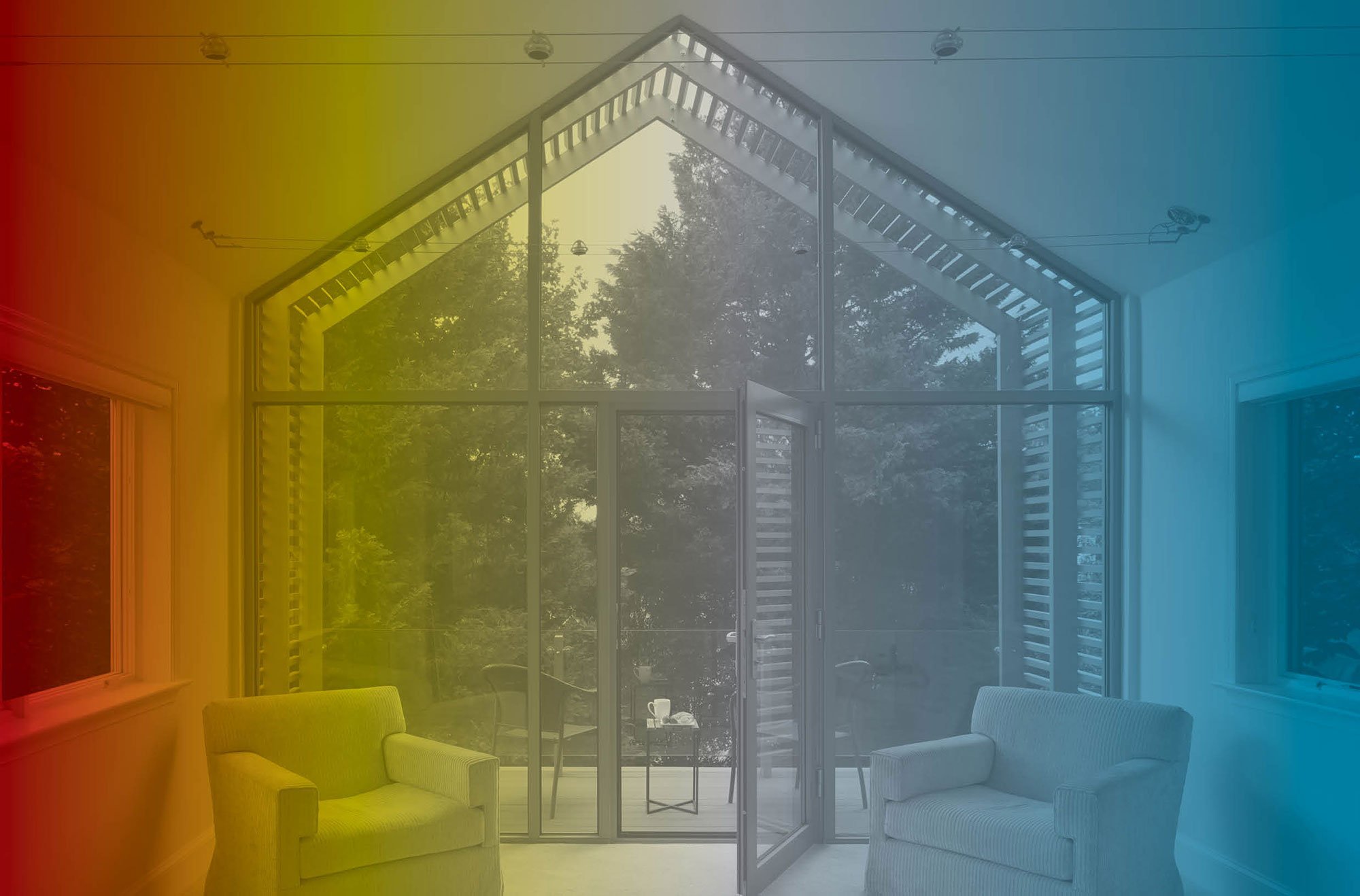 After a few long and topsy-turvy years, it might be time to meet the new normal.
SEEKING SHELTER
Upsizing in Maryland
Brian Horn and John O'Toole started working from home together during Covid. By last summer, Horn, a 32-year-old chief operating officer at Disability:IN, and O'Toole, a 33-year-old senior associate at WilmerHale, had outgrown their 700-square-foot Adams Morgan rental. They were ready for the burbs life, says Horn: "We'd done the whole 'walking with several bags of groceries from Trader Joe's' thing." To afford more space, the first-time homebuyers looked outside the city in Bethesda and Chevy Chase. They wanted a Colonial-style home under $1.2 million with at least three bedrooms, two baths, and 2,000 square feet, as well as office space, a finished basement for a home gym, and a backyard with a patio.
---
HOME #1
$975,000
The house had a finished basement that could be used as an office, enough bedrooms and bathrooms, and a backyard, and the couple loved that it was walking distance to Bethesda Row. But it was a little small for them, with dated interiors and a wonky layout. "[It] needed a full gut renovation," says Horn.
---
HOME #2
$1,050,000
This house had plenty of room, with a finished attic and basement, a big kitchen, a garage, and a back patio. Plus, it was move-in-ready with great curb appeal. But it was right off traffic-heavy Connecticut Avenue and all the way in Kensington. "We really wanted to be inside the Beltway," says Horn.
---
HOME #3
$969,000
The square-footage, finished basement, and backyard and patio were all selling points. The couple also loved the curb appeal and the Wood Acres neighborhood. "It was super-cute," says Horn. While the outdated kitchen was a con, because this home was lower-priced, the duo would have more wiggle room for renovations.
---
THE PICK: #2
They chose the Kensington Colonial—it was recently renovated and had all the necessary space—even if it was outside the Beltway. "Now we don't mind at all," says Horn. "We really like Kensington."
---
SEEKING SHELTER
Near Amazon HQ2
Enis Garcia moved from Seattle last summer for her Amazon job. The 39-year-old wanted a home about a ten- or 20-minute commute to work, within walking distance to restaurants and shops, and with easy access to DC. Of maintaining some city feel, she says, "That was important. I didn't want to lose that." But she also sought a quiet, community-oriented neighborhood with lots of green space to walk her dog. She focused on single-family homes in Alexandria—where she was excited to get more bang for her buck than in Seattle. While she didn't need a turnkey house, she wanted at least two bedrooms and 900 square feet for about $400,000.
---
HOME #1
$550,000
Garcia liked this option because it was recently renovated, with an open kitchen and touches such as a coffered ceiling, and it had a backyard that wasn't overly large: "I didn't want to have too much yard maintenance." It was in the Beacon Manor community, which meant access to nearby Bucknell Manor Park for her dog and only a 20-minute commute to work, but it didn't have the walkability Garcia wanted. And the price was slightly above budget.
---
HOME #2
$363,000
This was smaller and a bit dated—Garcia would have to work on the kitchen and bathroom and fix things like the air conditioning. But the lower price meant those projects would be in her budget. And she really liked the Parkfairfax community: It had greenery and a dog-friendly feel, but it was also within walking distance to the shops at Shirlington and a ten-minute drive to National Landing. Plus, there was a bus stop in front of the house.
---
HOME #3
$629,900
Pros: This standalone house had the right amount of square-footage for Garcia. It also had a recently updated kitchen and bathrooms and was in the quiet Bucknell Manor neighborhood (only 20 minutes to her Amazon job), with nearby parks for the dog. "It was a really cute little house," she says. Cons: If she wanted to go out, she'd have to drive or take public transit instead of walking, and the price was higher than she'd have liked.
---
THE PICK: #2
The Parkfairfax townhouse had everything Garcia wanted—walkability, green space, and a community feel. "I like the neighborhood a lot," she says." I've met some really nice people."
---
SEEKING SHELTER
First Home in Prince George's
Real-estate agent Melody Riggins was ready to buy her first home after years of renting in Northeast DC. The 32-year-old wanted to be in Prince George's County, where she's from, because it's close to family and cheaper than the District, but an easy drive into the city. She looked at new-build communities so she could pick the finishes. "I'm spending all this money on a house," she says. "Why not get it exactly the way that I would prefer it?" Riggins wanted a townhouse with at least three bedrooms, separate bathrooms for her and her 12-year-old daughter, "a massive closet," a garage, and easy Beltway access. She had a max budget of $500,000.
---
HOME #1
$504,000
Initially, Riggins was hesitant: "Condos weren't really my thing." But she ended up loving the spacious two-story unit, which came with a big closet, a garage, a primary suite, and tons of customization options. It was also an easy drive to DC and the Beltway. However, with her added finishes, the price ballooned above her budget.
---
HOME #2
$459,990
Riggins liked that this community was near the Beltway and that a town center was being built nearby—good for increasing her home's value: "I knew I would have the option of building equity in the community." It had the space and garage she needed and was within budget, but she didn't love the available finishes—not as high-end as she'd like, with limited options.
---
HOME #3
$526,000
"The finishes were absolutely beautiful," says Riggins. She liked that she could pick from an extensive menu of customizations, including options for a fireplace on the deck and her choice of range hood. It also came with a garage and primary suite. But all the added finishes drove the price over budget. Plus, Laurel was farther from DC than she'd like.
---
THE PICK: #1
Riggins initially passed, but the developer offered a deal, dropping the price to $492,000. Lower price + proximity to DC + custom finishes = no-brainer. Turns out Riggins does like condo life: "So far, so good."
---
SEEKING SHELTER
Growing Family
Erica Hanna, 44, and Carlos Rondan, 50, both IT workers, never seriously considered buying a house until they had a baby last year. The family of three needed more space than their 16th Street Heights rental offered—especially because Hanna's mother was moving in. With a maximum budget of $750,000, they wanted a turnkey, two-story house with at least three bedrooms and an in-law suite for Grandma. "We were willing to sacrifice a lot of things to make sure she had a good space," says Hanna. Also important: a porch, a family-friendly neighborhood, schools, nearby public transit, and a location inside the Beltway to keep their commutes reasonable. They focused on Takoma Park and Silver Spring.
---
HOME #1
$695,000
The couple loved that this house had a front porch, a backyard and patio, enough space for two offices, and a one-bedroom, one-bath apartment above the garage. They also loved the Long Branch Village neighborhood. "There's an effort to be a [community]," Rondan says. But while the house was move-in-ready, the kitchen was small and the home had traces of radon and asbestos.
---
HOME #2
$732,000
Hanna and Rondan liked this move-in-ready home's front porch and renovated kitchen, as well as the neighborhood feel of Takoma Park and its manage­able commute. But the finished basement seemed too small and cramped for Hanna's mother to live comfortably. "It was going to be a real downgrade from the Airbnbs we rent for her," Hanna says.
---
HOME #3
$515,000
The couple previously Airbnb'd this home for Hanna's mom and liked that it was in Takoma Park and walkable to shops, restaurants, and transit. It also had a fenced yard and a front porch. But it was on traffic-heavy Flower Avenue—worrisome for a small child. Plus, the interior was dated and need-ed a complete renovation. "Our ability to take on a large home project was limited," says Hanna.
---
THE PICK: #1
The couple went with the Silver Spring Colonial due to its location and extra apartment. (They're taking care of the asbestos and radon.) Says Hanna: "We got pretty much everything we were looking for."
---
SEEKING SHELTER
Aging Together
"Soulmates" Paul Fegelson, 71, and Laura Masurovsky, 65, were ready to move out of their respective homes—both in Northwest DC—and move in together. The couple, who are attorneys, wanted a character-filled place in Woodley Park, Cleveland Park, or Chevy Chase DC with separate bedrooms and offices for each, windows on all four sides, lots of storage, and a garden. Aging was also a factor. That meant either a single-story home or one with an elevator, plus a quiet, flat street walkable to public transportation and grocery stores for when they stopped driving. Ideally, they'd pay about $2 million.
---
HOME #1
$3,275,000
This historic 1937 house met many must-haves—character, lots of space, a garden, a short walk to shops. Plus, it had enticing perks such as a heated pool, a glass atrium, and a library with a wood-burning fireplace. "It was very beautiful and had great curb appeal," says Masurovsky. However, it was far above budget and its elevator didn't reach every level.
---
HOME #2
$2,995,000
Masurovsky and Fegelson liked this home's elevator and open layout; it also was close to downtown Bethesda, with a backyard containing a fountain and fireplace. But the eight-year-old house didn't have historic charm, they found the neighborhood too commercial, and the ground-floor entrances weren't easily accessible. "There were a heck of a lot of stairs," says Fegelson.
---
HOME #3
$2,995,516
Positives: The 1924 home had historic character but was renovated too, with an elevator, an accessible and flat rear entry, walkability to shops and a bus stop, and plenty of windows and natural light. It also had room for a home gym. Negatives: It was over budget and came with complicated fixtures that could be cumber­some for aging owners. Says Masurovsky: "There [had to] be 100light switches."
---
THE PICK: #3
The historic—yet renovated—house's charm, elevator, walkability, and big front porch won the couple over, even if it was above budget. "[We had a] 'What the heck, why not?' attitude," says Fegelson of looking at these more expensive homes. "And then, well, you know the rest."
This article appears in the April 2023 issue of Washingtonian.