A new venue will open in DC on May 30: The Atlantis, a detailed reconstruction of the original 9:30 Club on F Street, Northwest, directly behind 815 V Street, Northwest, the 9:30's location since 1996. Foo Fighters will inaugurate the new club on 9th Street on May 30, 43 years minus one day after the old 9:30 opened. Dave Grohl announced the new club when Foo Fighters played a surprise show at 9:30 in 2021.
The new venue will have a capacity of 450 people and, according to owner I.M.P., will closely resemble the original club—without the rats and its weird smell—though it will include a "nod to the infamous pole" that obstructed views for so many attendees.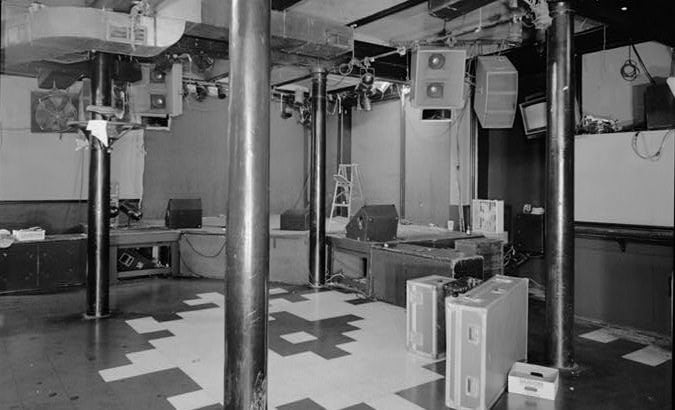 The Atlantis will open with a slate of 44 shows through the end of September to celebrate the 9:30's 44th year in business. Shows will cost $44 and will feature artists from the 9:30's "history, its present, and the future," the club says in a press release. Artists include Pixies (June 6), Portugal. The Man (July 28), and Billy Idol (September 17). A full list is at the end of this post.
I.M.P., which owns and operates 9:30 Club and the Anthem and operates the Lincoln Theatre and Merriweather Post Pavilion, bought the original 9:30 Club in 1986. Real estate developer Jon Bowers and Dodi Disanto bought the Atlantic building at 930 F Street in May 1980. The original club's slogan was "9:30 – a place and a time." I.M.P. founder and owner Seth Hurwitz began booking shows at the club that year.
Bands like Nirvana, Red Hot Chili Peppers, Fugazi, and R.E.M., played the original 9:30 over the years, but its capacity was only 200. The larger Black Cat opened on 14th Street, Northwest, in 1993, around the same time that the Atlantic Building's owner wanted to bring in new tenants. Hurwitz and his then co-owner, Rich Heinecke, decided to move the club to the former home of DC radio station WUST, a building that already had a remarkable music history and could hold 1,200 people.
Tickets for the 44 shows will be sold through a lottery system, open now through April 7 at 11:59 PM on the Atlantis website. Tickets are non-transferable, but if you win and cannot attend a show, a ticket exchange option will be available.
Here's a list of the shows planned:
May 30: Foo Fighters
May 31: The Walkmen
June 2: Hot Chip
June 3: Rainbow Kitten Surprise
June 4: Modern English
June 5: Franz Ferdinand
June 6: Pixies
June 9: Tank and the Bangas
June 10: Yo La Tengo
June 16: Marc Roberge of O.A.R.
June 17: Hannibal Buress + Eshu Tune
June 19: Sylvan Esso
June 20: Darius Rucker
June 24: Rodrigo y Gabriela
June 25: X
June 28: Jeff Tweedy
July 2: Barenaked Ladies
July 6: Tegan and Sara
July 7: The Head and the Heart
July 15: The Magnetic Fields
July 20: Clutch
July 21: Jenny Lewis
July 23: The Struts
July 27: Third Eye Blind
July 28: Portugal. The Man
July 29: Living Colour
July 30: Iron & Wine
Aug. 5: Gogol Bordello
Aug. 6: Bush
Aug. 8: Shakey Graves
Aug. 10: Drive-By Truckers
Aug. 14: George Clinton
Aug. 17: Thievery Corporation
Aug. 27: Joan Jett
Aug. 28: Gary Clark Jr.
Sept. 2: Ben Gibbard
Sept. 6: Luna
Sept. 9: Bartees Strange
Sept. 13: Spoon
Sept. 15: Tove Lo
Sept. 17: Billy Idol
Sept. 21: Bastille
Sept. 22: Matt and Kim
Sept. 29: Maggie Rogers