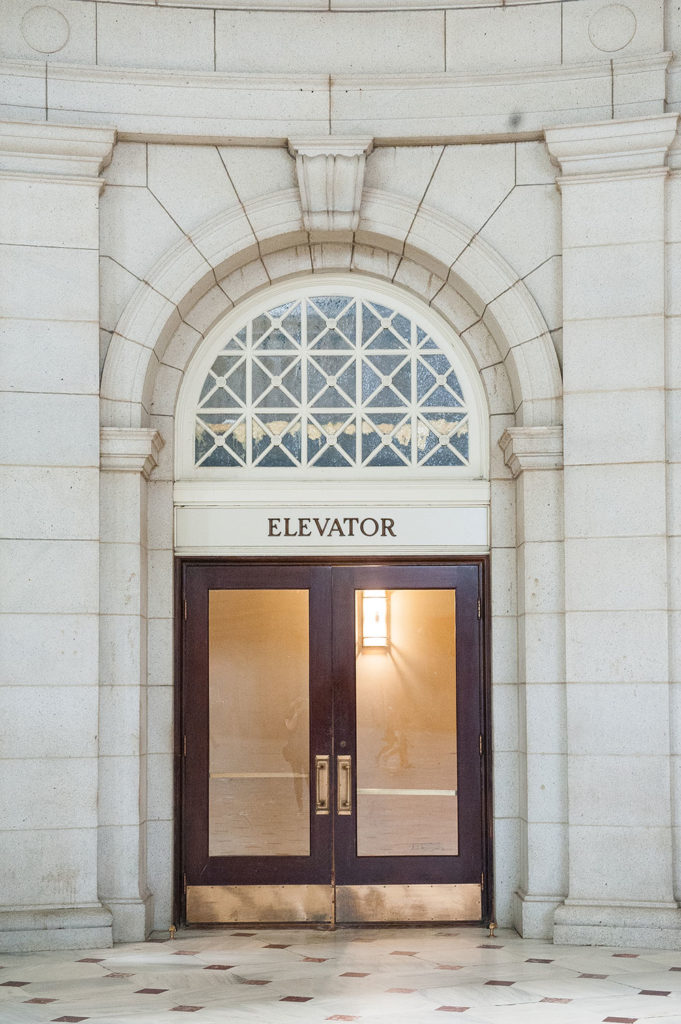 Eccentric folks, quirky townhouses, old-school architecture: when viewed through the right lens, DC can feel like it's been pulled straight from a Wes Anderson flick. Cue the latest TikTok trend—a slew of videos gone viral for emulating Anderson's aesthetic touch.
Loads of TikTokers such as Ava Williams, who received millions of likes on her pioneering Anderson-esque train ride video earlier this month, have tried their hand at the challenge. The hashtag #wesandersontrend has more than 6 million views, featuring videos made with Anderson trademarks like quick cuts, pastel colors, stoic expressions, and symmetrical, everyday scenes.
Wally and Amanda Koval started their Instagram, Accidentally Wes Anderson, in summer of 2017. "We capture our kind of day-to-day, semi-mundane moments in locations all around the world, and kind of frame them in a way that maybe they look like they've come from a Wes Anderson film," Wally says.
Now, the Kovals have published a photo book cataloguing their film-inspired photos, a website full of unique images, and an Instagram with 1.8 million followers. As the resident expert in embodying Anderson, Wally Koval provided some tips on filming your own TikTok here in DC.
"Number one, framing obviously is kind of essential—framing yourself and framing the shot. Number two would be not to think about it too much. Basically anything that is outside your door, or anything that's kind of in your peripheral, you could frame properly to make it feel that way. Number three, I would say if you are shooting one of these, when you're capturing video to probably shoot longer than you expect, meaning to hold on that frame. Because you don't know when someone walking an interesting dog or a cool bike or an interesting car might just kind of go through your shot," Wally Koval says.
---
---
Koval helped us to rank some of our favorite Wes Anderson TikToks based in DC. Here's our list:
9. Symmetry in the Smithsonian
These shots of the National Mall, the Smithsonian Castle, and the Museum of Natural History are framed just like an Anderson flick.
8. Colorful Commuting
This amateur Anderson captured footage all across DC that made the mundane look intriguing. Spots as routine as Union Station can be perfect for shooting an Anderson-style TikTok. "I remember taking some of my favorite shots and some of my favorite footage in Union Station of commuters on their day-to-day commute, just going to and from. You've got a plethora of places that are right outside your door," Koval says.
7. Morning in Georgetown
User @daley.life captured some of Georgetown's most quirky, romantic views for their spin on the trend. Scenic views of rowers on the Potomac and still shots of a lavender colored row house seem like they could be featured in a montage a la Moonrise Kingdom.
6. Presidential Panoramics
Even the White House had to join the fun! The official TikTok of the Democratic party, @thedemocrats, curated shots of President Biden casually milling about the White House, including a quirky close-up of the First Dog, Major.
5. A Walk in the Park
This TikTok is short, sweet, and right on trend. Anderson's films tend to feature very still, staggered shots. Usually, the camera itself doesn't do a whole lot of moving. Instead, Anderson often has actors walk in and out of frame, leaving the viewer stationed in one spot. In a 2021 interview, Koval told Washingtonian that the key to capturing an image like Anderson is to ensure it has a story. User @creativedawn42 manages to capture a quirky DC meet cute in only 20 seconds.
4. Day Trip in the District
The bread grab! The Ted's Bulletin tart that disappears with each cut! This short, fun video feels perfectly reminiscent of a day spent in Wes Anderson's world.
3. A Saturday in Shaw
The nonchalant glances over martinis, the rich color scheme, and the shots of gorgeous, old-fashioned row houses have garnered this TikTok a top spot in our list.
2. Coffee and Falafel
DC TikTok user @shoshel_ created one of our favorite videos for this TikTok trend. Koval said he enjoyed the TikToker's approach. "They added in some quirky elements, like just walking into frame and doing jumping jacks. There's there's element of fun, like when I say don't think about it too much when you're out filming," Koval says.
1. Museum Day
@Katecandoanything's video topped our list and Koval's—particularly for its stellar shots inside the Metro. "Your guys' subway is awesome. I'm a big fan. We have a bunch of really interesting video that we captured years ago when we first came down. The subway in particular, it's just it's so good," Koval says.
This post originally stated that Accidentally Wes Anderson began during the pandemic. It began in 2017.