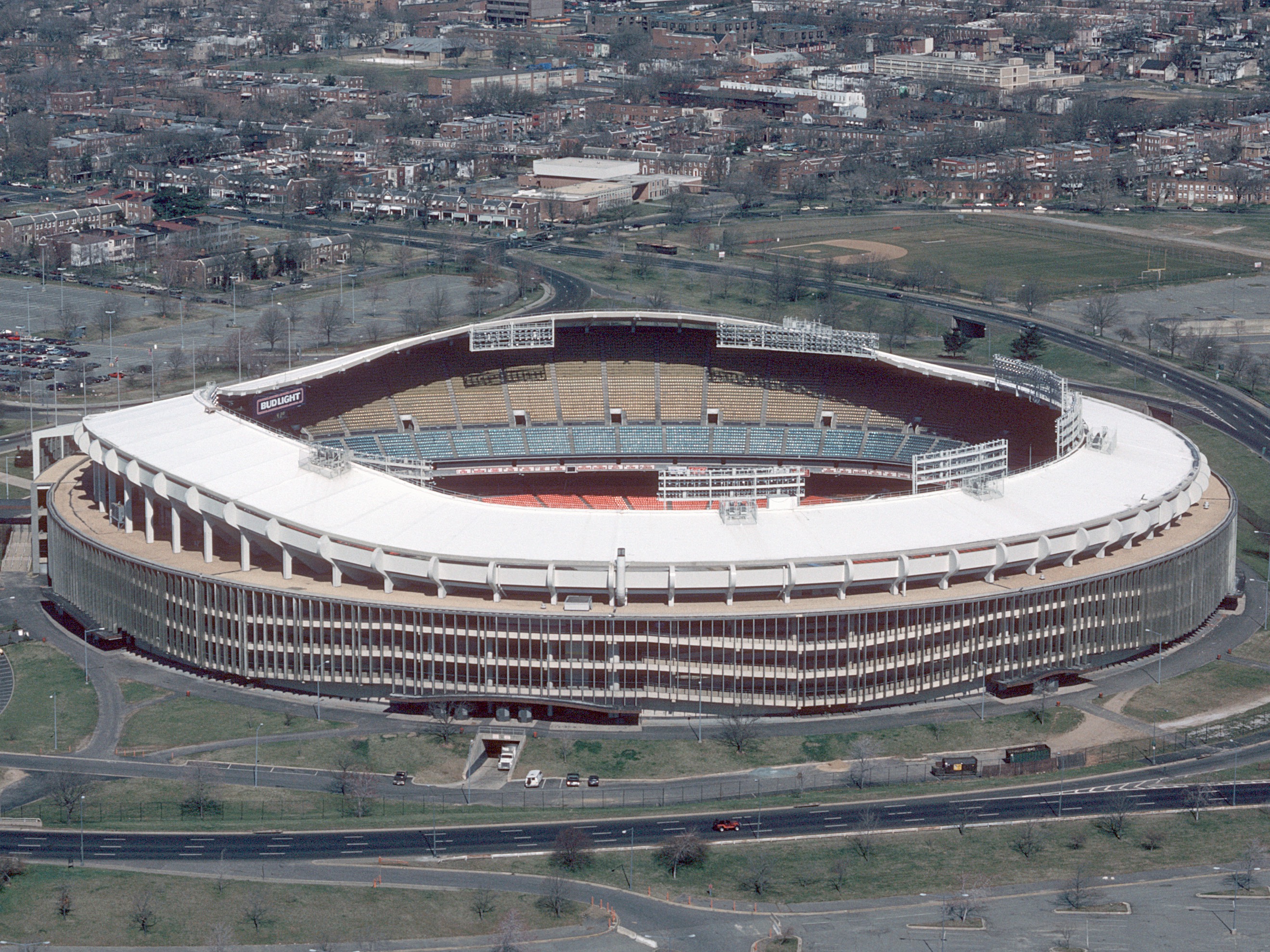 For 62 years, RFK was where Washingtonians came together. We celebrate and remember its history and legacy.
"We Want Dallas!"
January 22, 1983
The chant began during an NFL post­season victory the previous week. It resumed during warm-ups for the NFC title game against the hated Cowboys—and never quite stopped. John Riggins ran for 140 yards and two TDs, Dexter Manley wreaked defensive havoc, and Darryl Grant produced pure pandemonium with a pick-six as the home team advanced to Super Bowl XVII with a 31–17 win.
---
---
DC, United
October 21, 2001
According to his brother Jermaine, Michael Jackson overslept and missed a meeting at the World Trade Center on September 11, 2001. Roughly a month later, he headlined the "United We Stand: What More Can I Give" benefit concert, an 11-hour musical marathon featuring Mariah Carey, Destiny's Child, James Brown, Aerosmith, Pink, and other stars.
---
---
Doubling Up
October 26, 1997
On a cold and rainy afternoon, DC United defeated the Colorado Rapids 2–1 before 57,431 fans to win its second straight Major League Soccer championship—cementing its status as the nascent league's first dynasty.
---
---
The Future Is Female
April 14, 2001
Led by the legendary Mia Hamm, the Washington Freedom beat the Bay Area Cyber Rays—owners of the most Y2K nickname in sports history—1–0 in the inaugural match of the Women's United Soccer Association, the first-ever women's pro league.
---
---
Stealing Home
September 30, 1971
The Washington Senators' last game before becoming the Texas Rangers ended ignominiously. According to the Washington Post, one woman in the unhappy crowd of 14,460 wore a black armband, while a 14-year-old boy wept as he carried around a Styrofoam dummy of hated owner Bob Short. In the ninth inning, hundreds of fans forced the Senators to forfeit by rushing the field, swiping the bases, taking the ball boy's folding chair, and pilfering pieces of the scoreboard.
---
---
Baseball's Back
April 14, 2005
The Nationals' first game at RFK saw former Rangers owner (oh, the irony!) President George W. Bush throw out the first pitch using a ball saved from the Senators' final home game—the ball that pitcher Joe Grzenda would have thrown to New York Yankees hitter Horace Clark if fans hadn't rioted.
---
---
Gooooooooooal!
June 29, 1994
In the waning minutes of a World Cup match, Saudi Arabia midfielder Said Al-Owarian ripped off a 70-yard run—juking his way around four Belgian defenders—and fired a shot past goalie Michel Preud'homme to score one of the best goals in tournament history, giving his underdog side a 1–0 victory and a berth in the knockout round.
---
---
Breaking a Leg
July 4, 2015
Thanks to a broken right leg in a blue cast, DC-area favorite son and Foo Fighters frontman Dave Grohl celebrated the rock band's 20th anniversary by performing from atop a motorized throne decked out with flashing lights and jutting fretboards mimicking the swords from the fictional Iron Throne. Joan Jett and Buddy Guy joined the party, which ended in fireworks.
---
---
Magneto's Moment
May 23, 2014
In a scene from the film X-Men: Days of Future Past set in 1973, magnetic-field-­manipulating mutant Magneto tears the entire stadium from its foundation, floats it over DC, and then drops it around the White House. That's one way to discourage a presidential veto!
This article appears in the April 2023 issue of Washingtonian.