While Washington has an undeserved reputation for type-A, khaki-­clad humorlessness, our city is home to a thriving standup-­comedy scene. Beyond the big names who got their start here—Martin Lawrence, Patton Oswalt, Wanda Sykes, Dave Chappelle—DC is home to a sizable contingent of amateur and aspiring comics performing at open mics across the area. Some are hardcore hopefuls working to become the next big thing. Others are happy hobbyists delighting in their dual identities: consultants by day who do standup by night, government workers in need of a creative outlet, lawyers seeking a space to blow off steam for exactly five minutes at a time.
In other words, people just like you—and me.
That's right: In my off-the-clock life, I'm sort of a standup. I've told my jokes—mostly about the pressing issues of our time, like January 6 and nepo babies—before honest-­to-goodness crowds as well as rooms containing literally two people. I've soared. I've bombed. Crucially, I've made people laugh, and not just the people I brought with me. So I'm here to report that if you've ever thought about trying standup—or checking out the scene as an audience member—you absolutely should.
There are a ridiculous number of comedy shows in DC every night of the week, many open to first-time performers and free for all to attend. "You type 'comedy' into Eventbrite, you'll have a panic at­tack," says Joe Pappalardo, comic and former producer of Catfish Comedy, which holds a mic every Tuesday and Thursday at Shenanigans in Adams Morgan.
Not sure what your first step should be? From where to go to how to perform, our guide has you covered.
---
Where to Try Standup Comedy in DC?
Local open mics to perform standup—or just watch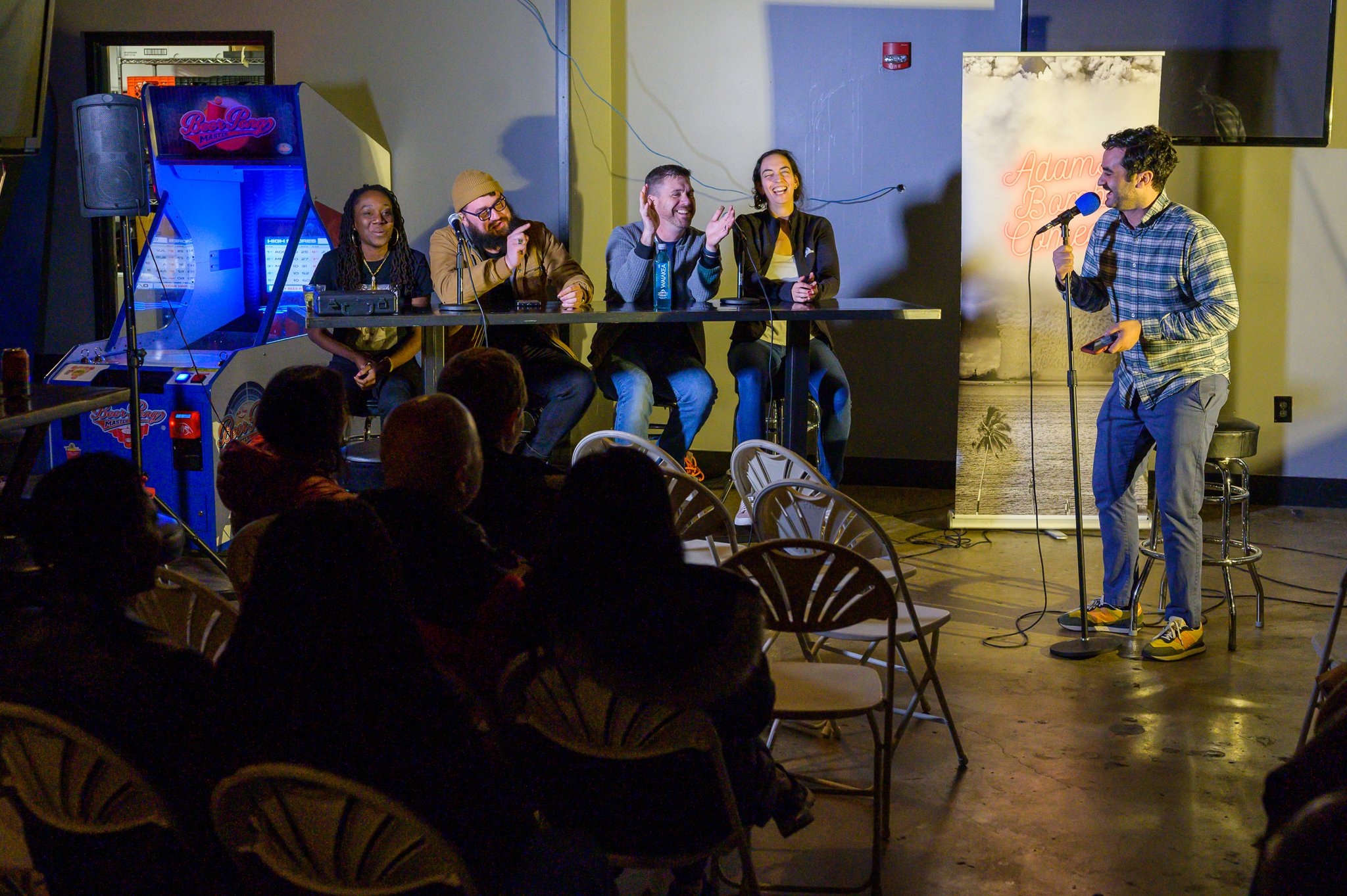 Dirty Water
816 H St., NE
First-timer friendly!
---
The Comedy Loft
1523 22nd St., NW
---
Bulldog Sports Bar
713 H St., NW
First-timer friendly!
---
Comedy Loft
1523 22nd St., NW
Caution: The onstage host can and will interrupt or roast you.
---
Shenanigans Irish Pub
2450 18th St., NW
---
Public Bar Live
1214 18th St., NW
---
Crystal City Sports Pub
529 23rd St. S., Arlington
First-timer friendly!
---
Galactic Panther
1303 King St., Alexandria
---
Hops N Shine
3410 Mount Vernon Ave., Alexandria
First-timer friendly!
---
Zissimos Bar
1023 W. 36th St., Baltimore
---
Mattie & Eddie's
1301 S. Joyce St., Arlington
First-timer friendly!
---
Astro Beer Hall
1306 G St., NW
---
Electric Palm Restaurant
12745 Sea Ray Ln., Woodbridge
---
Hamilton's Bar & Grill
223 Second St., NW
First-timer friendly!
---
Back to Top
Meet 4 DC Standup Comedians
The Traumedian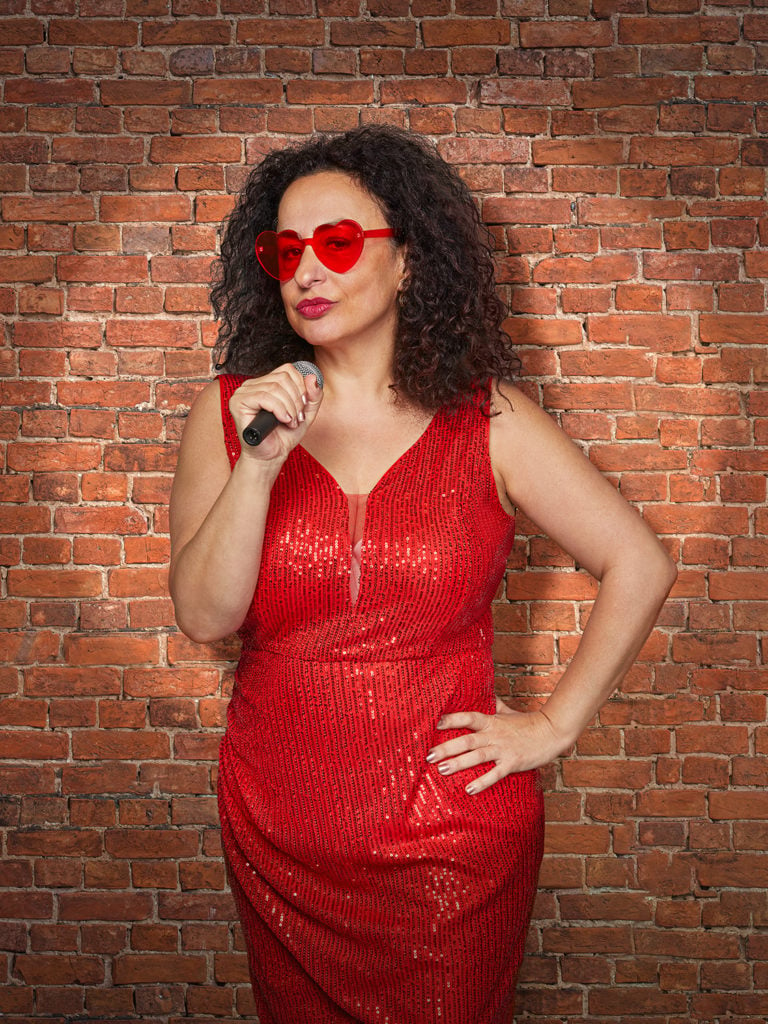 Rola Z., 50
Forced to flee the civil war in Lebanon as a child, Rola was inspired to get into comedy by the implosion of her marriage, the loss of her corporate-communications job, and the agony of seeing her home country endure one crisis after another. "I thought, 'If I cannot change it, can I laugh about it?' " she says. "I wanted to perform pieces on important topics: displacement, war, loss—all this stuff. But make it funny."
Today Rola, who lives in Northwest DC, performs and produces comedy shows, including a talk show/singles mixer called "Is Cupid Stupid?" and her marquee show, "Funny Arabs," which features Arab American comedians. Through what she calls "traumedy"—using humor to process pain—Rola hopes her audiences learn something "beyond the superficial. I don't just want someone to go home laughing and feeling good. I want someone to see things a different way. The best comedy helps me see the world differently."
The Hobbyist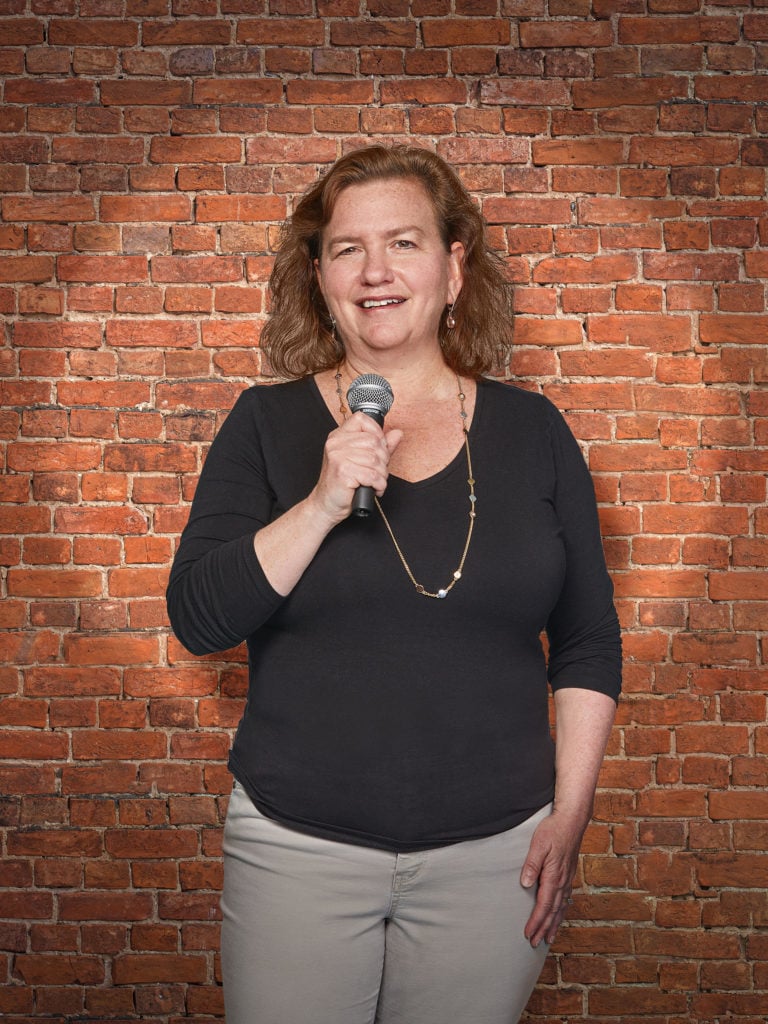 Pam Arluk, 55
By day, Pam Arluk is a former FCC executive and a lawyer for NCTA–The Internet and Television Association. By night, the Arlington resident is a comic. "When you get those good laughs, it's like a drug," she says. "It's intoxicating and exhilarating. You can be somebody else, a little bit."
Arluk brings the perspective of someone in her fifties to open mics and shows that are largely populated by millennial and Gen Z voices. She used to joke about having "the only non-gifted child in Arlington," and one of the first gags she ever wrote was about not receiving d–k pics during her dating days, "because who would do that in the '90s? You'd have to get the film developed."
While Arluk loves the challenge of writing jokes, she's happy to keep comedy as a part-time hobby. "If I did it every night, I don't think I would enjoy it," she says. "Because it would become more like a job."
The TikToker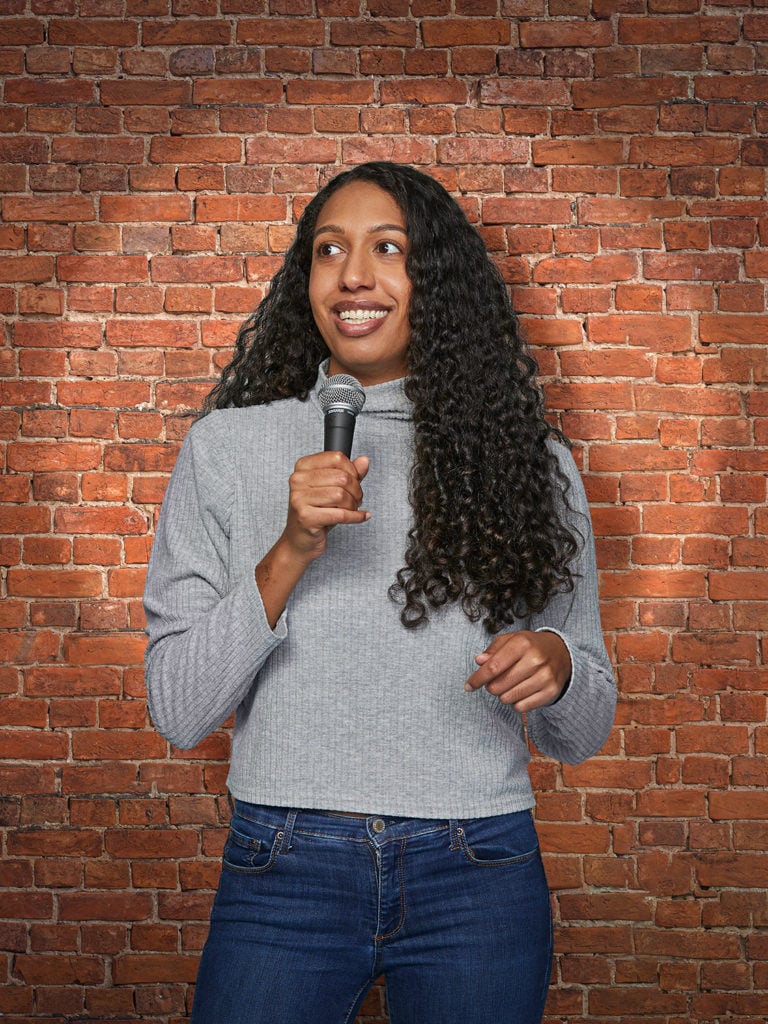 Elizabeth Booker Houston, 33
A public-health lawyer at the FDA, Elizabeth Booker Houston previously modeled and worked as an actor, doing events for PBS wearing the "big, sweaty costumes" of characters from Super Why! and WordWorld. She always wanted to be a comedian—but even after she killed at a Nerd Nite comedy show in DC, that seemed like "a pipe dream."
Then the pandemic hit. Stuck at home in Silver Spring, she got on TikTok. A satirical video she made about the conservative meltdown over Lil Nas X blew up, even appearing on Entertainment Tonight. Lewis Black sent a complimentary DM. Margaret Cho followed her back. Houston has since become a regular at DC Comedy Clubhouse; meanwhile, she has 676,900 followers across two TikTok accounts and can earn $1,500 to $5,000 for sponsored posts.
"I'm a comedian," Houston says. "I'm also a mom. It's so much easier for me to be in my bedroom in my PJs and make a funny video in the next five minutes, post it, and let it go viral."
The Dreamer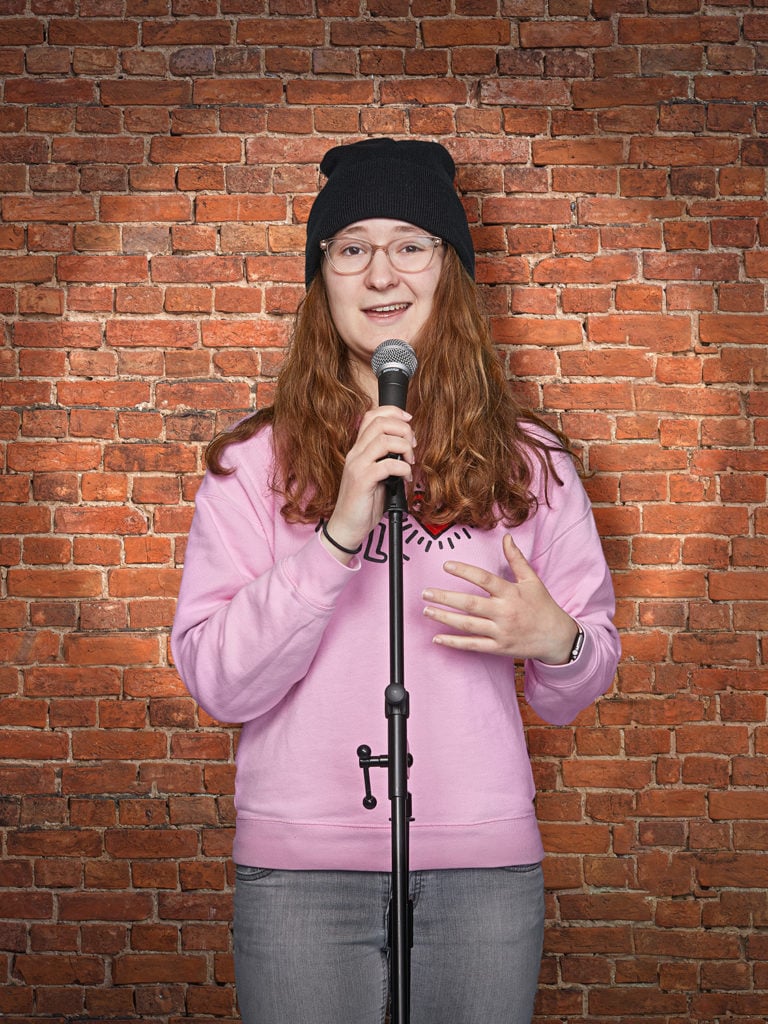 Mara Feiner, 24
When Mara Feiner saw her first show at the DC Improv, she knew she wanted to try standup—but when she later performed her first set at Bar Bao in Arlington, she was so nervous that she "blacked out" onstage and couldn't recall what happened. Except for one detail: "I remember there being laughter."
Since then, Feiner, who lives in Crystal City, has worked her way from open mics to paid shows. She performs on a near-nightly basis and produces an open mic of her own at Mattie & Eddie's in Pentagon City. She jokes about her deep voice ("Does my look say, 'Where's my daddy?' But my voice says, 'I am daddy.' ") and notes that comedy has actually made it deeper. "I speak louder and more confidently," she says. "It translated offstage as well."
In early April, Feiner made the main stage at the DC Improv, four years after that fateful first show. It was, she says, "my full-circle moment."
---
Back to Top
How to Get Started in Standup Comedy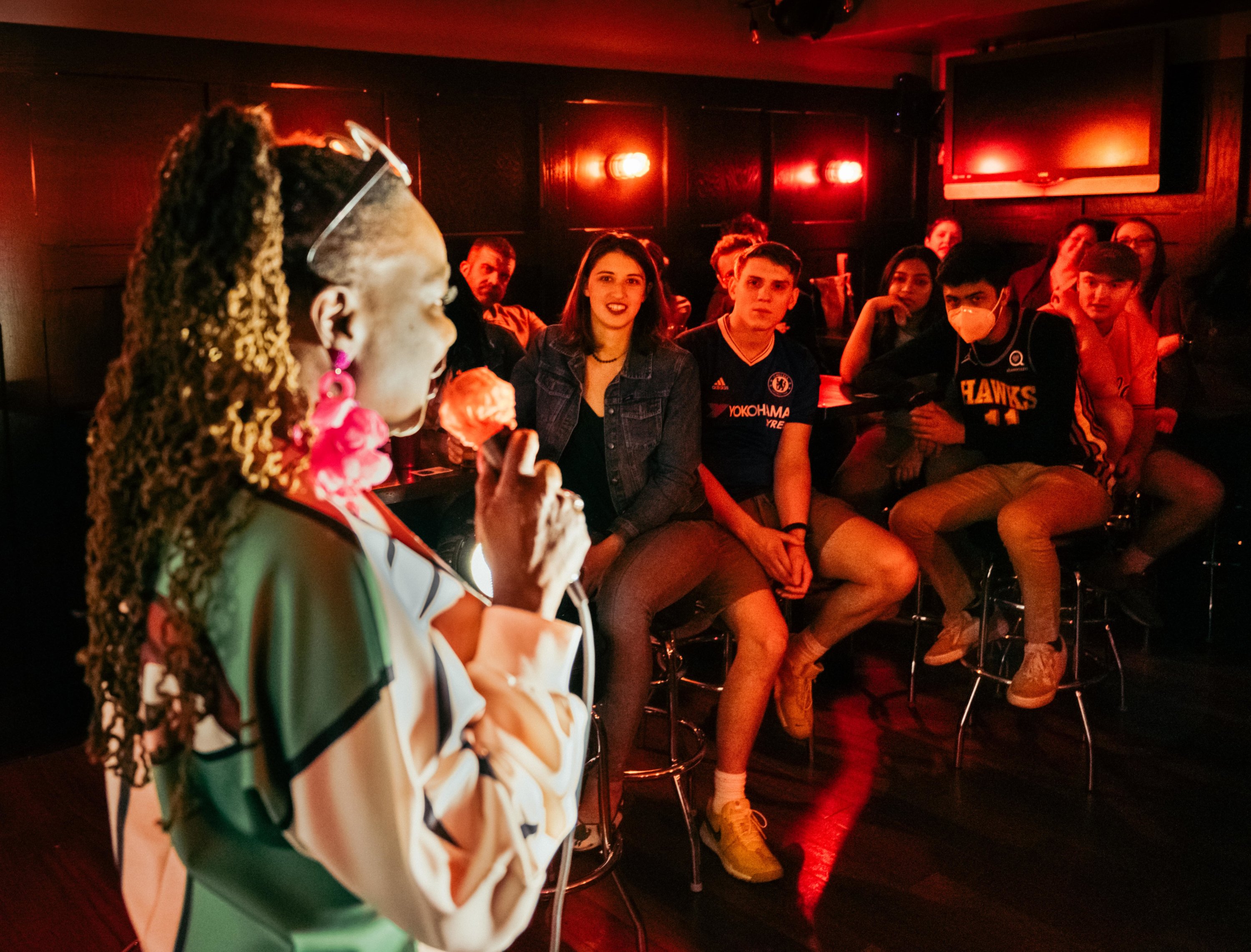 Getting Started
Before you try standup, know the basics
1. Sign up before you go up.
To claim a spot at most open mics, all you need to do is get on that event's email listserv. They'll send out a sign-up sheet about a week in advance of any given show. Other mics require you to sign up in person to get a coveted spot.
2. Get on Instagram.
If you want to stay in the loop about where and when to see and perform comedy—and/or if you want people to start following your comedy—this social-media platform is the place to be for all the latest info on shows, comics, and upcoming events.
3. Show up on time, and don't leave right after you perform.
Comic call (like roll call—isn't that cute?) is usually 15 minutes before showtime. If you miss it, you may find yourself bumped to the bottom of the lineup. It's also rude to split as soon as you're finished—stick around till night's end and you'll meet and learn from others.
4. Don't expect to debut at the DC Improv.
The city's top comedy club runs one open mic a month featuring 15 comics, 20 max, and gets hundreds of inquiries a month. Send a sample of your best material, and don't get discouraged if you don't hear back right away (or at all).
Open Mic
Spaghetti on the Beach is DC's most welcoming open mic for standup novices. Co-creator and cohost Angel Penn shares his top onstage tips.
1. Obey the light.
Most mics give you five minutes. At minute four, the host will shine a very bright light in your eyes—the equivalent of the rising music played to get Oscar winners to finish their acceptance speeches. Nod and wrap up, even if you're bombing. "People will say, 'I want to leave on a laugh!' " Penn says. "And it's like, 'We don't care. Get offstage.' "
2. Don't bail early.
Make sure you have five minutes of jokes. Finishing prematurely can cause chaos, Penn says, forcing show producers to "panic and rush to the stage."
3. Open mic, open book.
Don't worry about memorizing your material—it's totally kosher to check notes on your phone or scribbled-down bullet points. "Everyone understands that it's just practice, and it's okay that you're getting a little bit of assistance," Penn says. If you want to be subtle, he adds, you can "set your phone on the stool next to your water" and read while you sip. Another trick? Write on your hands. "[People will] put their hand to their face to scratch their eyebrow," Penn says, "but really they're checking their notes."
4. Take off the training wheels.
While notes can be a godsend, they also can be a crutch. "Sometimes, in the attempt to remember what you're going to say, you'll come off more natural and spontaneous," Penn says—surprising yourself and the audience.
5. Experiment with your stage presence.
Try moving around. Try sticking to the mic stand. There are no rules! Just what works for you. "It's basically whatever you're comfortable with," Penn says, "but you should try it all."
6. Don't wear shorts.*
Penn calls this a "strange but true" rule of standup, and while he doesn't know its origin, he suspects it stems from the belief that shorts appear unprofessional. Comedians, he explains, need to "separate themselves from the audience"—and shorts make you "look like you're there to hang out."
7. When you're finished, put the mic back in the stand.
This is just how things are done. "So many people get that wrong and they just hand you the mic, and it feels awkward," Penn says. "Always, as you're telling your last joke, you're simultaneously putting the mic back in the stand."
*Confession: I have worn shorts to perform at Penn's show, and people still laughed at my jokes . . . but would they have laughed harder if I'd worn jeans?
Crafting Jokes
DC Improv standup-comedy instructors Chris Coccia and Robert Mac explain how to create a five-minute set
1. Take notes.
Carry a notebook or use your phone, and when you notice something funny, bizarre, or memorable, jot it down for future reference.
2. Trim your material to the essentials.
Says Mac: "If three guys walk into a bar, I don't care what they were wearing or what the name of the bar is."
3. Introduce yourself.
At the start of a set, Coccia says, "the audience wants to connect with you." Tell a joke that reflects your personality or share something autobiographical.
4. Set up your jokes.
Give needed information up front—such as "I'm a twin" or "I just got fired." And follow chronological order. "If you're talking about being on a horrible date and you just told us about your wedding, as the audience we're going to be confused," Coccia says.
5. Record and review your sets.
Hearing where the laughs are—and aren't—will help you refine your jokes. "It'll sound different than what you heard onstage," Mac says.
6. Remember the stakes.
They're extremely low! As Coccia puts it: "There's never been a headline in the paper that says 'Local Unknown Doesn't Do Well in Restaurant Basement.' "
What If You Bomb?
Like parents who don't mind if you drink—as long as you do it in their house—hosts Adam Coonen and Adam Lax are fine with new comics falling flat at Adams Bomb, a weekly open mic at Dirty Water on H Street. "It's in the name!" Coonen says. "If you're gonna bomb, this is a great place to do it, because it's supportive." Here are their suggestions for surviving a rough set.
Technically speaking, there's no bombing at an open mic.
If you're trying out new material, then you're still figuring out what works. To say you bombed, Coonen explains, is like "saying you didn't hit a home run at batting practice. That's not what batting practice is for."
But also, everyone bombs!
Because comedic misfires are inevitable, Coonen suggests you "just get it over with" by acknowledging that a joke isn't working and moving on to the next. Sometimes, Lax says, you can "make a joke out of how bad a joke is"—but be careful, as this is considered "kind of a hacky" move if you overuse it.
Embrace quiet.
The onstage answer to dead air—no laughter, no groaning, nothing—is tough for a beginner comic. "But if you're confident in what you're doing, lean into the silence," Lax says. "Don't be afraid of the silence. Some-times silence can lead to unexpected things."
Build your stage muscles.
Being able to ride out a set that isn't landing, Lax notes, "is one of those skills you develop over time—to be able to pivot, or start talking to people in the audience, when you realize it's not working." This comes only with practice.
If a joke bombs in one room, try it again in another.
With new material, Lax says, "you have to do it multiple times in multiple rooms for multiple audiences" before you can assess whether it's landing or not.
Post-bomb, get back to work.
Lax copes with bombing by creating new material: "Writing makes me feel a lot better," he says. "When I go back to the drawing board, it makes me feel like I'm proactive instead of letting it simmer and sit with me." Coonen views returning to stage the same way: "I need a good set to erase the bad ones."
Relax.
Really. The funny thing about bombing, Coonen points out, is that it's fine: "You're not gonna die. There's no actual pain being caused. It's going to bug you for a day or two. But in the end, you realize it happens and recover. It's always scary, but it becomes less scary."
Illustrations by Connie Zheng.
This article appears in the May 2023 issue of Washingtonian.