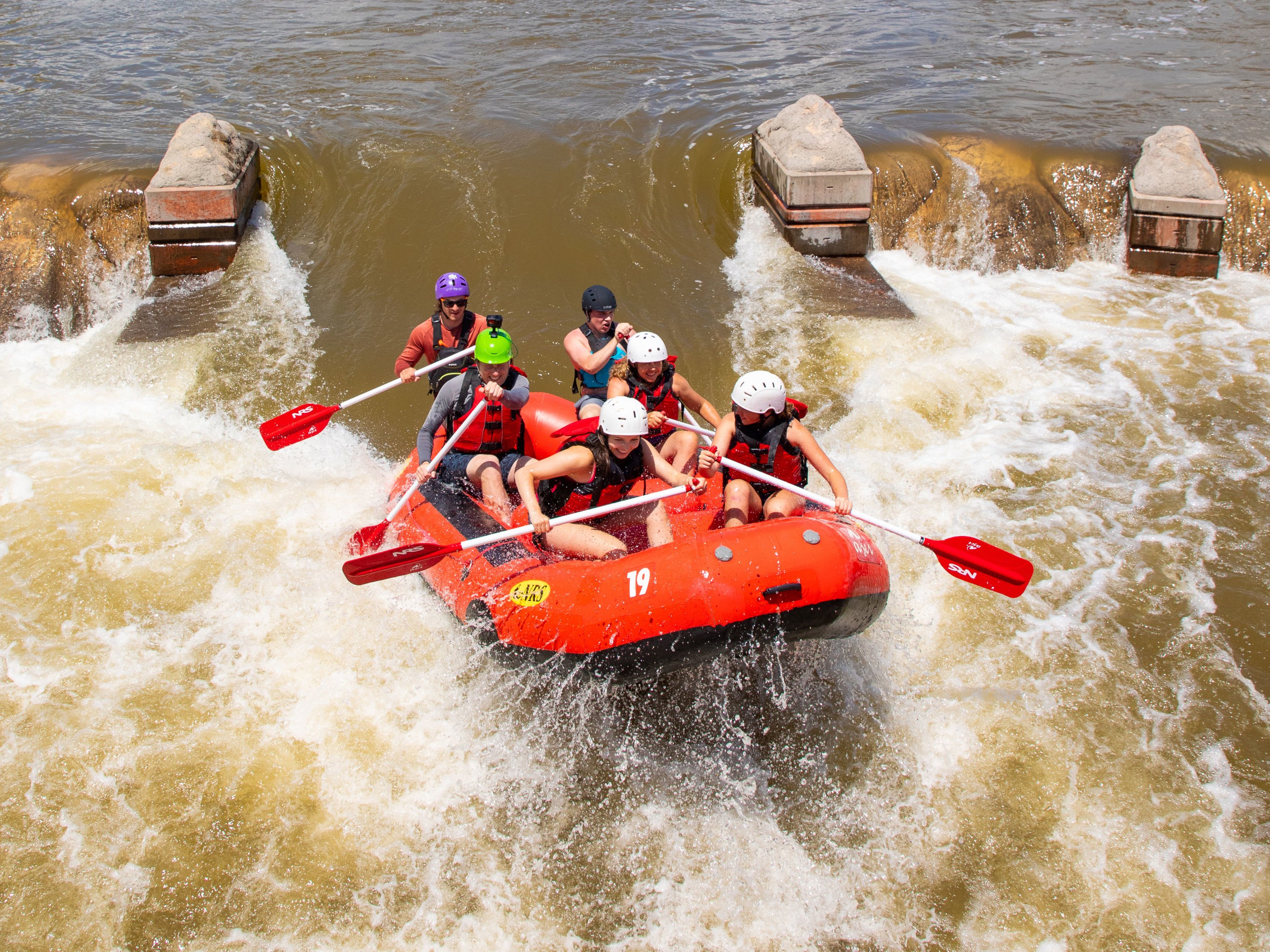 Whether you want a day trip or a weekend away, here are fun outdoor adventures that are an easy drive—including scenic hikes, sunset kayaking, treetop ziplines, and a relaxed bike ride around an island.
Destination:
Assateague and Chincoteague
---
Take a cue from the wild ponies of Assateague and Chincoteague and spend time roaming the islands on Virginia's Eastern Shore. Unhurried bike rides and sunset paddling make for a laid-back (but still active) beach getaway three hours from DC.
Where to Stay
For easy access to the Virginia side of Assateague Island, book accommodations in Chincoteague. Nautical Key West Cottages reopens May 1 after expanding to 38 new colorful homes with bayfront porches, plus access to a private beach, pool, and kayak launch. Refuge Inn, which also has a pool, offers a variety of room options as well as a corral with ponies. Bike rentals are available at both.
Where to Play
Outdoor activities on shore are less about thrill-seeking than about exploring nature on foot or two wheels. Rent bicycles from the Bike Depot and then cross the channel to Chincoteague National Wildlife Refuge. The 14,000-acre escape on Assateague Island features a network of paved biking trails and peaceful walking paths. Start on the 3.2-mile Wildlife Loop (cars are banned before 3 pm), then peel off onto Swan Cove Trail, which ends near the sandy beach, or bike toward Woodland Trail, where you can sometimes spot horses on the overlook.
At certain points, you can leave your wheels at a bike rack and stroll down unpaved tracks, all less than a mile in length. Pedaling on the Woodland Trail? Hop off and walk the Bivalve Trail through the forest to the beach at Tom's Cove. Starting at the designated lot, take the Lighthouse Trail to see the candy-cane-striped Assateague Lighthouse.
Once you've surveyed the land, it's time to get on the water. A Chincoteague native captains Barnacle Bill's Wild Pony Boat Tours, departing from the Curtis Merritt Harbor four times a day. The captain talks about local history and wildlife while pointing out eagles, ponies, and dolphins.
Rather than watching the sun set over the inlet, catch the scene from a kayak in the channel during an outing with the tour group Assateague Explorer. Boats push off from Veterans Memorial Park, paddling past the lighthouse and into the wetlands. Each day, the outfitter's motorized tour boat (which you can also ride) tells kayaking guides where the ponies are hanging out, for a postcard-ready view of wild horses under the multicolor sky.
Fried fish and shrimp are wrapped in corn or flour tortillas at the seasonal taco stand Pico Taqueria.
Where to Eat
A collection of tables are set up in the sand—the ideal backdrop for relaxing with a margarita. Cool down with a cone from Island Creamery, where housemade ice cream comes in flavors such as salted-caramel pretzel and Snickers cheesecake. In the evening, AJ's on the Creek serves steak and seafood scampi in a warfront dining room.
Icons by Niky Chopra.
This article appears in the May 2023 issue of Washingtonian.