Summer Lake Escapes
DESTINATION:
DEEP CREEK LAKE
---
At 3,900 acres, Deep Creek Lake in Western Maryland is the state's largest such body of water, surrounded by sandy beach and verdant forest. About a three-hour drive from DC, it's a destination for paddling and powerboats.
Where to Stay
On the lake's north side, Wisp Resort in McHenry offers access to outdoor activities without leaving the property. The resort's 169 rooms range from those with queen beds and a pull-out sofa to California-king suites. For a more secluded stay, Blue Moon Rising, in the same town, has 14 cabins in the woods. The dog-friendly lodging might look rustic, but inside you'll find open kitchens and wi-fi. The units also have outdoor showers. Guests can reach pathways to hiking trails as well as three communal fire pits.
Where to Play
Deep Creek Lake State Park is an idyllic spot to launch a boat. Wisp Resort operates a rental kiosk on the park's public beach for kayaks, canoes, paddleboards, and beach chairs.
Want to take paddling to the next level? Wisp has a 1,700-foot recirculating whitewater course on the top of the mountain, for gentler rapids than some on the nearby Youghiogheny River. Guides help rafts and kayaks maneuver the rock-lined loop. You can ride the ski chairlift to get to the course, taking in mountain and lake views.
Drop the paddle and start a motor at Lake Life Rentals in McHenry. The outfitter issues temporary boating licenses so you can steer pontoons with cushioned seats and a canopy for sun coverage. (Seafaring dogs are allowed.) For an additional fee, rent tubes to strap on the back of the boat.
The placid water makes the lake an ideal spot to learn how to waterski and wakeboard. Book a session with Rouse Water Sports, departing from the Deep Creek Marina Club. Greg Rouse, a water­ski instructor with more than 30 years' experience, uses a training boom—a bar that extends from the boat onto the water—for a beginner-friendly lesson. Start with water­skis, or if you're more advanced, try barefoot skiing.
Beyond the lake, there are hikes that take you by local waterways. To learn more about the area's ecology, reserve a spot on a river walk led by All Earth Eco Tours. Stroll along the Youghiogheny River while a guide points out plants and animals. After a mile walk upstream, the tour stops at a swimming hole for downtime in the water.
Where to Eat
Stop at Firefly Farms Market to stock up on Maryland-made cheese, cured meats, and crackers. At the cafe, the farm's cow's- and goat's-milk cheeses are folded into cheffy sandwiches. West Virginia's Mountain State Brewing Company has an outpost in McHenry for pub fare, flatbread pizzas, and cold beers. The back patio often hosts live music in summer. For a sweet treat by the water, grab a cone from Lakeside Creamery or, to customize your confection, pick a glaze and toppings at Deep Creek Donuts.
Day Trips
---
Back to Top
More Places to Go Paddling
Hop on a kayak or paddleboard to experience the region's aquatic attractions. Here are three ideas for your next paddling session.
Spooky Shipwrecks
Channel Pirates of the Caribbean while paddling through the Ghost Fleet at Mallows Bay, a collection of nearly 100 sunken ships in Charles County. The moss-covered boats date to the Revolutionary War and now provide a perch for the occasional bald eagle. Atlantic Kayaks offers rentals for $29 an hour.
---
Historic Waterway
Look to the shores for kingfishers and herons during a two-hour kayaking tour of the C&O Canal led by Potomac Paddlesports ($75). Starting in Potomac at Pennyfield Lock, guides provide background information about the serene canal as they navigate the water.
---
Moonlight Paddle
Once a month, the paddling company Capital SUP runs a full-moon tour ($50), launching from Nautilus Point in Annapolis. (Times vary depending on time of year.) Watch the sun set while floating on the water, then explore Back Creek under the stars.
Back to Top
Starry Glamping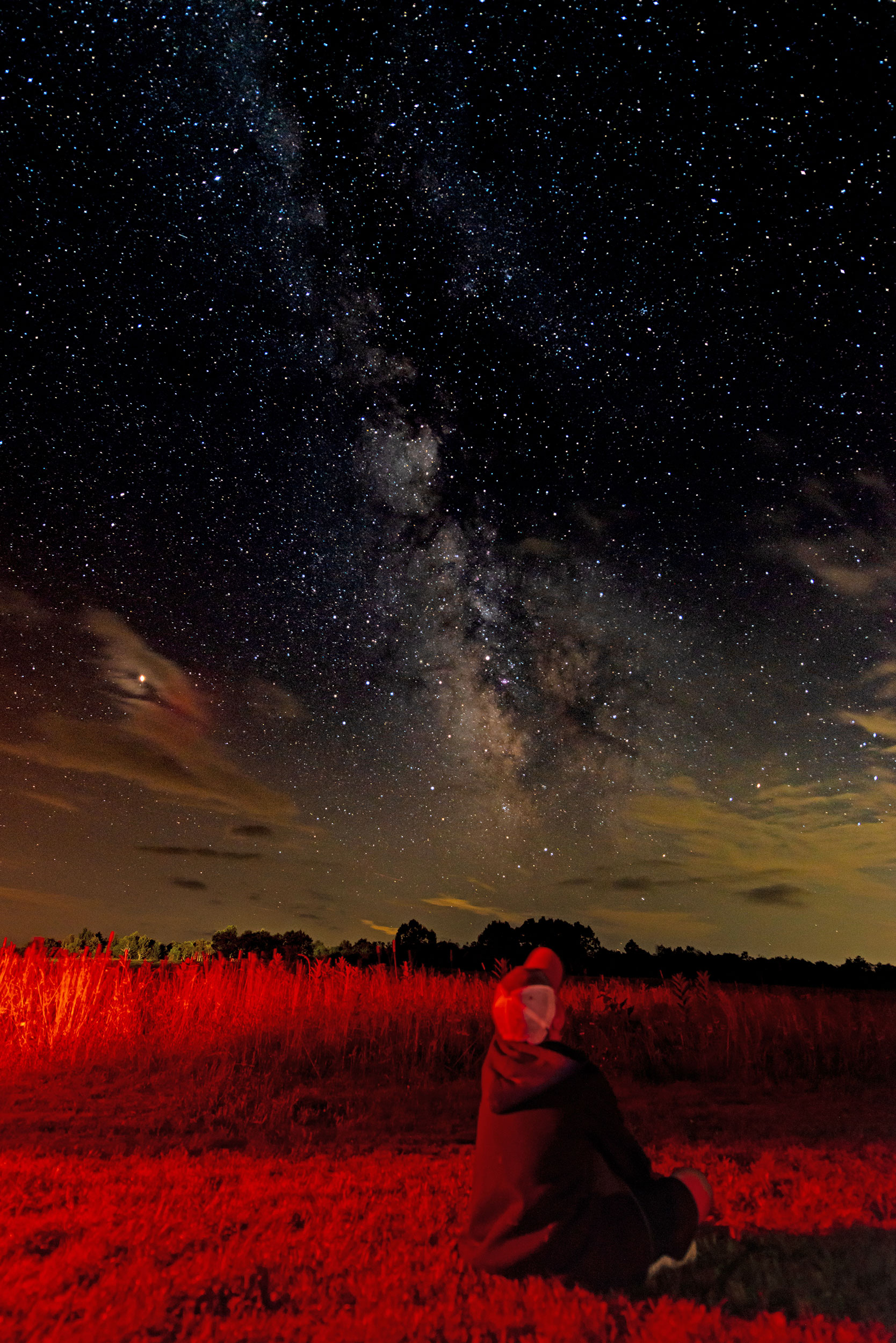 Destination:
Shenandoah Valley

---
On the edge of Shenandoah National Park, Page Valley, Virginia—composed of the valley towns Luray, Stanley, and Shenandoah—is about a two-hour drive from DC. The pastoral hamlets between the Blue Ridge and Massanutten mountains are a great base camp for activities in the park.
Where to Stay
Spacious Skies Shenandoah Views in Luray has four canvas yurts on the bucolic property, each with a private bathroom, picnic table, and fire pit. Linens aren't included, so bring towels and sheets, or the campsite can provide them for $30 a night. For an extra-posh glamping experience, Shenandoah Yurt in Stanley has three bedrooms, an expansive deck with a hot tub, and a skylight in the domed ceiling.
Where to Play
With more than 500 miles of trails, Shenandoah National Park is a magnet for hikers. Marys Rock Summit, along the Appalachian Trail, offers panoramas of the emerald valley and Massanutten Mountain. Choose between two pathways to get to the peak: Leave your car at the Meadow Spring parking area for a moderate 2.9-mile out-and-back trek or park at the Panorama lot for a more challenging 3.7-mile round trip.
Want to learn more about the park's landforms? Earthcaching hikes—treasure hunts that use GPS to identify geological sites—are abundant in Shenandoah. Download the Geocaching app and visit the National Park Service website for information on self-guided journeys. The Little Stony Man trail has four "caches" nearly a mile out and back, from volcanic rock formations to a view of the route's namesake "stony man."
Rest your feet and join a group horseback ride with Jordan Hollow Stables in Stanley. It offers three rides a day (reserve a spot in advance) that start with a short tutorial for beginners. Once in the saddle, you'll cross a creek for an hour-and-a-half ride on valley trails where you might see wild turkeys and foxes.
Exploring the park isn't confined to daytime. Shenandoah Mountain Guides leads dusk hikes starting at Big Meadows Lodge to watch the sky go from sunset to starlight. Cloaked in darkness, the park offers a clear view to the constellations. Head to the Big Meadows area on select nights for Night Skies, a stargazing program led by the park and its partners. (Don't forget binoculars.) Stars are also visible at Skyline Drive overlooks Hazel Mountain (mile 33) and Pinnacles (mile 35.1).
Before leaving the area, check out the dripping stalactites and crystalline limestone at Luray Caverns. On the way home, you can take a detour to more caverns such as the 17-room Shenandoah Caverns in Quicksburg or Skyline Caverns in Front Royal, home to the oldest and largest anthodite crystal formation.
Where to Eat
Fuel up for the day at Hawksbill Diner, a country kitchen in Stanley, or grab biscuit sandwiches from Broad Porch Coffee Co. in Luray. Hawksbill Brewing Co. uses hops harvested in Luray for a hyperlocal craft brew. The bar doesn't serve food, but you can bring a deli sandwich from West Main Market or pizza from Il Vesuvio. Pair sangria with charcuterie boards at Wisteria Vineyard in Stanley, where leashed dogs are welcome to walk trails around the grapevines.
Chill Activities
---
Back to Top
Relaxing Getaways
Spending time outside doesn't need to be a heart-racing affair. Here are three relaxing ways to experience the outdoors.
Unwind in a Hot-Spring Pool
Dip into the 99.7-degree spring-­water pools at the Omni Homestead Resort in Hot Springs, Virginia, about four hours from DC. You can book a 50-minute soak ($25) in the recently renovated Warm Spring Pools, located in bathhouses with open skylights to let in the elements. For access to the Octagon, the outdoor geothermal pool, stay at the Allegheny Mountain resort or get a $75 day pass.
---
Go Birding in a City Escape
Bring your binoculars to birdwatching walks at DC's Kenilworth Park & Aquatic Gardens on Tuesdays at 8:30 am. A birding pro leads strolls around the marsh and lily ponds to look for warblers, kingfishers, hawks, and more.
---
Find Peace Among Plants
Forest bathing is the Japanese practice of being mindful in nature. DC Forest Bathing offers two-to-three-hour outings at area parks, gardens, and woods. Guides provide prompts to help participants tune in to their surroundings.
Out in the Open
---
Back to Top
Summer Glamping Spots
Nature meets comfort at these posh campsites
Yurts
Surrounded by more than 700 acres of woods, Savage River Lodge in Western Maryland offers eight yurts with king beds and heated floors. Enjoy daily deliveries of homemade muffins and orange juice on the deck.
---
Tent
Open the canvas flaps at Firefly Glamping Tent by Cozy in Canvas near Harrisonburg, Virginia, to find a king bed and kitchenette. The well-­appointed area outside the tent features a stock-tank pool, outdoor shower, and chic outhouse with a composting toilet.
---
Tipis
Six luxury "tipis" (or tepees) at Sandy River Outdoor Adventures in Virginia's Prince Edward County are equipped with kitchenettes, air conditioning, and a fire pit. Guests also get access to farm-fresh eggs and discounts on activities such as mountain biking and ziplining.
---
Pods
For a glamping experience closer to home in College Park, stay in one of the wood-paneled "pods" at Cherry Hill Park. Pods can sleep two to four, and some of the tiny homes allow pets.
Back to Top
National Park Adventures
Destination:
New River Gorge
---
A five-hour drive from DC, New River Gorge in West Virginia is the country's newest national park, earning that designation in 2020. The 700,000 acres surrounding the New River are a beacon for adventure—especially the thrill-seeking variety.
Where to Stay
Ace Adventure Resort has 50 cabin rentals in and around the park, with air conditioning, kitchens, and private fire pits. Many also have outdoor hot tubs for unwinding under the stars. A mix of lodging options at Country Road Cabins in Hico—about ten minutes from the Canyon Rim Visitor Center—include glamping tents, pet-­friendly yurts, and a treehouse accessible by swinging bridge.
Where to Play
The park and preserve have a diverse ecosystem made up of Appalachian peaks, rivers, and forests, allowing for a wide range of activities. We recommend dedicating a day to a rafting or climbing excursion so you can experience the region's renowned rapids and climbing terrain. Adventures on the Gorge and Ace Adventure Resort offer whitewater tours on the New River, including kid-friendly journeys on inflatable boats. For those who want to try hanging out on a cliffside, Blue Ridge Mountain Guides leads half- and full-day climbing expeditions for all levels. Gear up at the Canyon Rim Visitor Center, hike to a gorge, and then work with a guide on technical skills such as belaying, climbing, and rappelling.
The New River area has a coal-mining history, and New River ATV offers a chance to explore that via one-seat ATVs or four-seat UTVs. With more than 100 miles of trails, routes through the forest can be customized to different comfort levels. Each tour is two to eight hours, running through defunct coal mines, muddy pathways, and sometimes even a ghost town.
A trip to the park isn't complete without seeing the photogenic New River Gorge Bridge. Want a closer look? Tour operator Bridge Walk leads a guided stroll on a catwalk under the bridge. Fear not: Participants are hooked to a safety cable before the up-to-two-hour trek. For a great view of the scenery, the Endless Wall Trail is an easy-to-moderate two-mile hike with a panorama at the Diamond Point overlook. To access the trail, park at the Fern Creek Trailhead. The lot fills up quickly, so the Nuttal Trailhead parking area is another spot to drop your car.
To keep the adventures going into the night, Adventures on the Gorge runs an aerial obstacle course with evening excursions. The two-hour sessions take place in TimberTrek Adventure Park, where ziplines and tree bridges glow with neon lights. Staff are posted throughout the park for additional guidance as you work your way through the course.
Where to Eat
Start the day with breakfast at Swiftwater General Store in Lansing, where a small menu features pancake platters, biscuits smothered in gravy, and pepperoni rolls, a West Virginia specialty. Hit the Freefolk Brewery in Fayetteville for Greek platters, beer, and live music in a funky taproom. Smokey's, a treetop dining room embedded in the gorge, serves breakfast and dinner. The restaurant and patio reopen for the season on Memorial Day weekend.
Day Trips
---
Back to Top
Adventure Parks Within an Hour of DC
Take to the sky on ziplines or ropes courses hidden in the trees
Day or Night Flight
Explore the forest canopy at Go Ape in Springfield, where a ropes course features 70 different obstacles. Try the one-hour aerial journey during the day or go at night to traverse wobbly ladders and Tarzan swings under the fairy lights.
---
Swiss Inspiration
Modeled after aerial courses in Switzerland, the Adventure Park at Sandy Spring Friends School in Montgomery County has 16 color-coded obstacle courses for various levels. There's a three-hour time limit for traversing the park's rolling log bridges and dangling rope walls.
---
The Long Zipline
Choose among four experiences at Terrapin Adventures in Savage, Maryland: a climbing tower equipped with nets and logs, the high swing, a ropes course, and a 330-foot zipline. Guides are posted throughout the park to help you navigate.
Outdoor Education
---
Back to Top
Learn the Ropes
Conquer a new skill before embarking on your next outdoor escapade. These classes, led by experienced recreationists, teach you how to safely maneuver river rapids, mountain slabs, or nights in nature.
Kayaking
Whether you're planning a white-water- or sea-kayaking adventure, Calleva River School can equip you with the tools to stay afloat and self-rescue in rough waters. In beginner, intermediate, and advanced classes lasting two to four hours, instructors demonstrate how to roll, move over drops, and ride a current. Price: Starts at $85.
---
Climbing
The classroom for the beginner course at East Outdoor is one of the country's oldest climbing areas, in Carderock, Maryland. Learn basic belay techniques and safety practices, then hit the rocks for a supervised climb. There are also drop-in climbs around the region for the more experienced. Price: $145.
---
Camping
Learn backcountry basics such as how to hang a bear bag, prep meals, and build an emergency shelter with REI. The outfitter, whose local flagship store is in NoMa, hosts a variety of wilderness courses covering survival, navigation, and backpacking in the wild. Those planning an intense adventure can get certified in wilderness first aid during a 16-hour course cohosted by the National Outdoor Leadership School. Price: Starts at $20.
Back to Top
Hiking With a View
Destination:
Nelson County, Virginia
---
Virginia's Nelson County, bordering the Blue Ridge Mountains and straddling two national forests, is home to a collection of central-Virginia towns and some cool hikes. Three hours from DC, it's also in the heart of Virginia's craft-beverage region, with standout outdoor spots to sip an après-hike drink.
Where to Stay
Indigo House is a pet-friendly bed-and-breakfast in Afton with four national-park-themed rooms, a communal fire pit, and daily breakfast made with local ingredients. Dog beds, bowls, and treats are provided. Accommodations at Wintergreen Resort, in the mountains of Wintergreen, include rooms in the lodge as well as more isolated home rentals. The property also has a spa, pickleball courts, and both indoor and outdoor pools.
Where to Play
There are a variety of hikes in Nelson County, and some go beyond the typical sights. Bring a flashlight or headlamp to trek the Blue Ridge Tunnel, a dark path through a former railroad passage. You can enter the 4.5-mile out-and-back trail at the East Trailhead in Afton.
Chasing waterfalls? One of the tallest cascades east of the Mississippi River, Crabtree Falls can be seen via a moderate 2.7-mile round trip. Park at the dedicated area off State Highway 56 near Montebello. The Upper Shamokin Falls Trail at Wintergreen also stops at a waterfall but requires less than a mile of hiking round-trip.
Peer over the lush valley from Humpback Rocks, an overlook of jutting stone formations. You reach the vantage point on a steep two-mile out-and-back hike starting at the parking area near milepost 6 of the Blue Ridge Parkway. For chill kid-friendly walks, the Rockfish Valley Trails in Nellysford meander around creeks, running through Spruce Creek Park, which has bird- and butterfly-­watching paths.
Beyond hiking, the area features options for tubing on land and water. Wintergreen's snow-tubing track, the Plunge, also operates in warmer seasons. Tubers ride a conveyor belt to the top of the 1,000-foot track and slide down the plastic lane. Or you can drive out to James River Reeling & Rafting in Scottsville to take a leisurely float on the river. The tubing outfitter shuttles groups upriver, then they drift four miles down the water back to the parking area, a trip that takes two to four hours. For an aquatic picnic, rent a buoyant cooler from the company.
Celebrate warm weather with a quintessentially summer activity—berry and peach picking—at Critzer Family Farm in Afton. Starting in May, you can pluck from the fields' bounty, then grab ice cream churned with it. Prefer your fruit in liquid form on a pretty patio? Bold Rock Cider in Nellysford and Veritas Vineyard and Winery in Afton have scenic seating for cider and fries or wine and charcuterie, respectively. Leashed dogs are allowed in grassy areas.
Where to Eat
The charming cafe Basic Necessities in Nellysford serves quiche and sandwiches for lunch Tuesday through Saturday (plus Sunday brunch) and Mediterranean-­inspired dishes during Saturday dinner. Pick up provisions such as fresh bread and goat's-milk cheese for a summit snack. Devils Backbone Brewing Company has an expansive brewpub in Roseland for local lagers, IPAs, and ciders to quaff with burgers and barbecue.
Protect Your Pet
---
Back to Top
Hiking With Your Dog
Taking your four-legged friend to the trails? Molly Hoeg, owner of Happy Hikers, offers these tips for keeping your pup safe on a hike.
Scope Out Paths in Advance
Hoeg uses AllTrails.com to filter hikes by difficulty and distance, finding the right fit for each dog. Favorites for her active terrier/schnauzer, Pawdrick, include Maryland's Catoctin Mountain Park and Virginia's Great Falls Park.
---
Invest in a Dog First-Aid Kit
Accidents happen. Buy a first-aid kit designed for animals, with fur-friendly bandages and tools to remove ticks. Hoeg also recommends the Pet First Aid app, which has step-by-step instructions for a variety of emergencies.
---
Beat the Heat
When temperatures reach above 95 in the shade, Hoeg avoids long excursions with a dog, opting instead for a swim. If you're hiking in summer, consider a cooling vest for your pet. The jacket, dipped in cold water, helps prevent overheating.
Day Trips
---
Back to Top
More Treks Worth the Drive
A great hike + a cold drink = the perfect pairing. These trails are close to a brewery or vineyard, to simplify your post-hike plans.

Rocks, Hops, and Hard Seltzer
Hike: Head to Bluemont, Virginia, to traverse part of the Appalachian Trail's craggy "roller-coaster section." The rugged Bear's Den Trail (roughly two miles round-trip) plateaus at a scenic overlook.
Drink: Relax in Adirondack chairs at Bear Chase Brewing, half a mile from the trail parking lot. The brewery grows its own hops and fruit for craft beers and hard seltzers.
---
Winery Walk
Hike: Maryland's Sugarloaf Mountain, near Frederick, features about 16 miles of loop trails and short spurts to the summit. Come early—this popular hiking spot can get crowded.
Drink: Cool off with a glass of sangria or sample a Bordeaux-inspired flight on the patio at Sugarloaf Mountain Vineyard, an easy drive from the trailhead.
---
Stroll, Then Sip
Hike: Wander through meadows and woodland at Rachel Carson Conservation Park in Brookeville, Maryland. Choose your route from six miles of interconnected grassy trails.
Drink: At the park entrance, Elder Pine Brewing and Blending Company has up to 19 rotating beers on tap. Snag a picnic table in the pine grove decorated with string lights.
Back to Top
Breezy Beach Pedal

Destination:
Assateague and Chincoteague
---
Take a cue from the wild ponies of Assateague and Chincoteague and spend time roaming the islands on Virginia's Eastern Shore. Unhurried bike rides and sunset paddling make for a laid-back (but still active) beach getaway three hours from DC.
Where to Stay
For easy access to the Virginia side of Assateague Island, book accommodations in Chincoteague. Nautical Key West Cottages reopens May 1 after expanding to 38 new colorful homes with bayfront porches, plus access to a private beach, pool, and kayak launch. Refuge Inn, which also has a pool, offers a variety of room options as well as a corral with ponies. Bike rentals are available at both.
Where to Play
Outdoor activities on shore are less about thrill-seeking than about exploring nature on foot or two wheels. Rent bicycles from the Bike Depot and then cross the channel to Chincoteague National Wildlife Refuge. The 14,000-acre escape on Assateague Island features a network of paved biking trails and peaceful walking paths. Start on the 3.2-mile Wildlife Loop (cars are banned before 3 pm), then peel off onto Swan Cove Trail, which ends near the sandy beach, or bike toward Woodland Trail, where you can sometimes spot horses on the overlook.
At certain points, you can leave your wheels at a bike rack and stroll down unpaved tracks, all less than a mile in length. Pedaling on the Woodland Trail? Hop off and walk the Bivalve Trail through the forest to the beach at Tom's Cove. Starting at the designated lot, take the Lighthouse Trail to see the candy-cane-striped Assateague Lighthouse.
Once you've surveyed the land, it's time to get on the water. A Chincoteague native captains Barnacle Bill's Wild Pony Boat Tours, departing from the Curtis Merritt Harbor four times a day. The captain talks about local history and wildlife while pointing out eagles, ponies, and dolphins.
Rather than watching the sun set over the inlet, catch the scene from a kayak in the channel during an outing with the tour group Assateague Explorer. Boats push off from Veterans Memorial Park, paddling past the lighthouse and into the wetlands. Each day, the outfitter's motorized tour boat (which you can also ride) tells kayaking guides where the ponies are hanging out, for a postcard-ready view of wild horses under the multicolor sky.
Fried fish and shrimp are wrapped in corn or flour tortillas at the seasonal taco stand Pico Taqueria.
Where to Eat
A collection of tables are set up in the sand—the ideal backdrop for relaxing with a margarita. Cool down with a cone from Island Creamery, where housemade ice cream comes in flavors such as salted-caramel pretzel and Snickers cheesecake. In the evening, AJ's on the Creek serves steak and seafood scampi in a warfront dining room.
Day Trips
---
Back to Top
Biking Jaunts Closer to DC
For a two-wheel adventure, try these three trails

Wineries and BBQ
The Washington and Old Dominion Trail starts in Shirlington and runs 45 miles through Northern Virginia's countryside, past historic train stations, wineries, and creeks. On- and off-ramps let you customize the length. To bike a 25-mile portion (so a healthy 50 miles round-trip), start at Green Lizard Cycling and Coffee in Herndon—where you can also rent wheels—and ride to Purcellville for lunch at Monk's BBQ.
---
Flora and Fauna
The 13-mile Indian Head Trail begins in White Plains, Maryland, and is mostly flat and paved, making it a good option for families with younger riders. Keep eyes open for eagles, wildflowers, and egrets as you cross through the Mattawoman Creek stream valley, prized for its wildlife and waterfowl. Be sure to pack snacks and water: There are few stops between the trail's start and finish. (It's not a loop—to return, you turn around.)
---
Taste of Mountain Biking
Eager to get off of smooth asphalt and onto more rugged terrain? Drive an hour to Rockburn Branch Regional Park in Elkridge, Maryland, a 415-acre wooded spread with 7.4 miles of beginner-­friendly trails. Spend time traversing rolling mounds, curved banks, and swooping tracks in the all-levels skills park. Adjoining Patapsco Valley State Park has more paths to explore.
Seafood Experiences
---
Back to Top
Fun Seafood Explorations
Turn mealtime into an adventure with these catch-and-cook experiences in the Mid-Atlantic
Fish
Tour: Matchcoat Sojourners in Cambridge, Maryland.
Catch: A "Chesapeake Bay Story­teller"—a state-certified authority on the bay—shares shoreline fishing tips passed down through generations of watermen.
Eat: Filet and fry your catch to pair with a tasting from Crow Vineyards, an Eastern Shore winery.
Cost: $150 a person.
---
Oysters
Tour: Pleasure House Oysters in Lynnhaven, Virginia.
Catch: Cruise to an oyster farm off Virginia Beach, where a table is set up in the water for a shucking tutorial.
Eat: Reach into knee-deep water for some fresh oysters to go with seafood tapas and bring-your-own beverages.
Cost: $154 a person.
---
Crabs
Tour: Natural Light Charters in Stevensville, Maryland.
Catch: After departing at 6 am, a bay boat captained by a father/son team anchors in the Chesapeake to trotline for blue crabs. The number of crabs varies by trip, ranging from a few to a bushel.
Eat: Steam them back at the marina, or take them home to cook later.
Cost: $750 for six people.
Icons by Niky Chopra.
This article appears in the May 2023 issue of Washingtonian.