Alyson Aguerrebere just celebrated a monumental milestone: her first Mother's Day. Her entire family called to send their love. You might be a bit confused when you see Aguerrebere's child, though—he doesn't have her eyes or her nose or her hair. Well, he doesn't have any hair, actually. He has fur, because he's a cat.
Aguerrebere and her fiancé, Andre Gouyet, adopted their cat, Sir Lewis (named after Formula One driver Lewis Hamilton), earlier this year, and the 28-year-olds, both of whom live in NoMa and work in tech sales, are proud members of the booming fur-baby movement—a.k.a. considering your dog, cat, or other fuzzy (or scaly) loved one a "bone-a fide" member of the family instead of, you know, an animal.
And because these are children, not pets, the paw-rents are willing to shell out some cash to make sure Chewy or Spot or Princess Sparkle is living their dream life. That has given rise to dog bars, cat cafes, puppy birthday bashes—and now: tech-forward, membership-­based veterinary clinics such as Small Door and Parker & Ace, both of which recently came to our area. They're basically the One Medicals of the animal world—well-designed, vibey spaces that promise more personalized time with doctors and allow you to make appointments online and to chat with a virtual provider any time of day or night—for an annual fee, of course.
When Aguerrebere and Gouyet brought Sir Lewis home, there was no question—he was going to Parker & Ace. "As soon as we adopted him, it was always this expectation of He needs to have the best of everything," says Aguerrebere, not unlike a mother determined that her infant child will speak fluent Mandarin and will go to Harvard. "He needs to have the very best life, and that includes the very best medical care."
The duo is hardly alone. Pet spending soared in 2021—the average household shelled out $770 that year on their floofs, compared with $460 in 2013, says the Bureau of Labor Statistics. Sixty-­six percent of American households now have a pet, according to data from the American Pet Products Association, and the fastest-growing demographic of owners is also one of the biggest spenders: childless married couples.
While Parker & Ace CEO and founder Alexis McLaughlin notes that her company sees all kinds of clients, a large number are millennials and young families. McLaughlin says changing sentiment toward how we feel about our pets, coupled with folks putting off having kids until later (the median age of US childbirth rose to 30 last year, says the Census Bureau—the highest recorded), has cleared the way for these types of elevated vet spaces. After all, if you're a DINKer who doesn't have to pay for preschool, you might as well spend the money on your dog.
---
---
---
Parker & Ace's H Street location is its first—McLaughlin, who has a background in health startups, launched the business because she loved being able to communicate with her One Medical doctor via a few swipes on her phone. The pet-care industry, she says, needed that kind of model. (Yes, like any card-carrying startup founder, she did use the D word—"disruption.") At Parker & Ace, members pay $159 a year and get unlimited exams, same- and next-day appointment booking, and round-the-clock access to phone or video calls with a veterinarian. (Things like tests and shots are extra.) They also get access to a space that could be the lobby of a luxury hotel—gallery walls and cool lighting, TVs for the critters, exam rooms named after DC dog parks.
McLaughlin says that by covering visits via a yearly fee and making it easier for clients to get ahold of their vet, they'll catch pet problems before they become bigger and more expensive. The hope is that the telehealth aspect will also ease some of the workload for admins and doctors, allowing more time for face-to-face interaction with patients.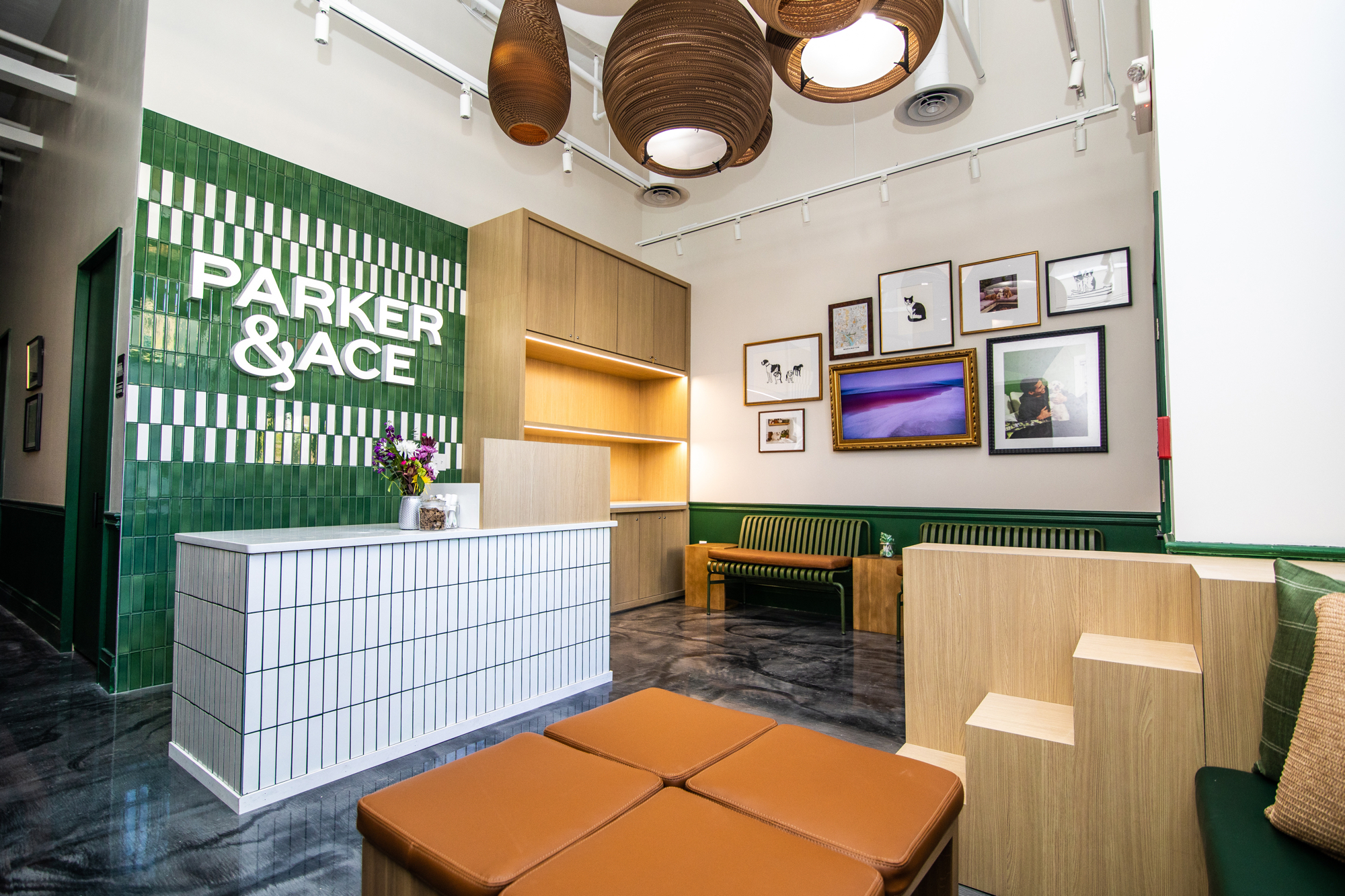 This all comes as veterinarians experience high levels of burnout: Tons of people adopted animals or noticed problems with their pets during Covid, which means more vet visits and greater workloads in an already short-staffed and mentally tough industry that requires providers to see animals in pain, provide euthanasia, and deal with distraught owners. This kind of pressure can result in tragedy: Male veterinarians are 1.6 times likelier to die by suicide than the general population, according to the CDC, while women vets are 2.4 times likelier.
That was part of the reason why Josh Guttman and Florent Peyre founded Small Door. Because some vets are paid on commission, they might feel obligated to see lots of patients in a day. At Small Door, by contrast, providers receive a competitive salary and benefits, says Guttman, meaning they can see fewer clients—14 or 15 in a day, for example, instead of 20. As a result, doctors can do more thorough one-on-ones and feel less burnout, and pet parents get more face time with doctors. "That's a win-win for everyone," says Guttman.
It's not totally altruistic—this is a business. Guttman explains that the better treatment clients get, the more apt they are to drop some dough on their cuddle buddies. "If you actually put in the time to explain things and talk to them about their pet's health, they're more likely to say, Yeah, let's run that test. And let's buy that diagnostic. And let's buy that preventative. They're more likely to invest."
Small Door launched in 2019 in New York, and today it has two DC locations, in Navy Yard and on 14th Street, with Spring Valley, Bethesda, and McLean in the works. It charges $169 a year, which includes an annual exam, same- or next-day appointments, and 24-7 virtual care (add-ons such as bloodwork and vaccines are extra, unless you opt for a wellness bundle), not to mention the trendy vet office of your millennial dreams—beautiful arched nooks, exposed-beam ceilings, lobby fridges full of seltzer, the works.
---
There's no such thing as perfect, though. While online reviews of Small Door and Parker & Ace are overwhelmingly positive, some customers at Small Door's New York locations (which have been around longer) have complained about receiving unhelpful feedback via the app; having difficulty establishing relationships with providers and getting quick appointments; and finding the model overpriced.
Access is an issue, too, says Christine Klippen, an urgent-care vet at DC's Friendship Hospital for Animals. She likens the conversation to the one happening around concierge and membership medicine groups for humans: "Those families [with disposable income] are going to have more access compared to people [who] don't." People who can't afford a membership might have to wait longer at packed and understaffed clinics for a sick pet to be seen, potentially leading to the animal's condition worsening and the owners spending even more money.
That said, Klippen thinks these membership models might be good options for first-time or anxious pet owners who know they'll have a lot of questions they want answered quickly or who want the ability to see a doctor on the same day, or those who have pets with lots of medical issues.
She also believes that having more options in an overtaxed field is a good thing—she and many of her colleagues have experienced burnout and compassion fatigue due to staffing shortages. (Some of her peers have gone to work at Small Door or Parker & Ace, she notes.) "Hopefully, [these newcomers] will spread it all out so that maybe it's not so overwhelming for everybody involved," she says. "It is heartbreaking that even young practitioners would decide to leave the industry as a result of burnout. It is heartbreaking when veterinarians are becoming so overwhelmed that they are ending their lives."
And it appears the options are only becoming more plentiful: Bond Vet, a tech-forward group for animal urgent and preventive care that doesn't require membership, now has five area locations, and while groups such as Modern Animal, another membership-based company, and The Vets, which brings caregivers to your door, don't have local outposts, they're expanding nationally.
But don't count on the telemedicine aspects of these platforms becoming the way of the future, cautions Klippen. At the end of the day, animals still need the old-fashioned, drag-them-yowling-into-the-clinic, IRL appointment. "Let's be honest, my patients cannot tell their pet owners or even me what is wrong with them—they cannot describe their symptoms," says Klippen. "So the hands-on exam is still hands-down one of the most important things that needs to happen."
This article appears in the July 2023 issue of Washingtonian.