A guide to the newest places to eat and drink.
El Presidente, the latest DC dining destination from Le Diplomate mastermind Stephen Starr, is poised to be his most whimsical and theatrical restaurant yet. The ode to Mexico City will feature show-stopping seafood towers and an eccentric design filled with sculptured sea creatures and taxidermy coyotes and monkeys. It opens in the Union Market area on Wednesday, September 6.
Starr—who is also behind the nearby St. Anselm, along with several hit restaurants across Philadelphia and New York—says he initially considered giving the place another brasserie-like look. "But you know me, and being the showman that I am, I thought I would have to do something a little with a little more pizzazz," Starr says. "Especially now post-Covid, people want to go out and get excited and feel like they're stepping in to another place."
So, Starr instructed design team AvroKO (behind Chicago's Duck Duck Goat and New York's Oiji Mi) to go wild and bring some fun to the 6,000-square-foot space. The restaurateur says he's loved the dioramas of bears and lions at the National Museum of Natural History since he was a kid. At El Presidente, artists created different surrealist installations of ocean, jungle (monstera leaves, iguanas, parakeets), and desert (cacti, prairie dogs, wolves).
In keeping with the theatrical theme—Starr briefly considered naming the restaurant Teatro—the dining room is outfitted with stage lighting. A "theater room" is also set like a stage with red burgundy drapes and a mountainscape mural for seating big parties, but Starr hopes to use it for sporadic, surprise live musical performances as well.
The menu draws both low- and high-brow inspiration from the melting pot that is Mexico City. El Presidente will have some similarities to El Vez, Starr's other Mexican restaurant with locations in Philadelphia and New York. For example, the DC spot will carryover El Vez's signature mahi-mahi tacos as well as its nachos, which are laid out flat on a pizza tray so every chip is the perfect bite. But Starr says the DC restaurant is its own thing and "goes deeper into Mexican cuisine." Chef David LaForce, a veteran of El Vez, will oversee the kitchen, and Starr Restaurants corporate chef Andres Padilla, longtime culinary director for Mexican cooking star Rick Bayless, helped to develop the menu.
The raw bar will no doubt be one of the big attractions. Expect Baja-style oysters garnished with savory salsa negra and citrus miñoneta; a classic fluke ceviche marinated to order; and yellowfin-tuna tostadas with avocado and nutty salsa macha. But Padilla says the real "showstopper" is a grand seafood tower (price TBD) with coconut-studded ceviche, hamachi aguachile, oysters, giant prawns, King crab in salsa macha, a half lobster, and more. It arrives at the table in a dramatic cloud of dry ice.
Other highlights include a grilled whole striped bass brushed with red-chile aioli and served with cabbage salad and fresh tortillas, so you can make your own fish tacos. Padilla says one of his personal favorites is the enfrijoladas, an enchilada-like dish with a silky black sauce made from reduced black-bean liquid and smoky chipotles. "If Oaxaca dressed up and went to Mexico City, this is what I think it would look like," Padilla says.
The menu will have a selection of tlayudas—think giant tostadas—including a riff on a New Haven-style clam pizza. It's topped with chopped clams in a slow-roasted garlic sauce, clam juice-spike bechamel sauce, pecorino, and chili flakes. And, of course, there are tacos—from classics like carnitas to braised bacon glazed with a salsa negro.  The kitchen is grinding its own corn and making its own masa for from-scratch tortillas.
The restaurant also prides itself on its avocados from Michoacán, Mexico, which Padilla says is one of the best regions in the world for producing avocados thanks to its volcanic soil. "The fat content of these avocados is almost perfect every time. They're a beautiful green color," he says. "They make the creamiest guacamole."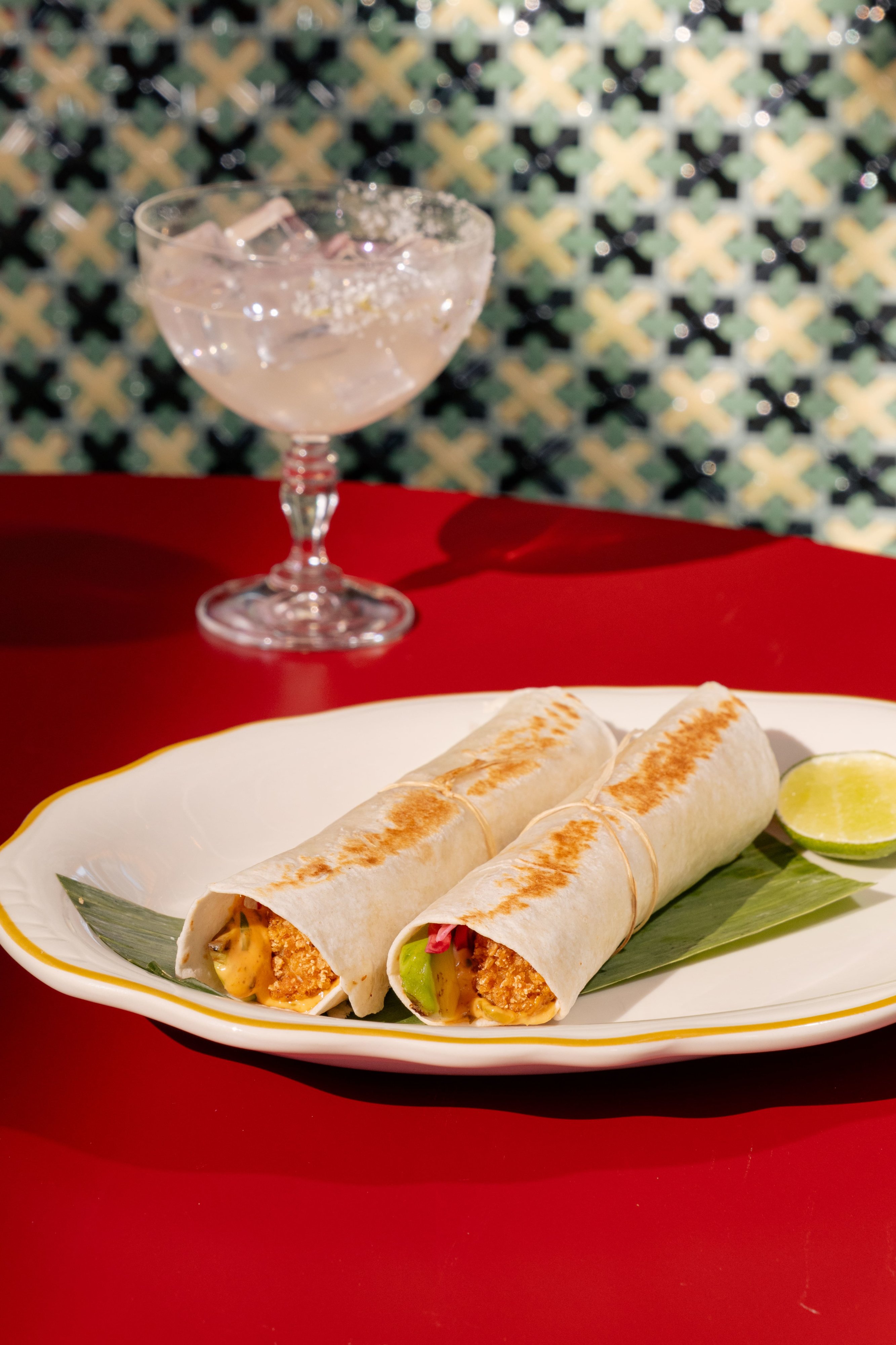 The bar aims to be as attention-getting as its surroundings, with Michelada "service" and cocktails like the Sgt. Pepper with mezcal, ancho reyes chili liqueur, and red-bell-pepper juice. El Presidente will stock more than 100 tequilas and 50 mezcals, plus gins with Mexican botanicals.
"I am extra excited about this one. Sometimes when I do restaurants, I go 'ehh, I'm going to do another Mexican restaurant,'" Starr says. "This one's gonna be a little different for our Mexican restaurants.  I hesitate to say this because they're all my children, but this could be the best one."
El Presidente will open for dinner in late August or early September, with ambitions for lunch and brunch. Meanwhile, Starr has even more DC restaurants on the horizon. Pastis, a joint venture with New York restaurateur Keith McNally, is slated to open near Union Market by the end of the year. Georgetown Italian market and restaurant Osteria Mozza, a collaboration with famed California chef Nancy Silverton, is still another year out.  And there's more: "I have a secret one, but I can't tell you about it. You're going to like it."