While Washingtonian may earn a commission if you buy something through these links, we make unbiased, independent decisions about what to recommend.
Our pets may love us unconditionally and ask for nothing in return, but we know you've got them on your holiday shopping list—they are family, after all. If you're in need of gift ideas for pets, we did the legwork for you and found 17 presents perfect for your four-legged friend.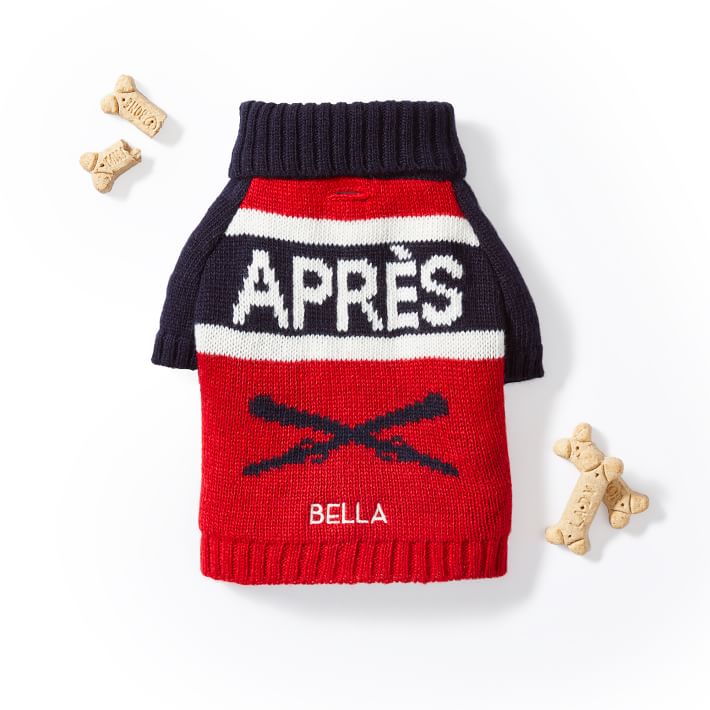 A really cute sweater. This one comes in several colors and styles, but if the rest of your crew is getting ski-themed gifts, we think your pups would appreciate matching après-ski sweaters. Starting at $45 at MarkandGraham.com.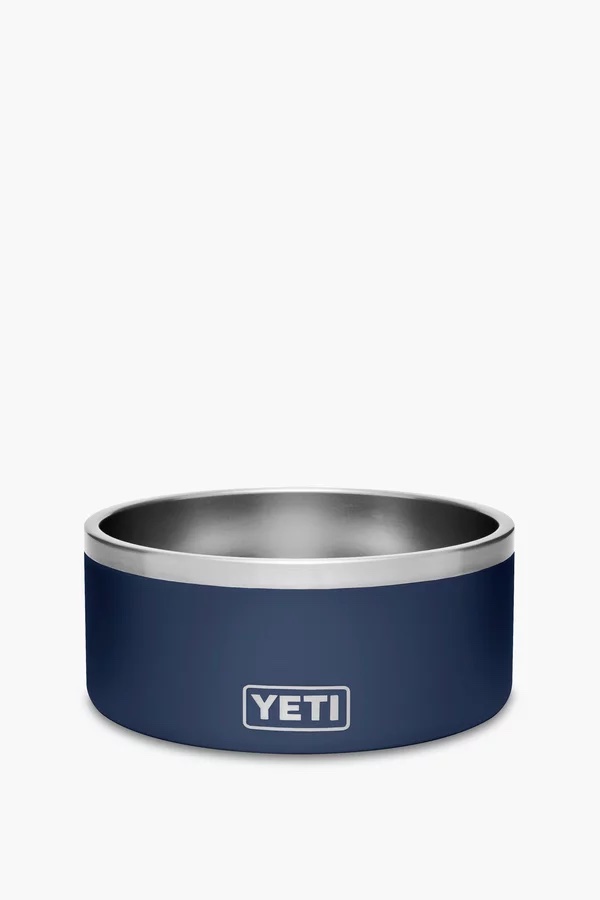 2. A fancy new Yeti dog bowl for the pooch (and maybe a new Yeti cooler for the pet parent). According to the reviews, these things are durable, and they're designed for use at home or on-the-go. $50 at Yeti.com.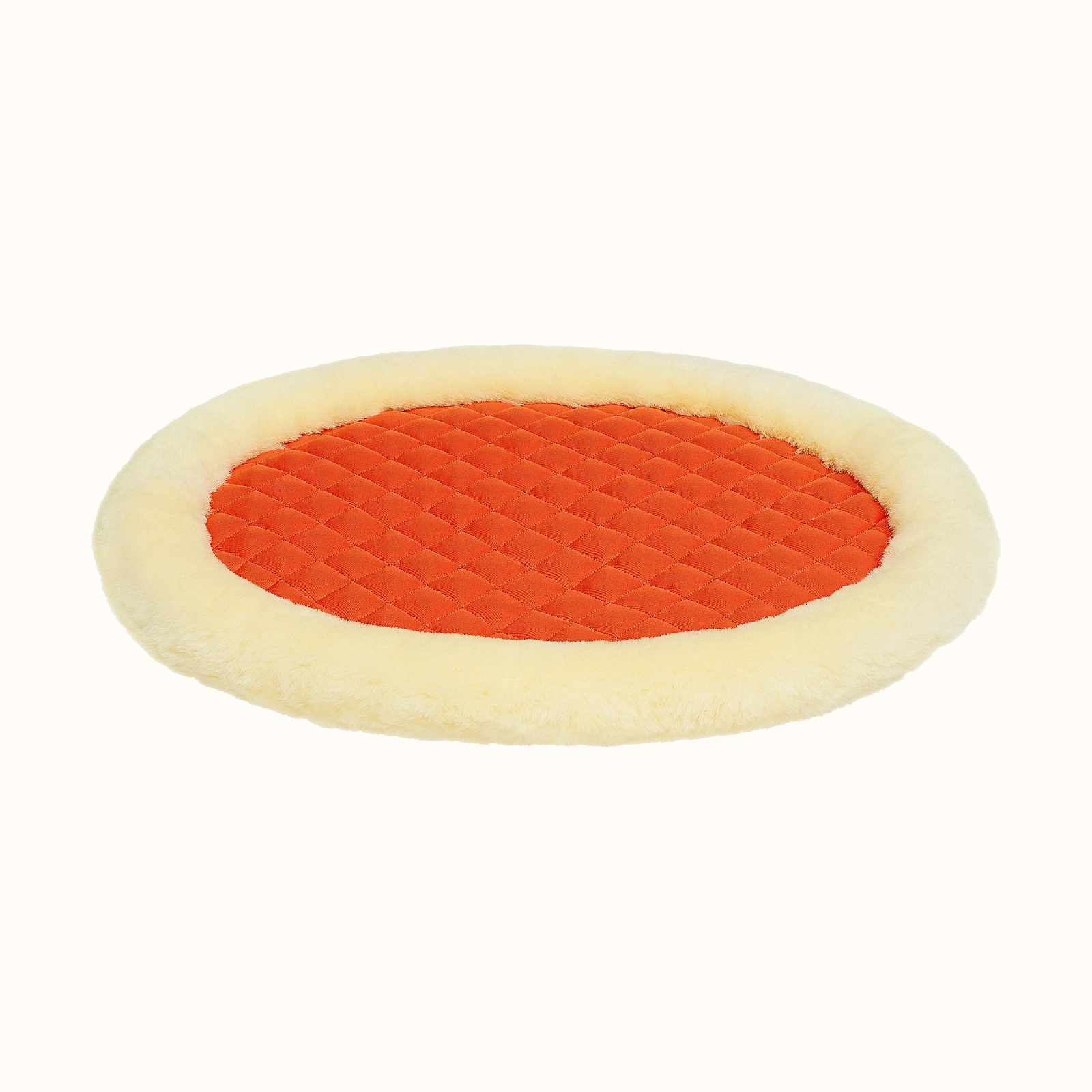 3. A designer dog bed. They don't get much fancier than a posh Hermès bed, with sheepskin on one side for winter and a breathable fabric for the summer on the other. It comes in three colors, but we're partial to the classic Hermès orange. $640 at Hermes.com.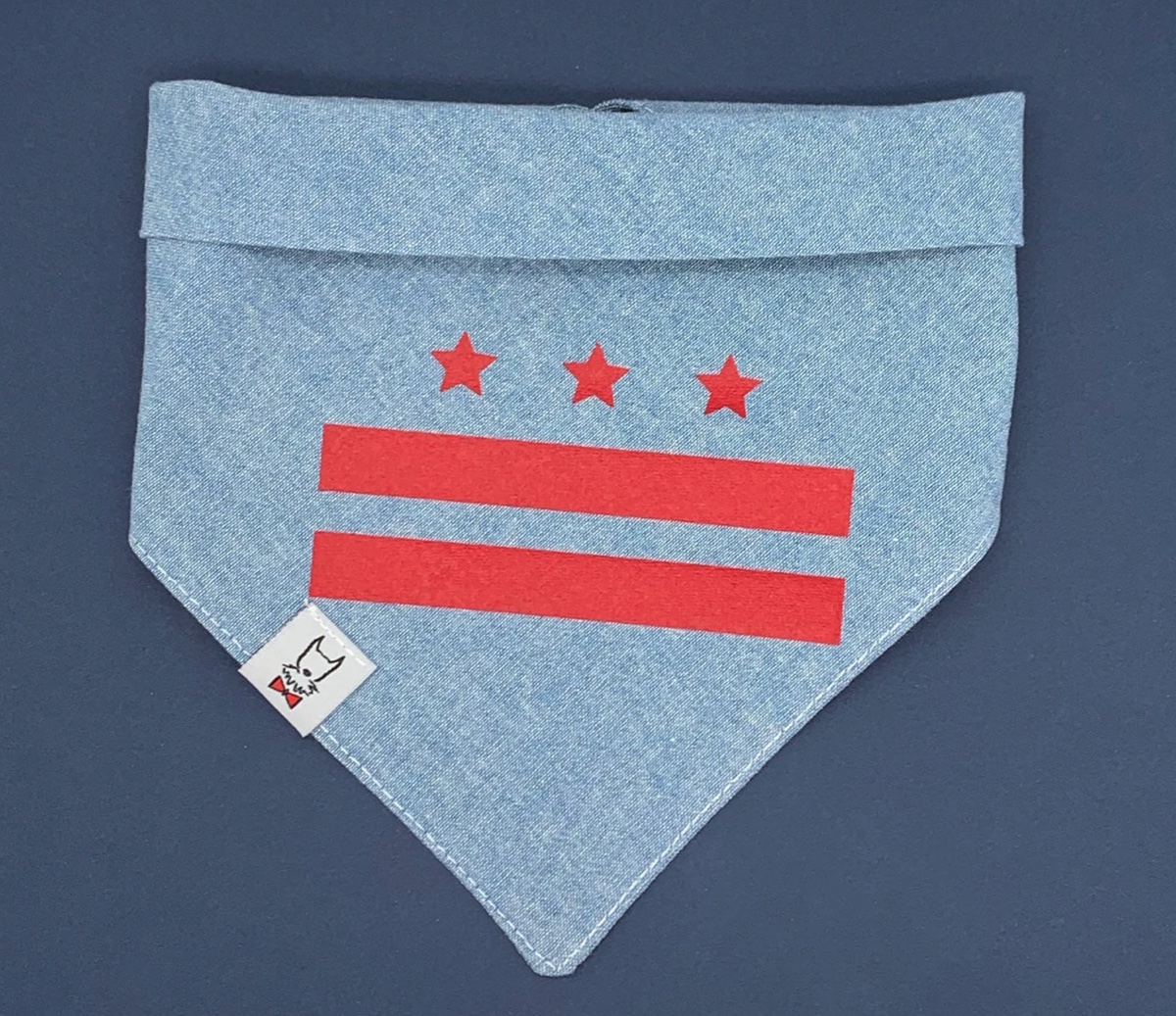 4. A DC-themed bandana. Let your pooch show off their DC pride (surely they feel it—there are a lot of dog bars around here) with a DC-flag -inspired bandana. $25 at ShopMadeInDC.com.
5. A Berber coat. Shinola, the Detroit-born watch-and-leather-goods store with a spot on 14th Street, just launched a new pet line, and this little cape-slash-coat is too cute to miss. It's made of thick shearling Berber and cotton, and is reversible. Starting at $75 at Shinola.com.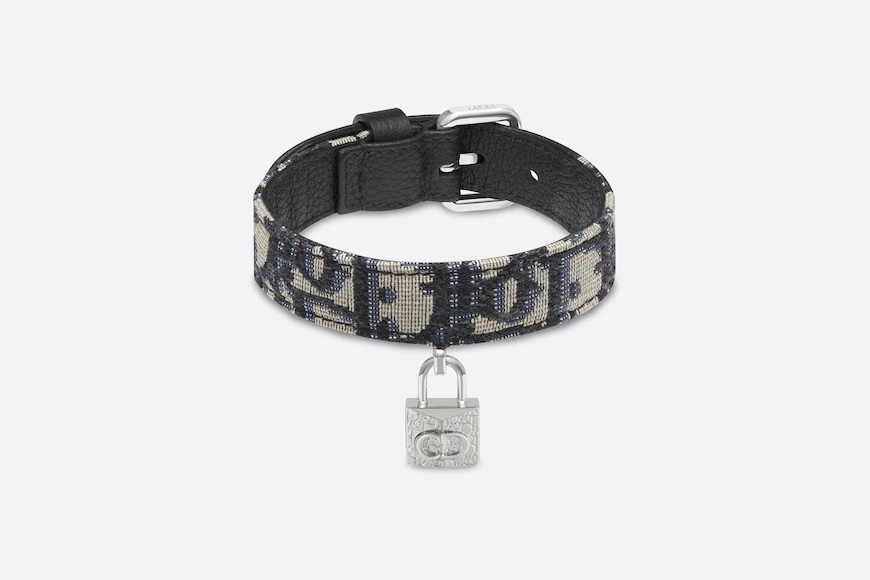 6. A black-and-beige Dior Oblique jacquard dog collar. It comes in three sizes and—for extra fanciness—coordinates with an array of men's Dior Oblique accessories, in case you and your pup prefer to match. $450 at Dior.com.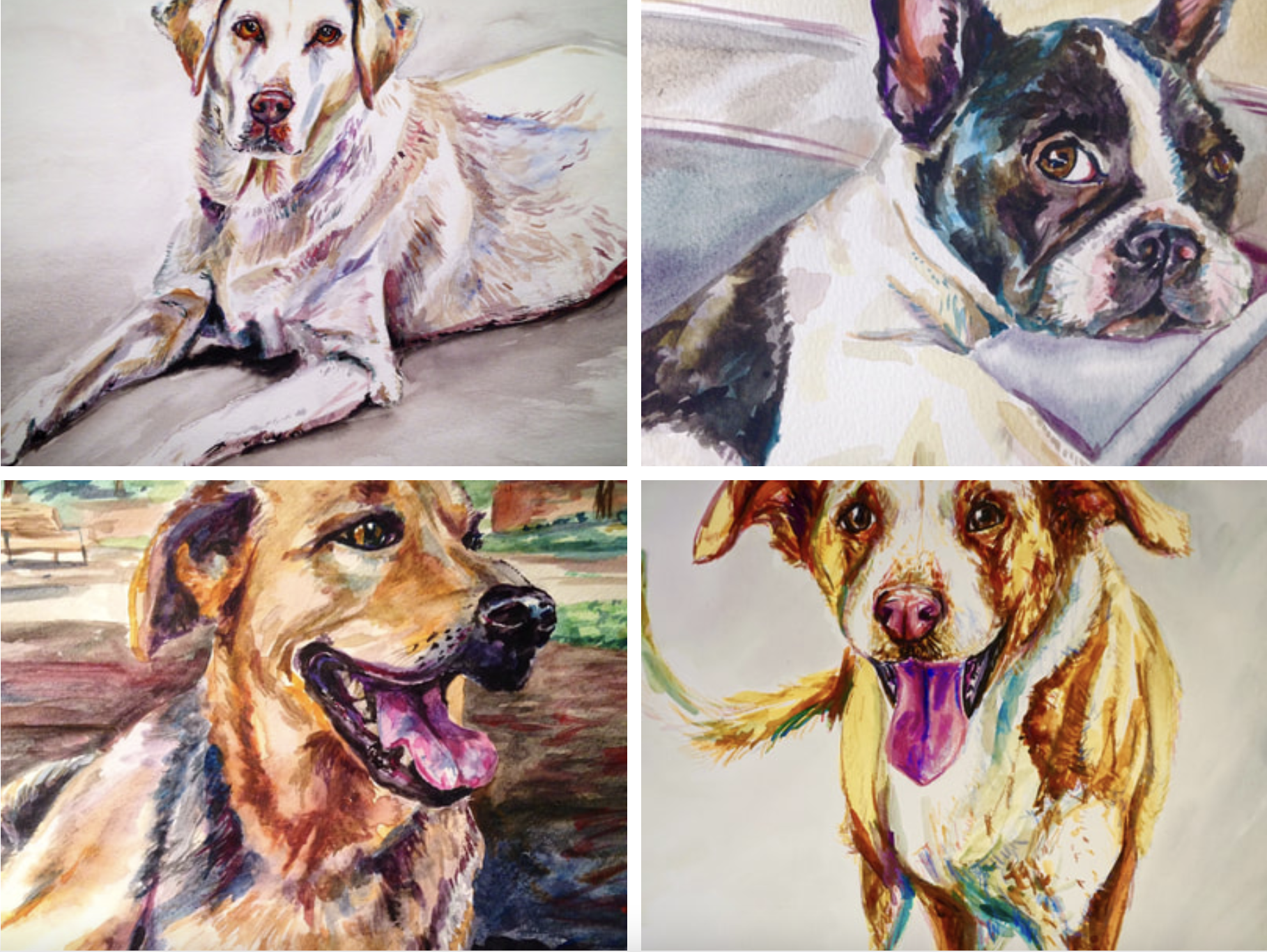 7. A portrait. Okay, is this for you? Or is this for your dog? It's hard to say, but any pup would likely be pleased with the idea of their pet parent commissioning a portrait of their cute face. Starting a $150 for a five-by-seven portarit by Cris Clapp Logan. 
8. A goody box of toys and treats, designed for both dogs (okay, and cats, too) for various seasons and occasions. Starting at $25 at Chewy.com.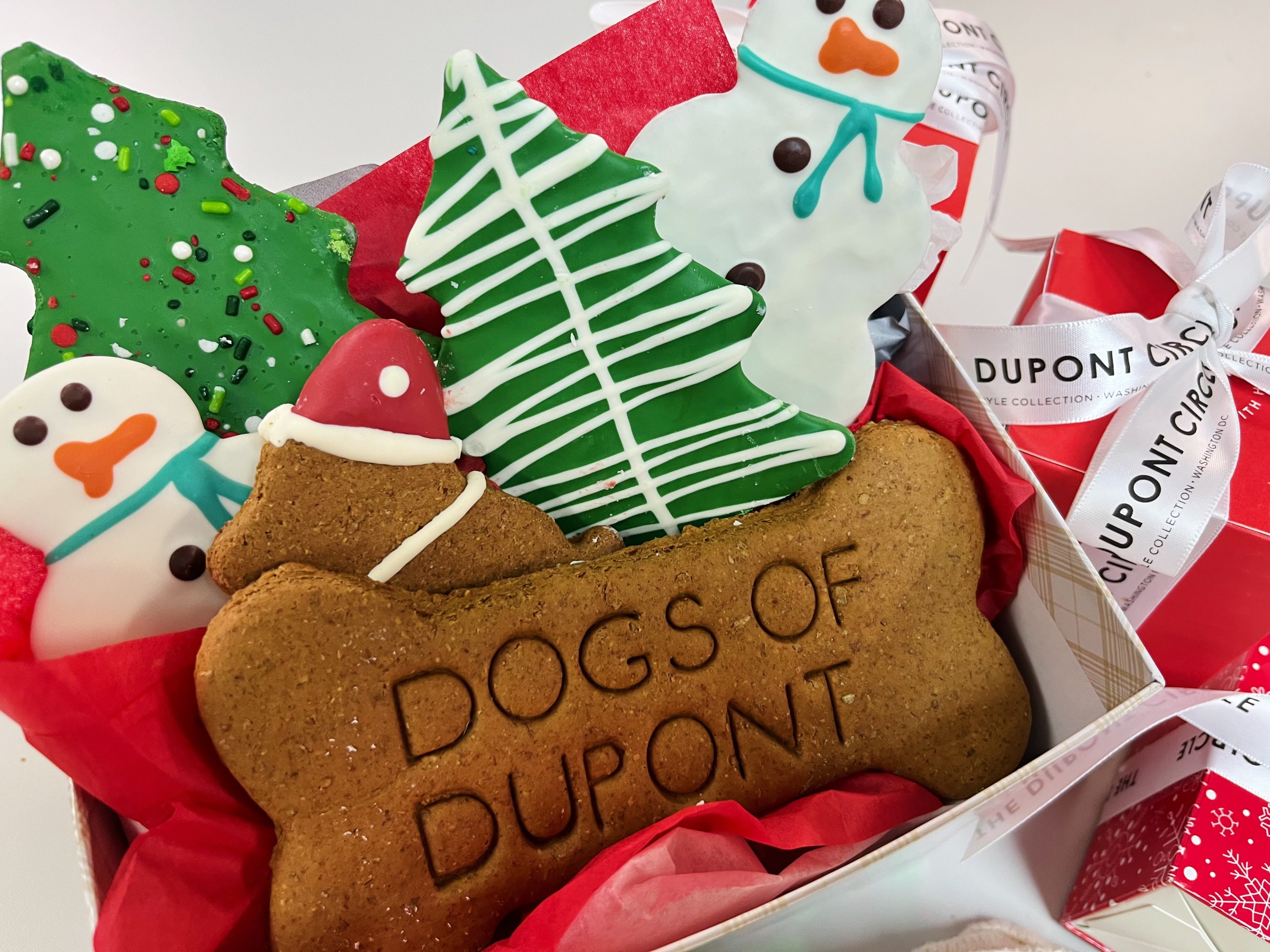 9. Gourmet treats. Doyle & Co., the coffee shop next to (and owned by) The Pembroke in the The Dupont Circle hotel in Dupont, recently added artisanal dog treats to its menu. Offerings include everything from dog-friendly cannolis and tiramisu to seasonal cookies and donuts. $1.50 to $3.50 at Doyle & Co.
10. White House Presidential Bowl – The White House Historical Association wants to elevate your dog's mealtime with this white ceramic bowl. It features illustrations of famous presidential pets, such as President George W. Bush's Scottish terrier and Caroline Kennedy's pony Macaroni. The bowl has a capacity of 16 ounces. Keep in mind that it is not microwave or dishwasher-safe, though. To shop: $30; whitehousehistory.org
11. Pendleton Plaid Pet Blanket and Toy Bone Set –  Put your dog in a hygge mood this holiday season with this cozy blanket and bone-shaped pillow. They both have faux fur sides, so they're extra comfy for naps and cuddling up by the fire. The set is available in two plaid patterns. To shop: $64; Nordstrom.com
12. Outward Hound Fun Feeder Slo Bowl – This Amazon best-seller has over 100,000 reviews and an almost perfect five-star rating. If your dog tends to devour every meal without chewing it, then consider this bowl. Its maze-like design makes them slow down while eating, preventing them from getting sick. The bottom has anti-slip cups, and the whole thing is dishwasher-safe. To shop: $17; amazon.com
13. Dog Squeaky Toys – Squeaky toys have multiple benefits for a dog's mental and physical health. This set features 12 food-inspired chew toys of different shapes and sizes ranging from 2.3 to 5.5 inches in width. They are made from soft, fragrance-free cotton and have a pretty sturdy construction. Small- to medium-sized dogs will have the most fun with them. To shop: $18; amazon.com
14. Pets So Good Oshu Pet House – This sleek dog house will make for a striking architectural accent in your living room and a cozy home for your four-legged friend. The angular steel construction features wall cutouts for ventilation and a breathable microfiber cushion to keep your pet comfy and warm. The only downside is that the house is suitable for small dogs only—up to 7 pounds. To shop: $595; bloomingdales.com
15. Kurk Geiger London Rainbow Dog Collar – Nothing says it's the holidays quite like a sparkly gift. This special-edition leather dog collar is encrusted with rainbow-hued crystals framed by clear cubic zirconia stones. The adjustable buckle ranges from 9 to 12 inches in diameter. To shop: $85; bloomingdales.com
16. PetDroid Interactive Dog Ball Toys – Cats and dogs will love chasing after this motion-activated ball with built-in multi-color flashlights. The ball bounces and rotates to attract their attention and keep them engaged; the battery lasts up to four hours per charge. Just keep in mind that while the outer shell is made from soft rubber, the ball is not a good fit for active chewers. To shop: $25; amazon.com 
17. Christian Louboutin Loubiharness Leather Dog Harness – If your dog has been a really good boy, splurge on this Italian-made designer leather harness that will turn him into the chicest pet on the block. It features the brand's signature red hue and playful illustrations. To shop: $625; saksfifthavenue.com