BY J.S. Ronette—WASHINGTON, DC—At this point, we're used to new technology changing our lives—even in the dental office. But the most tech savvy among us can still be impressed by an innovative "air-flow therapy" that cleans and polishes our teeth in half the time—and removes disease-causing bacteria in a flash of cutting-edge thoroughness.
"We're' saying good-bye to scraping tools, rubber cups and polishing discs that can be time-consuming and uncomfortable," says Dr. Richard Fordjour, who practices general and cosmetic dentistry at the Washington Center for Dentistry, in Washington. DC. "The Air-Flow Polisher is revolutionary. It is far superior to cleaning methods that have been used for decades. We're the only practice to have it, and our patients tell us they love it!"
Speaking at his 16-treatment-suite office overlooking K Street NW, Dr. Fordjour is proud of the fact that his dental practice is the first in DC to offer the new "Air-Flow Polisher," a wand-size machine that safely mixes water, compressed air and fine powder particles to completely transform what we all know about "teeth-cleaning!"
"It's quieter, smoother, faster, and it's far more efficient than the traditional scrape-and-polish experience," he says. "Patients really like how it polishes without direct contact, pressure, heat or noise. The spray-mixture does all the work. It just feels like water is being sprayed on the gums."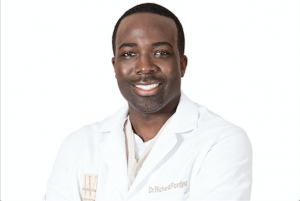 And, he explains that dentists love it for more than its patient-friendly features—because the old cleaning methods failed to reach below the gum line and achieve such meticulous removal of bacteria. In a gentle but cutting-edge "whoosh" of completeness, the strong jet of water quickly clears out 100 percent of harmful biofilm, the layer of bacteria also called plaque. The plaque areas are the ground-zero battleground places that can cause infection and inflammation—leading to oral diseases, tooth loss, and more. The ever-resistant bacteria need to be constantly kept in check.
"What happens in the mouth is now a total-body concern. The latest studies show that harmful oral bacteria affect cardiovascular and brain health. We don't tolerate bleeding, bacteria or infection on any level. Our patients' total health depends on it!"
With a stricter zero-tolerance for bacteria in the mouth, the new Air-Flow Therapy is a welcome weapon in his arsenal. The powerful, yet controlled jet of water, air and fine powder polishes all the surfaces of a tooth, removing plaque, discoloration and soft deposits.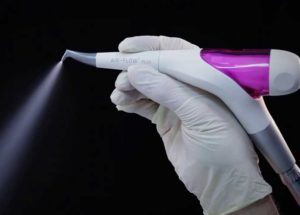 Here's Why Air-Flow Technology Offers Healthier, More Effective Cleaning:
The powerful jet is more effective at removing the damaging bacteria/biofilm layer that can cause gum disease to develop.
The strong jet of water more thoroughly reaches deep into periodontal "pockets" up to a depth of 5 mm, where bad bacteria lurk and attack bone holding in our teeth.
Deeper, under-the-gum air polishing impeccably cleans around dental implants, veneers, crowns and bridges.
It quickly removes stains and discoloration caused by smoking or by drinking red wine, tea and coffee, as it whitens teeth.
Here's Why It Offers Improved Patient Comfort
Gone is the cringe-induced feeling from scraping tools digging into gums or from a polishing tool pressing on a tooth surface.
Deep pockets and between-teeth areas are easily reached without probing, pointy tools and scrapers.
The technique does not generate any heat or vibration.
The non-toxic powder used is more pleasant and less gritty than the heavy paste used in traditional polishing.
The non-heated, quiet experience is perfect for patients with sensitive teeth. In fact, the procedure works to reduce sensitivity as well as being able to encourage the re-mineralization of damaged teeth.
Here's How It Offers Faster Cleaning
Studies show that air polishing is more than three times faster at removing stains and plaque than traditional methods.
Teeth are cleaned in a much less abrasive manner than scraping and polishing, which also causes less damage to teeth.
Small areas of decay get gently blasted away without the need to drill into healthy tooth structure.
"Our practice is committed to promoting and maintaining the highest level of health," says Dr. Fordjour. "And the innovative Air-Flow Polisher makes that happen in a more thorough and comfortable way than ever before."
Dr. Richard P. Fordjour practices general and cosmetic dentistry at the Washington Center for Dentistry, 1430 K Street, NW, 202.223.6630  www.washdent.com  info@washdent.com