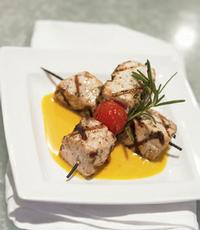 If there weren't a whiff of the Potomac in the air you might think you were in DC's trendy Penn Quarter, not Old Town. 100 King has the stark white backdrop and pulsating bar scene of a stylish DC boite.
It's a departure for the Lebanese Taverna chain in both looks and sensibility. On a menu of mostly small plates that nods to the Mediterranean as well as the Middle East, chef Denis Soriano (ex-Willard Room) is turning out crispy zucchini cakes lively with dill, and airy polenta soufflé over a thin "fondue" of bleu cheese and mushrooms that melts in the mouth. Even better is the moist and delicious loup de mer roasted whole, a plate you'd find in the sort of elegant hotel dining room Soriano once cooked in.
At times he overreaches. Lamb tagine doesn't have the sweet-spicy-tart complexity of the Moroccan original; it's more like a lamb shank atop couscous. Mediterranean fish soup reads better than it eats, with none of the pizzazz you'd expect from the saffron, orange zest, and tomato touted on the menu.
Service also has some kinks: attentive when the dining room is empty, less so when it's full. And this is one restaurant where upstairs is the place to be. It's got the same sleek vibe, but you can actually have a conversation.
100 King is open daily for lunch and dinner.