Shigeko Bork, 40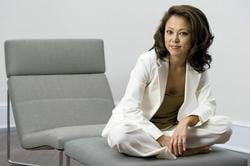 Art-gallery owner Married to an investor; mother of seven-year-old daughter
Where did you grow up? I was born in Japan. I grew up on a farm.
Shigeko is an unusual name. What does it mean? It means a lot of happiness will come to you.
Any guilty pleasures? To finish a half bottle of Champagne on my own. It makes me instantly happy, and it's bubbly.
What's the craziest thing you've done? Twenty years ago, I was a rock musician. I had a band; it was called Tears. We did shows all over Tokyo. I was the lead singer.
If you could do anything, what would it be? To collect every piece of art I want. Bernini is my absolute favorite. His work is profound beauty.
When do you feel most beautiful? When my husband looks at me and says, "I love you."