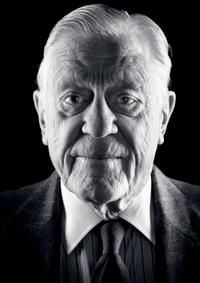 Ben Bradlee, 84 Vice president, The Washington Post Married to author and former Post reporter Sally Quinn; four grown children, including one with Quinn
What are you doing these days at the Post? I hang out here. If I weren't here, I don't know what the hell I'd be doing. I came to work at the Post in 1948.
Do you work out? I work out twice a week at a gym with a trainer. I work out on weekends in the woods—I'm a chainsaw man.
What's a chainsaw man? I clear brush, burn brush, chop trees, cut firewood. I love it. I love the outdoors. I did that with my old man when I was 12 years old.
Has Washington become more glamorous? I don't think immediately of glamorous women when I think of Washington. I think of thoughtful women. I mean, there are some really good-looking babes around this town, but . . . .
Describe your perfect day off. I would be down in the country—we have a place in St. Mary's County. I'd cook my own breakfast; sit down and read the paper from beginning to end. Then I'd go out in the woods with my toys. Take my truck out.
What do you get the most compliments on? I get really tan. It hides a multitude of sins. I don't mind wrinkles, but I don't like patches under the eye, bags.
What are some of your beauty secrets? Oh, cut it out. I shave.
So you're not really into the way you look? I don't spend a lot of time in front of the mirror. I don't learn much.