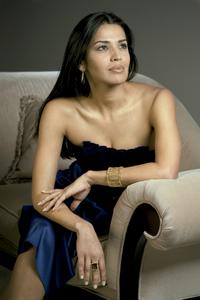 Kenya Pierce, 29 International lobbyist Married to a lobbyist; mother of two
Where did you grow up? Belo Horizonte, Brazil.
How did you end up in Washington? After law school, I came to work at the Inter-American Development Bank. Then I met my husband. He visited me when I went back to Brazil. We got married a couple of months later and moved here.
Do you shop a lot? Oh yes! In Brazil, we girls really like fashion and beautiful things. We love being well dressed.
Where do you like to shop? Wherever they have beautiful clothes. I shop in São Paolo a lot. I like Neiman Marcus at Tysons because I know everybody there. I love shoes; I have a winter and summer collection. I must have 60 pairs, maybe more. I like to have things no one else has.
What's your best beauty secret? Being happy. When you're happy, you look better. W
hen do you feel most beautiful? After I close a deal, I feel smart and beautiful, and I think about what I'm going to buy to make me feel even more beautiful. Y
our favorite item in your closet? I love my new fur bag that my husband gave me. It's a Fendi Spy bag. He surprised me.
What designers do you love most? I love Chanel. They're classic and always fashionable. Some of Versace's clothes are really sophisticated. I love Manolos for shoes; they're really comfortable.