Slam Dunks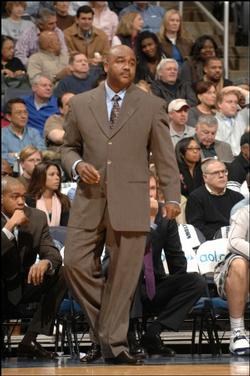 Washington's two hottest basketball teams don't play each other, but their coaches are inclined to play nice.
"John's a terrific coach," says Karl Hobbs, coach of the George Washington University Colonials, about John Thompson III, his counterpart at Georgetown University.
Says Thompson: "The fan base would like there to be great animosity. I have nothing but admiration for Karl."
When GW beat the Maryland Terrapins and Michigan State, Thompson was one of the first to call Hobbs.
"We have a mutual respect," says Hobbs, in his fifth year as Colonials coach.
There's no mutual respect among the players; they don't play each other.
"We would love to play them," says Hobbs.
Says Thompson: "If it makes sense for my team to play them one year, then I will play them."
It hasn't "made sense" for Georgetown since the 1970s, when Thompson's father, the legendary coach of the same name, canceled the local rivalry. The Hoyas still don't do it because GW has been a lower-profile team that offers little advantage and one big risk: Hobbs's kids might win.
The one time Hobbs's and Thompson's teams met, Thompson was coaching Princeton. Hobbs won.
Lacking a way to judge their current teams on the court, we matched up the coaches on style points.
am very conscious of style," says Hobbs, 44. "That's what I sell to the George Washington public. You look good, you play good."
Baby Karl, the youngest of six children, learned to dress up for church on Sunday. He's turned out for us in a midnight-blue suit with subtle gray squares.
Armani? Hugo Boss? Ralph Lauren?
"No way," he says. "I have all my clothes made by a guy out in California." That guy is Tam Taylor.
The blue striped shirt with a spread collar is from Brooks Brothers. Ditto the yellow tie. The slip-on shoes? Cole Hahn.
John Thompson III, 39, pays more attention to style than his legendary but rumpled father, John Thompson.
"I get my stuff made, too," he says. "Local guy. George Thompson. No relation."
The son is given to dark-blue suits, starched collars, polished black shoes. He has no signature accessory like the towel that accented his father's game-day attire.
"As the season progresses, you might see superstition take over my style," Thompson says. A towel? "If I have a good game with a towel on my shoulder, sure."
Hobbs usually carries himself lightly on the sidelines, smiling even when his players' schoolyard style turns sloppy.
"Image is very important," says Hobbs, a day before his squad demolishes Duquesne. "I choose players who can bring a unique style to the game. I don't like guards unless they have tricks in their game."
Thompson's style is stern. Georgetown Hoyas wear coats and ties to games. No sweats on the bus.
"Part of my job is to help shape young men and help prepare them for life after Georgetown," he says. "Their appearance is important. When we're on the court, we play in sync. Order is how we do things."
Style, for Hobbs, leads to competition for the hearts and minds of Washingtonians. "If you live in the District," he says, "we want to be the home team you cheer for."
There are reasons to root for GW. They are the striving underdogs compared with the Hoyas, who have won national titles and produced NBA stars like Allen Iverson. GW is David to Georgetown's Goliath. Its Smith Center home court is more intimate than the Hoyas' MCI Center.
Hobbs would love to pit his team's style against Georgetown's. "Eventually, we are going to have to play Georgetown," he says. "The people are going to demand the game."
Says sportswriter John Feinstein: "You can't give me one reason they shouldn't play. But I'm not holding my breath."
It could happen during this month's NCAA tournament. Both Georgetown and GW should be invited.
GW's stylish looseness versus Georgetown's discipline: That'd be a game.
Karl Hobbs
BORN: August 7, 1961
Alma mater: Connecticut '85
Favorite player: Magic Johnson
Best game as a coach: Winning
the A-10 tournament last March
Favorite sports movie: Love & Basketball
Dream team: Magic Johnson,
Michael Jordan, Larry Bird, Isiah Thomas, Kareem Abdul-Jabbar
Career as player: Four-year letter winner, appeared in 113 games, scored 900 points, had 534 assists, shot 47 percent (335 for 708) from the field and 79 percent (230 for 290) from the free-throw line, 185 rebounds, 162 steals, 13 blocks
Previous coaching job: Assistant coach at UConn 1994–2001; assistant coach at Boston University 1988–93
Hired by GW: May 7, 2001
Record: 82–54 career, 82–54 GW
John Thompson III
Born: March 11, 1966
Alma mater: Princeton '88
Favorite player: Magic Johnson
Best game as a coach: Princeton over UCLA 43–41 in 1996 NCAA Tournament
Favorite sports movie:
Searching for Bobby Fischer
Dream team: Magic Johnson,
Michael Jordan, Larry Bird, Bill
Russell, George Gervin
Career as player: Third all-time leader in assists at Princeton (358), winner of the BF Bunn MVP trophy, team co-captain 1988
Previous coaching job:
Head men's basketball
coach at Princeton
Hired by Georgetown:
April 20, 2004
Record: 104–59 career,
36–17 Georgetown