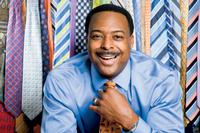 "It amazes me how often I get phone calls and e-mails about my ties," says WJLA-TV news anchor Leon Harris. "It's nice people notice, but I worry they're not listening."
Harris, named Washington's best-dressed journalist by Mediabistro—a Web site for media professionals—discusses his love of ties.
How many do you own?
Close to 100.
Where do you buy them?
Nordstrom in Tysons Corner. "I buy most from Chris Sharma, a salesman there. He talks me into buying ties that everyone ends up complimenting."
Most expensive? Least expensive?
My most expensive tie cost about $150. It's rust and gold with an octagonal pattern. It's by Ted Baker. My least expensive tie cost $10. It has a black background with purple polka dots. The camera is not that picky. If you pick the right pattern or color it doesn't matter.
What do you look for?
I like a certain amount of weight. It has to tie a good knot—I like when it has a dimple in it. I like a pattern that is distinctive but not distracting. I don't want to be too flashy.
Tips for purchasing ties?
It's helpful to wear a suit jacket to the store. Put the tie on. Check it out in different light. Don't be hung up on price. I've bought a lot of ties at discount stores like Syms.
Have you ever tried a bow tie?
I used to wear them. I'm too young to wear them on the air. I'd look like a valet. It works for Tucker Carlson, but I can't pull it off.
What trends do you see in ties?
Stripes, oranges, and brighter pastels.