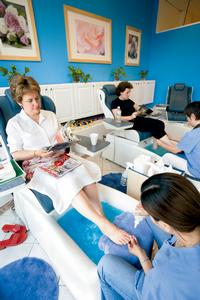 Summer toes cry out for attention. How else are you going to put your best foot forward in peep-toe espadrilles?
While a $70 pedicure at a may-we-bring-you-tea kind of spa can feel like a mini vacation, a girl needs an affordable place she can pop into for week-to-week upkeep. In our search for an expert, easy-on-the-wallet pedicure, we put our toes to the test at area salons. Some weren't as clean as we would have liked. Some had attitude problems. Others didn't get the job done when it came to polishing and pumicing.
But here's a handful to whom we'd entrust our feet anytime.
Acqua Nails
Painted in sherbet hues, this spotless Bethesda nail salon gets most things right. Though appointments are suggested, we've walked in on a number of occasions—even a busy Friday afternoon—and had our toes in a tub in ten minutes. The seven pedicure chairs (each with its own massage control) are in the sunsplashed rear of the salon. Pedicurists break open a new pack of sanitized tools for each customer. And when it's over, no one shoos you out—you can linger and read fashion magazines. A tiny outpost of Acqua Nails just opened in the rear of Aurelio Antonio Coiffures at Bethesda's Westbard Shopping Center (301-654-6245). Though it has only three chairs, this newbie is just as friendly and has all the features of the Sangamore location.
Acqua Nails, 4701 Sangamore Rd., Bethesda; 301-320-6245.
Georgetown Nails
Loyal fans—and they are legion—of this Georgetown nail salon rave about their super-soft soles, courtesy of a thorough pumicing. A neck and foot rub are part of the deal, too. The salon takes appointments, but walk-ins are welcome. Though done with the same OPI and Essie polishes found at other salons, pedicures here are more meticulous and seem to last longer with minimal chipping.
Georgetown Nails, 1800 Wisconsin Ave., NW; 202-965-2715.
Nail Design
The eight massaging chairs at the Bethesda salon mean you can walk in almost any time. Other user-friendly features: tons of magazines and lockers for regulars to store their own pedicure tools. This is a fast (30 minutes plus drying) but thorough pedicure with attention given to shaping and polishing. And employees care. When the customer next to us wasn't wowed by the color she chose, the pedicurist insisted on redoing her nails so she'd "be happy" when she looked at them all week.
Nail Design, 4927 St. Elmo Ave., Suite B, Bethesda; 301-654-5224. Also 6550-J Little River Tpk., Alexandria, 703-658-9400; 456 Elden St., Herndon, 703-471-0711.
Thuc's Nails
If it's relaxation you're after, Thuc's is the place. Because it's small—just Thuc and her associate, Lee—there are never more than three people in the nail area. Both women have a following, so appointments are a must. The draw? A lengthy foot and leg massage and a thorough sloughing of dead skin. Thuc also keeps up to date: She recently started using Rejuvacoat as a base coat, a nail treatment many swear strengthens their nails.
Thuc's Nails at Ximena Skin Care Salon, 8304-D Old Courthouse Rd., Vi­enna; 703-288-4455; healthbeautyspa.com.