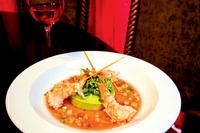 >More Washingtonian Dining Guides
Of all the summer spots that Washingtonians choose to make their home away from home, the Delaware beaches—Rehoboth, Lewes, Bethany—offer the most intriguing possibilities for vacationers who like to spend their days grazing as well as for those who enjoy lazing about in the sun.
Fine-dining restaurants, family spots, junk-food outposts—we spent weeks checking them out. Lots of choices, but no single category stood out, which suggests that the much-touted dining scene in Rehoboth is still more wish than reality. Note to restaurateurs: Less clutter, less fusion, please.
But being able to move up and down the gastronomic scale is what makes dining out so much fun—going from thin-crust pepperoni pizza to steamed crabs to live scallop sashimi, from hot, glazed cake doughnuts to oyster po' boys to grilled shrimp in watermelon gazpacho in a single day. This guide is not meant to be comprehensive, but we think it's definitive. These are places we'd go back to again and again.
And for more beach eating picks and for a couple of tasty places on the way, visit washingtonian.com.
For a guilty-pleasure breakfast . . .
The Fractured Prune. We'll take yeast doughnuts over cake doughnuts any day. But cake doughnuts made to order versus hour-old yeast doughnuts? That's a different story.
At this purple-and-chartreuse shop on Route 1 in Rehoboth, you won't find a case filled with trays of doughnuts—nothing sits around. "First-timer?" the counterman asks. Nod in the affirmative and you'll be treated to an O.C. Sand—a honey-glazed, cinnamon-sugar doughnut hot from the fryer. After that, it's hard to resist putting in an order for six.
The Prune lets you customize your order. You choose from any of 16 glazes, eight toppings, and three kinds of sugar. Our picks: a chocolate glaze with coconut and graham cracker, and a caramel glaze with butterscotch chips. Or you can get any of 19 preselected combinations.
Almost as delicious as the doughnuts is the sight of middle-age men and women tearing open the white paper bags like kids on Christmas morning.
The Fractured Prune, 20241 Coastal Hwy., Rehoboth Beach; 302-227-0747; fracturedprune.com. Doughnuts 85 cents each, $4.45 a half dozen, $7.45 a dozen. Open 6 am to 2 pm daily.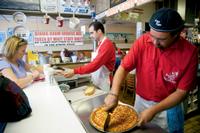 If your idea of brunch begins with a mixed drink . . .
Blue Moon. The brunchtime, pour-all-you-want Bloody Mary bar is the big draw at this longtime address hopping with locals and weekend trippers. Some 20 hot sauces, tomato-juice alternatives like V-8 and Clamato, and bowls of horseradish, mustard, cayenne, and black pepper allow you to personalize your libation.
Brunch in one of the small dining rooms or on the back patio isn't bad—if you know what to order. Two dishes really satisfy: the creamy eggs Benedict on toasted croissants with crab and the smoked-salmon-and-cream-cheese quesadilla shot through with capers and red onion. And the buffet of baked things has a couple of hum­dingers, namely a not-too-sweet hazelnut-chocolate muffin and gooey chocolate-pecan squares.
Blue Moon, 35 Baltimore Ave., Rehoboth; 302-227-6515. Sunday brunch $17.50 or $22.50 with Bloody Mary bar or unlimited mimosas. Open daily for dinner and Sunday for brunch.
For a sit-down meal that will take you back in time . . .
Georgia House. Even without the retro-chic Jell-o–pretzel salad, Georgia House would be a find. Nestled in the tiny town of Millsboro, an easy 15-minute drive from Rehoboth, this sprawling restaurant with its wrought-iron accents serves Southern and classic American plates at nostalgia-inducing prices.
Begin with the bread basket, a hot, heaping pile of brown-sugar-crusted coconut-banana muffins, moist sweet-potato biscuits, and dense rectangles of cornpone that have the heft of a steamed pudding and the grainy texture of cornbread.
The buttermilk-fried boneless chicken breast is all crunchy crust—good enough to make us wish bone-in pieces were an option. Po' boys are nicely done, too, from a cornmeal-crisp fried shrimp or catfish with dill tartar sauce to a piquant andouille sausage with sweet grilled onions, peppers, and mustard. Sides like vinegary greens and steamed broccoli with butter get the attention usually reserved for main courses.
And the Jell-o–pretzel salad? This old Eastern Shore picnic staple is as appealing as it sounds: butter-slicked pretzels layered with strawberry Jell-o, cream cheese, and fresh berries. One bite and you realize this is not just about nostalgia but good eating for any decade.
Georgia House, 119 Main St., Millsboro; 302-934-6737. Entrees $5.95 to $18.95 (for prime rib). Open Monday through Saturday for lunch and dinner.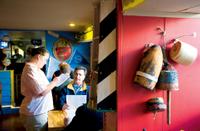 Blue Plate Diner. You know you've found a gem of a diner when you turn up a field-green salad, a fish sandwich with hand-battered fresh flounder, a plate of shrimp steamed in ale, and Taylor pork roll, a rarity outside Jersey and Philly.
This art deco–postered restaurant in Lewes isn't a move-'em-in-move-'em-out greasy spoon. If you wait a little for your food, it's because it's cooked to order.
The shrimp, perfectly cooked, come eight to an order, with a powdering of Old Bay around the plate for customizing the spiciness. Sandwiches are distinctive, starting with their pillowy buns. The flounder sends up a cloud of steam at the first bite; the Reuben Kincaid is made with fresh carved turkey; the Taylor pork roll is grilled and piled thick. Skip the pasta salad; ask for an order of fries for an extra dollar.
All desserts ($4.50) are made in-house, from a chocolate mousse cake to that current darling of pastry chefs, tres leches.
Blue Plate Diner, 329 Savannah Rd., Lewes; 302-644-8400. Lunch entrees $3.75 to $9.50, dinner entrees $9.95 to $18.95. Open daily for lunch and dinner.
Dish. Snug and subterranean, this retro American bistro is as much a place for the locals to dish as it is to eat. The playful dining room sports mosaic-framed mirrors and a collection of lava lamps that would be the envy of any '70s flower child. There's even an Etch-a-Sketch for the tyke whose parents have wearied of Thrasher's and opted for a real meal. The menu tries to keep the fun going with chicken served "TV dinner–style" and a couple of witty nostalgia-driven desserts.
Cool cucumber soup comes alive with hits of Thai hot sauce. The juicy Angus burger, with pepper-jack cheese, roasted red peppers, and spicy mayo piled on, should be patented. A starter of shrimp-and-wild-mushroom raviolis with lush sun-dried-tomato pesto sounds busy but isn't. And a special of perfectly grilled lobster shows the kitchen can play it simple as well. Best of all is the not-your-mother's beef stroganoff. Wild mushrooms, onion, rib eye, and double-wide egg noodles take it several notches beyond the classic. A thyme-scented gravy of reduced veal stock and a dollop of horseradish creme fraiche blast it into greatness.
The only dessert that seems fitting after this retro feast is a gargantuan ice-cream sandwich made with Rice Krispie treats and finished with chocolate sauce and rainbow sprinkles ($6). It's a festive ending to a meal that's as much about entertainment as it is about good food.
Dish, 26 Baltimore Ave., Rehoboth Beach; 302-226-2112; dishrehoboth.com. Entrees $14 to $28. Open daily for dinner.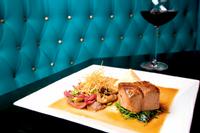 For a taste of the ocean without being in the water . . .
Seafood Shack. You're not a Rehoboth regular if you don't know about the Shack.
Turns out the shack isn't such a shack anymore, thanks to an off-season's worth of upgrades—indoor seating, table service, and a back patio that's perfect for kicking back with a $3.75 margarita.
The heart of the menu is the po' boy, with 14 varieties—from tuna to clam strip—all served on a crusty sub roll ($5.95 to $7.95). For people who can't decide, there's the Peacemaker—a crab cake, two crispy oysters, and two fried shrimp. We gravitate to the oyster po' boy, its fat, briny bivalves encased in a thin, greaseless crust; ask for the chipotle-stoked remoulade instead of mayo.
Soft-shells used to be the po' boy of choice. On a recent visit they were smaller and less meaty than in years past, but there's still a wonderful honesty to this sandwich, the soft-shells (shipped in weekly from Crisfield, Maryland) sauteed in butter and a pinch of Old Bay and served two to an order for $11.50.
Seafood Shack, 42½ Baltimore Ave., Rehoboth; 302-227-5881. Open daily for lunch and dinner.
When you're craving a real Italian sub . . .
DiFebo's. With a boardwalk crammed with hoagie possibilities, it might seem odd to drive to this Italian pasta-and-chops house filled with trellises and tablecloths. But many Bethany beachgoers remember the restaurant's humbler origins as a sandwich shop.
Luckily, you still can get those same deli subs to go. There's slow-roasted pork loin laden with garlic and oil, fresh mozzarella with basil and roasted peppers, and a Philly-style spicy sausage sandwich. Our favorite is the classic Italian hoagie—a crusty torpedo roll stuffed with tissue-thin shavings of black-peppered ham, Genoa salami, cappicola, and provolone, then loaded with hot and sweet peppers and finished with Italian herbs, vinegar, and oil. You can linger over a Peroni at the bar and nibble on club crackers and port-wine spread while you wait.
DiFebo's, 789 Garfield Pkwy., Bethany; 302-539-4550; difebos.com. Carryout menu $7 to $14. Open daily for lunch and dinner.
For real hoagies and real thin-crust pizza . . .
Louie's Pizza. Aficionados know to order by the slice at this boardwalk pizza parlor adjacent to Dolle's taffy shop. Why? The thin slices ($1.60) are partially baked, then baked again when you place your order, resulting in a crispy wedge. Pepperoni shows off Louie's best, the coins of sausage curling up and pooling wonderfully with spicy grease. Mop it up with a napkin and dig in.
And don't miss the overstuffed Italian hoagies ($6.25), made with D'Amorosio rolls layered with thin-sliced onion and shredded lettuce, drizzled with oil and vinegar, and sprinkled with oregano. They're as good as you'll get outside of Philly.
Louie's Pizza, 11 Rehoboth Ave., Rehoboth Beach; 302-227-6002. Open 11 am to midnight daily.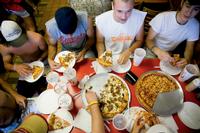 If you want to eat barefoot . . .
Bluecoast. This market/cafe conjures such a beachy vibe that no one will raise an eyebrow if you show up in a sarong, glistening with Coppertone. Eat at one of the handful of tables or spirit the pristine seafood back to your umbrella.
The menu lacks a few items borrowed from Bluecoast's upscale dinner-only dining room next door. A baked crab cake plump with sweet backfin is all a crab cake should be. House-made accoutrements—a cornmeal-dusted kaiser roll, tartar sauce with a whiff of Old Bay, and Old Bay-dusted potato chips—take the plate over the top. There are also perfectly steamed clams and crab claws and spicy peel-and-eat shrimp. Choose any of these with a side of the terrific coleslaw, made fresh to order.
Even the requisite Asian-fusion offerings work. Triangular shrimp dumplings boast gossamer wrappers, and chili-flecked shrimp lollipops get a rich ponzu mayo for swiping.
There's a classic lobster bake Fridays through Sundays, and the market also sells seafood to cook at home. Feeling lazy? They'll do the marinating and steaming for you, so you can catch the sunset on the beach and still have a "home-cooked" meal.
Bluecoast, 1111 Hwy. 1, North Bethany; 302-539-7111; bluecoastseafoodgrill.com. Market menu $3 to $12, crab claws $18 a pound, lobster bake $24. Open Monday through Saturday for lunch and dinner.
When you want fresh fish but don't want the fry . . .
Cultured Pearl. Chef Kiyomi Yamanaka has decamped from Bethesda's Matuba to join the kitchen of this bamboo-bound lair, now in its 14th year. The result is the best cooking we've tasted from this longtime favorite.
Begin with the oshinko mori, a generous plate of house-pickled vegetables that includes cucumber, eggplant, and carrots, the latter with an intriguing, peppery bite. The standout among the first half of the menu is a dozen littleneck clams steamed in white wine, garlic, and cilantro; ask for extras of the crusty bread to soak up the marvelous brine.
The sushi has never been better—cool, glistening, and well carved. Although tuna and salmon are disappointing, they're disappointing at most sushi places these days. Look instead for what's on the specials menu—the live scallop is glisteningly fresh and plump—and focus on overlooked items like surf clam, baby octopus, salmon roe, and mackerel. The sake list totals more than a dozen; any of the premium varieties will make a fine companion to the sushi.
Desserts lean more toward sticky-sweet Americana than clean Asian elegance, but that doesn't mean you should skip them: Both the strawberry shortcake, made with a giant biscuit, and a fountain glass of mango ice cream with apple soda and whipped cream are among the best desserts in town.
Though jam-packed during the first week of the season, the kitchen handled the crowds with poise, and the waitstaff was chatty, efficient, and solicitous.
Cultured Pearl, 19 Wilmington Ave., Rehoboth Beach; 302-227-8493; culturedpearl.us. Entrees $15 to $36. Open daily for lunch and dinner.
When you're in the mood for favas, ramps, and morels . . .
Back Porch Cafe. If Rehoboth ever had an Alice Waters moment, it was in 1974, when two Delaware schoolteachers and a furniture salesman looking for a life change arrived in a town full of nautical-themed crabhouses and opened the Back Porch Cafe.
The sage-shingled house, bordered by bikini shops and dollar stores, became Rehoboth's first upscale American dining room. Instead of fried clams and Maryland-crab soup, diners clamored for the chef's bouillabaisse and sherried trifle. It changed the way the area ate, and it paved the way for spots like Chez la Mer and Blue Moon, which opened soon after.
These days, amid the swirl of sleek fusion bistros, you'd fear the Back Porch might seem like a relic. But a table on the cozy back deck lit with candles and stars might be the most serene spot on the Atlantic. And chef Leo Medisch, who worked his way up through the kitchen's ranks over 30 years, keeps his menu fresh with season-minded ingredients. You get the sense that a carton of shucked favas brings him more glee than a glistening lobe of foie gras.
Which explains why morels are the star in a melange of English peas and asparagus that quietly shows off a cut of roasted black cod. Ramps and fennel perk up perfectly crisped, cornmeal-dusted soft-shell crabs better than the bland blood-orange aioli. But a too-tart rhubarb compote and a bundle of pea tendrils can't save a trendy appetizer, a vanilla-poached lobster. One bite of the limp little tail makes you think it died from sugar shock.
The kitchen shows a sure hand with meats. Everything's in balance with a beautifully grilled hanger steak dappled with peppercorns and paired with leeks vinaigrette and salt-roasted fingerling potatoes with Roquefort. The heft of a grilled prime rib of pork is offset by an elegant saute of favas and butternut squash and a dollop of fragrant onion-sage marmalade.
There's one dessert worth saving room for: a whole pear sprinkled with streusel, baked upright, and set next to a luscious pool of hazelnut sabayon.
Back Porch Cafe, 59 Rehoboth Ave., Rehoboth; 302-227-3674; backporchcafe.com. Entrees $27 to $36. Open daily for lunch and dinner.
When you're looking for a big-city meal . . .
Espuma. Rehoboth is a fusion-happy town—you can't help but wonder if all the chefs studied at the same mad-scientist school of food recombination. Sliced duck with yogurt-covered wasabi peas and edible flowers?
Chef Jay Caputo isn't one of these restless mixers—except for coming out of the kitchen to mingle with diners in the noisy, color-filled dining room. There are interesting ideas aplenty on his plates—a gazpacho made from watermelon—but cleverness never detracts from his intention to communicate a few ideas clearly and distinctly. There's a sturdiness and simplicity that begins to seem radical in context.
His scallops are fearlessly caramelized—it takes nerve to leave them on high heat that long. But they remain translucent in the center, and the sweetness of their shimmering brown caps is amplified by a light corn broth and corn-and-arugula salad. Three Day Pork—a pork shoulder marinated for a day, cooked for 12 hours, and allowed to rest in its cooking liquid another full day—has a lusciousness associated more with a pig roast than with fine dining; if only the kitchen could curb its instincts to oversalt. Similarly, a note of sweetness in the dressing of the egg-and-bacon salad (a reimagining of frisee with lardons) is all that keeps it from being a must-order.
Caputo handles desserts with imagination. Chocolate, Chocolate, Chocolate, centered around a warm chocolate cake, concentrates on tiny touches—a sprinkle of salt in the milk-chocolate ice cream, a spike of dried chili pepper in Mexican hot chocolate. A brown-butter blueberry cake with almond gelato is another variation of cake and ice cream, and of contrasting textures: The gelato, sitting on a sprinkle of toasted almonds, and the compote of blueberry jam and orange marmalade bring a lush creaminess to every bite of cake.
Service seldom delivers the niceties of fine dining—when entrees top $30, you expect the table to be wiped clean between courses—but the staff is amiable and professional and, when it's not rushed, charming and helpful.
Espuma, 28 Wilmington Ave., Rehoboth Beach; 302-227-4199, espumarestaurant.com. Entrees $22 to $39. Open Tuesday through Sunday for dinner.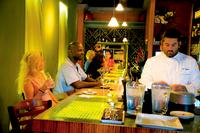 For a simple, no-fuss meal . . .
Fish On. Don't let the urban trappings—industrial ceilings, unfinished floors, open dining room—fool you. Fish On may look like a big-city restaurant, but it's really an old-fashioned fishhouse that's been updated. Fusion predominates at many of Rehoboth's restaurants, but here there's a less-is-more philosophy.
Owners Matt Haley, Bryony Zeigler, and Harry Gellar have figured out that you can generate buzz and draw the crowds by serving ample portions of simply prepared, fresh food at reasonable prices—most entrees are around $20—and sending out likeable, knowledgeable servers to take care of customers. Most of the fish and seafood is from local waters; much of the produce comes from local or in-state farms.
The kitchen, under chef Gary Johnson, is wise enough to get out of the way and let the ingredients stand on their own. Crunchy-fried soft-shells with a melange of fresh cherry tomatoes, Silver Queen corn, roasted asparagus, and jalapeno peppers show the value of that approach. Fresh bluefish is grilled and paired with shoestring fries and coleslaw. The fanciest it gets is an appetizer called Shrimp on Toast, which evokes a Chinese-American classic but tastes like a deconstructed Thanksgiving stuffing—a handful of buttery, Old Bay–scented shrimps and thin strands of braised celery over crusty rectangles of thick toast.
Desserts ($6) are pure nostalgia: root-beer floats, apple pie, and a huge piece of moist chocolate cake big enough for two and with a pitcher of chocolate sauce to boot.
Fish On, the Villages of Five Points, Lewes; 302-645-9790; fishon.bz. Entrees $17 to $24. Open daily for dinner.
Northeast Seafood Kitchen. If the Barefoot Contessa owned a restaurant, it might be this dining room with driftwood floors, whitewashed walls, and creative seafood classics that allow the ingredients to shine. The Kitchen is the newest address of the crowd that owns the popular Fish On in Lewes and Bluecoast in North Bethany.
While Bluecoast nods to the Northeast with a handful of plates, the Kitchen's menu explores the lobster-shack sensibility. Bite into a crisply fried Ipswich clam and you'll have to check your bearings to make sure you haven't been whisked to the Cape. The lobster roll is done New England proper, with a kiss of mayo and a toasted bun glistening with melted butter. If only the lobster-to-bun ratio weren't so skimpy. New England–style clam chowder is all creamy richness. Clams also get star billing in house-made clam dip, a riff on a suburban '60s hors d'oeuvre that's better than the original ever was. Crunchy house-made kettle potato chips help the cause.
The menu delves into ethnic New England with a Portuguese-style seafood stew full of sweet mussels and scallops, shrimp and cod, and garlicky linguica. Lobster mac-and-cheese is a more modern take, with a smattering of whole-grain mustard to cut the richness of the sauce.
For dessert, stick to the theme with a root-beer float made with organic Maine root beer, the homespun oatmeal pie, and the un-New Englandy, but delicious, wedge of chocolate cake a la mode.
Northeast Seafood Kitchen, 29-F Atlantic Ave., Ocean View (West Bethany); 302-537-1785; northeastseafoodkitchen.com. Entrees $17 to $21. Open daily for dinner.