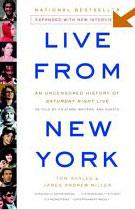 In the 1970s, my older brother and I fantasized about being on Saturday Night Live, then in its brilliant first heyday. He was an actor in school, and I remember once telling him in all seriousness, "You should try to get on!"
It's a good thing he didn't. As Washington Post TV critic Tom Shales and his coauthor show in their exhaustive oral history, this happy clown of a cultural institution comes from a very dysfunctional family.
We've heard of the crash-and-burn talents (Belushi, Farley), the boys-club atmosphere, the marathon hours—"There really is no reason why we have to come in late on Tuesday and . . . write sketches until seven am," actor Will Ferrell says. "It's a remnant of the coke days, I think." Less publicized is the massive breeding ground for insecurity and competitiveness the show can be.
Comics Chris Elliott and Janeane Garofalo—who shared one season in the '90s—are the bitterest. Garofalo on the current SNL: "The show is so good now, and the cast is so strong, I'm assuming somebody has come in and done an exorcism of some kind."
A chapter on creator Lorne Michaels is a fascinating study of a talented, powerful withholder who has more grateful acolytes than detractors—though hardly any unambivalent. "I think a lot of us are comfortable with or afflicted by or taken with distant fathers," recent cast member Ana Gasteyer says. ". . . I think that there's a comfort with Lorne's silence for a lot of us."
The lengthy book could have used a rigorous editor, but it's a smart idea mostly well executed. Few except hardcore SNL geeks are likely to read every word, but the world now has a definitive record of an enduring creative work and of a particular time of the week, forever redefined.
Author:
Tom Shales and James Andrew Miller
Publisher:
Little, Brown
Price:
$$25.95